Blood Orange Moscow Mule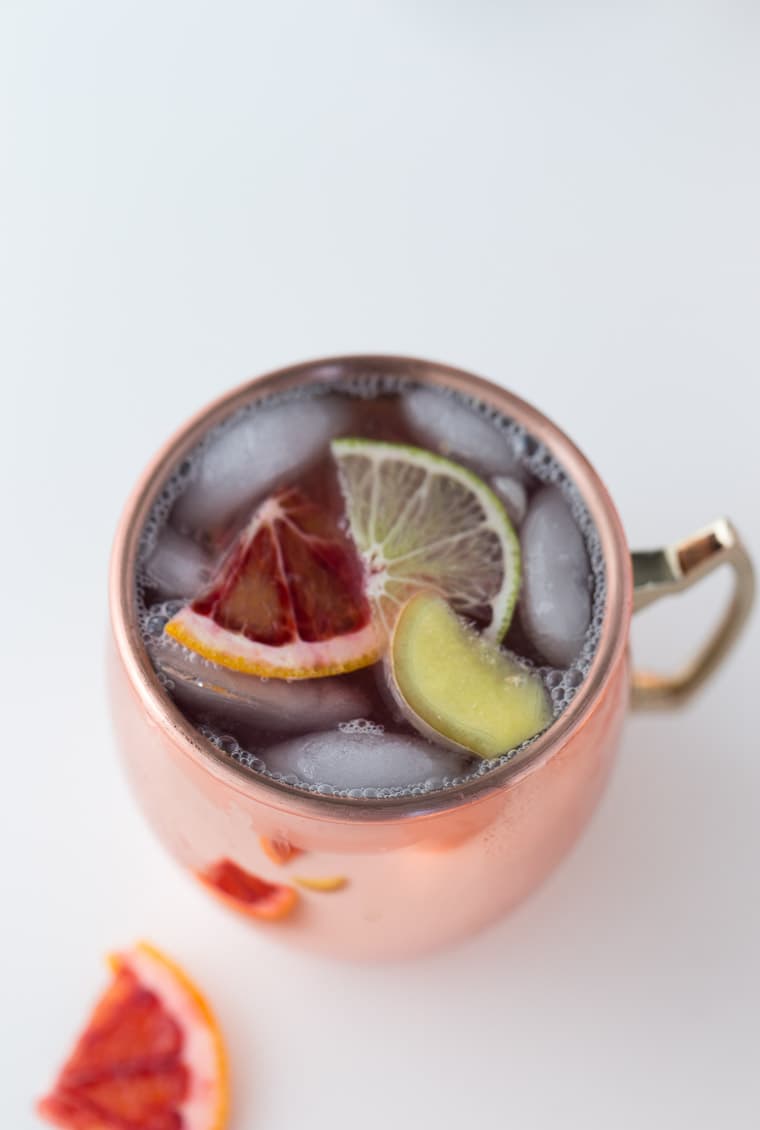 I did a little bit of cocktail investigation a few weeks ago when I was on break and I am here to report the results in the form of this Blood Orange Moscow Mule.
It all started with copper mugs. They started popping up everywhere last spring/summer and I was wondering why the sudden interest? Then Pinterest started exploding with Moscow Mule recipes in copper mugs and my interest peaked. What's the special drink? But I was too pregnant and/or sleep deprived most of last year to fully investigate and didn't get to it until the last two weeks of December. Luckily, this meant that copper mugs would be cheaper and I convinced myself I needed 4!!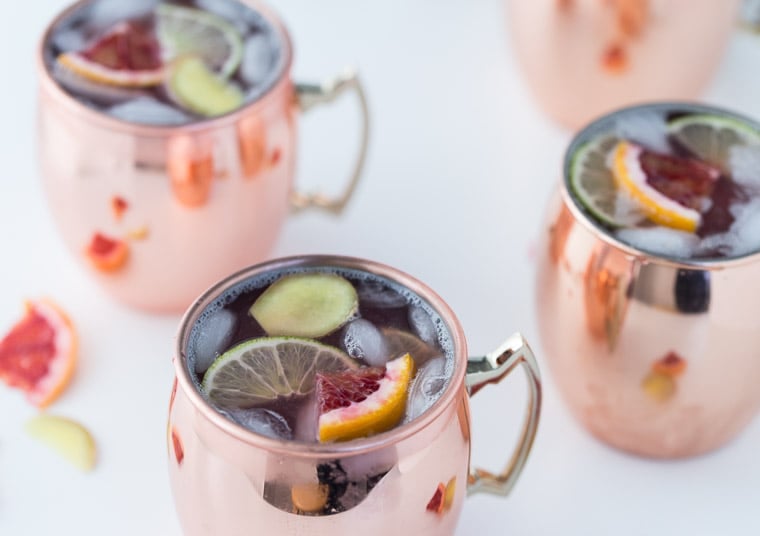 Armed with my copper mugs, I took to the interwebs to investigate the history behind the Moscow mule. These were my findings: 1) It has absolutely nothing to do with Moscow. 2) It's a combination of ginger beer, vodka and lime juice (imagine how shocked I was to find out it was so simple). 3) Wikipedia is unsure about the origins but rumor has it a vodka distillery owner and the owner of a ginger beer bottling facility came together to help each other's businesses. Apparently it was in a bar and the drink came about. 4) Take that last piece of information with a grain of salt. The interwebs is a crazy place.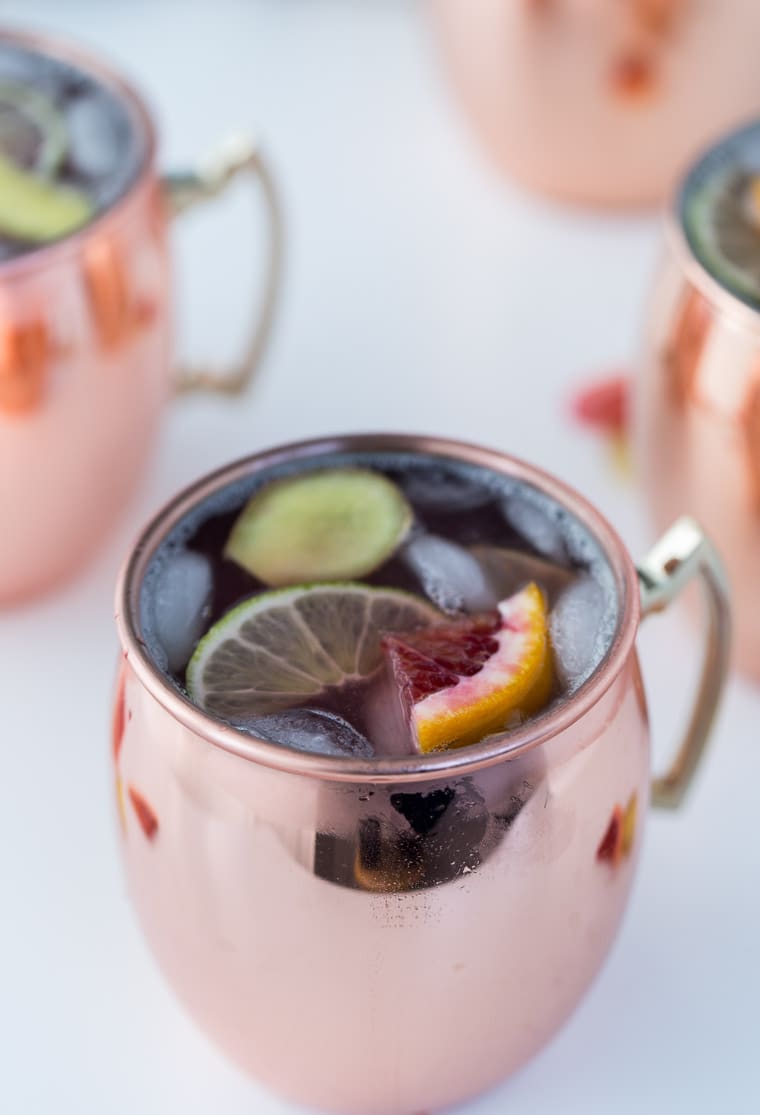 But who cares what the origin is? Once I realized there was ginger beer involved I was in. I love making my own ginger beer… the African version is always in my freezer so it was easy to make this drink. Moscow mule is an easy vodka cocktail that's smooth and refreshing. I added a simple syrup to sweetened it a bit and add another flavor to the mix. This blood orange Moscow mule is a great place to start if you are curious about this cocktail taking over the interwebs.
Happy investigating this weekend!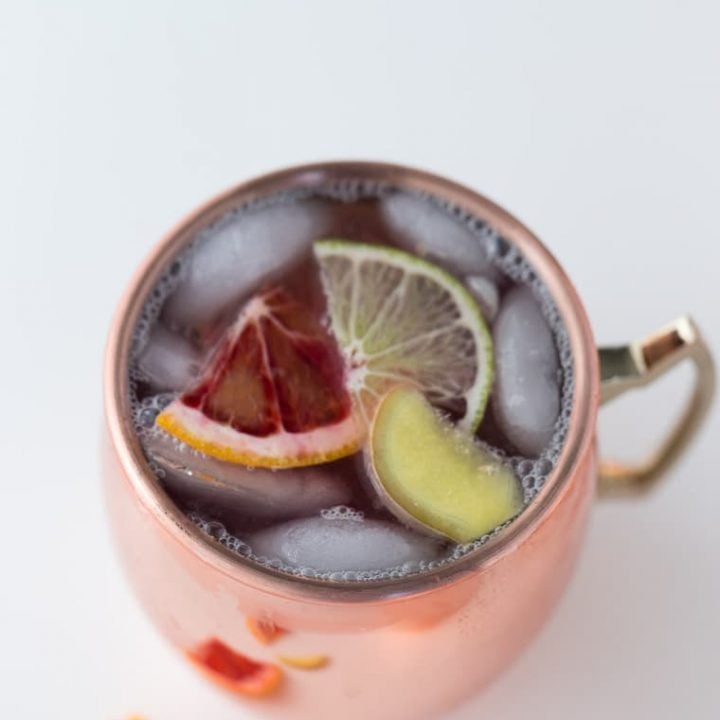 Yield: 1 cocktail
Blood Orange Moscow Mule
Ingredients
1.5 ounces vodka
juice of ½ a lime
1 ounce blood orange simple syrup (recipe below)
4 ounce Ginger beer (not Ginger Ale)
Blood Orange Simple Syrup
½ cup granulated sugar
½ cup water
¼ cup blood orange juice
Garnish: Ginger slices, lime wedges, blood orange slices
Instructions
To make the simple syrup, combine all the ingredients in a medium pot and bring to a boil over medium heat. Once sugar has melted, cook for 3-4 minutes. Remove from heat and let cool completely.
To make the cocktail, combine the vodka, lime juice and simple syrup in a copper mug (or regular tall glass) with crushed ice. Top with ginger beer. Garnish with ginger slices, lime or blood oranges.
Recommended Products
As an Amazon Associate and member of other affiliate programs, I earn from qualifying purchases.