Cranberry Orange Sweet Rolls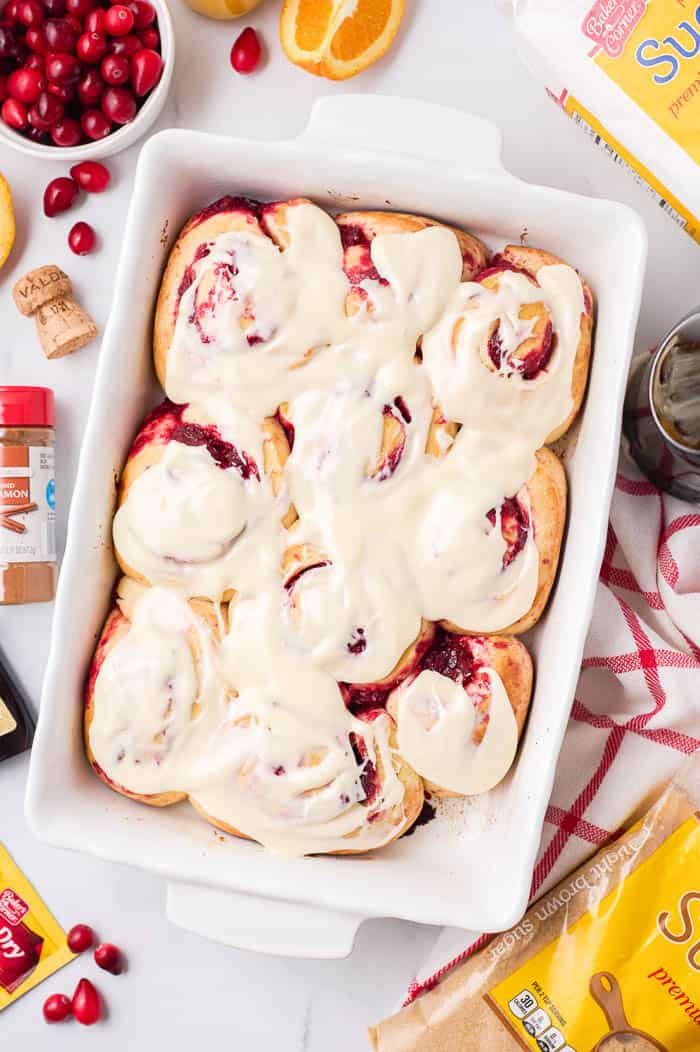 These Cranberry Orange Sweet Rolls are sponsored by ALDI. All thoughts and opinions are my own. Thank you for supporting the brands I love that make it possible for me to continue creating recipes for you.
Hi friends! I have another holiday recipe for you. As you welcome friends and family this holiday season, these Cranberry Orange Sweet Rolls will be the perfect brunch or breakfast for guests. Sweet and buttery rolls filled with tart cranberry sauce for a seasonal morning treat. It's going to be one of your favorites!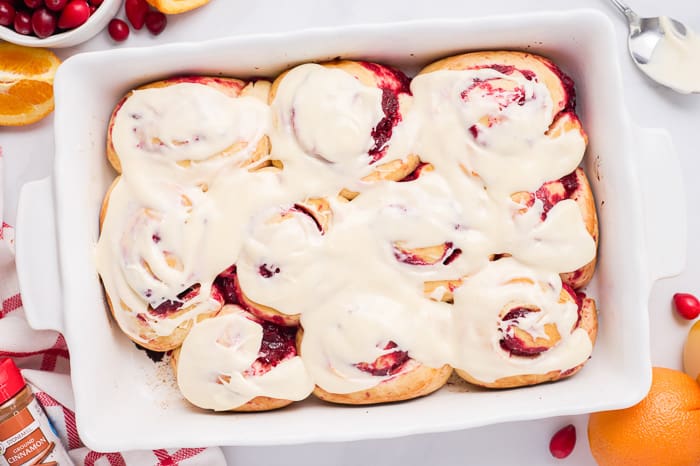 Before we get to the recipe, let me share with you one of my favorite grocery stores, ALDI. I've been a fan of ALDI since my grad school days and I have always appreciated the affordable and high-quality ingredients. The savings offered in every single aisle, especially during the holiday season help me cater to the many holiday gatherings. If you haven't experienced ALDI, there's no time like the holiday season. 'Tis the season to celebrate with ALDI! Whether you're planning a holiday meal to impress or creating a one-of-a-kind dessert spread, ALDI has everything you need to prepare for the season's festivities, all at affordable prices.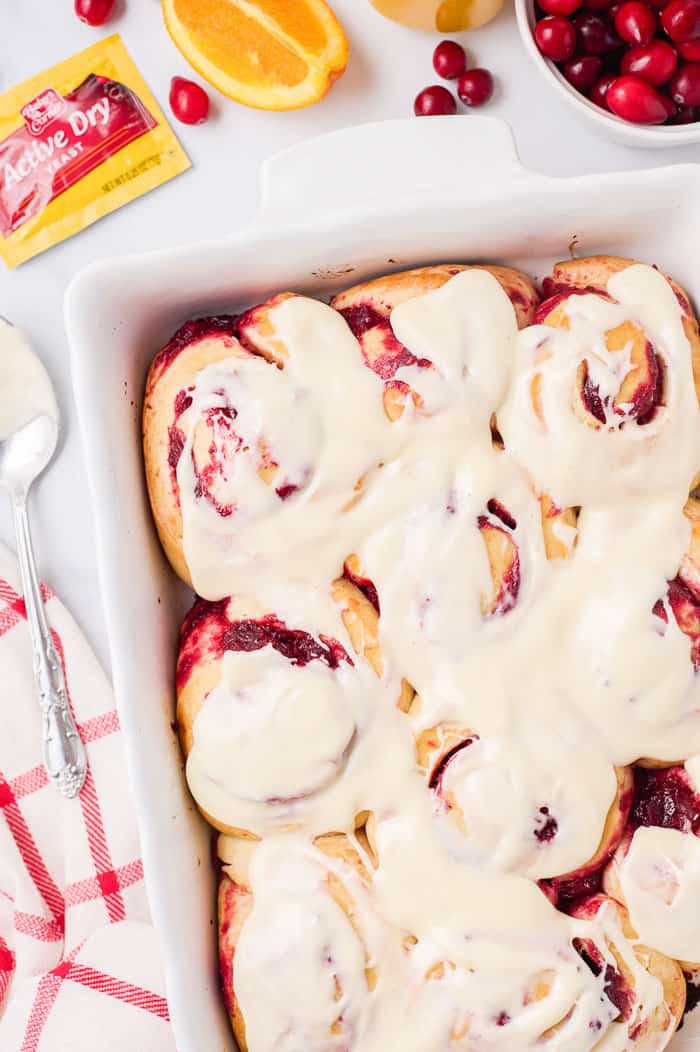 One of my family traditions is having sweet rolls in the morning on Thanksgiving and Christmas. Whether it is a pumpkin cinnamon roll or eggnog cinnamon rolls, I try to keep the rolls seasonal and festive. This year, I'll be whipping up these cranberry orange sweet rolls! They are buttery, soft and pillowy, and full of the tart flavors of sweet cranberries. Everything you love about cinnamon rolls and more!
I strongly suggest you make the dough the day before you plan on making these delicious Cranberry Orange Sweet Rolls. While it might seem like a long process, it's really not. The dough is just better to prep and makes the day before. Plus, it makes for easier mornings.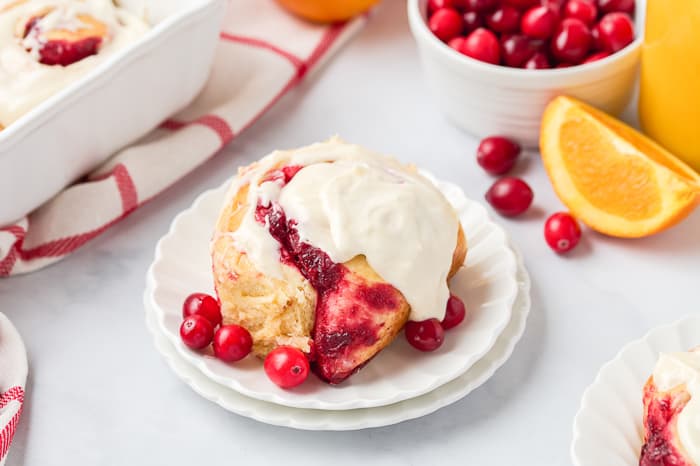 My kids get excited when the rolls are baking. Over and over, "Are they done yet? Are they ready?" They smell like a candle burning while they bake in the oven. Once you finally get to take them out of the oven and they are baked you want to let them cool in the pan for 10-15 minutes. Top with the vanilla bean icing. I always serve them immediately while the frosting melts or serve them warm. I wouldn't count on having extras leftover but if you do, you can seal them in a tight container and just warm them up for 15-20 seconds in the microwave before serving. They are just as good as they were fresh from the oven.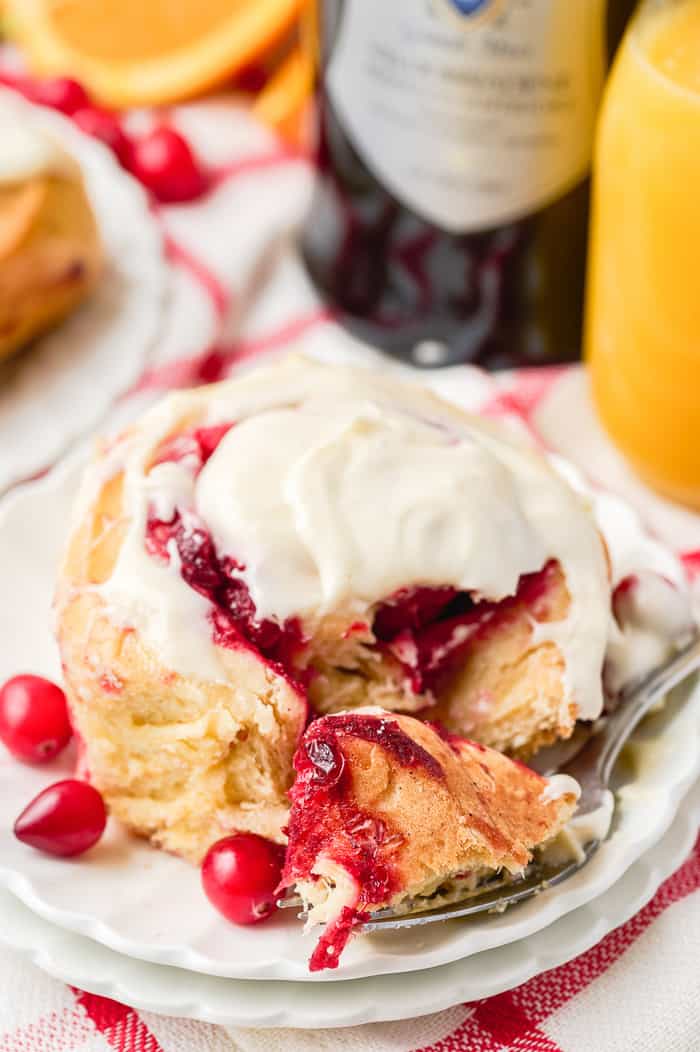 Let's walk through the step-by-step process of how to make these sweet rolls. I'll also show you how I use my trusted ALDI baking products in this, and many other recipes. If you'd like to skip the step-by-step photos, feel free to scroll to the end for the recipe.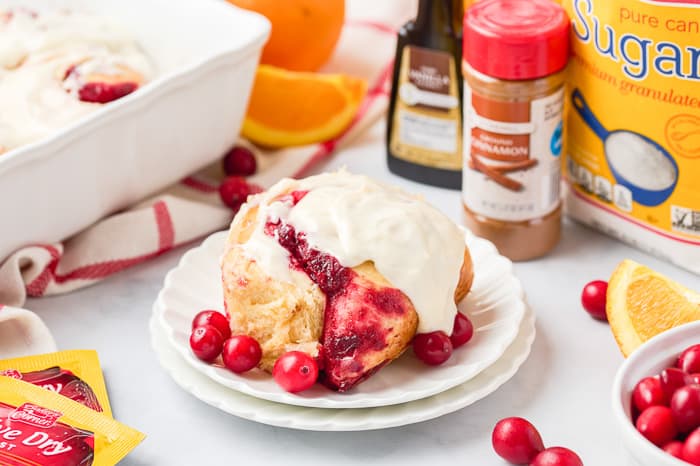 Let's start by gathering our ingredients for the dough. It is an enriched dough so we are using Countryside Creamery Unsalted Butter, Baker's Corner Active Dry Yeast, Baker's Corner Granulated Sugar, and Baker's Corner All-Purpose Flour.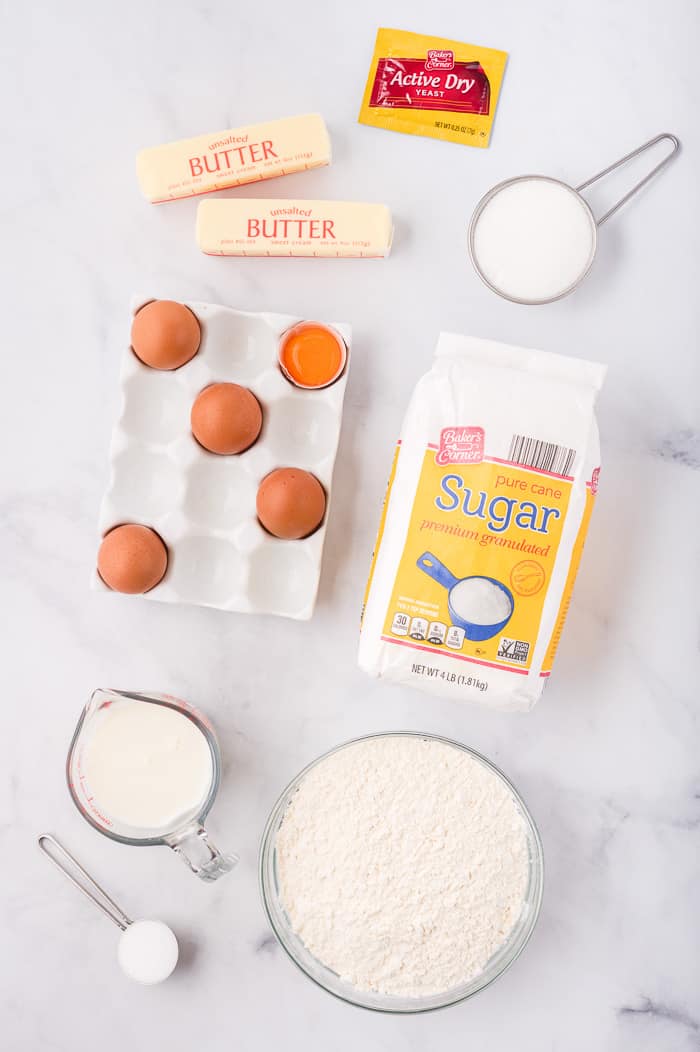 The dough is smooth and comes together very easily. Let rise while you prepare the cranberry filling.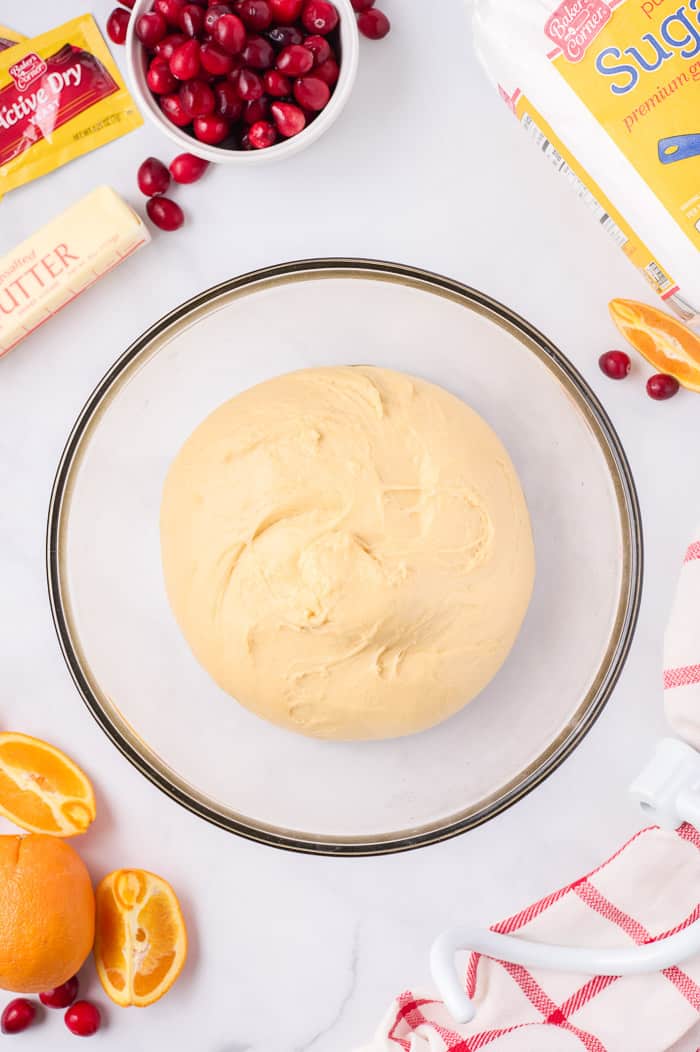 To make the cranberry filling, gather your ingredients. We are using fresh cranberries, oranges, Baker's Corner Light Brown Sugar (caramelized flavor to the max!), Stonemill Ground Cinnamon, and a splash of Grandi Mori Valdobbiadene Prosecco (because your cranberry filling needs to be elevated!).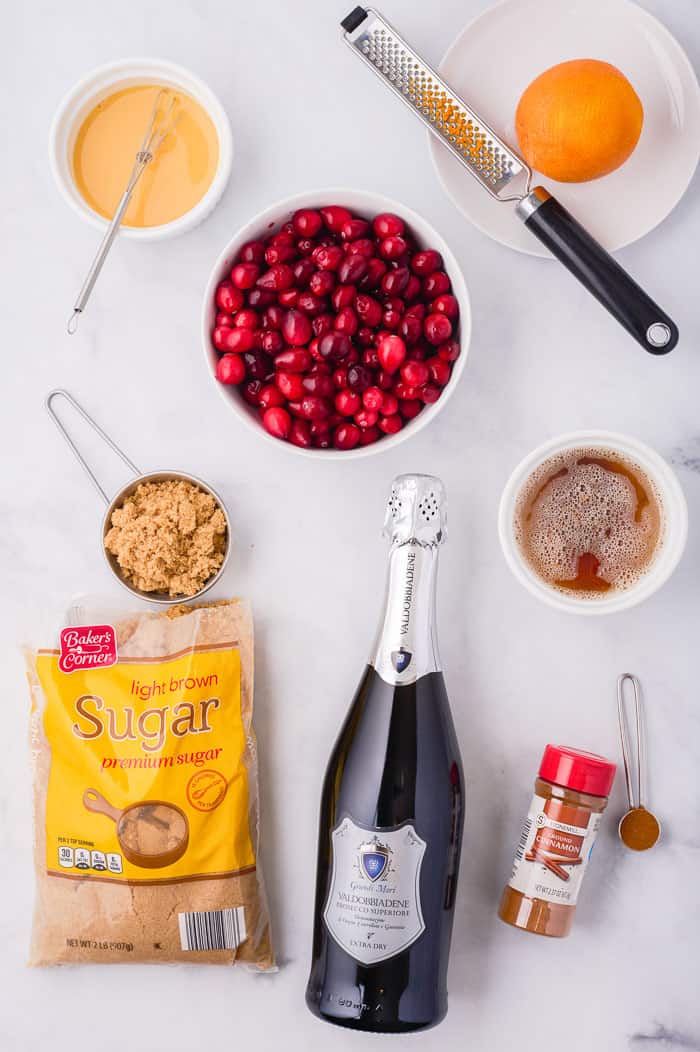 We combine all these ingredients and cook until all the flavors are blended.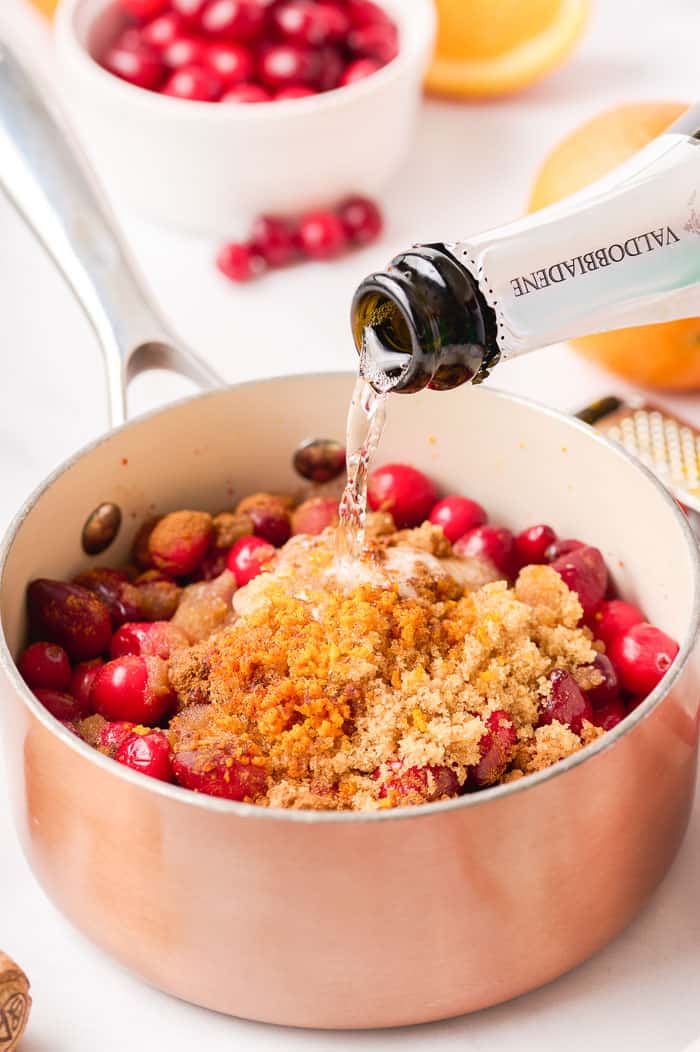 Let the cranberry filling cool. Let's go back to preparing the rolls.
Roll out the dough into a long rectangle.
Brush the dough with the browned butter, all over. Spread the cooled cranberry filling over the butter.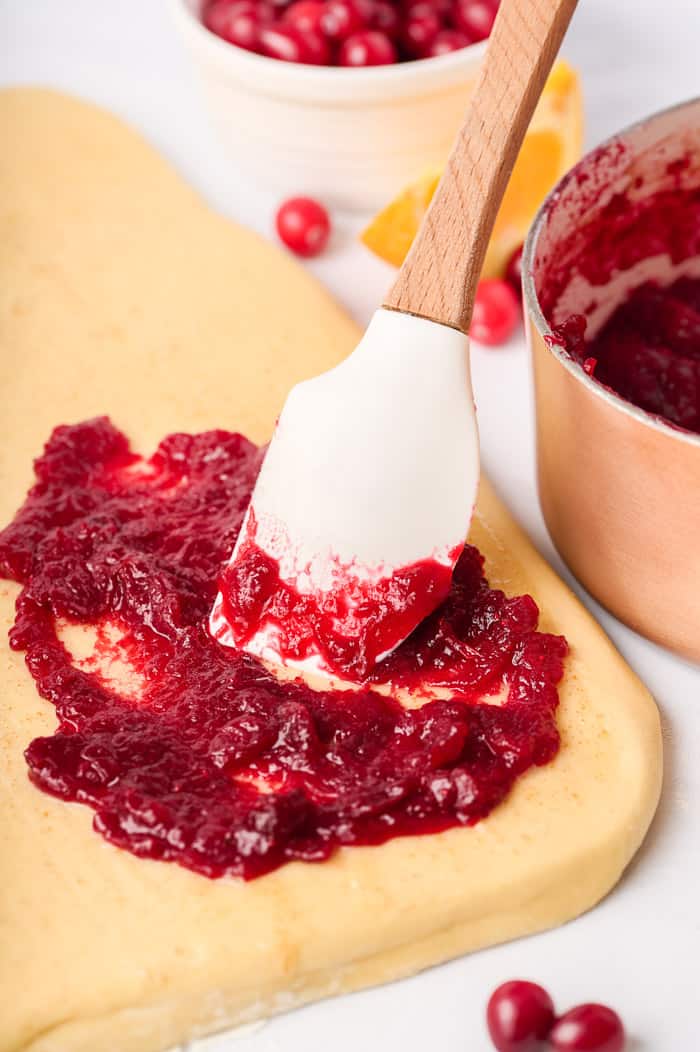 Be sure to leave an inch border, without cranberry filling. Roll the dough and cut it up into 2-inch logs.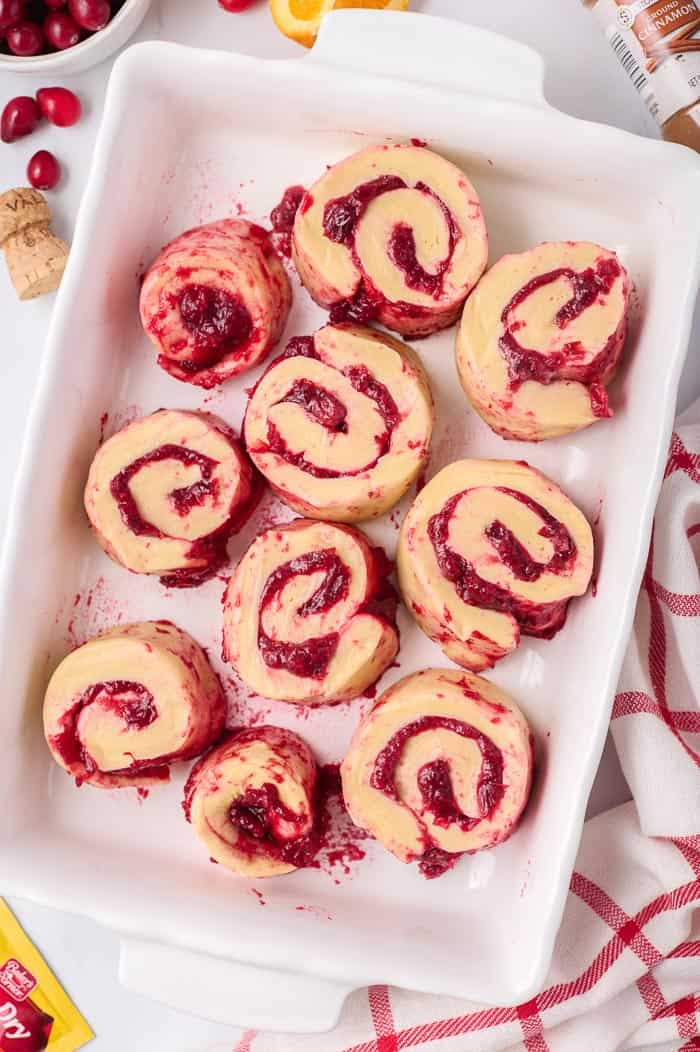 Let rise for a second time and then bake!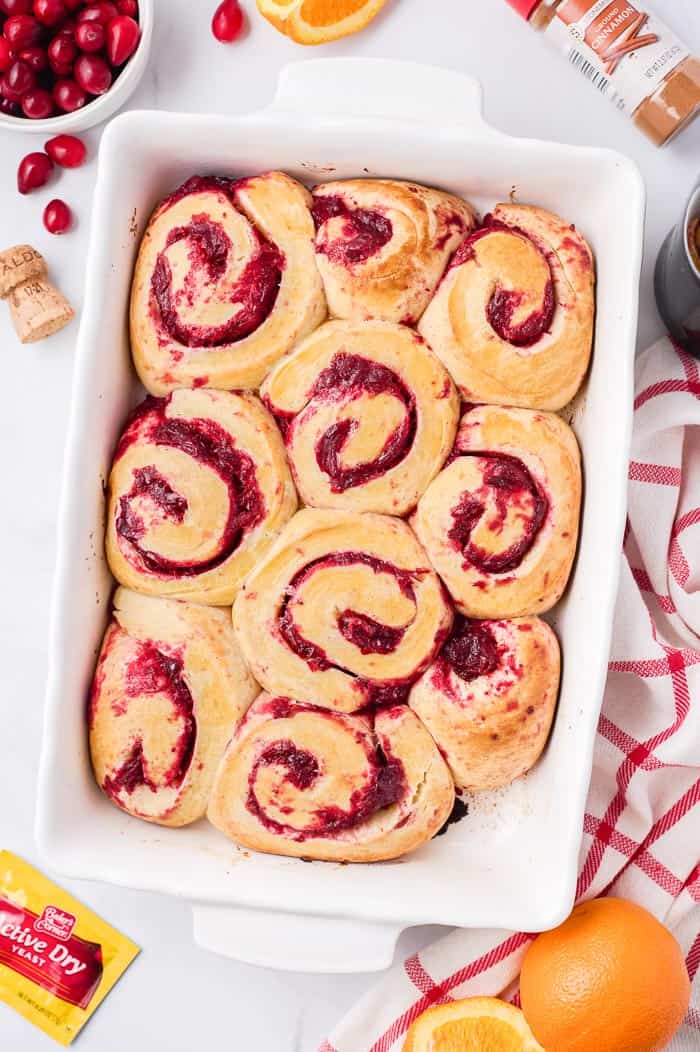 While the sweet rolls cool, let's make the orange-vanilla bean icing. We are using fresh orange juice, cream cheese, Baker's Corner Powdered Sugar, Stonemill Pure Vanilla Extract, and Countryside Creamery Unsalted Butter. Combine all the ingredients until combined and it has the consistency of spreadable icing.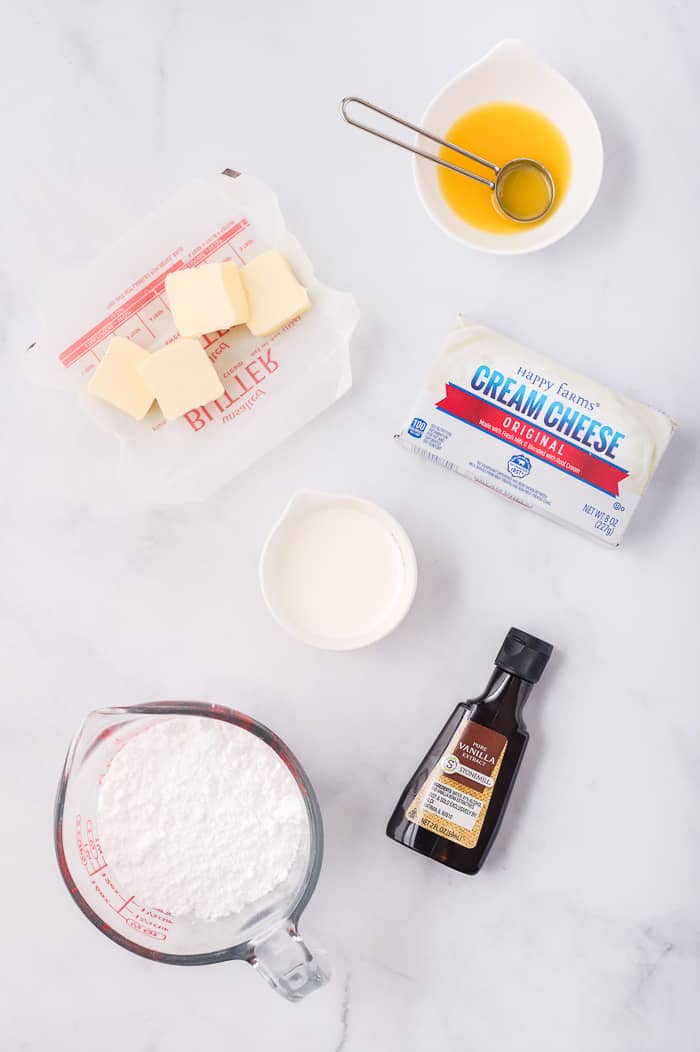 Top your warm, fresh out of the oven rolls with the sweet and tangy icing. Don't skimp on the icing please, it is oh-so-good.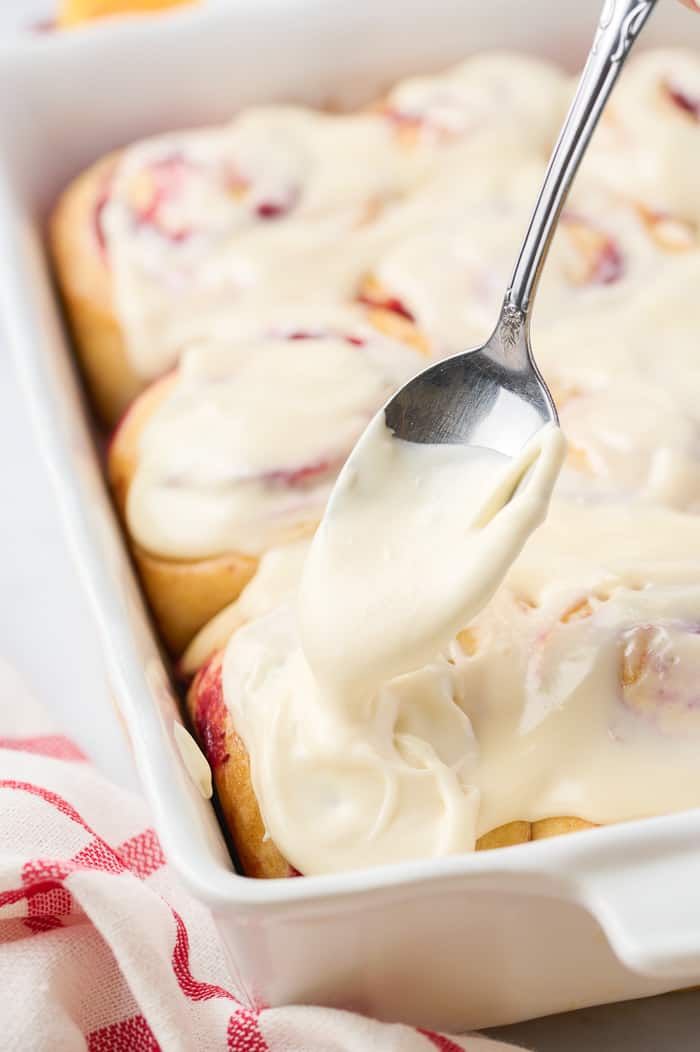 There you have it! These cranberry sweet rolls will not last long in your home. Everyone comes back for seconds and they are perfect all winter long when cranberries are in season. I hope you add them to your holiday baking list!
Be sure to check out ALDI for all your holiday celebrations for great prices in every aisle. For more recipes inspired by ALDI, check out ALDI Blog, Facebook, Pinterest, Twitter, and Instagram.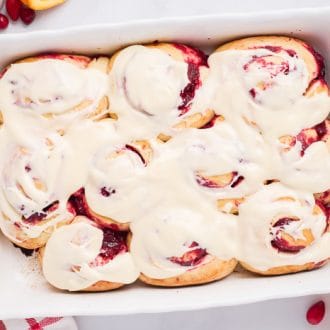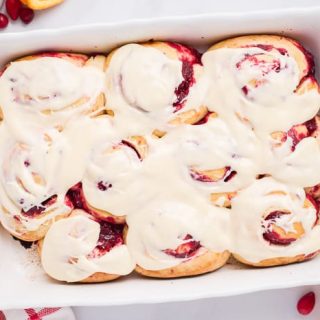 Yield: serves 8 - 10
Cranberry Orange Sweet Rolls
Sweet and sticky cranberry orange sweet rolls.
Additional Time
4 hours
2 seconds
Total Time
5 hours
20 minutes
2 seconds
Ingredients
FOR THE DOUGH:
• 4 1/2 cups Baker's Corner All-Purpose Flour
• ½ cup Baker's Corner Granulated Sugar
• 1 tablespoon Baker's Corner Active Dry Yeast
• 1 tablespoon salt
• 4 large eggs + 1 large egg yolk (cold)
• 1 cup minus 2 tablespoons milk (cold)
• 1 cup (2 sticks) Countryside Creamery Unsalted Butter, softened to room temperature
FOR THE FILLING:
• 12 ounces fresh cranberries
• ¼ cup Baker's Corner Light Brown Sugar
• ½ teaspoon Stonemill Ground Cinnamon
• Zest and juice of 1 orange
• 1/4 cup Grando Mori Valdobbiadene Prosecco (optional)
• ½ cup Countryside Creamery Unsalted Butter, melted and cooled
• Egg wash (1 large egg beaten with 1 tablespoon water)
FOR ORANGE VANILLA BEAN ICING:
• 4 ounces cream cheese, at room temperature
• 4 tablespoons Countryside Creamery Unsalted Butter, at room temperature
• 1-2 cups Baker's Corner Powdered Sugar (more or less to taste)
• 2 teaspoons Stonemill Pure Vanilla Extract
• 2 teaspoons orange juice
• ¼ cup heavy cream, plus more as needed
Instructions
Make the dough the day before you plan on making the cinnamon rolls. In the bowl of an electric mixer fitted with the dough hook, combine the flour, sugar, yeast, and salt. In a small bowl, whisk together the eggs + yolk and milk. Add the egg + milk mixture to the dry ingredients and mix at low speed until the mixture forms a ball. Increase the speed to medium and mix until the dough is very smooth about 5 minutes.
With the mixer on medium-low, add in the butter one tablespoon at a time, to the dough and mix until each piece is incorporated before adding the next. Once all the butter is added, continue mixing for additional 3 minutes.
Transfer the dough to a well-greased large bowl and let rise, covered for 1- 1 ½ hours. (Dough is very enriched and might not expand much).
Once risen, transfer the dough to a parchment-lined baking sheet. Pat dough into a rectangle with about 1-inch thickness. Cover with plastic wrap directly on dough and refrigerate overnight.
In a small saucepan set over low-medium heat, combine the cranberries, brown sugar, cinnamon and orange zest, and juice and white wine. Let simmer until the cranberries start to break down. Let cook until thickens, about 10 minutes. Remove from heat and let cool a bit.
Lightly grease a 9 x 13-inch (or two 9 x 9-inch) baking dish. Remove dough from refrigerator. Transfer to a lightly floured work surface and roll the dough into a rectangle about ½ inch thick.
Spread the melted butter all over the rolled dough using a brush. Spread out the cranberry filling evenly all over the dough using a spatula and spread all the way to the edges of the dough.
To roll up, start with the long side closest to you and begin to roll the dough into a tight spiral. Make sure you keep the roll tight as you go. Use your thumb to release any sticky dough and also to tuck in the loose dough. Once rolled, use a serrated knife to slice into 1 ½ inch wide pieces. Transfer pieces to prepared pans, leaving a quarter of an inch between each one. Cover the baking dish with plastic wrap or a towel and let rolls rise in a warm place at room temperature for at least 30 minutes.
Preheat oven to 350 degrees F. Brush the top of the rolls with the egg wash and bake for 25- 30 minutes or until they are golden and the filling is bubbly and oozing out.
While the rolls bake, make the icing. In a small bowl, beat the cream cheese and butter until smooth. Add in the rest of the ingredients and mix until combined. Add more or less heavy cream to get your desired drizzle consistency.
Once rolls are baked, let cool in pan for 10-15 minutes. Then top with a drizzle of icing. Serve warm or immediately.
Notes
Dough adapted from Food52
Recommended Products
As an Amazon Associate and member of other affiliate programs, I earn from qualifying purchases.