Caramel Pretzel Delights
It's time for another Bakin Friends reveal! Remember these marshmallow cookies? Bakin Friends connects a group of bakers who love sweets and each month we send each other baked goods with a secret ingredient.
This month's secret ingredient was CARAMEL and I received the most delicious chocolate caramel pretzel delights from Jenifer. The best snack bites ever.
Jenifer sent two packed zip-lock bags and one of them was gone within 2 hours. I kid you not. I totally forgot I had to take pictures, luckily there were a few left the next morning. They are so easy to make too. All you need to do is melt Rolo's on pretzels and top with pecans. A super easy, grab-to-go snack. I love it! And all you chocolate lovers out there will love it too.
I enjoyed them very much, Jenifer. Thank you!!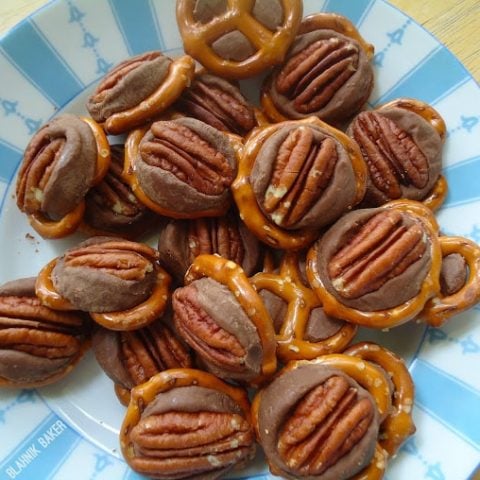 Caramel Pretzel Delights
These Caramel Pretzel Delights make a super easy, grab-to-go snack!
Cook Time 10 minutes
Total Time 10 minutes
Ingredients
Bag of small pretzels
Bag of Rolo's
Pecan halves
Instructions
Heat oven to 350 degrees F. Line cookie sheet with parchment paper. Place pretzels on sheet and top with a rolo. Bake 3-5 minutes or until rolo softens but not melted. Remove from oven and press each rolo with a pecan half, Cool in the refrigerator and enjoy!
If you would like to join Bakin Friends, contact Steph here.
MAKING THIS RECIPE? Share it with us on Instagram using #aclassictwist so we can see what you are baking up in your kitchen!