Chocolate Chip Cookies with Butterscotch and Pretzels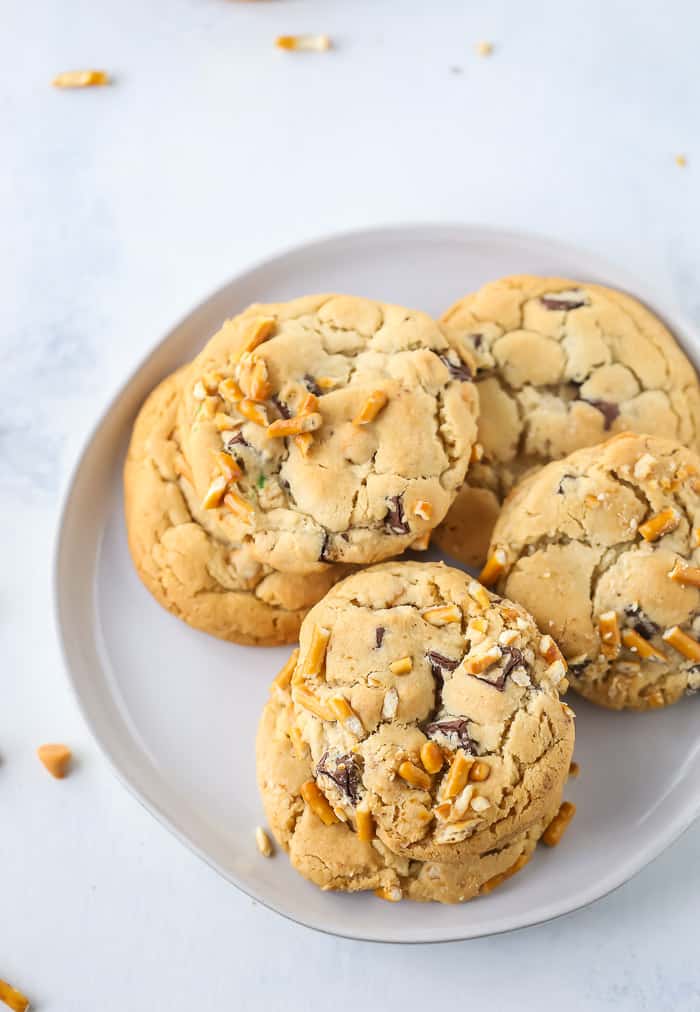 Hello friends! In this day and age of being quarantined, we are all in need of some comfort food and cookies. These chocolate chip cookies with butterscotch and pretzels are one of my favorite cookies and they got a new makeover. I originally posted this recipe in 2013 and seven years later I am still making it for my family. Especially during these difficult times.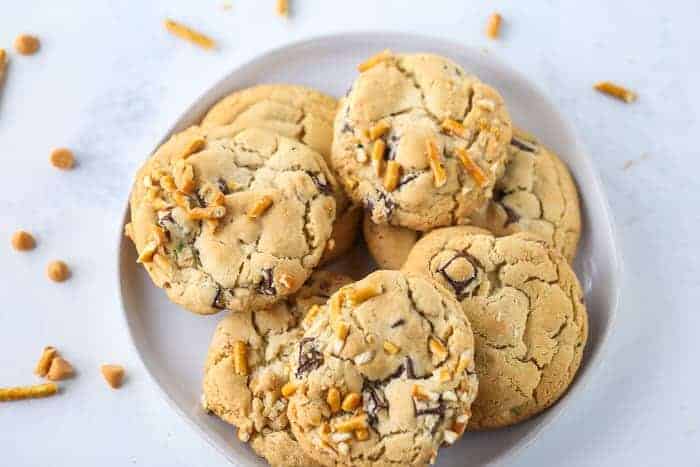 I originally got this recipe from a baking group I was a part of called Bakin' Friends. A group of baking enthusiasts around the country, baking and shipping each other their favorite recipes, sharing their common love for baking. This recipe came from Latane Stacy, who raved about the NY Times Best chocolate chip cookies. She added butterscotch and pretzels to that recipe and it was genius. Now, I can't make this recipe without those two additions.
This chocolate chip cookie is really the best around the internet. I will disclose upfront that you do let it chill overnight for the best results. Which I know can be offputting when you want that cookie now. But trust me, it is worth it. Okay, let's get to the recipe itself.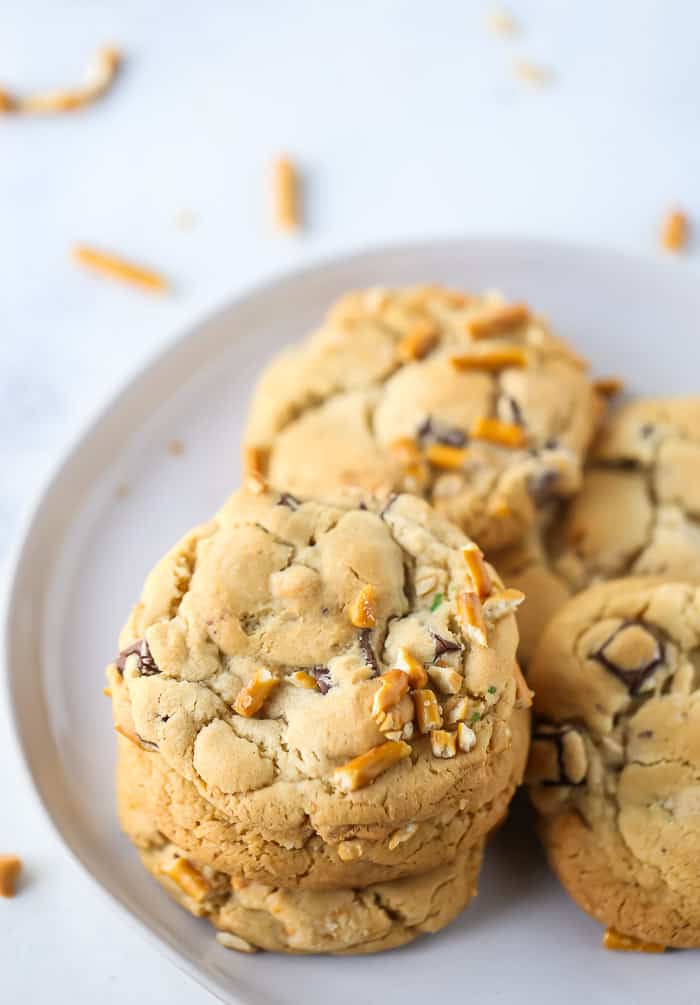 The cookies are soft and melt in your mouth. Add in the sweet and salty flavors of butterscotch and pretzels and the crunchy factor, you have yourself a WINNER. These chocolate chip cookies are made with two types of flour – cake flour and bread flour. Unusual I know but this mix is why these cookies are amazing. I'd recommend using high-quality chocolate chips or bars for these cookies as they make them better. Like I mentioned, you do need to chill the dough for 12 hours or overnight. It needs to for the flavors to develop and fats to solidify (less spread in your cookie and amazing texture).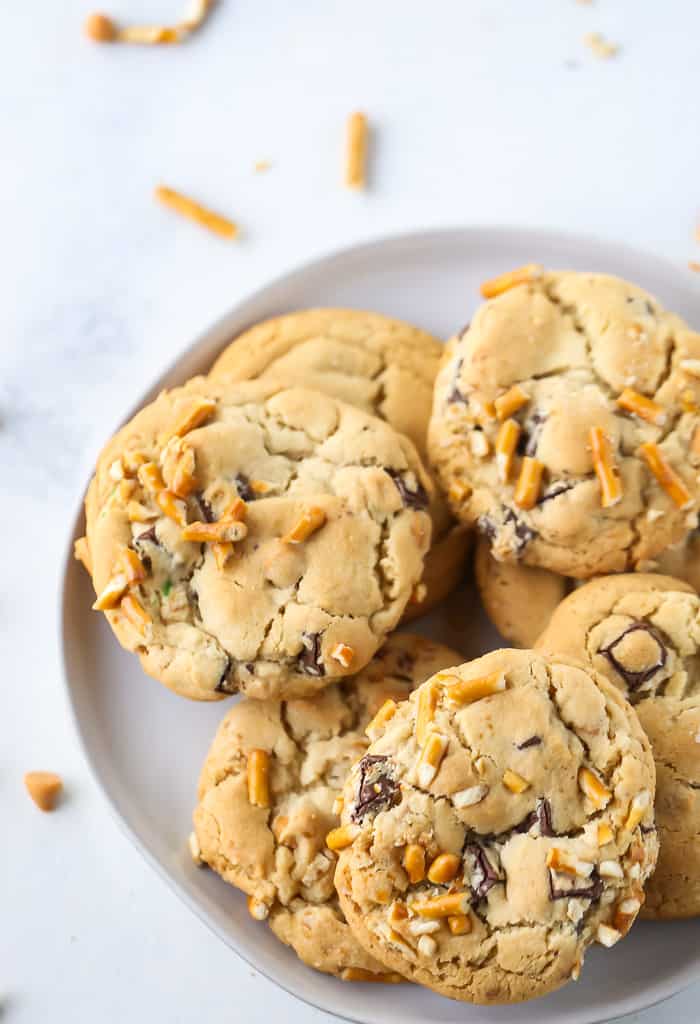 With the butterscotch chips in the dough, these cookies are rolled in pretzels. This is the opportunity you have to customize these cookies. The pretzels definitely add in some a lot of flavors but you can roll the dough in anything you like. We have tried sprinkles for the kids, coconut flakes and crushed almonds. The options are limitless. of course, if you are not into additions, you can always skip the butterscotch and pretzels in this recipe. The chocolate chip cookies themselves are epic as is.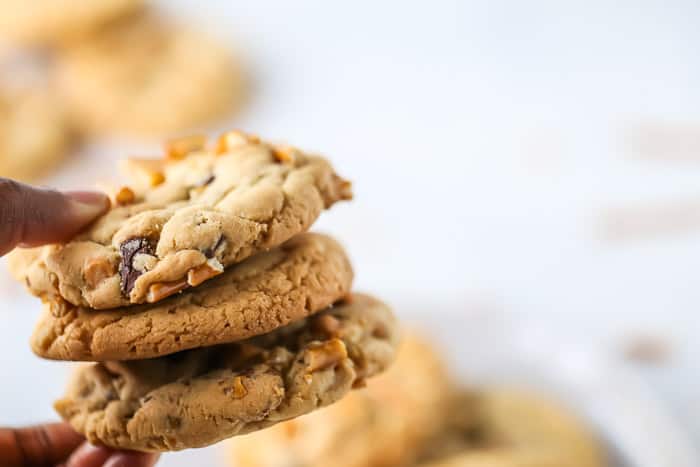 I am so grateful for having this recipe in my life and love that it has brought us so many countless memories. I hope you enjoy it and share with your friends and family. Thank you very much Latane for the AMAZING cookies!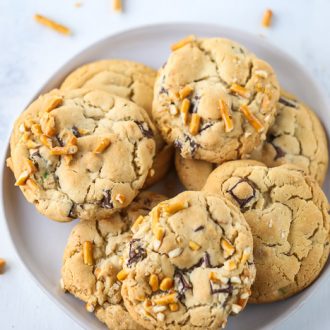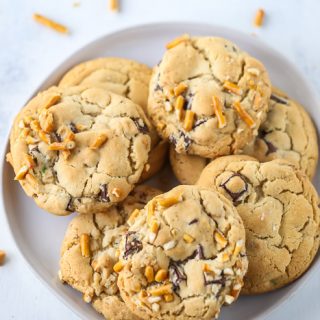 Yield: 18 5-inch cookies
Butterscotch Chocolate Chip Cookies with Pretzels
These are the softest cookies with just the perfect amount of crunch!
Total Time
12 hours
50 minutes
Ingredients
2 cups minus 2 tablespoons cake flour
1⅔ cups bread flour
1¼ teaspoons baking soda
1½ teaspoons baking powder
1½ teaspoons coarse (kosher) salt
1½ cups unsalted butter, room temperature
1¼ cups light brown sugar
1 cup plus 2 tablespoons granulated sugar
2 large eggs, room temperature
2 teaspoons vanilla extract
about 11 ounces bittersweet chocolate chips, at least 60% cocoa content (she used Ghiraldelli 60% chips)
6 ounces butterscotch chips
2 cups tiny pretzels, chopped
Instructions
In a medium bowl, sift together the flours, baking soda, baking powder and salt.
In the bowl of an electric mixer, cream the butter and sugars until very light, about 5 minutes on medium.
Add eggs, one at a time, mixing well after each addition. Stir in vanilla. Reduce the speed to low and add the dry ingredients. Mix until just combined, 5-10 seconds. Mix in chocolate chips and butterscotch chips until incorporated. Press plastic wrap against dough and refrigerate 24-36 hours.
Preheat oven to 350 degrees F. Line a baking sheet with parchment paper.
Scoop large golf ball sized mounds of dough onto baking sheet. Press pretzels into each mound of dough. Add extra chocolate or butterscotch chips for a more attractive cookie.
Bake until golden brown, about 17-20 minutes. Transfer to wire rack and allow to cool completely.
Notes
Adapted from New York Times
Recommended Products
As an Amazon Associate and member of other affiliate programs, I earn from qualifying purchases.