Funfetti Ice Cream Cone Cupcakes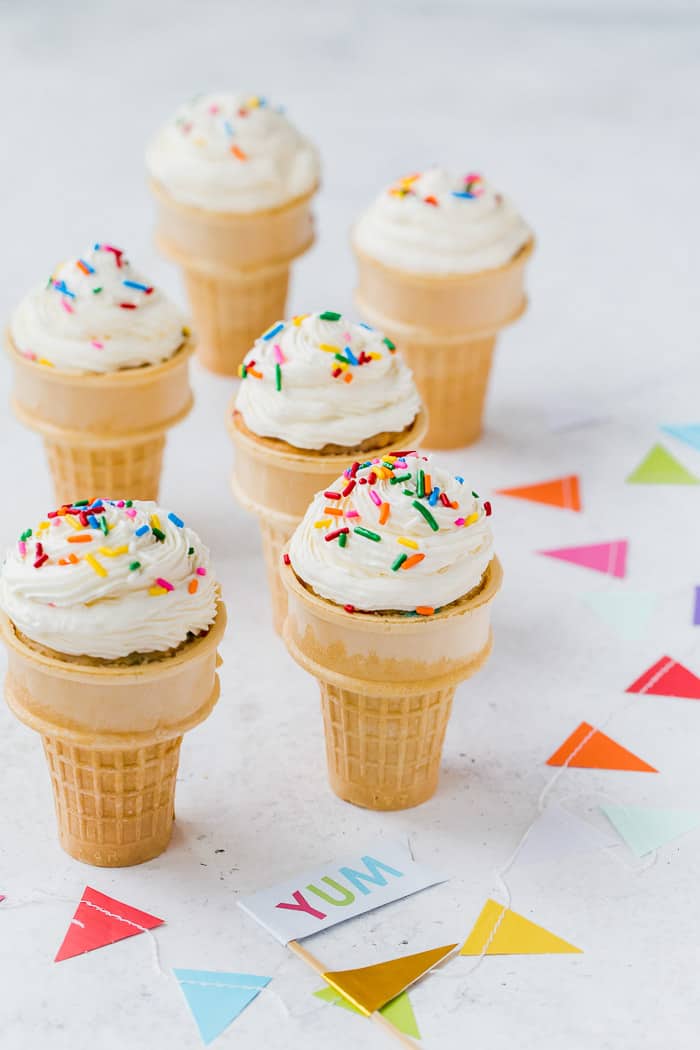 Are ice cream stand runs a part of your summer evenings? They sure are for us. We live close to a lake with beautiful walking paths. Normally, we walk the 4-mile path and sometimes at the end reward ourselves with ice-cream cones at the stand across from the park. Favorite treat, which inspired these funfetti ice cream cone cupcakes. I shared this on Instagram recently.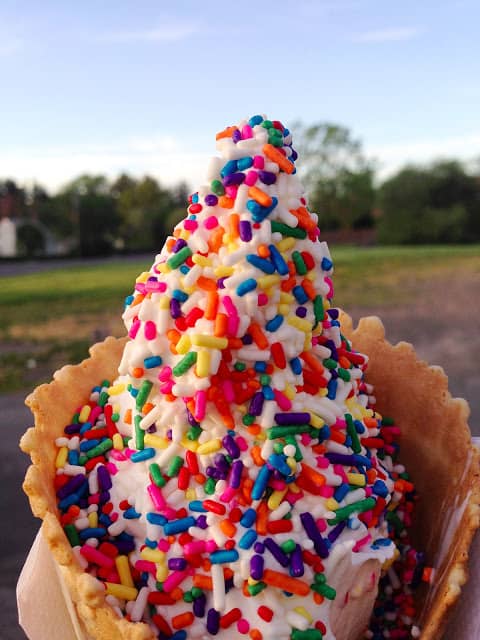 I've wanted to make funfetti ice cream cone cupcakes since it started warming up, but I never found an occasion for it until my 12-year old niece was in town a few weekends ago for a softball tournament. She was staying with us and I figured we could make these together for her softball team, and that's exactly what we ended up doing.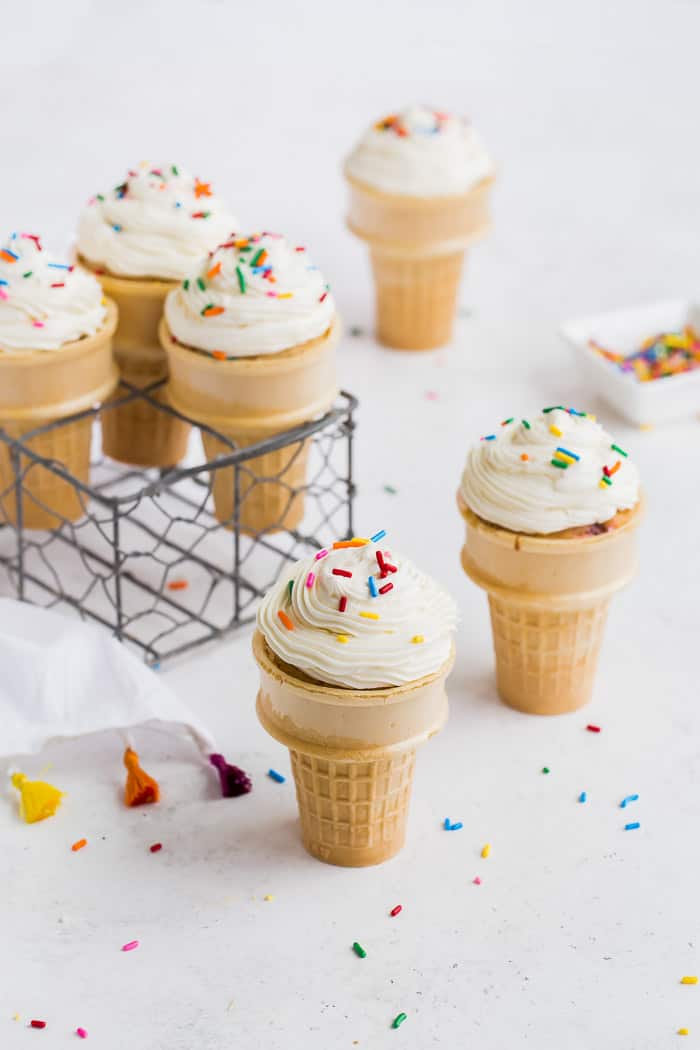 Despite being so excited to bake these, I did no research on how to bake cupcakes in ice-cream cones and they were a technical nightmare I must admit.
I made funfetti vanilla cupcake batter and baked them in mini ice-cream cones (mistake #1).
I placed the cones in regular muffin pans (mistake #2) and they were very shaky and difficult to transfer in and out of the oven.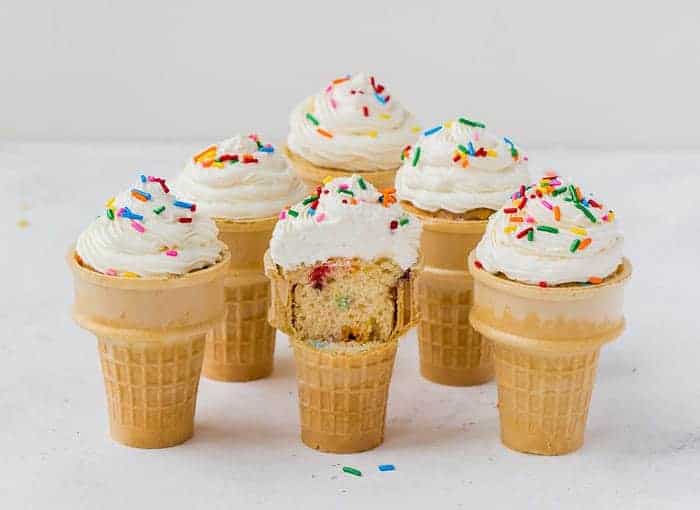 Some of the cupcakes overflowed (mistake #3) since the cones were so tiny and I had too much in there.
In retrospect, I should have researched before starting. But it was fun to experiment with my niece. I topped the cupcakes with a sweet whipped vanilla frosting and decorated with more sprinkles.
In the end, I was very glad about how these funfetti ice cream cone cupcakes looked, and the girls loved them.
It was the best treat after a long weekend of softball games. The cake recipe is the same I used here and here and it is always a fluffy, moist vanilla cake and the confetti adds a crunchy layer as you bite into the cone.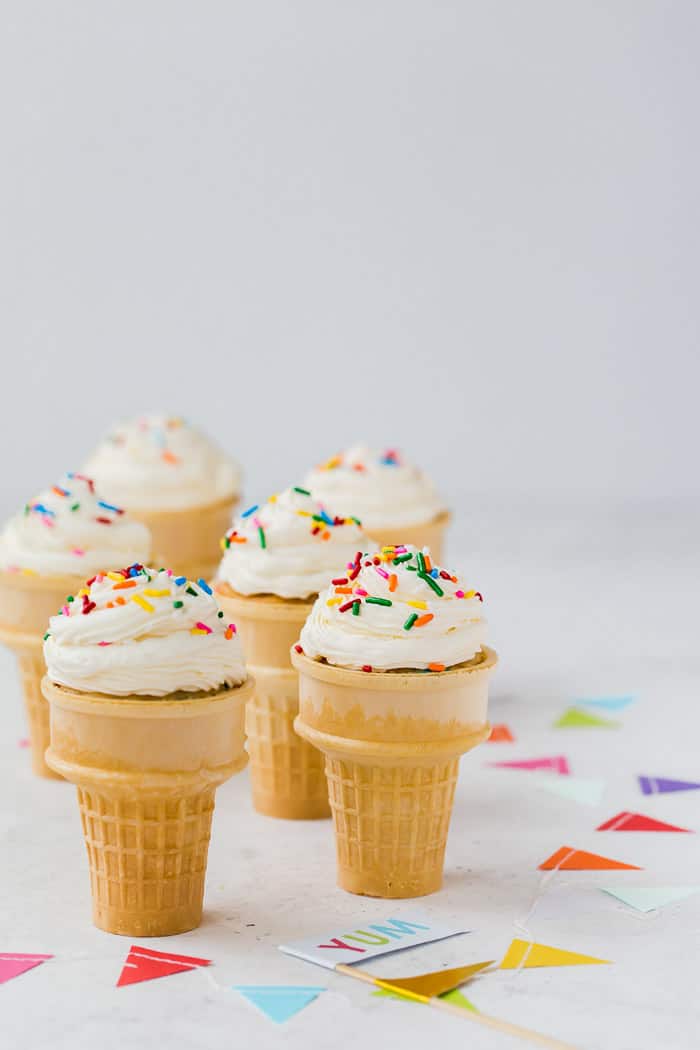 Even though I loved how these mini ice-cream cone cupcakes turned out, I learned a few lessons for the next time I make them (luckily you will learn from my mistakes):
Use JUMBO ice cream cones (unless you want mini cupcake cones)
Bake in ice cream cone cupcake pans like these from Betty Crocker or Mrs Fields Cupcake Cone Pan. They were made for this purpose and seem to be very easy for transportation too. A great tutorial here. (FYI: I was not paid for this…I just found them online and they seem like a great idea 🙂 Affiliate links).
I found a cool trick that could have saved me some fallen cones. Simply wrap the cones with foil to hold the cones in place in the baking pans.
Do not overfill or you will have an overflowing mess.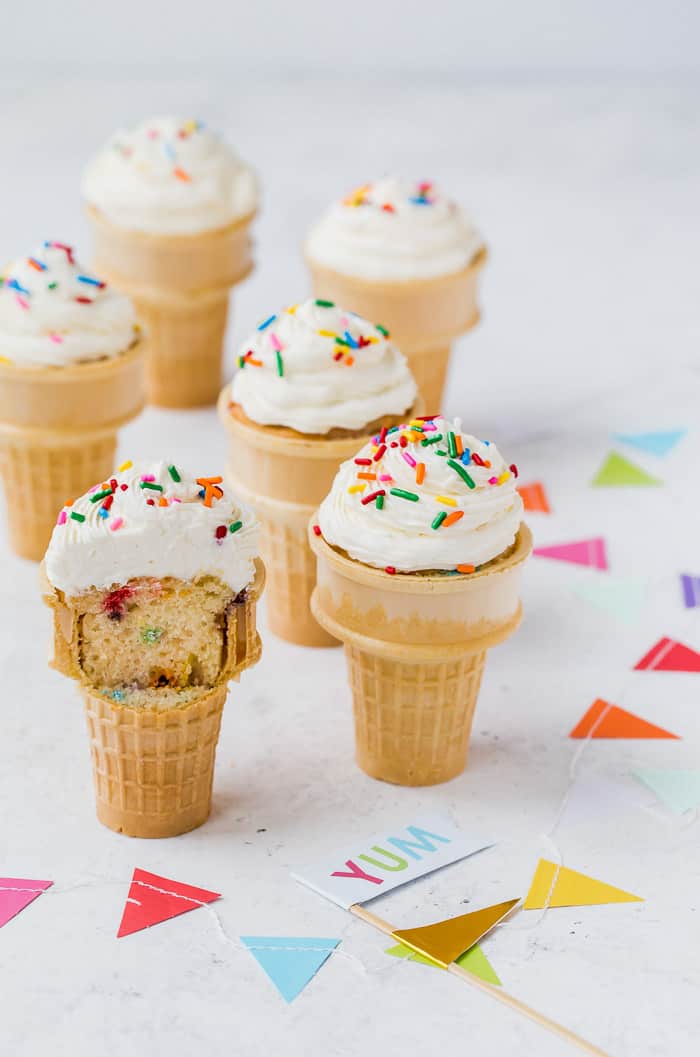 I hope you will try these ice cream cone cupcakes on your next summer get together! They are a fun project for kids as well.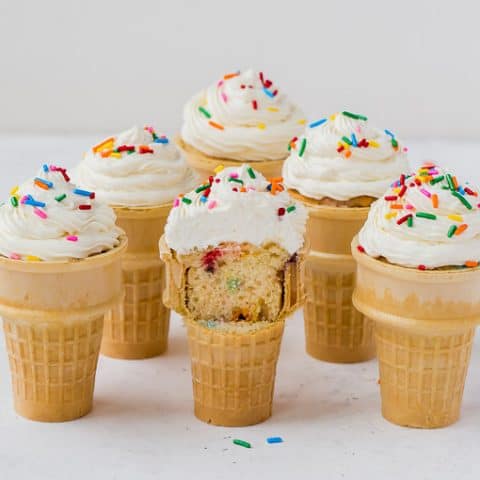 Yield: 2-3 dozen
Funfetti Ice Cream Cone Cupcakes
Funfetti ice cream cone cupcakes will be your new favorite summer treat! Fluffy, moist vanilla cupcakes are baked in ice cream cones and topped with whipped vanilla bean frosting.
Ingredients
For Vanilla Cupcakes:
24-36 regular ice cream cones or 12-18 Jumbo Ice Cream cones
1 cup whole milk, divided, room temperature
1 large egg, room temperature
4 large egg whites, room temperature
2 teaspoons pure vanilla extract
¼ teaspoon almond extract
2 -3/4 cups cake flour, twice sifted
1-1/2 cups granulated sugar
1 tablespoon + 1 teaspoon baking powder
¾ teaspoon salt
1 ½ sticks unsalted butter, room temperature and cut into cubes
½ cup rainbow jimmies
For Whipped Vanilla Frosting:
3 ½ sticks unsalted butter, softened
3 cups sifted confectioners' sugar
3 tablespoons milk
2 teaspoons pure vanilla extract
Pinch of salt
Instructions
Preheat oven to 350 degrees F. Place ice cream cones into ice cream cone baking pans or use regular muffin pans secured with foil around them.
Whisk together a 1/3 cup of the milk, egg whites, egg, vanilla and almond extracts.
Sift the cake flour in the bowl of an electric mixer fitted with the paddle attachment. Combine the rest of the dry ingredients including the sugar and stir together on low speed for 30 seconds
Add the butter one piece at a time and blend on low speed for 30 seconds. Then add the remaining 2/3 cup milk, and mix on low speed until moistened. Increase speed to medium and mix for about 1½ minutes. Be careful not to over mix. Scrape the sides of the bowl as needed.
Add the egg/milk/extract mixture in 3 separate batches mixing on medium speed after each addition until combined. Gently stir in the rainbow jimmies, until just combined.
Divide batter evenly into prepared ice-cream cones, filing each ¾ full.
Bake cupcake cones in the center of the oven for 15-20 minutes or until a cake tester comes out clean when inserted in center. (Note: if you are using jumbo cones, increase the baking time.)
Let cool in pans for 10 minutes before removing and cooling completely on wire racks.
For the Whipped Vanilla Bean Frosting:
Whip butter for 8 minutes on medium speed using the paddle attachment of an electric mixer. The butter will become pale and creamy
Add the rest of the ingredients and mix on low speed for 1minute. Then increase speed to medium and mix for 6 minutes until the frosting is very light, creamy and fluffy.
Best used right away.
Notes
Cupcake recipe adapted from Sweetapolita
Recommended Products
As an Amazon Associate and member of other affiliate programs, I earn from qualifying purchases.
Tools I used in this recipe: (Some affiliate links included)