Cranberry Ginger Pear Pie
A beautiful holiday cranberry ginger pear pie with tender pears, tart cranberries and spicy ginger that warms you up on those cold winter days! (Originally published Nov 2013. Recipe and pictures updated Nov 2017)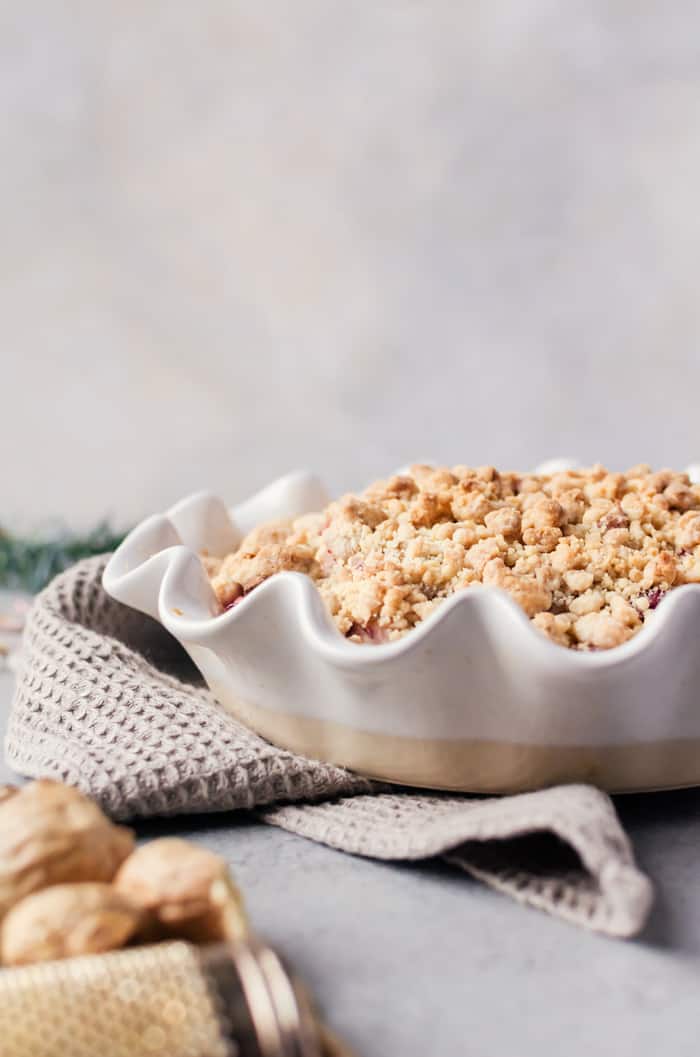 Behold, it is not Friday and I am sharing with you a pie. I had to share this cranberry ginger pear pie before we went away for the long weekend. With the first snow fall last weekend and all of this week, we have 6-inches of snow on the ground already and as you can imagine it's cold. This pie has served as our comfort food through most of the blizzard as it was the first thing I made when I came back from our trip to San Diego.
The recipe was in the new Cook's Illustrated cookbook I bought for my in-flight reading and just knew I was going to make it as the last pie in the Pie Friday series, launching the holiday season. I was going to share it last week but didn't since Michelle made the same pie and I decided to wait a week.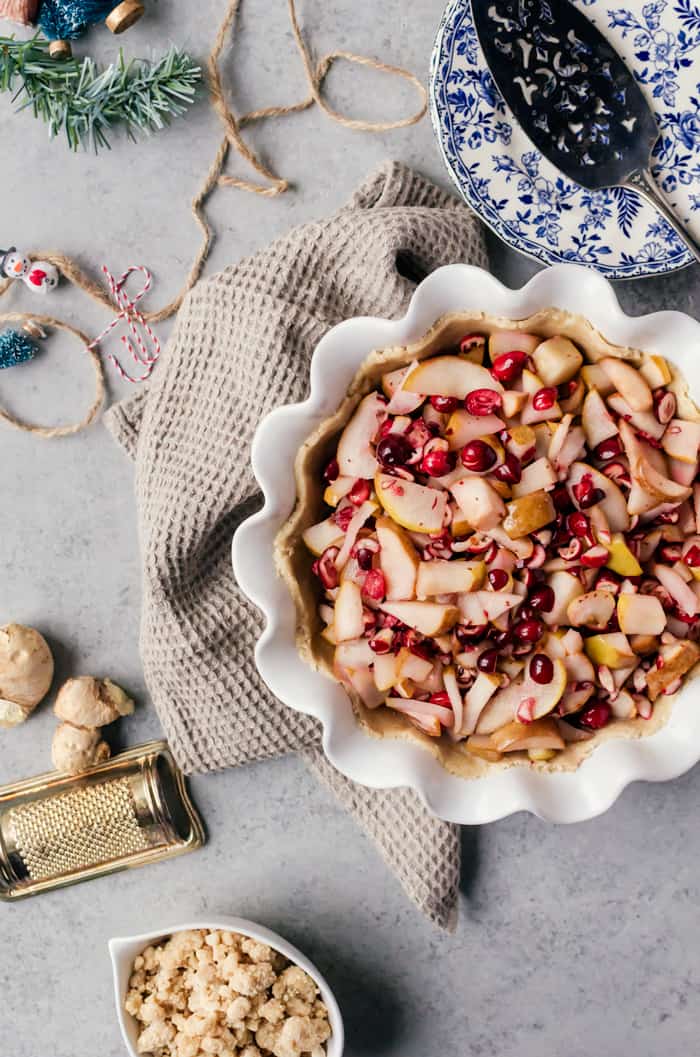 I love baking with pears as you can tell from the past couple of weeks of fall (spiced pear bread, pear walnut chocolate pie) and this pie is no exception to the absolute greatness of tender and textured pears. The combination of cranberries and juicy pears not only gives the pie it's beautiful red glow but also it's tartness and spicy zing from the ginger.
This pie is also very aromatic (oh smells so good while it bakes) thanks to the fresh ginger in the filling and crystallized ginger in the crunchy topping. Freaking awesome my friends. The conclusion here is that you need this cranberry ginger pear pie in your holiday baking line up. It's perfect for any cold night!
It goes without saying that you NEED this pie on your holiday table. It's a must and will become a new favorite for everyone.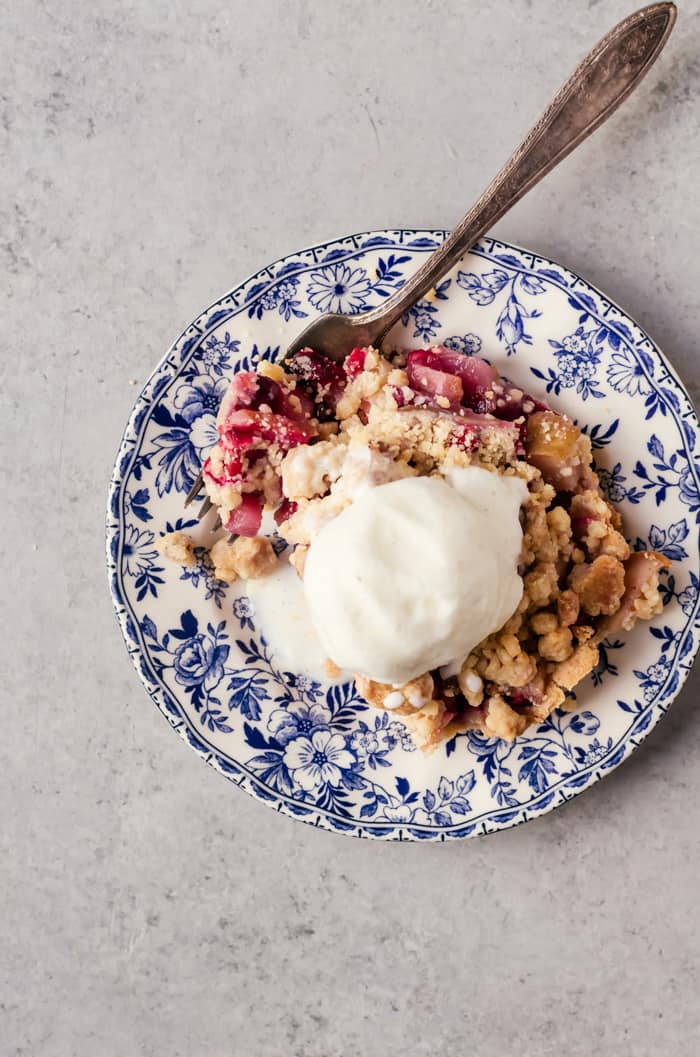 More Holiday Pies to try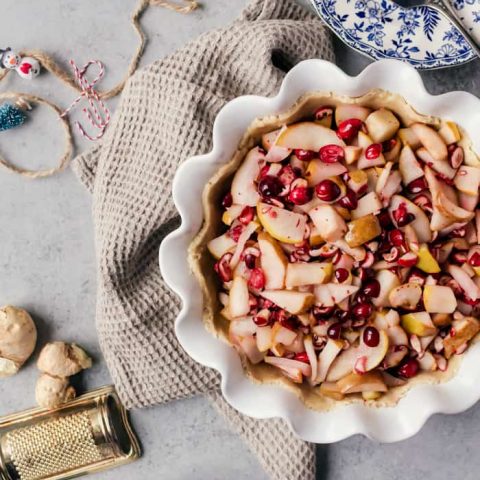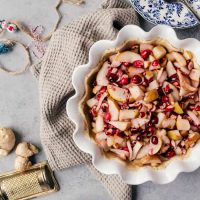 Yield: 1 9-inch pie
Cranberry Ginger Pear Pie
A beautiful holiday cranberry ginger pear pie with tender pears, tart cranberries and spicy ginger that warms you up on those cold days!
Cook Time
1 hour
15 minutes
Total Time
2 hours
5 minutes
Ingredients
For the Crust:
1½ cups all-purpose flour
6 tablespoons cold unsalted butter, cut into cubes
2 tablespoons cold vegetable shortening
1 tablespoon granulated sugar
½ teaspoon salt
For the Filling:
3 pounds pears (I used Bartletts), peeled, cored and sliced in ¼ inch slices
½ cup sugar, divided
¾ cup all-purpose flour
¼ cup packed light brown sugar
2 tablespoons crystallized ginger, chopped
1 teaspoon ground ginger
A pinch of salt
5 tablespoons unsalted butter, melted and remaining warm
8 ounces (2 cups) fresh cranberries
1 teaspoon fresh ginger, grated
Instructions
To make pie crust:
Prepare ¼ cup ice-cold water and keep in fridge. In a food processor, pulse the flour, shortening, 2 tablespoons butter and salt until combined. Add in the rest of butter and pulse until the mixture looks like coarse meal. Sprinkle about 2 tablespoons cold water over mixture and pulse until dough comes together in clumps. If dry, add a little bit more water (1 teaspoon at a time). Remove dough from processor and form into a disk. Wrap in plastic wrap and chill for at least an hour. The dough can be made up to 3 days ahead. Keep chilled. Let stand at room temperature 15-30 minutes before rolling out.
Roll out dough on a lightly floured surface and fit into a 9-inch round pie dish. Press the dough into the bottom and up the sides. Using sharp shears, trim the overhanging dough, leaving about 2-inches. Fold overhanging dough under itself and crimp the edges. Wrap loosely with plastic and chill for at least 30 minutes and until filling is ready.
For the filling and topping:
Preheat oven to 400 degrees and move oven rack to the lowest position.
In a large bowl, toss pears with 2 tablespoons of sugar and cook covered in a microwave for 4 to 8 minutes, until the pears are tender and they release their juices. Mix half way through microwaving. Let cool completely.
To make the topping, combine the flour, brown sugar, 2 tablespoons sugar, crystallized ginger, ground ginger and salt. Add in warm melted butter and mix until mixture is moistened and looks like pebbles. Set aside
In the bowl of a food processor, combine the cranberries, fresh ginger and remaining sugar. Pulse until cranberries are roughly chopped, only a few pulses. Place into a large bowl.
Drain the cooled pear and discard liquid. Add pears to cranberry mixture and stir to combine. Transfer filling to the pie dish. Sprinkle the topping over the pears, making sure to break up any large clumps. Place pie dish on a baking sheet and bake until juices are bubbling and topping is golden brown, about 45-55 minutes.
Let pie cool completely on rack, about 4 hours before serving.
Notes
Pie filling adapted from Food Network