Caramel Apple Pie with Cheddar
Thank you Florida Dairy Farmers for sponsoring this caramel apple pie recipe. As usual, all opinions are 100% mine and I love sharing with you brands/products I use and enjoy in my kitchen.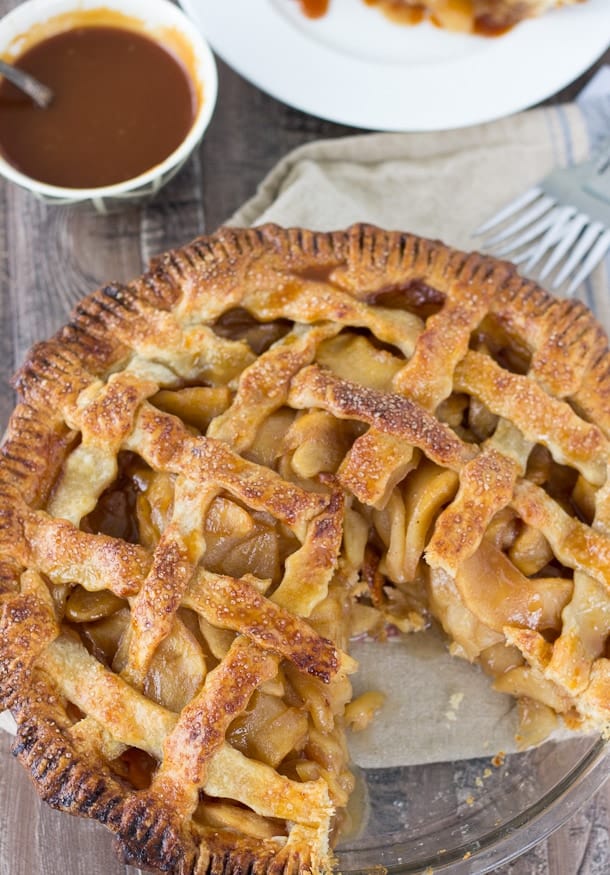 We are at it again folks, doing the caramel and apple dance! Since these salted caramel apple cupcakes, I upped my fall recipe game and made a pie. Actually it's thanks to a gazzilion apples from our apple picking trip last week if I am being honest and there's no better way to use up pounds of apple than making an apple pie. It's not your good ole apple pie recipe (that's a classic) but an apple pie with cheddar cheese in the crust and caramel in all it's nooks and crannies.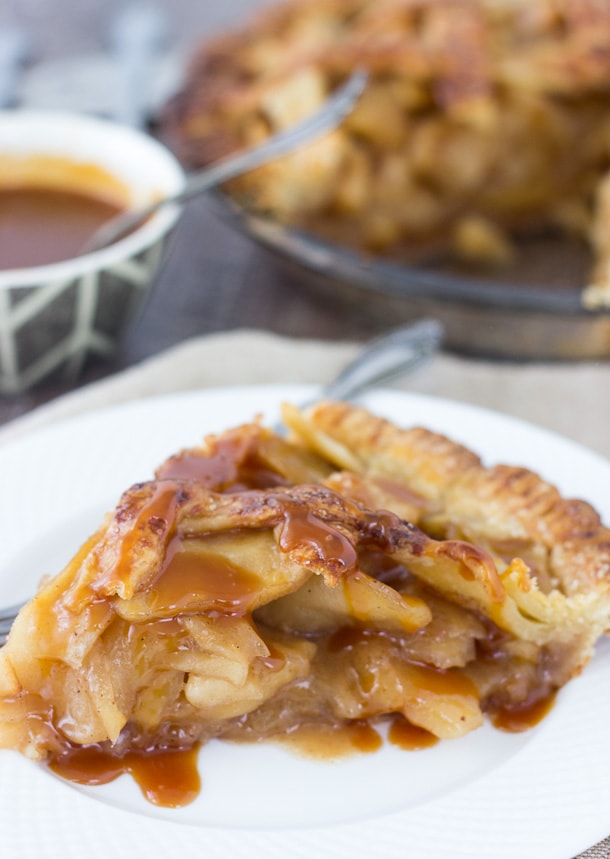 Like all my favorite pies, this caramel apple pie starts with a buttery and flaky crust. The exception here is that the crust is enhanced with sharp cheddar cheese adding a layer of flavor to the crust. This sharp cheddar resonates in every bite and pairs well with the spiced apple filling drizzled with a touch (or tons!) of caramel. Sweet, salty and perfectly tender apple filling is what makes this pie special.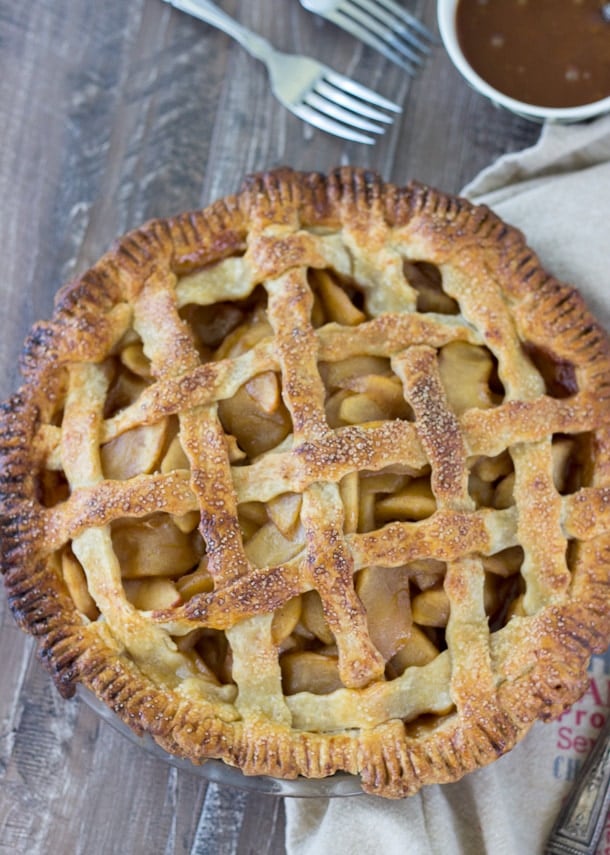 I know not everyone makes pies but if you make one apple dessert this season, it has to be this pie. It's worth every ounce of the trouble because the lovely combination of spiced apples and sharp cheddar with sweet and salty caramel is just remarkable. You have to try it!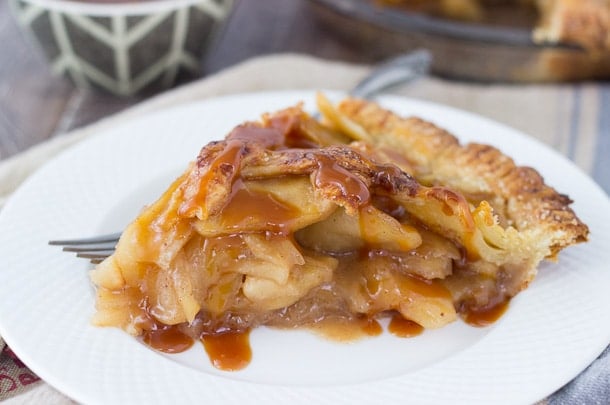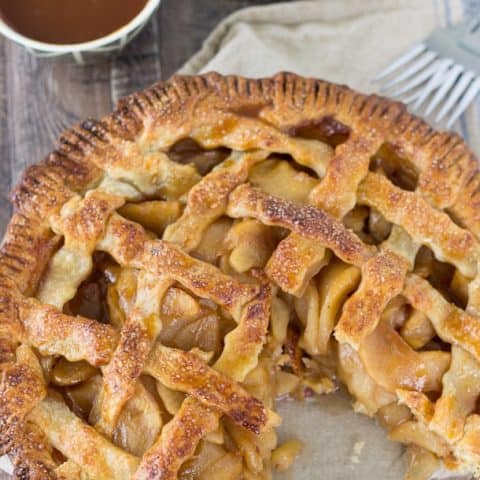 Yield: 1 9-inch pie
Caramel Apple Pie
Ingredients
For Pie Crust
2 ½ cups all-purpose flour
1 teaspoon salt
1 teaspoon sugar
14 tablespoons cold unsalted butter, cut into cubes
½ cup grated extra sharp cheddar, cold
Ice cold water
1 egg, beaten
Turbinado sugar for sprinkling
For the Filling
4 pounds apples, peeled cored and thinly sliced (I used a combination of Macintoshes, Galas and Cortlands)
⅓ cup granulated sugar
½ cup dark brown sugar
1 teaspoon ground cinnamon
1/4 teaspoon ground ginger
¼ teaspoon nutmeg
1 tablespoon lemon juice
3 tablespoons cornstarch
½ teaspoon salt
Instructions
To prepare crust
Prepare ½ cup ice-cold water and keep in fridge. In a food processor, pulse flour, sugar and salt. Add in half of the butter and pulse for 30 seconds. Add in the rest of butter and cheese and pulse until the mixture looks like coarse meal. Sprinkle about 6 tablespoons cold water over mixture and pulse until dough comes together in clumps. If dry, add a little bit more water (1 teaspoon at a time). Remove dough from processor and form into a disk. Divide dough into two disks; one slightly bigger than the other and wrap in plastic wrap. Chill for at least an hour.. The dough can be made up to 3 days ahead. Keep chilled. Let stand at room temperature 15-30 minutes before rolling out.
Roll out larger disk of dough on a lightly floured surface to a large 12-inch circle. Fit into an ungreased 9-inch pie dish, crimping the edges into your desired style. Refrigerate for at least 30 minutes
Preheat oven to 400 degrees F.
For filling:
While dough chills, prepare the filling. In a large dutch oven (or heavy bottomed saucepan), combine the apples, sugars, cinnamon, ginger, nutmeg and lemon juice. Toss together and cook over medium heat until apples are tender, about 20 minutes. Remove from heat and transfer to a large bowl. Let cool to room temperature. Once cooled, mix in cornstarch and salt until well combined. Set aside as you prepare the dough.
Roll out the other disk of dough similarly into a 12-inch circle. Cut into strips to create a lattice top. The number of strips and size depends on the look you want. Set strips aside. (Alternatively, for a full covered pie, do not cut into strips. Leave the 12-inch circle whole).
Pile the apple filling into the crust; making sure it's piled high in the center. Drizzle the caramel sauce over the filling. Create a lattice top by weaving the strips over the filling (or just cover with round 12-inch circle if make a full covered pie.). Crimp the edges to your desired look.
Brush the top of the pie with the egg wash and sprinkle generously with turbinado sugar. Place pie dish onto a baking sheet and bake for 50-60 minutes, or until filling is bubbling and pie crust is golden. Check pie at 30 minutes to see if edges are browning too quickly. If they are, cover loosely with foil and continue baking. Remove pie once done and let cool on a wire rack for at least 2 hours before serving.
I partnered with the good folks over at Florida Dairy Farmers to promote the great benefits of dairy in our diets. They support the local dairy farmers of Florida and spread the goodness of milk and all the dairy products produced locally. For more information, check out their Dairy Facts page. For more dairy recipe ideas, be sure to follow Florida Dairy Farmers on Facebook,Twitter andPinterest.