Pumpkin Chocolate Chip Cookies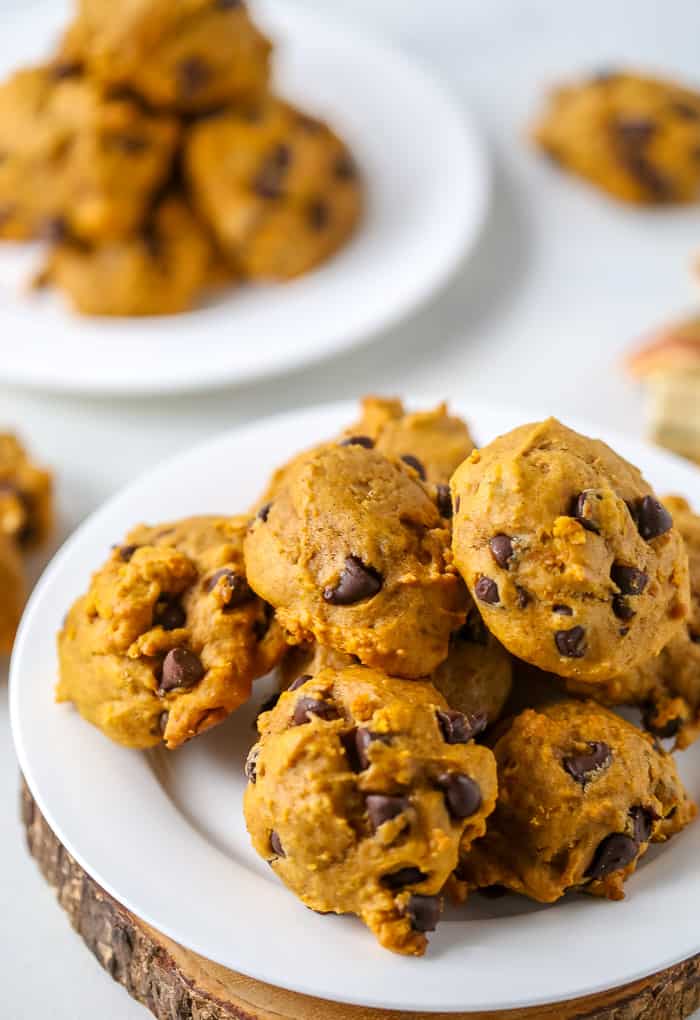 Do you know what I realized the other day? We are well into October and I've only shared two pumpkin recipes with you guys. Two! Talk about food blogger fail! I know you guys liked these pumpkin spice cupcakes with caramel cream cheese frosting and the pumpkin bundt cake with bourbon cream cheese glaze is quite popular so I'm not sure why I didn't keep feeding your addiction.
Wait, I know. I've been so engulfed in apple baking ever since my orchard trip. But here today to help remedy this short-sight is my pumpkin cookie friend. I have friends that are known for different things and this one makes the softest pumpkin chocolate chip cookies EVER. I figured you guys would forgive me for my pumpkin lapse with her recipe! (I hope the bribery works 😉 )
Here is Trista. She surfaced earlier on the blog when she graduated and I made her these peanut butter high hat cupcakes.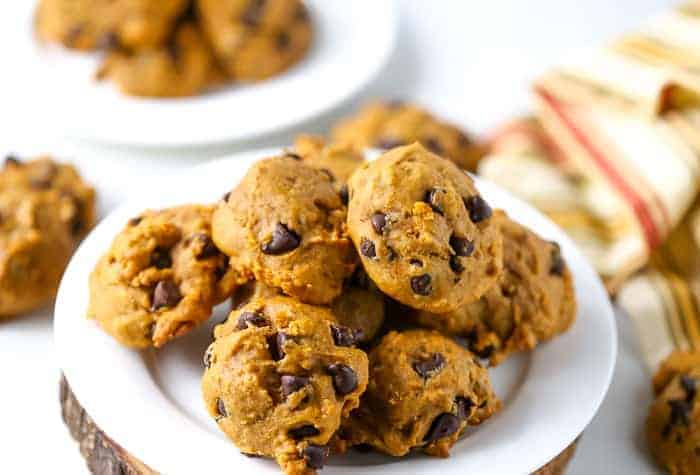 Hello, loyal A Classic Twist followers! My name is Trista and I am a friend and schoolmate of Zainab's. I have known her for over four years now and even had the pleasure of being a bridesmaid in her wedding about a year ago. I should also point out I have taken it upon myself to become her "inspiration" by "subtly" placing post-it notes in her cookbooks and suggesting different cakes that she could bake for me for any and all upcoming occasions. A few weeks ago Zainab had mentioned she was going to start baking for the autumn season, lots of apples and pumpkin flavors! Unlike Zainab, I am not a baker, heck I can barely cook anything more than a piece of toast. However, I have been told the pumpkin chocolate chip cookies I make are delicious and they were in high demand last autumn.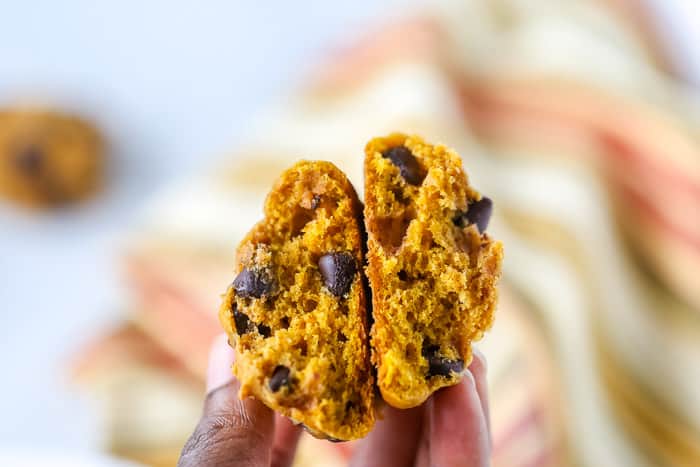 I was so excited when Zainab said that I could be a guest on her blog! I saw the opportunity to share my favorite season and cookies with all of her followers. About this time every year, I catch autumn fever; all I think about is pumpkin, leaves, crisp air and apples. I always run out to Bath and Body Works and purchase some pumpkin and cider candles to burn while I bake these pumpkin chocolate chip cookies.
More excitingly, I get to take part in a nine-year-long family tradition; a visit to the Pumpkinfest in Cortland, NY, where I went for my undergraduate degree. As a matter of fact, I just went there this past weekend and was able to enjoy sunny weather as the leaves fell onto us and we snacked on deep-fried Oreos (don't worry, I was doubtful the first time I tried them too but they are amazing!) and looked at all of the cute crafts that the vendors had to offer. There is just nothing like shuffling through the leaves and spending time with your family and of course, eating all of those fried, fattening guilty pleasures.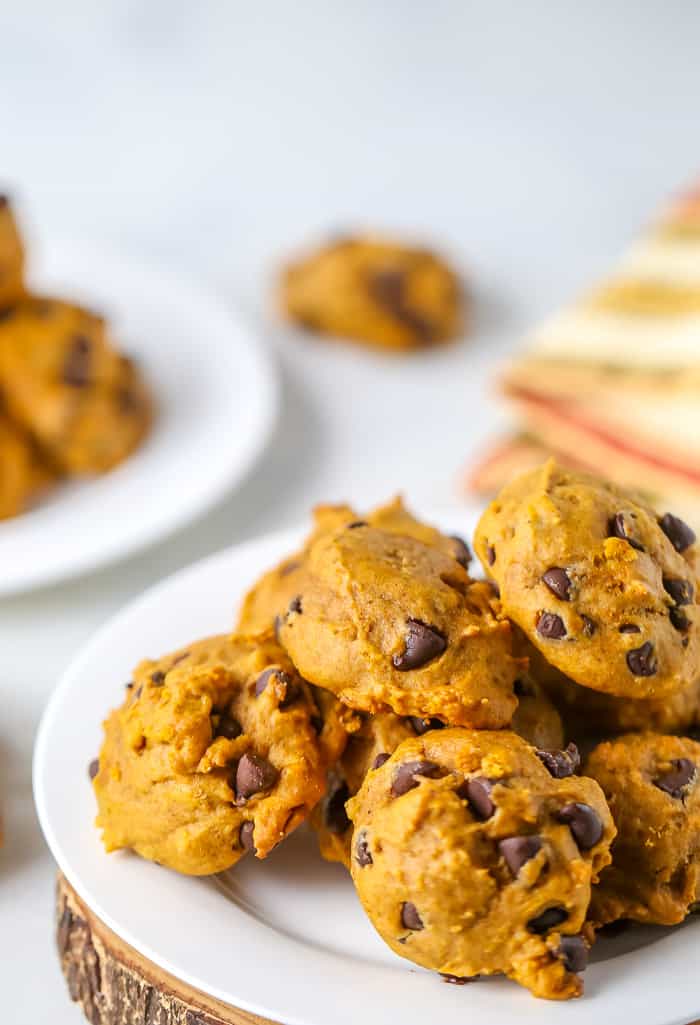 Besides looking forward to my annual visit to the Pumpkinfest, I also take every opportunity I can to suggest coffee breaks with Zainab so that we can go get our hands on some pumpkin-flavored warm drinks. Yes, we were two of those people who stalked Dunkin' Donuts and Starbucks waiting to hear that their seasonal drinks were back! I would suggest baking these delicious cookies and enjoying them with your very own festive flavored cup of coffee or tea. Just a tip – the cookies are also delicious after being chilled 😉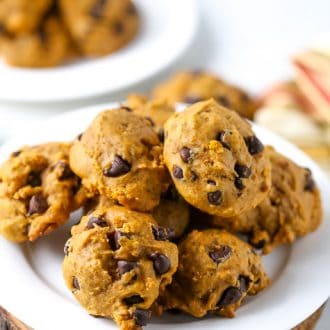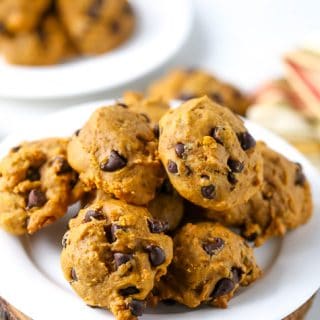 Yield: 2 dozen cookies
Pumpkin Chocolate Chip Cookies
Always in high demand, these Pumpkin Chocolate Chip Cookies have the perfect amount of spice and sweet!
Ingredients
2 cups all-purpose flour
2 teaspoons baking powder
1 teaspoon baking soda
2 teaspoons ground cinnamon
1/4 teaspoon ground nutmeg
½ teaspoon salt
1 cup canned pumpkin puree
1 cup granulated sugar
½ cup vegetable oil
1 large egg
1 teaspoon milk
1 tablespoon pure vanilla extract
2 cups semisweet chocolate chips
Instructions
Preheat oven to 350 degrees F. Line baking sheets with parchment paper or a silicone mat.
In a medium bowl, whisk together the flour, baking powder, ground cinnamon, nutmeg, and salt.
In a large bowl, beat together pumpkin, sugar, vegetable oil, egg, and vanilla extract until combined. In a separate small bowl, dissolve baking soda in milk and add to the pumpkin mixture.
Add in the flour mixture and mix until just combined. Stir in chocolate chips.
Using a cookie scoop, place scoop full of dough onto prepared sheets and bake for 10-12 minutes or until lightly brown and firm. Let cool completely on wire rack.
Notes
Recipe adapted from the Betty Crocker Book of Cookies
Recommended Products
As an Amazon Associate and member of other affiliate programs, I earn from qualifying purchases.
Thank you, Trista, for sharing this recipe today. And I don't think those neon pink post-it notes are subtle…just saying man! I hope you guys enjoy these pumpkin chocolate chip cookies.