Salted Caramel Apple Cupcakes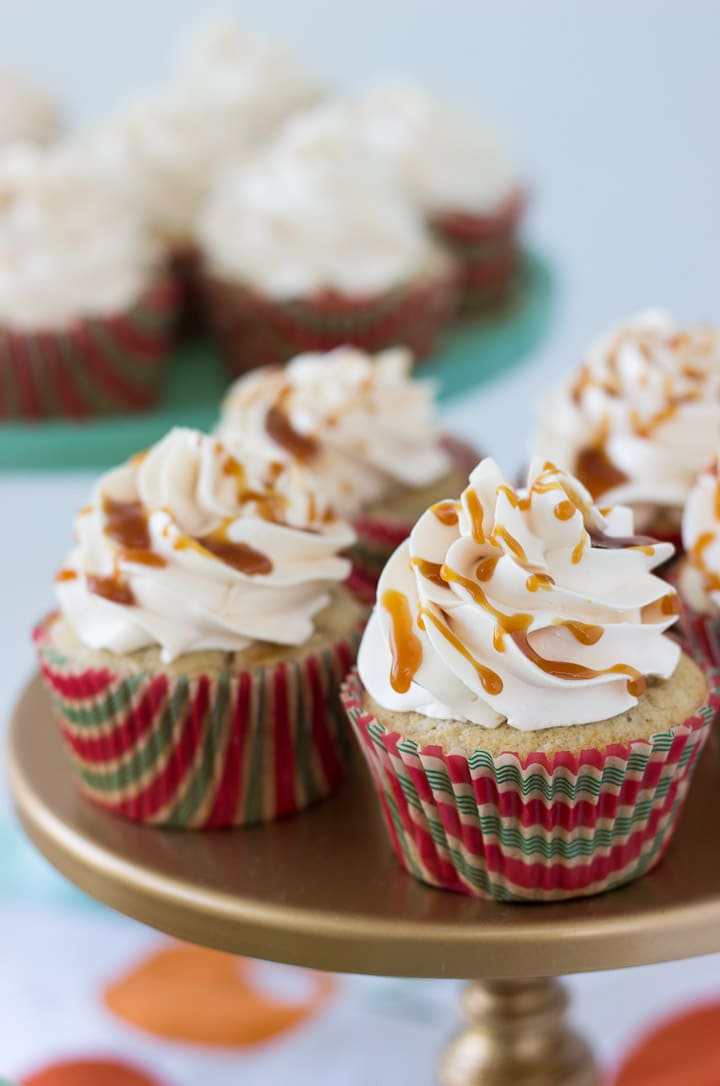 So … apparently we are almost half done with September?? When did that happen? Why is everything flying by so quickly? I haven't even purchased my fall boots yet… or started my fall bucket list yet. It needs to slow down. At least I was able to make these salted caramel apple cupcakes after some apple picking.
Talking about bucket lists, what's on your fall bucket list? Do you even make one? I try to do one each season (winter, fall, or summer), and this fall I have a few things in mind. Apple picking with the little one, new fall boots, try carving a pumpkin we picked from a pumpkin patch, local apple and pumpkin fests, and attending the Better Homes & Gardens Stylemaker Event.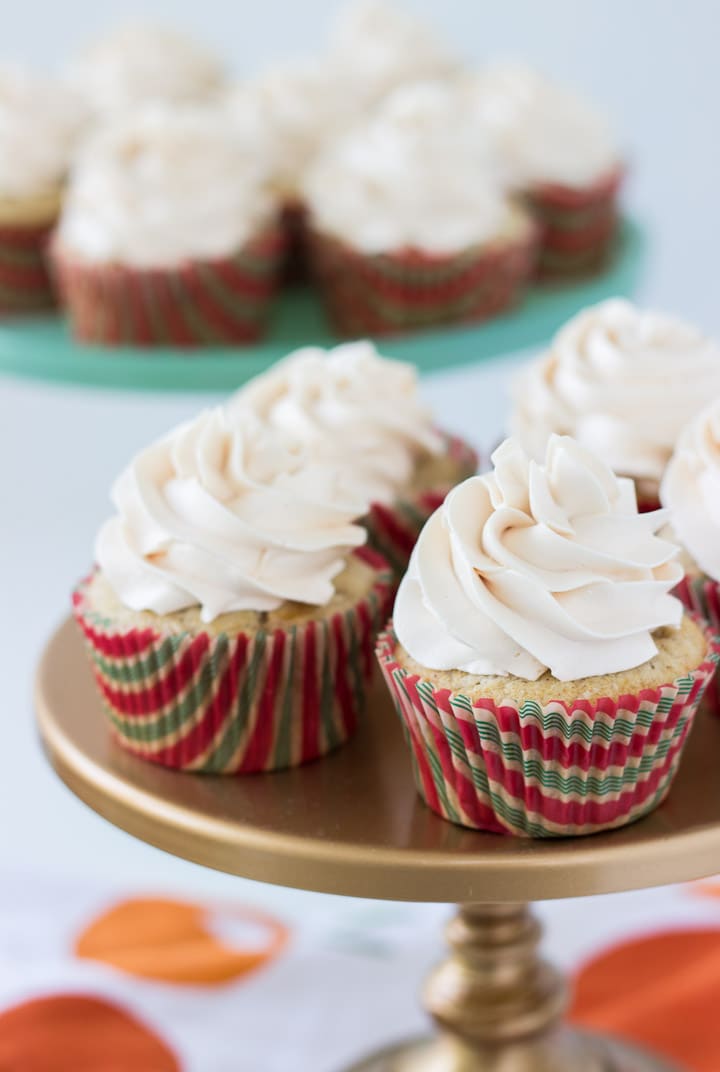 It has been feeling like fall around here as we are lingering in the 70s and 60s at night. This got the hubby in the mood for some fall treats after he brought home a gallon of freshly pressed apple cider. Like the good wife I pretend to be, I baked these salted caramel apple cupcakes for him to go along with hot spiced apple cider! (I am good to him 🙂 )
Last year, I made this Spiced Apple Cake with Salted Caramel frosting and it was a hit with everyone who tried it. It's still one of the most popular recipes on the blog (I assume you all love it too!) and it was even featured in the Fall issue of Sweet Dreams (a German publication). I figured I should revisit the recipe again and see if I can make a new rendition of those classic flavors.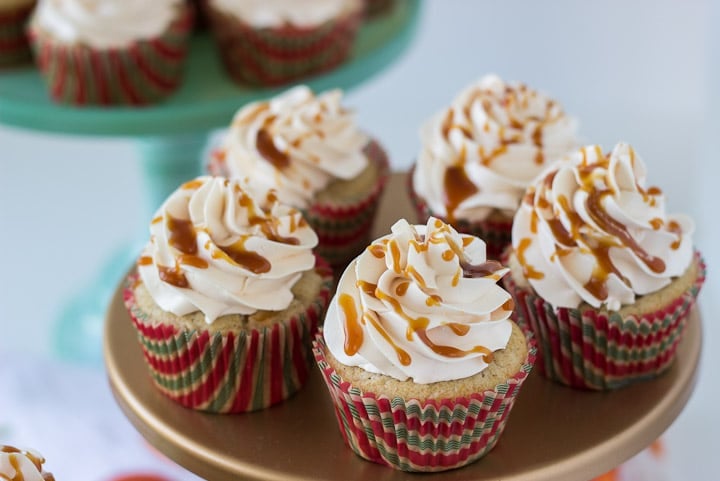 These salted caramel apple cupcakes are your classic caramel apple in a cupcake form. Starting with a perfectly spiced apple cake that's moist and fluffy with bits of apple in the cake, it is topped with a silky smooth swiss meringue buttercream infused with some caramel. Salted caramel to be exact. The whole thing gets more drizzles of salted caramel for the perfect fall cupcake!! I am seriously in love with these cupcakes and I know you will too once you try them.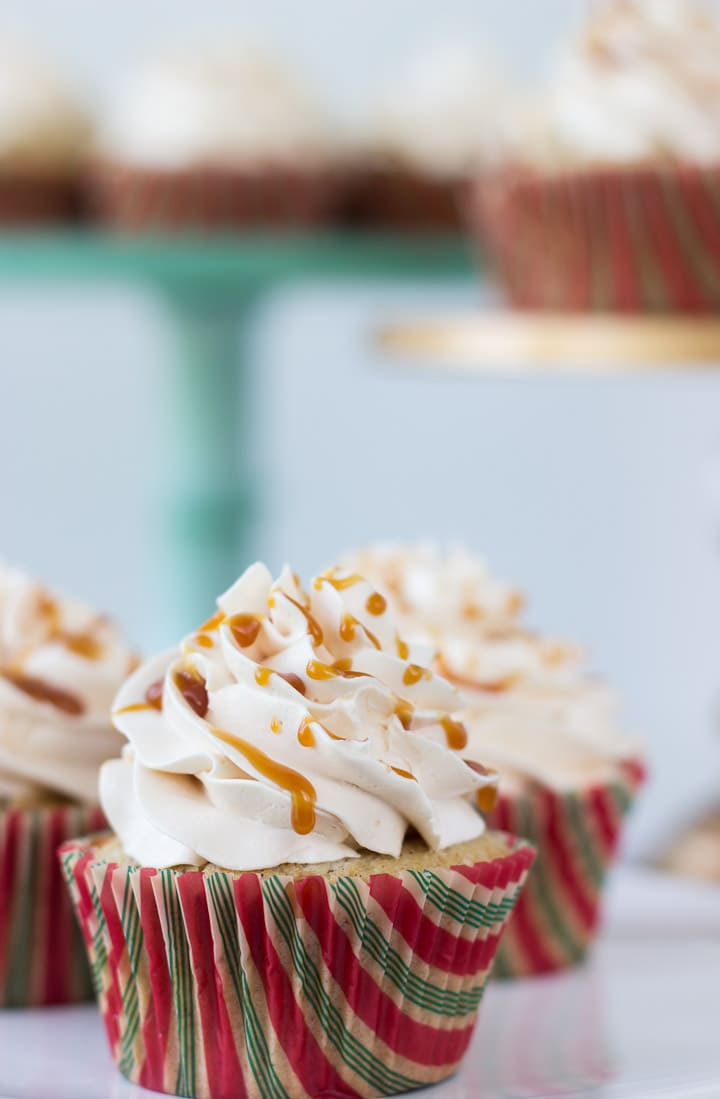 So make these this fall to enjoy the best of the season! And get started on your fall bucket list as soon as possible…because it is going to be turkey time before we know it. I'm starting mine this week as I head to New York City with my gal pal Allie for the Better Homes & Gardens Stylemaker Event! I am very excited and you can follow me on Instagram to follow along.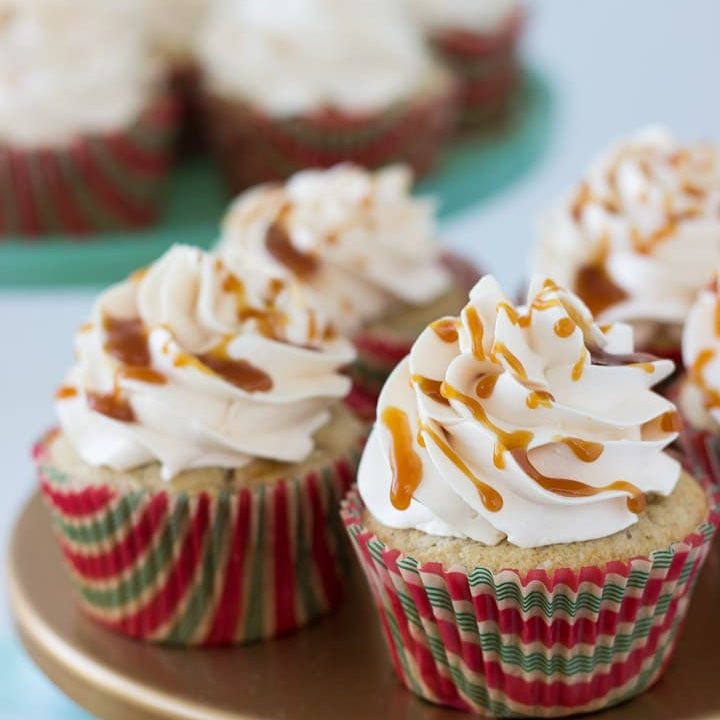 Yield: ~18 cupcakes
Salted Caramel Apple Cupcakes
These Salted Caramel Apple Cupcakes are perfectly spiced apple cakes that are moist and fluffy with bites of apple and topped with caramel swiss meringue buttercream.
Total Time
1 hour
2 minutes
Ingredients
Cupcakes
1 3/4 cups all-purpose flour
¾ teaspoon baking powder
¼ teaspoon baking soda
½ teaspoon salt
½ teaspoon ground ginger
½ teaspoon ground cinnamon
½ teaspoon nutmeg
¼ teaspoon cloves
½ cup (1 stick) unsalted butter, at room temperature
1 cup granulated sugar
1 large egg, at room temperature
¾ cup milk, at room temperature
1 medium apple, peeled and finely grated
Salted Caramel Sauce
1 cup granulated sugar
6 tablespoons unsalted butter (cut up into cubes)
½ cup heavy cream
1 teaspoon fine sea salt
Salted Caramel Swiss Meringue Buttercream
5 egg whites, room temperature
1¼ cup granulated sugar
1 ½ cup (3 sticks) unsalted butter, room temperature
1/3 cup homemade salted caramel sauce
2 teaspoons pure vanilla extract
Instructions
For Cupcakes
Preheat oven to 350 degrees. Line two muffin tins with cupcake liners.
In a medium bowl, whisk together flour, baking powder, baking soda, salt, ginger, cinnamon, nutmeg, and cloves.
In the bowl of an electric mixer, beat butter and sugar on medium speed until light and fluffy, about 3-5 minutes. Add in egg and mix until combined.
Add ⅓ of the flour mixture and mix until just combined. Add half of the milk and mix. Add ½ of the remaining flour, then the rest of the milk and the rest of the flour, beating well after each addition. Using a rubber spatula, fold in the apples into the batter gently.
Divide the batter into the prepared muffin tins. Bake cupcakes until the center springs back when touched and a tester comes out clean, about 20-22 minutes. Let cupcakes cool completely on a cooling rack.
To make Caramel sauce:
In a medium saucepan, melt sugar over medium-high heat. When the sugar starts melting, whisk until all the sugar melts. Sugar will clump in whisk but keep whisking. Once all the sugar is melted, stop whisking and let the sugar get to a deep amber color. You can swirl the pan occasionally to mix. Keep your eye on the caramel, as it will easily burn at this stage.
Whisk in the butter and mix until completely melted. Then remove the pan from heat and gradually add in the heavy cream. Whisk until smooth.
Whisk in the sea salt until dissolved. Transfer caramel immediately into a glass jar and let cool.
For Salted Caramel Swiss Meringue Buttercream:
Whisk together sugar and egg whites in a heatproof mixing bowl set over (not in) a pan of simmering water. Whisk until warm and sugar is dissolved (mixture should feel completely smooth when rubbed between your fingers), 2 to 3 minutes. Remove from heat.
With an electric mixer on medium speed, whisk egg white mixture for about 5 minutes (using the whisk attachment). Increase speed to medium-high, and whisk until stiff, glossy peaks form and meringue has cooled (test by feeling bottom of the bowl), about 6 minutes.
Reduce speed to medium and switch to the paddle attachment. Add butter, one piece at a time, beating well after each addition. Continue beating until the butter incorporates and smooth buttercream forms.
Beat in vanilla extract and gradually add in the salted caramel into the buttercream.
Use immediately to frost cupcakes or store in an airtight container in the fridge for up to a week.
Notes
Making Swiss meringue buttercream takes practice and patience. Here are some tips for success:
Be sure the sugar is melted in the double boiler before whisking the egg whites. Test this by touching the egg white mixture in the bowl. There should be no sugar felt.
Whisk until stiff peaks form. Test by taking out the whisk attachment...the whipped egg whites should have sharp peaks.
Do not start adding the butter until the bowl/whipped eggs are cool to the touch. Your butter will melt.
Add in the butter, a few cubes at a time. Mix in between until incorporated.
Once all the butter is added, KEEP MIXING. The buttercream will come together as long as the egg whites were cool. about 3-5 minutes on medium-high speed.
Recommended Products
As an Amazon Associate and member of other affiliate programs, I earn from qualifying purchases.