Spiralized Sweet Potato and Apple Enchilada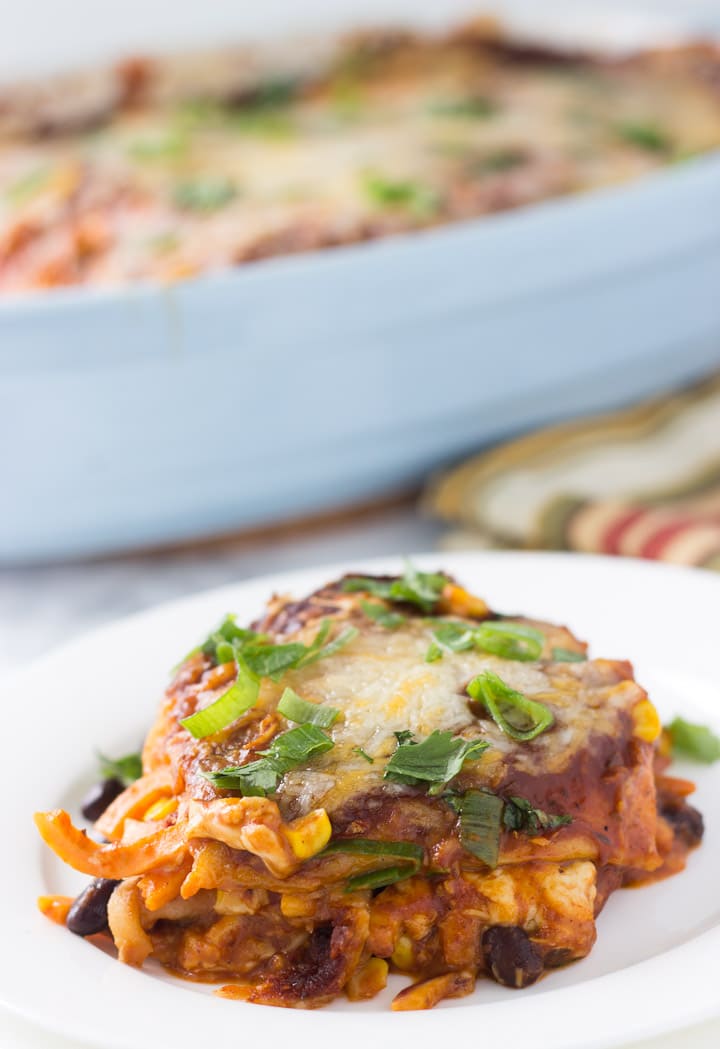 We have a savory recipe today!! Duh…you can see the oozes of cheese and spices in your face 🙂 It's Fall and we are jumping into comfort dish territory and I am uber excited for those yoga pants and blanket on the couch time. Also…sweet potatoes and apples?? Yes please!! This spiralized sweet potato and apple enchilada pulls together some of fall's veggies (and fruit) into a mexican-inspired dish.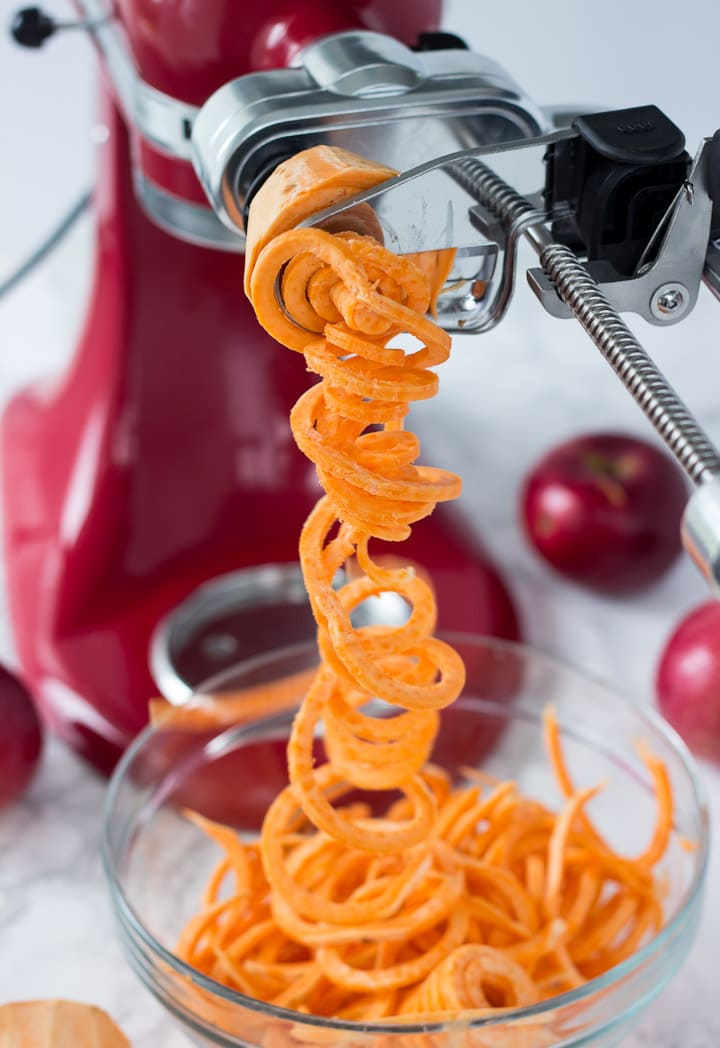 I recently got the new KitchenAid Spiralizer attachment for the Stand Mixer and I was excited to start making 'noodles' of all my veggies. If you have yet to make veggie noodles, it's extremely easy with this spiralizer attachment. Equipped with multiple blades and peeler, you can peel, core and spiralize just about any vegetable you like (think zucchini, apples, sweet potatoes, peppers, squash). I just love how it makes veggies fun to eat in different ways!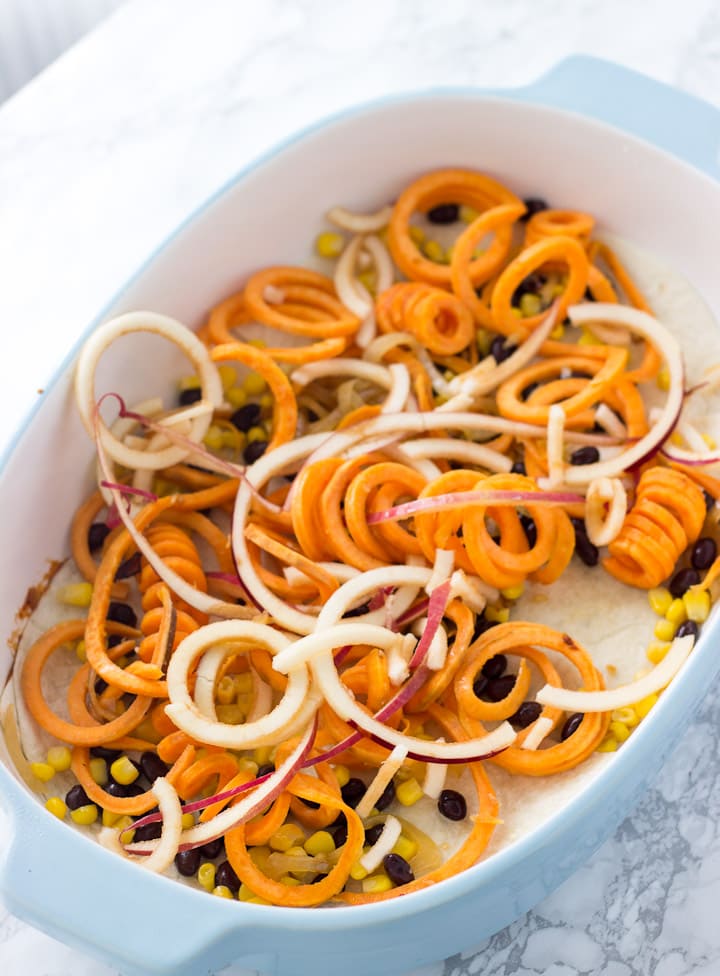 As I was getting ready for my maternity leave, I was on the hunt for freeze-able meals that will also nourish us during those first few weeks. I made a black bean lentil chili, a chicken enchilada lasagna and this spiralized sweet potato and apple enchilada. By far this was my favorite as not only did it give me a chance to play with my new spiralizer, it was also beautiful (I love all the colors!) and easy to put together.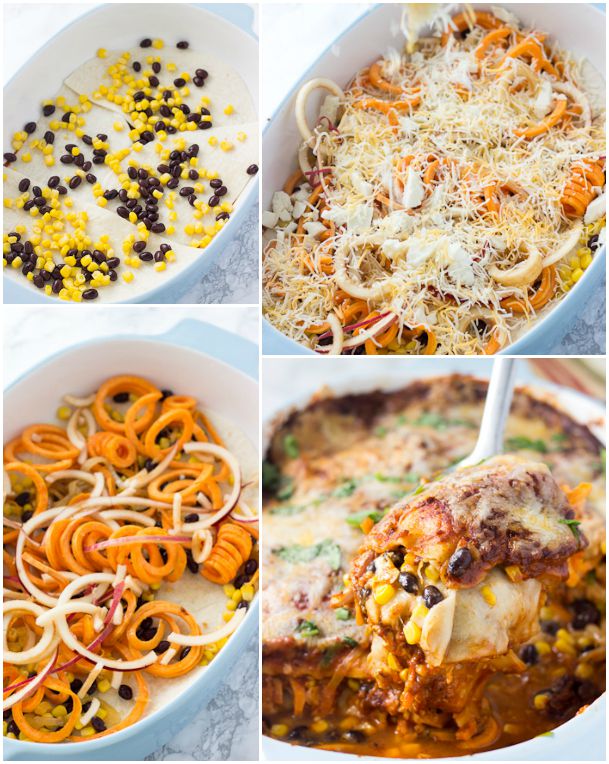 You simply layer corn, beans, spiralized apples and sweet potatoes, cojita cheese and more cheese, in between tortilla layers and spicy enchilada sauce. Warm, ooey-gooey melty cheese and an amazing blend of flavors.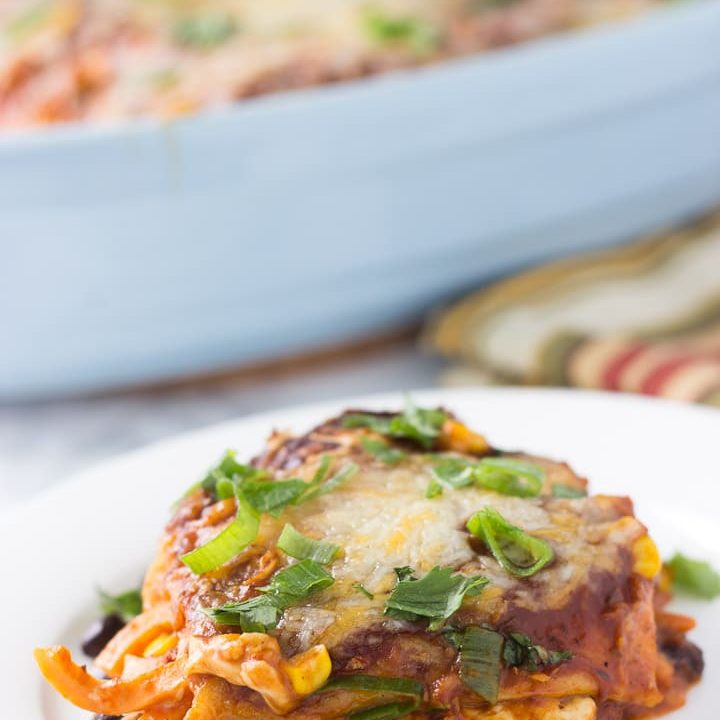 Spiralized Sweet Potato and Apple Enchilada
Ingredients
2 large sweet potatoes, spiralized
2 medium apples, spiralized
½ cup chopped onions
2 garlic cloves, minced
3 cups enchilada sauce (homemade or store bought)
10-12 wheat tortillas
1 can (15 ounce) black beans, rinsed and drained
1 can (15 ounce) corn, rinsed and drained
2 cups cojita cheese, chopped
2 cups shredded Mexican cheese blend
Toppings: Sour cream, avocado/ guacamole, green onions
Instructions
Preheat oven to 400 degrees F. Spray a KitchenAid® Ceramic 4-Piece Nesting Casserole Set with cooking spray and set aside.

In a medium saucepan set over medium heat, combine the spiralized sweet potatoes, apples, onions and garlic. Cook stirring occasionally until onions are fragrant and sweet potatoes are tender, 3-5 minutes. Remove from heat.

Spread about 3/4 cup enchilada sauce in the prepared casserole dish to coat the bottom of the dish. Top with tortilla to cover the entire bottom (I cut the tortillas in half to help layering).

Next, top with about half of the black beans, half of the corn and half of the sweet potato mixture. Add a third of the cotija cheese and a third of the Mexican cheese blend. Repeat the layering with a second layer of tortillas, then sauce, beans, corns, sweet potato mixture and another third of cheeses.

Finally top with a final layer of tortillas and the rest of the sauce.

Cover the dish with aluminum foil and bake for 30 minutes, until the cheese is bubbly. Uncover the dish and top with the rest of the cheeses. Bake for additional 15-20 minutes until the sweet potatoes are cooked thoroughly and cheese is bubbly.

Let casserole cool for a 10 minutes before serving.

Top with sour cream, avocado (or guacamole) and green onions.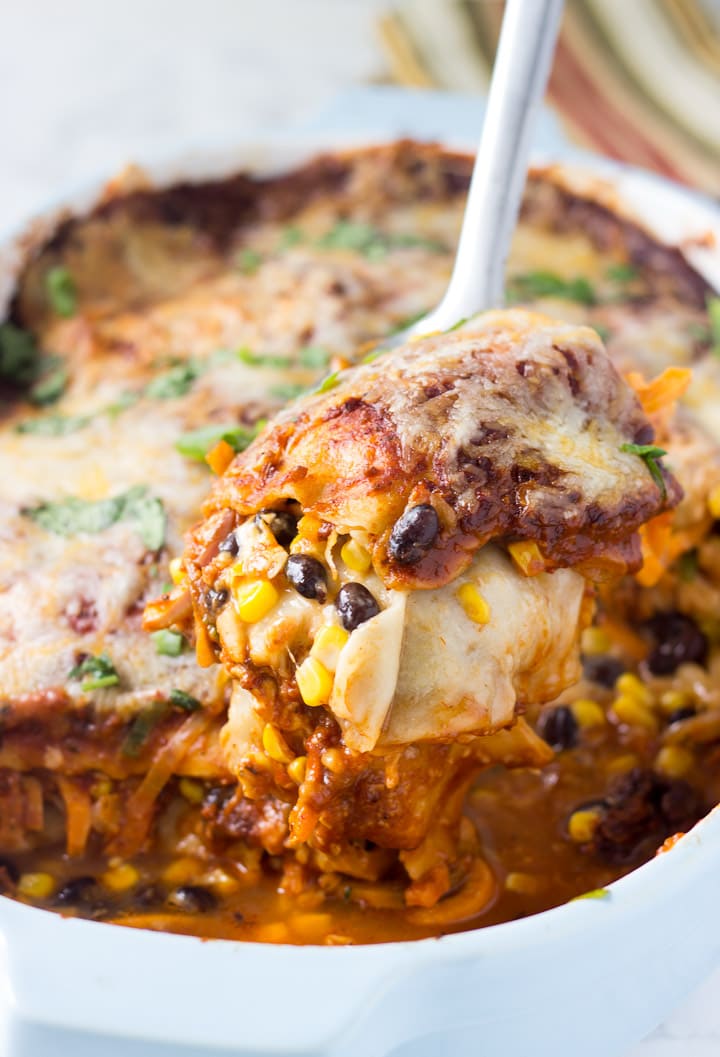 This post is sponsored by KitchenAid. All opinions are 100% mine as usual. Thank you for supporting the occasional sponsored posts that make it possible for me to continue to create quality content!