Peppermint Truffles
Looking for a sweet indulgent holiday treat? Try these peppermint truffles. They are smooth, indulgent, and perfect for any holiday season cookie exchange.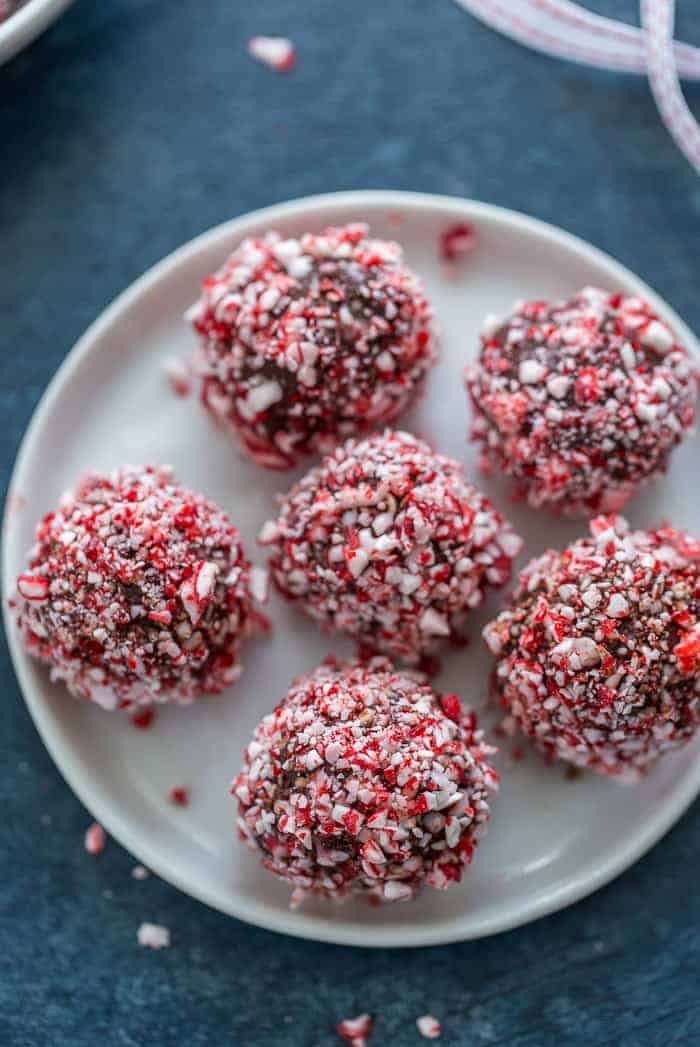 Winter is officially here guys. As I write this, it is 30 degrees and snowing. We've had 4-5 inches of snow today and expecting more tomorrow. It's most likely going to be a snow day of staying inside and eating winter desserts like these peppermint truffles. They are tiny treats packed with indulgent chocolate and the cooling flavor of peppermint in every bite. Perfect for holiday gifting and cookie exchange platters.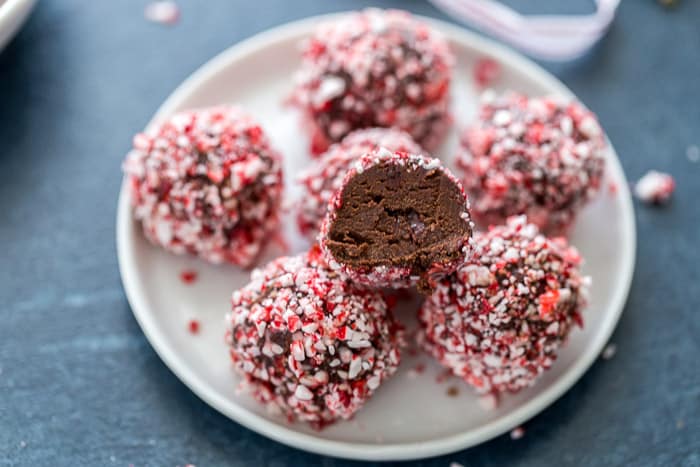 I am not sure why I don't make truffles much. Everyone loves them and is always a great idea for stocking stuffers. Plus, they are incredibly simple to make at home. This year, I wanted to add more holiday flavors to my classic chocolate truffles for cookie boxes and I am so glad I made these peppermint truffles as they are a big hit with everyone who has tested them for me.
How to make peppermint truffles
The key to great truffles is the starting ingredient – chocolate. You need good quality chocolate and you can't skimp on this. I love Ghirardelli 70% bittersweet chocolate bars but you can start with any kind of chocolate you prefer.
You start by gently heating up cream and butter. You then pour this hot liquid over your chopped chocolate. I like letting it sit for a few minutes to ensure the chocolate is melted without disturbing it. Then you will mix it until smooth.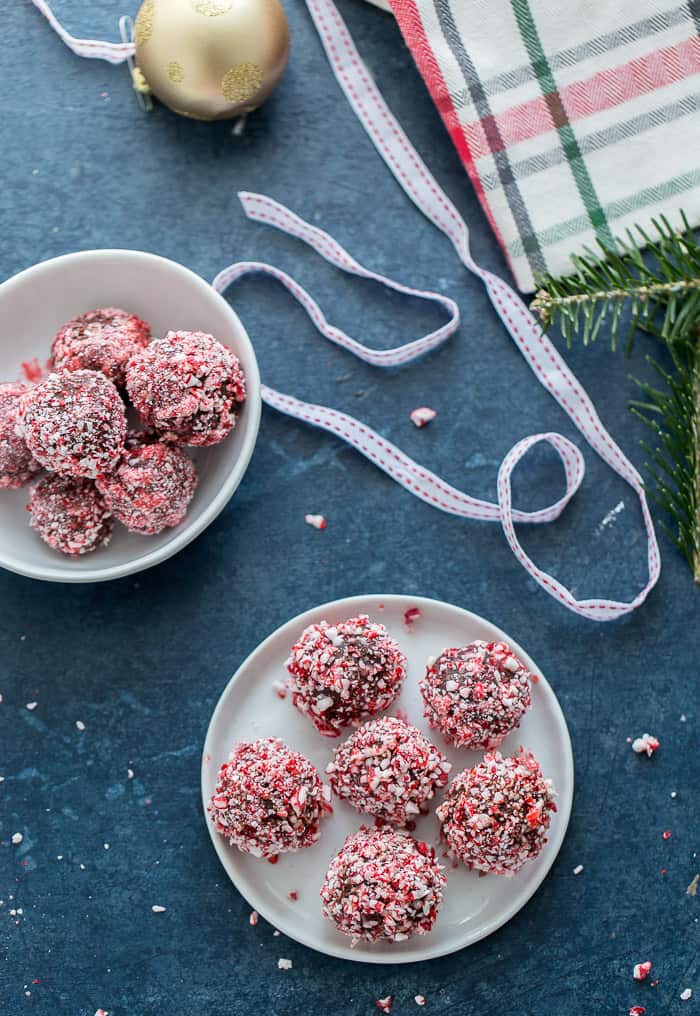 Once melted and smooth, we whisk in peppermint extract and crushed peppermint candy canes. The crushed candy canes add that crunch you need in any sweet, indulgent treat. At this point, we need the chocolate to harden so we can form them into balls. I like chilling it for a little bit.
Then using a cookie scoop or tablespoon, form balls from the chocolate. Roll these immediately in crushed peppermint candy canes, cocoa powder, or just red sprinkles.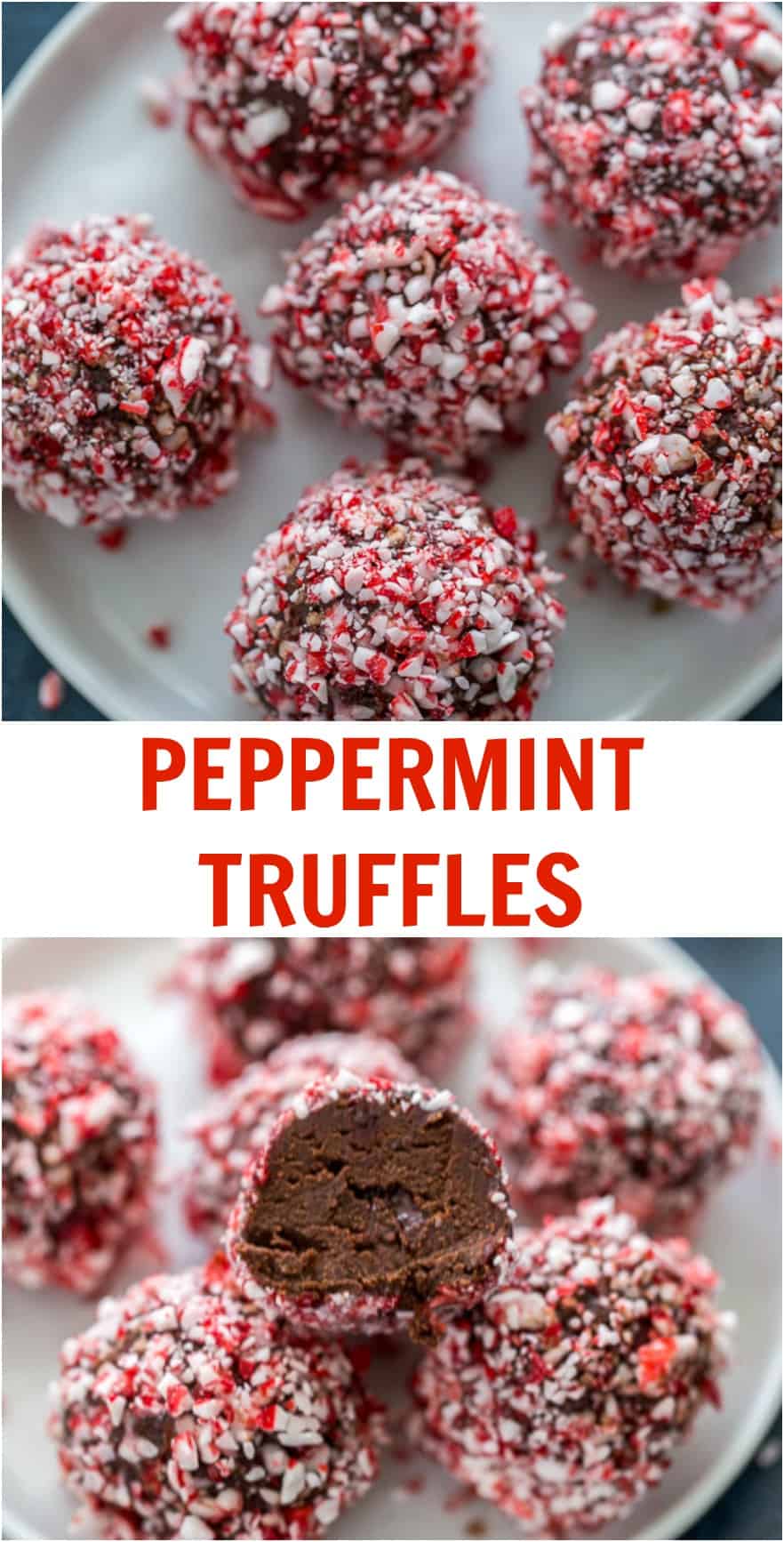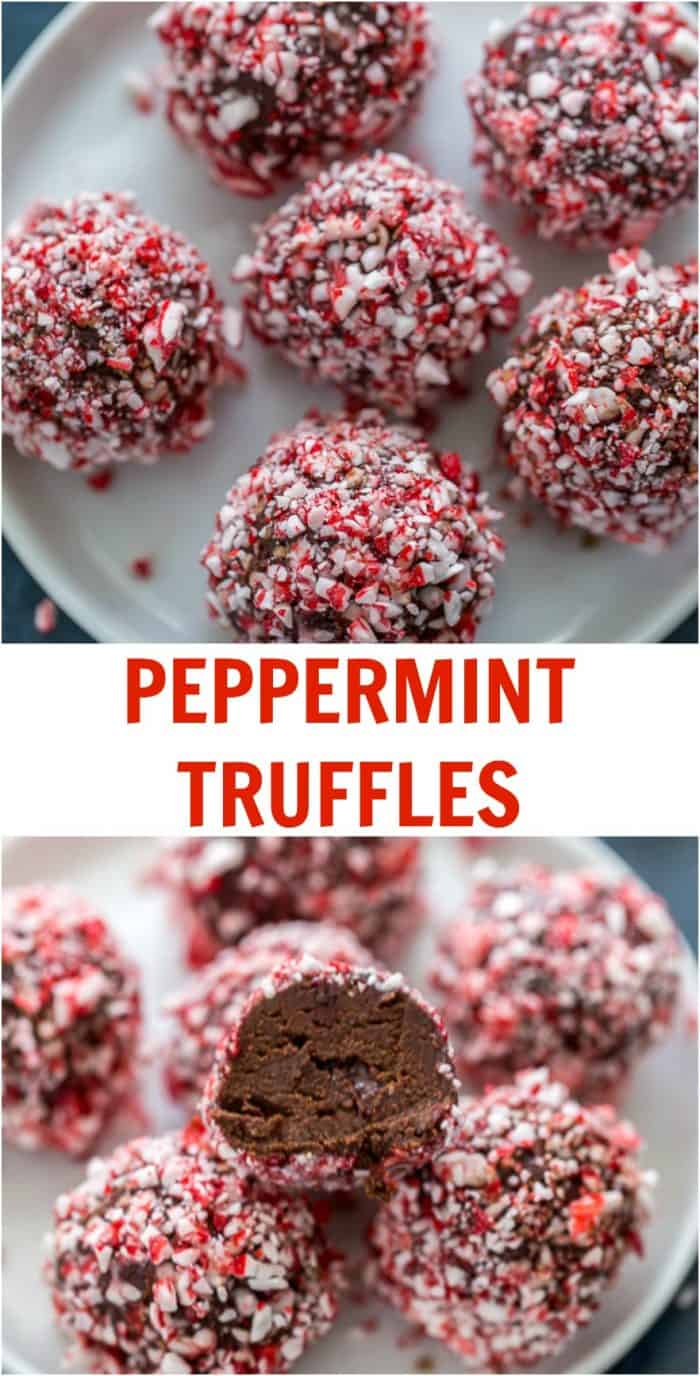 This holiday season, as you fill your cookie platters and holiday boxes for friends and family, add these peppermint truffles! They will bring much need holiday cheer to any day. Enjoy!
If you want more peppermint treats try my peppermint mocha cupcakes.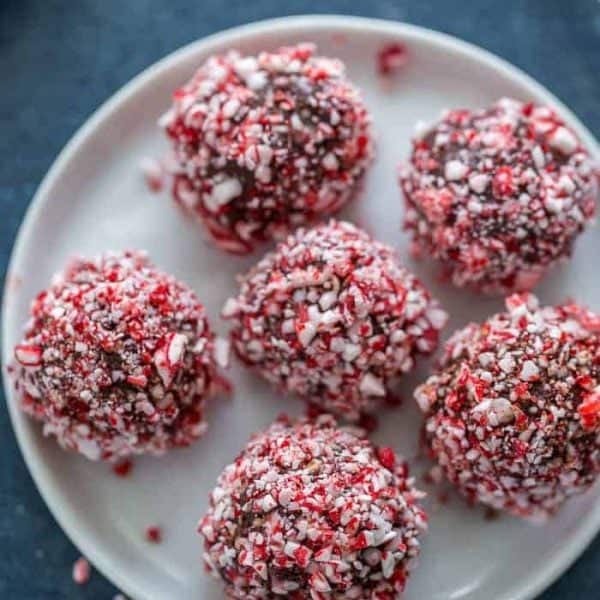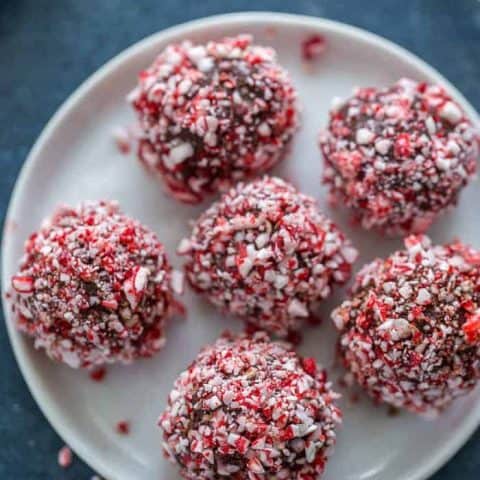 Yield: ~12 truffles
Peppermint Truffles
Decadent chocolate and peppermint combo that is delightful!!
Ingredients
¾ cup heavy cream
2 tablespoons unsalted butter
8 ounces semisweet or bittersweet chocolate, chopped
¼ teaspoon peppermint extract
3 candy canes, crushed
toppings: finely crushed candy canes, red sanding sugar, cocoa powder
Instructions
In a medium saucepan set over medium heat, bring the heavy cream and butter to a gentle boil.
Pour over the chopped chocolate in a medium bowl and let sit for 5 minutes. Stir in the peppermint extract until smooth and then stir in the crushed candy canes.
Refrigerate the chocolate until firm, about 1 to 2 hours.
Roll tablespoons of chocolate into balls and roll in crushed candy canes, cocoa powder, or red sanding sugar.
Refrigerate until set, 1 to 2 hours.
Recommended Products
As an Amazon Associate and member of other affiliate programs, I earn from qualifying purchases.