Brown Sugar Cupcakes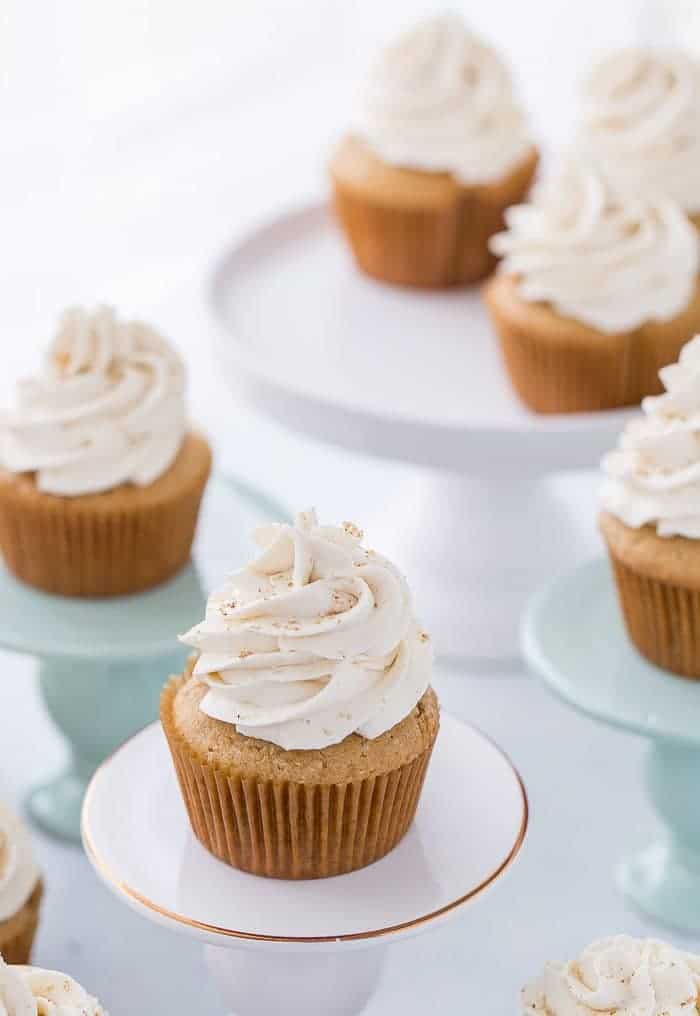 Happy Monday friends!! This is the first official week of fall and I am celebrating the start of my favorite season in style – fall fashion in full gear and fall baking overflowing in my kitchen. These brown sugar cupcakes were my newest adventures and I can't wait for you to try them. They are so simple, flavorful and comforting (can a cupcake be comforting? of course!). Perfect for any crisp day of the season and as we get into the holiday season they will surely please a crowd.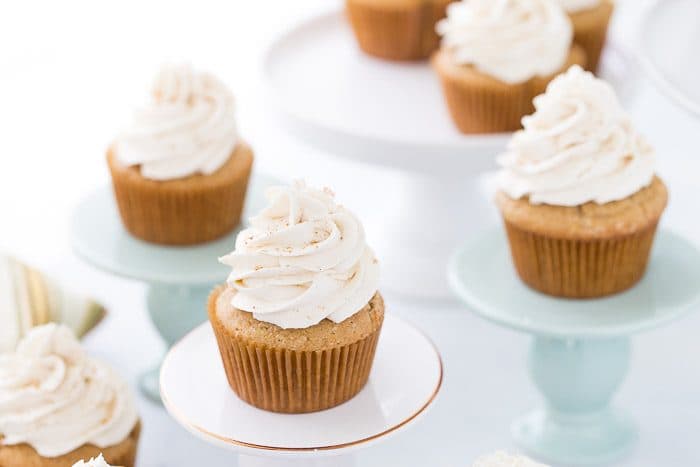 I don't know how fall became my favorite season. My husband is still amazed at my excitement for the first few weeks of fall. Despite being from Sierra Leone, I am NOT a fan of the heat. Sticky, muggy, hot weather makes me miserable. Maybe because all I knew was the heat? That's why fall is so perfect. It's none of the above and especially in Upstate NY, we have the most beautiful falls with picturesque foliage, apple orchards and pumpkin farms. If only it lasted more than 4 weeks before that thing that starts with W begins.
This is why I try to make good use of my fall weather. I switch my closet at the earliest signs of the leaves turning and I bring out all things cinnamon, brown sugar and apples in the kitchen. These brown sugar cupcakes are missing the apples but have everything else you need in a fall cupcake (check out these Salted Caramel Apple Cupcakes if you are on the hunt for apple cupcakes). Moist, flavorful and comforting!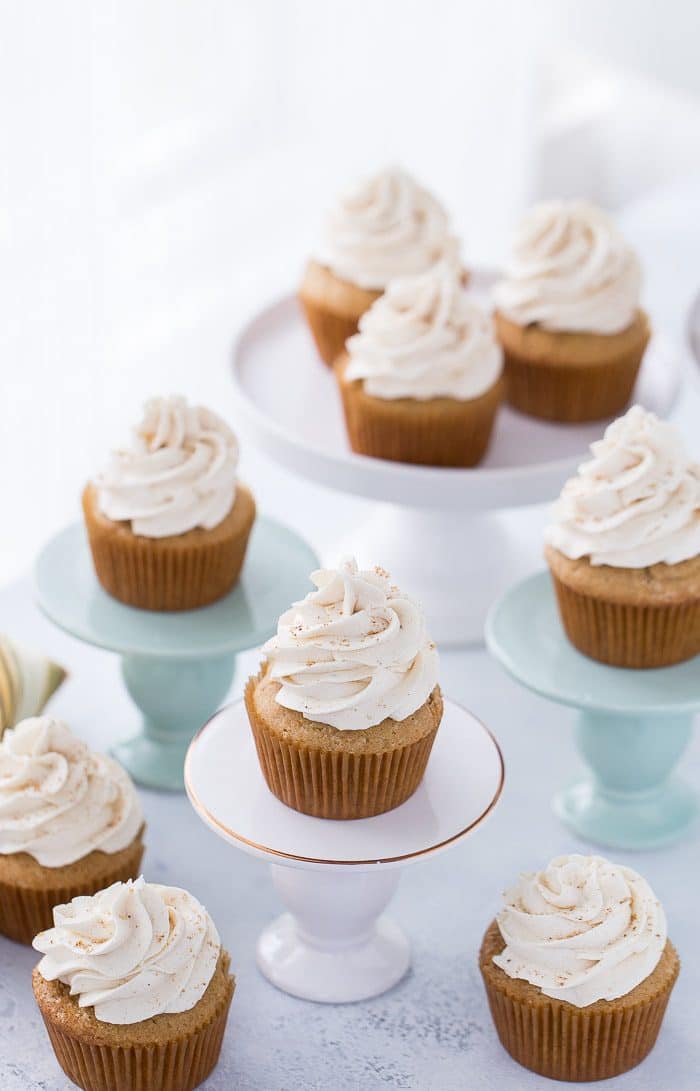 The cupcakes themselves are simple to whip up. Brown sugar and butter are beaten until light and fluffy before infused with warm comforting spices. The cupcake is topped with an equally sweet brown sugar frosting that complements the flavors of the cupcake. All in all, a stellar cupcake and a great canvas for other flavors. I can only imagine how these will taste with a salted caramel frosting. Hmmmm!!
Try these brown sugar cupcakes today and get started on all your fall baking!
For more inspiration, check out my fall baking recipe index!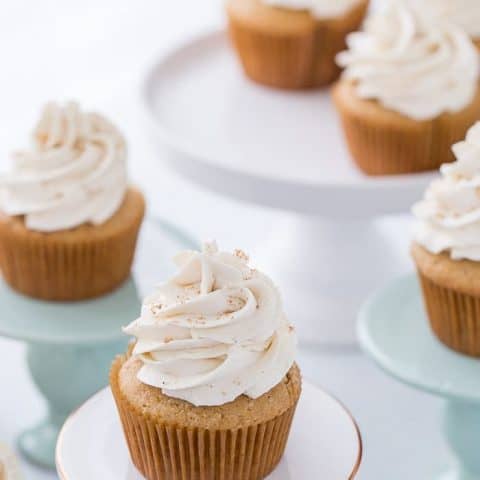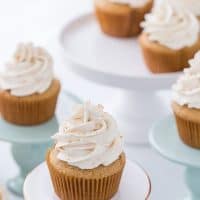 Yield: ~12 cupcakes
Brown Sugar Cupcakes
Moist and flavorful brown sugar cupcakes that are perfect for fall and holiday season baking. 
Total Time
1 hour
3 minutes
Ingredients
For the Cupcakes:
1 cup all-purpose flour
1/2 cup cake flour
1/2 teaspoon baking powder
1/2 teaspoon baking soda
1/2 teaspoon fine sea salt
1/2 teaspoon ground cinnamon
a pinch of nutmeg
1/2 cup (1 stick) unsalted butter, room temperature
1 cup (packed) golden brown sugar
2 large eggs, room temperature
1/3 cup sour cream
1 teaspoon pure vanilla extract
Frosting:
1 cup (2 sticks) unsalted butter, softened at room temperature
1 cup loosely packed brown sugar
2 cups powdered sugar
2 teaspoons pure vanilla extract
Instructions
Preheat to 350°F. Line a 12-cup muffin tin with muffin cups.
In a medium bowl, whisk together the flours, baking powder, baking soda, sea salt, cinnamon and nutmeg.
In a large bowl, using an electric mixer, beat the butter until smooth, about 2 minutes on medium speed. Add the brown sugar and beat until light and fluffy, about 3 minutes. Add the eggs, one at a time, beating to combine after each addition. Beat in the sour cream and vanilla extract. Reduce speed to low and add in the dry ingredients, in two separate additions. Beat until just combined and incorporated.
Divide the batter into the prepared muffin cups, filling each 2/3 full.
Bake the cupcakes for 20-23 minutes or until a toothpick inserted into the center comes out clean. Let cool completely before frosting.
For the frosting, beat the butter and brown sugar on medium-high speed until light and fluffy. Add in the rest of the ingredients and mix on low speed to combine. Increase speed and beat frosting until fluffy, about 2-3 minutes.
Frost cupcakes and decorate as desired.