Grandma's Apple Cake Recipe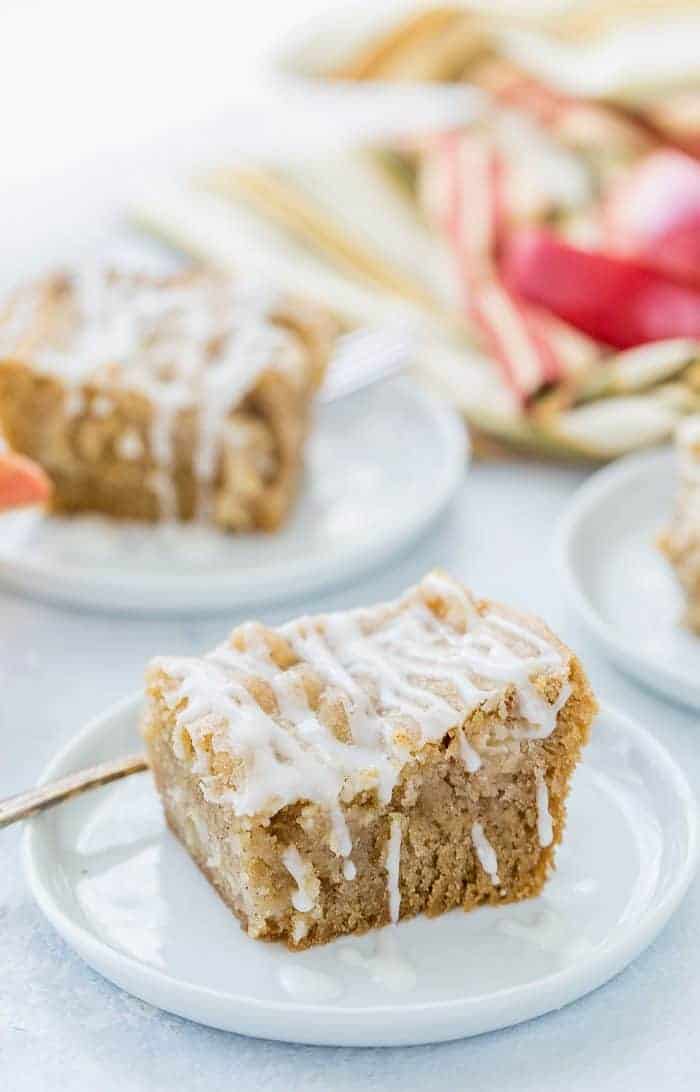 Happy Tuesday friends! I have a very special recipe for you today! Mr J's grandma's apple cake recipe handed down from my wonderful mother-in-law to me and now to you. It's the perfect example of a family heirloom recipe filled with love, tastes comforting and brings back memories of your childhood.
A classic apple cake spiced with cinnamon and baked with chunks of apples in every bite. So sweet, so lovely and filled with grandma's love and comfort at its finest. My MIL made this version pictured here recently when she came over to visit. She brought the whole pan over and I had to take a few pictures to share with you all.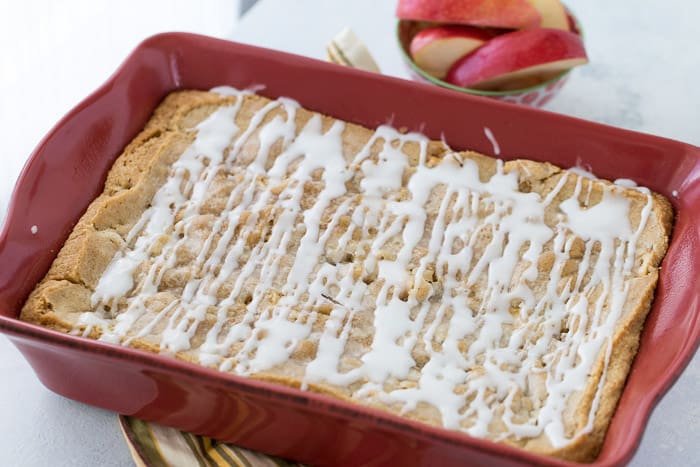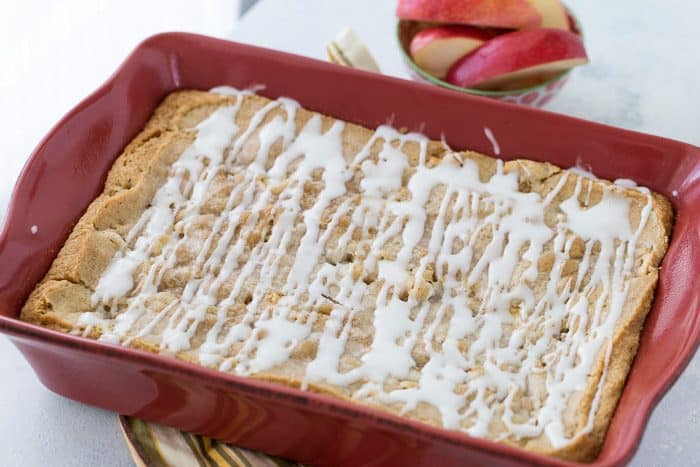 As many of you know, I didn't grow up baking so I didn't inherit any grandma or family recipes. In fact, that is one of the reasons why I started this blog; to teach myself how to bake so I can create memories with my future kids and they can have family recipes to pass on down.
Luckily for me, my husband has some favorite family recipes and my in-laws have been great at sharing. A few years ago, my father-in-law shared his mom's homemade fried donuts which are my go-to for anything fried cake donut. Today's apple cake recipe is now a fall must-have in my kitchen.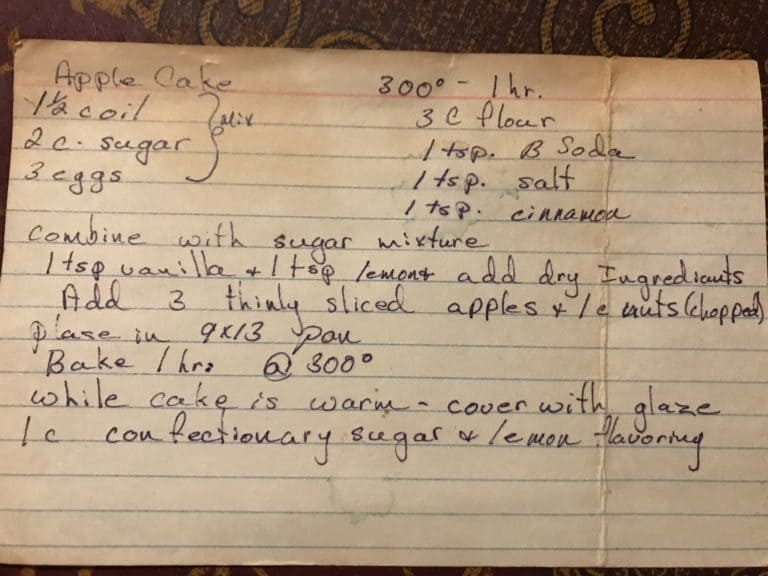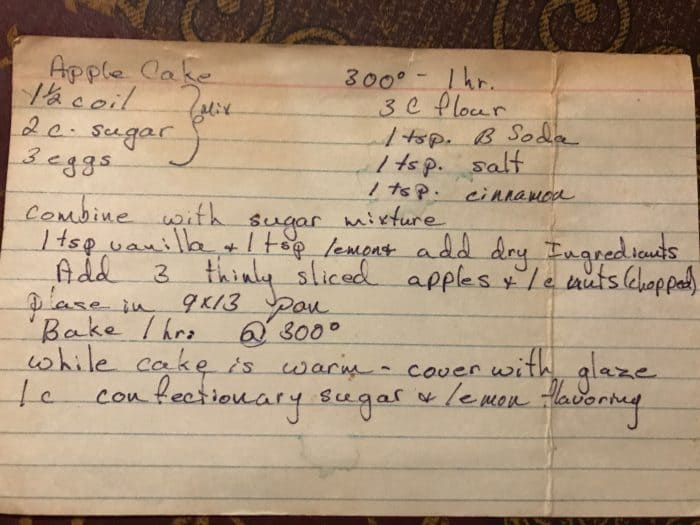 The simplicity of older recipes is just incredible. Our grandma's apple cake recipe starts with a lightly spiced cake batter wrapped with fresh apples and nuts for choice. The light spice allows the apple to shine in the cake and nuts add a bit of crunch. The resulting cake is moist, soft and comforting. Each slice is packed with warm apples and walnuts. There's a sweet glaze ti top it all off but it's not necessary in my opinion.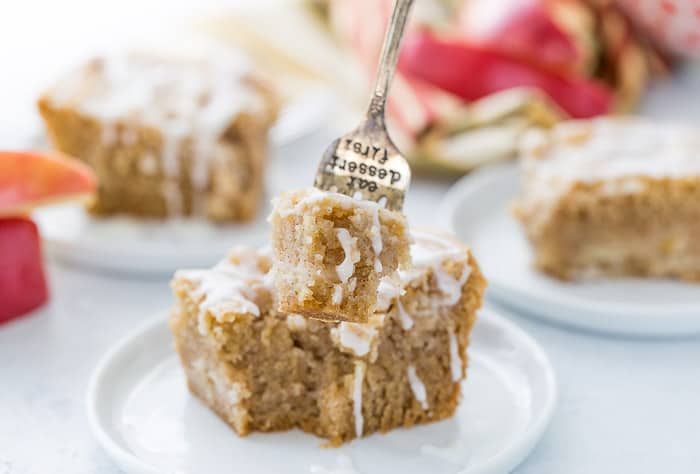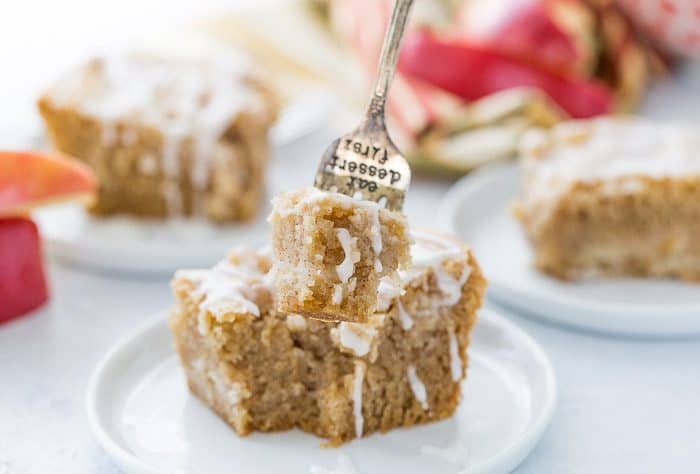 I hope you enjoy this special family recipe. Share with your family and let me know how you enjoy it. For more apple favorites, check out these apple recipes:
Spiced Apple Cake with Salted Caramel Frosting
Spiced Apple Cupcakes with Maple Marshmallow Frosting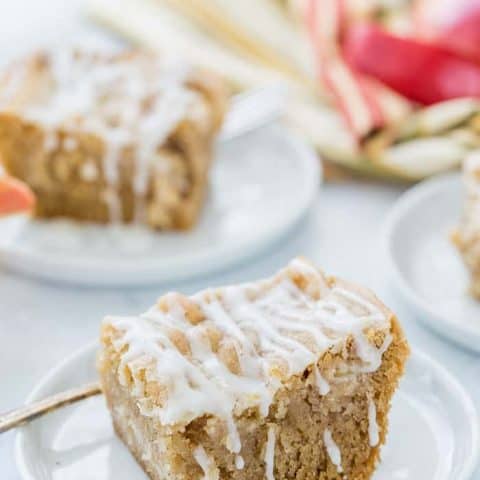 Yield: 1 9x13-inch cake
Grandma's Apple Cake Recipe
This is my Grandma's Apple Cake Recipe that's perfect for all your fall gatherings. With lightly spiced apples and a sweet glaze, each slice is comforting.
Ingredients
For Cake:
3 cups all-purpose flour
1 teaspoon baking soda
1 teaspoon kosher salt
1 teaspoon ground cinnamon
¼ teaspoon ground nutmeg
¼ teaspoon ground ginger
1 ½ cup vegetable oil
2 cups granulated sugar
3 large eggs
2 teaspoons pure vanilla extract
1 teaspoon fresh lemon juice
3 medium apples, thinly sliced
1 cup toasted nuts (I used walnuts), chopped
For glaze:
1 cup confectioner's sugar
2 teaspoons fresh lemon juice
Instructions
Preheat oven to 300 degrees. Grease and line a 9 x 13-inch pan.
In a medium bowl, whisk together the flour, baking soda, salt, cinnamon, nutmeg, ginger.
In a large bowl, whisk together the oil, sugar and eggs until pale in color, about 2 minutes. Beat in the vanilla and lemon juice.
Gently mix in the dry ingredients until just combined. Fold in the apples and nuts.
Transfer the batter into the prepared pan and smooth evenly. Bake for an hour or until a cake tester inserted into the center comes out clean. Remove from oven and let cool on a wire rack.
While cake cools, whisk the icing ingredients together, until spreadable. While cake is still warm, pour frosting over cake.
Enjoy!