Chocolate Halloween Cupcakes
Easy chocolate Halloween cupcakes that are festive and simple to pull together with my one-bowl chocolate cupcake recipe!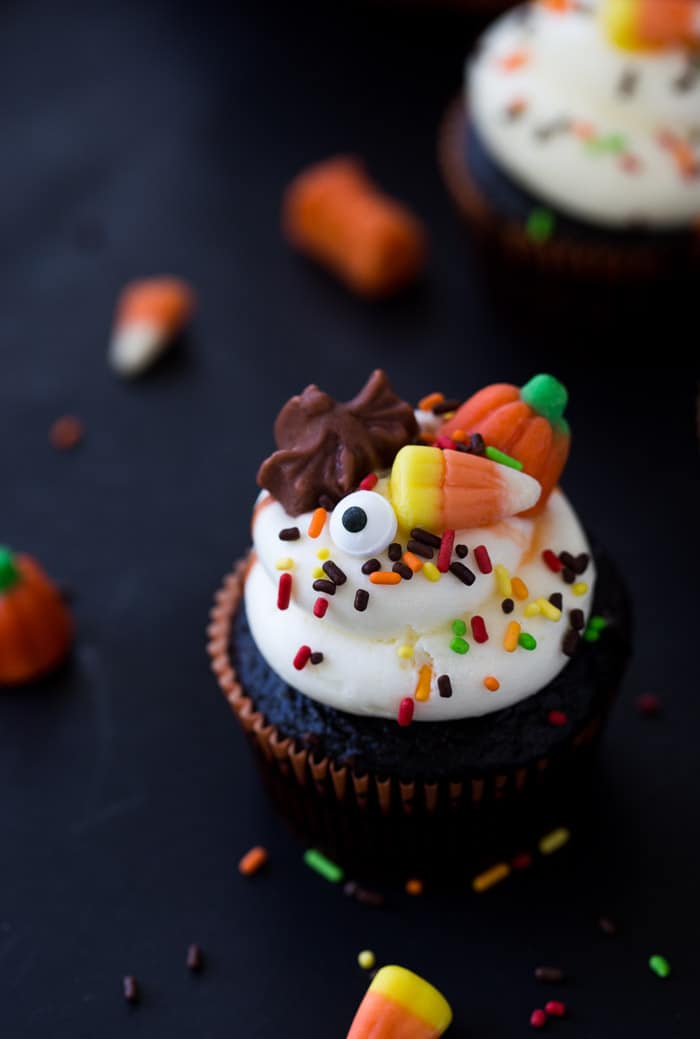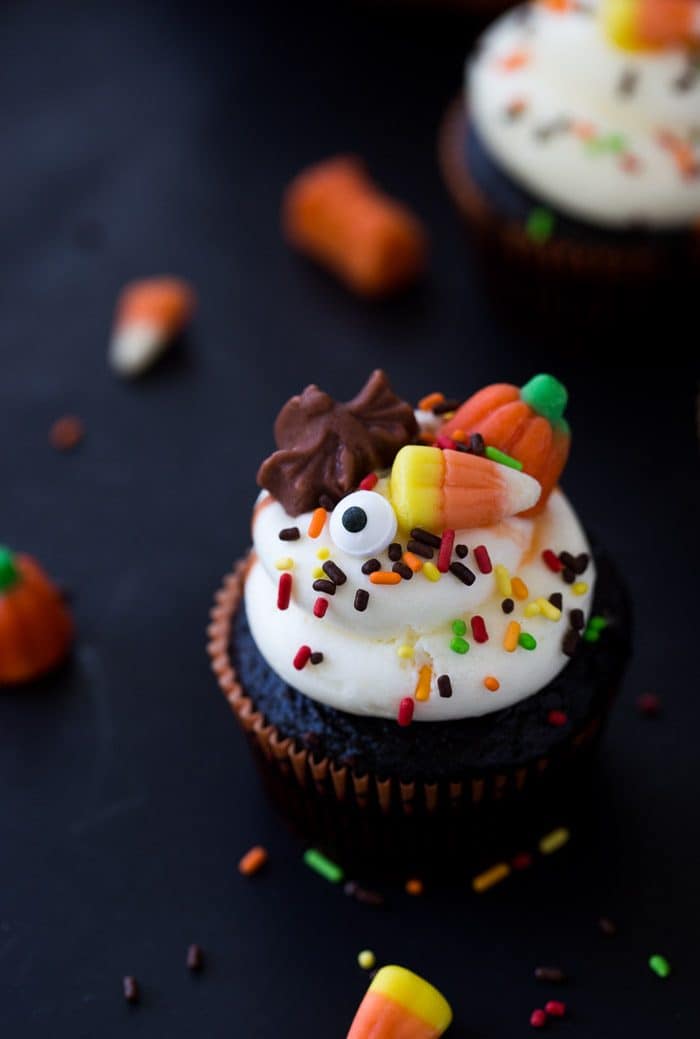 Hi guys! I have an easy Halloween treat for you today. These chocolate Halloween cupcakes are festive, simple to pull together with my one-bowl chocolate cupcake recipe and easy decorations. They will surely pass the kiddo test for school parties.
Are you guys fans of Halloween? I've never been given the limited halloween-themed desserts on this blog. But I am slowly getting into it as my toddler grows. He loves all the halloween themed books and songs although I am not sure he gets it. Last year was our first time going out with him trick-o-treating and he had a great time. Seeing him enjoy it has made me more tolerant and engaging. This year, his daycare is having a parade and a party, so I am bringing these chocolate halloween cupcakes for his class.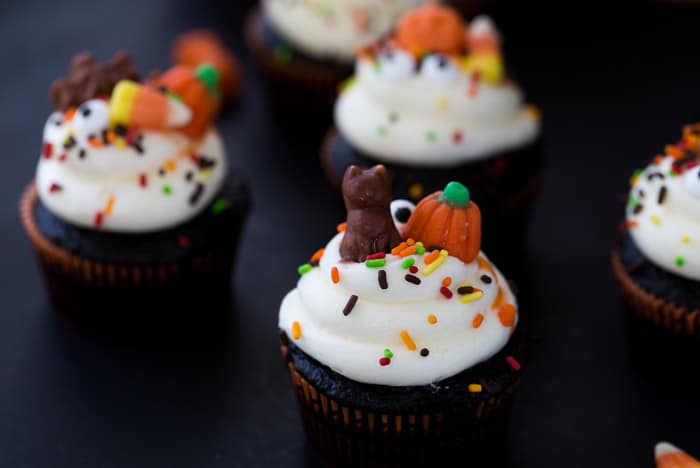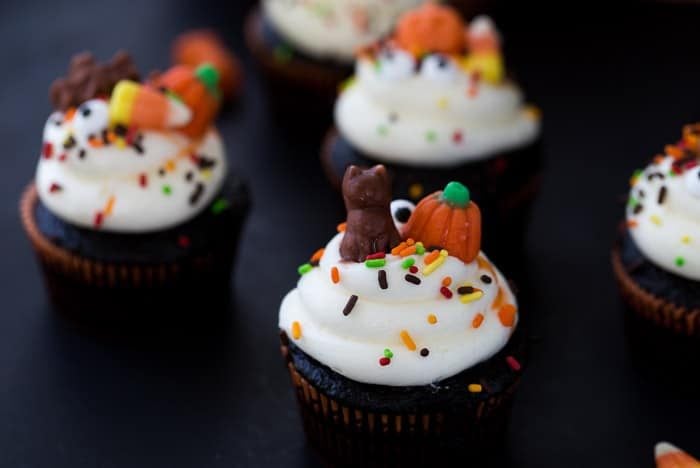 For a spooky look, I started with my one-bowl chocolate cupcake recipe using special dark cocoa powder for that deep black look. The cupcakes are then topped with an easy whipped vanilla buttercream. The contrast of black and white sets the mood for Halloween. To decorate, I used a large round tip and halloween decorations. Sprinkles, pumpkin candies, edible eyes and some gummies. You can use any Halloween themed decorations for yours and customize the look. The kids can even help with the decorations.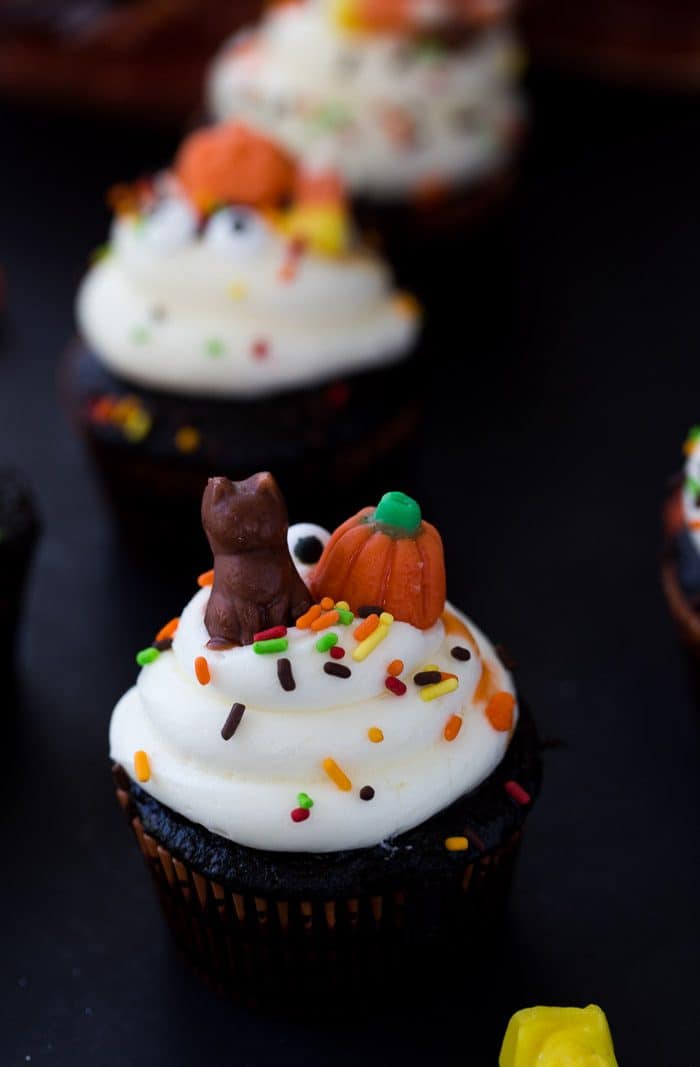 These cupcakes turned out moist, delicious and perfect for Halloween themed parties. If you are looking for an easy treat for the kids or even adults while you celebrate, try these chocolate halloween cupcakes!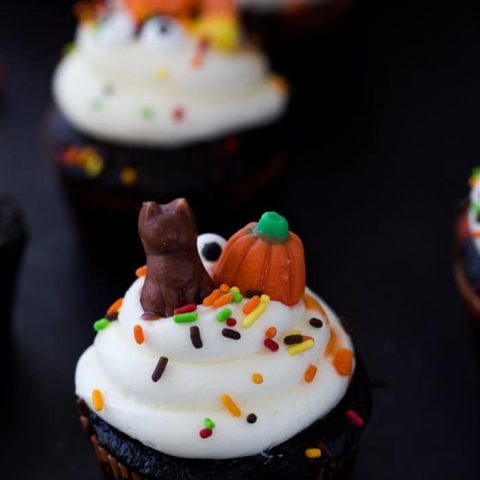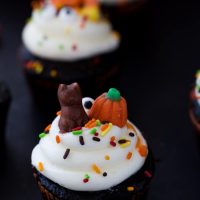 Yield: ~12 cupcakes
Chocolate Halloween Cupcakes
Ingredients
For Chocolate Cupcakes:
1 cup all-purpose flour
1 cup sugar
⅓ cup cocoa powder
1 teaspoon baking soda
½ teaspoon baking powder
½ teaspoon kosher salt
1 large egg, at room temperature
½ cup buttermilk, at room temperature
½ cup strong black coffee, hot
¼ cup vegetable oil
1½ teaspoons pure vanilla extract
For Frosting:
2 sticks unsalted butter, softened
3-4 cups confectioners' sugar, sifted
1 teaspoon vanilla extract
2-3 tablespoons milk or heavy cream
Instructions
For the cupcakes:
Preheat oven to 350degrees F. Line muffin tins with cupcake liners.
Sift together all the dry ingredients in the bowl of an electric mixer. Add the zest.
In a medium bowl, combine all the wet ingredients using a whisk. Add the instant coffee to the wet ingredients.
Mix the dry ingredients on low speed for 1 minute. Stop the mixer and add half of the wet ingredients. Mix for a minute on medium speed and scrape the sides and bottom of the bowl. Add the rest of the wet ingredients and mix for an additional minute on medium speed. The batter will be thin. Divide evenly among the cupcake liners.
Bake for 12-15 minutes or until a toothpick inserted in the center comes out almost clean.
Cool cupcakes on wire racks completely. Meanwhile, you could start on the frosting.
For the frosting:
Whip butter for 8 minutes on medium speed using the paddle attachment of an electric mixer. The butter will become pale and creamy.
Add the rest of the ingredients and mix on low speed for 1 minute. Then increase speed to medium and mix for 6 minutes until the frosting is light, creamy and fluffy.
Frost cooled cupcakes using your favorite decorating tip. I used Wilton Tip 1M for these cupcakes. Top with Halloween decorations.