Raspberry Sweet Rolls with Lemon Glaze
These Raspberry Sweet Rolls are soft and sticky cinnamon rolls filled with juicy raspberries and topped with a lemon glaze.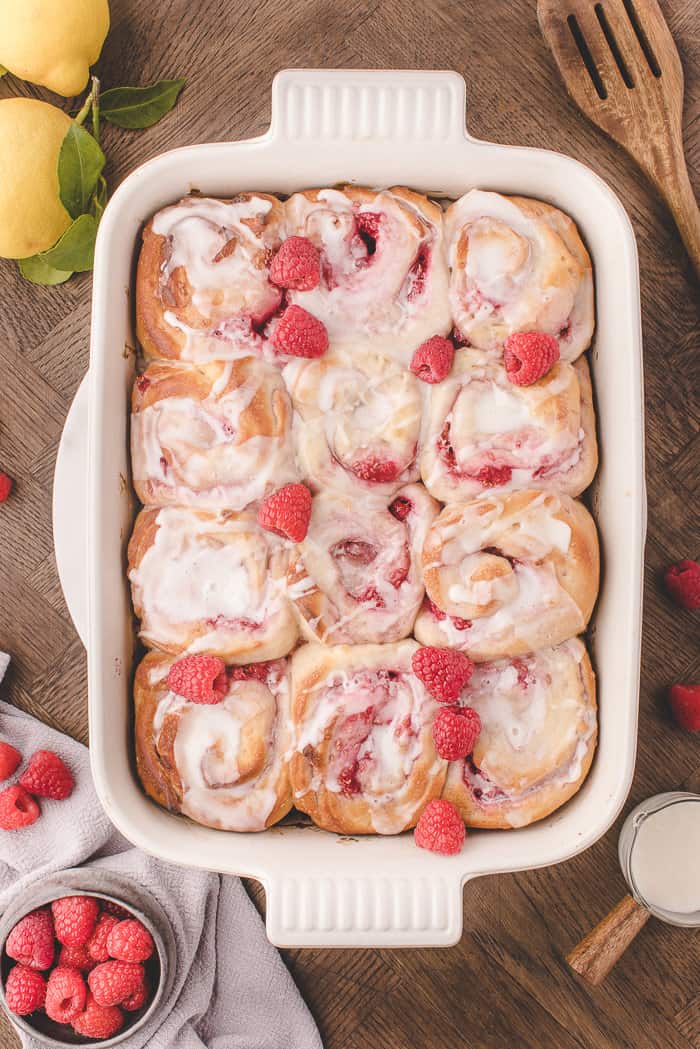 Hi everyone. I have a new recipe today that will shake up your cinnamon roll game. These raspberry sweet rolls are a summer delight with lip-puckering lemon glaze.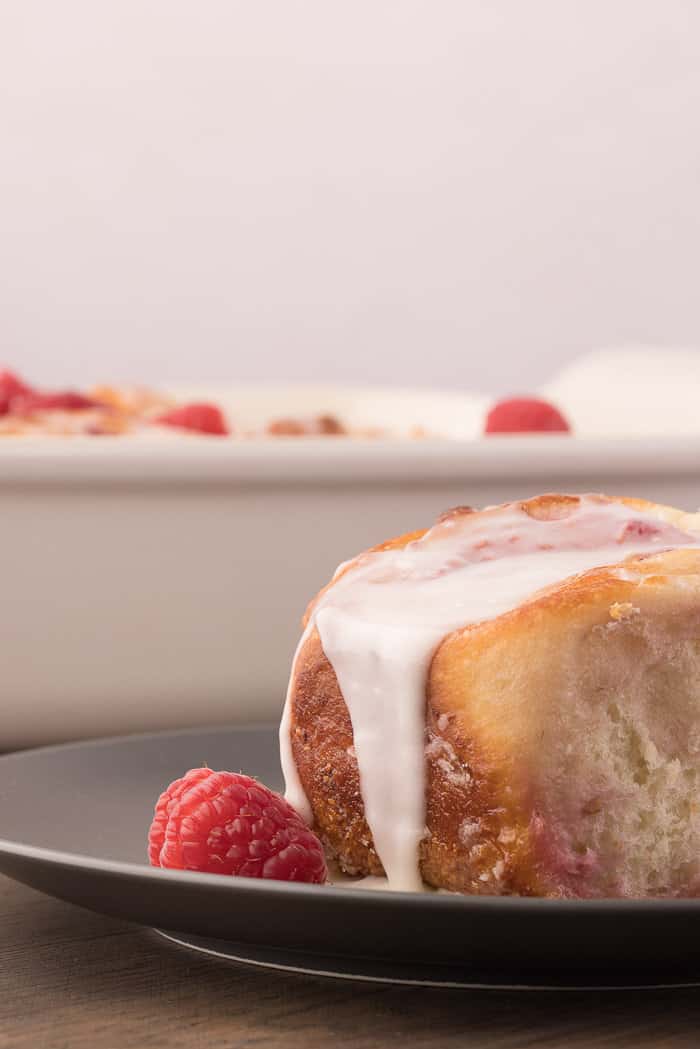 When I moved to the states and met my husband we had such a different upbringing it was fun to share our favorite recipes and bring our cultures together. A lot of the foods we grew up on were completely opposite so when we got pregnant and had our first child we tried to bring both of our backgrounds together to expand our little ones' pallet. If you have kids, then you know you can be the best cook ever but all they want is packaged and premade food full of sugar.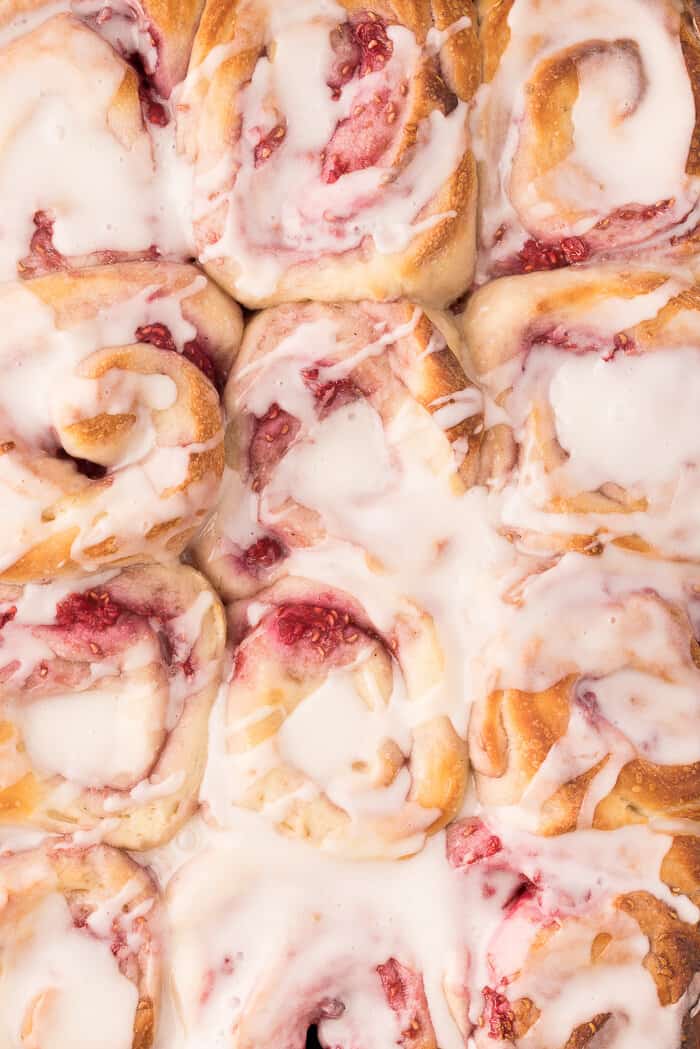 One of my husband's favorite snacks growing up was those sticky and super sweet honey buns from the local convenience store or on the rack in your elementary school lunch line. As good as those are, I make it a mission to try and make as many snacks for my kids as possible so I at least know all the ingredients in what they are eating. So now that they are getting older, anytime we go into 7-11 they dart right for the snacks. It got me thinking; " I can make something better than those honey buns".
That's where this Raspberry Sweet Roll with Lemon Glaze came into play, and let me tell you; they are a hit!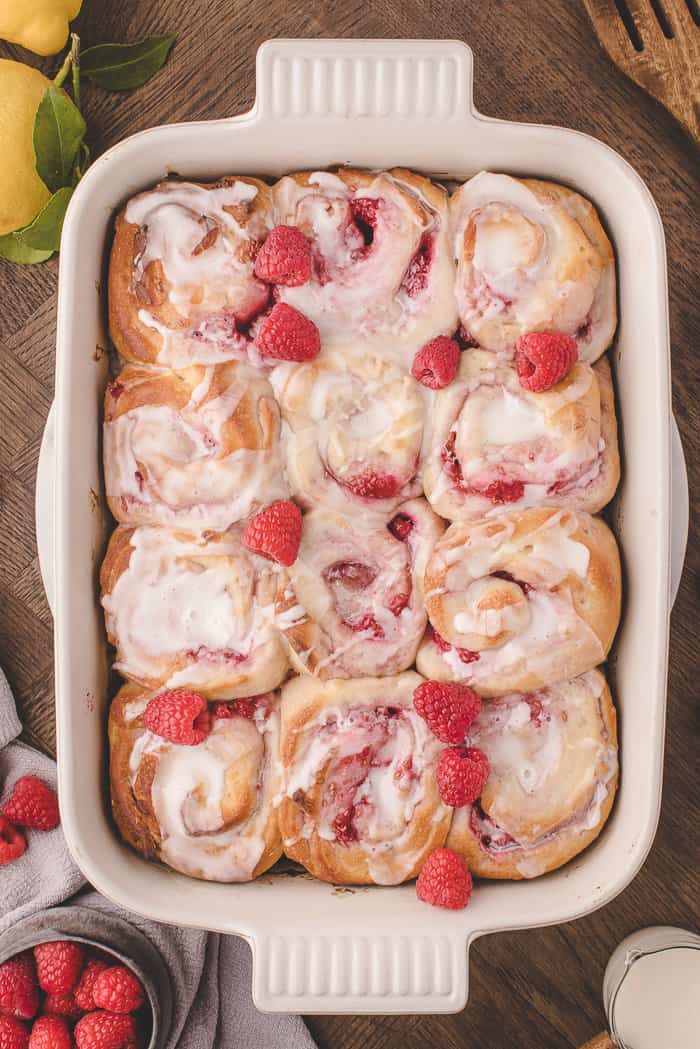 The rolls are bouncy and soft with a tangy raspberry filling to cut some of that sugar from the rolls and glaze. Each roll is drizzled with a puckering lemon glaze and topped with fresh raspberries. These Raspberry Sweet Roll with Lemon Glaze is great for your weekends or to bake Sunday night so the kiddos can just grab and go on their way outside to play during the week or on the way to camp.
I have to admit I love to enjoy one for lunch or as a snack if my day is too hectic.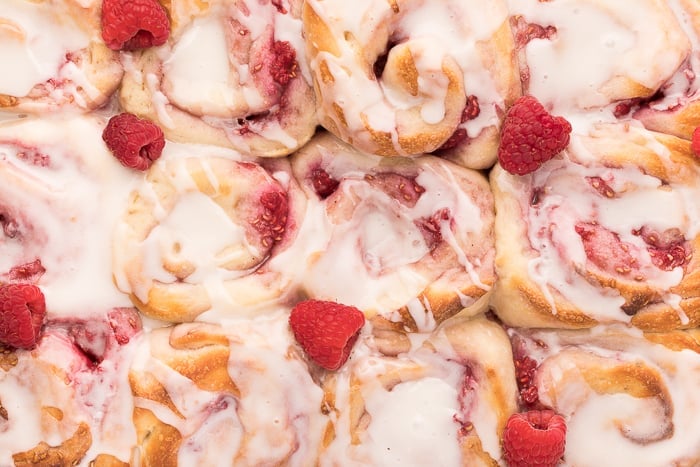 If you bake these fresh in the morning the kids will wake up with a smile on their faces from the sweet aroma wafting through the house. Grab the napkins because those little faces will be covered in sticky lemon glaze. This will give all the parents out there a moment of quiet to enjoy your favorite morning coffee in peace with your delicious sweet rolls.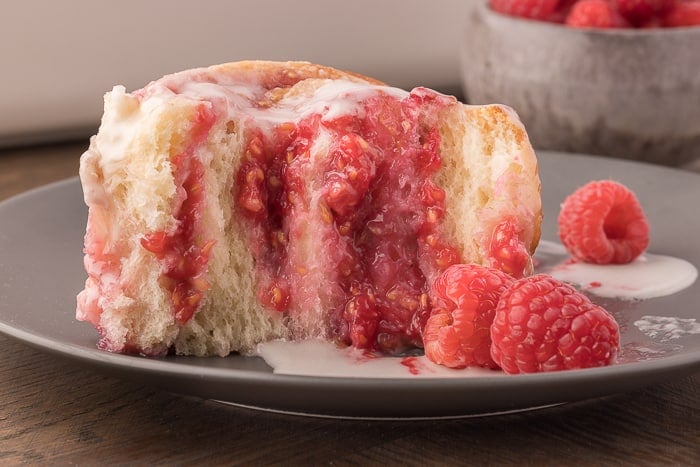 These Raspberry Sweet Rolls with Lemon Glaze will be a crowd favorite so get used to making them!
If you are a sweet roll fan then you need to check out these Cranberry Orange Sweet Rolls, or Blueberry Lemon Sweet Rolls.
What do you think of these Raspberry Sweet Rolls with Lemon Glaze? Let me know in the comment section below! As always, if you share across social media make sure to tag #aclassictwist so I can see your beautiful creation come to life.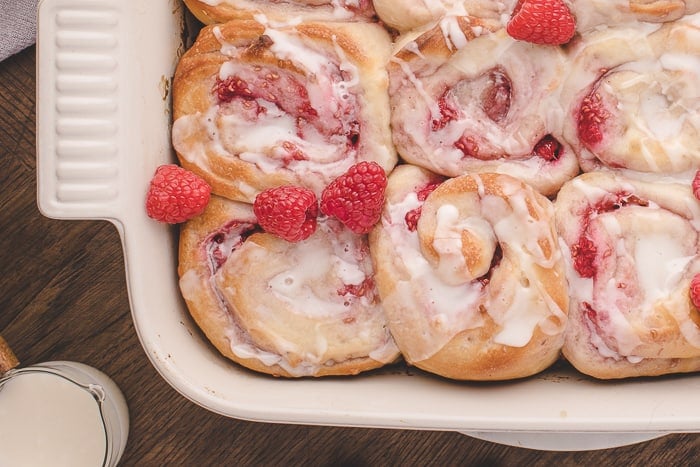 Happy baking!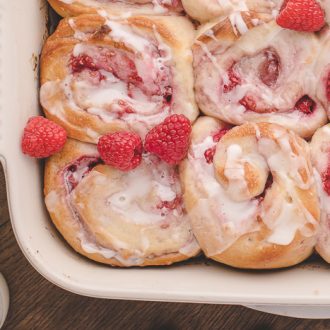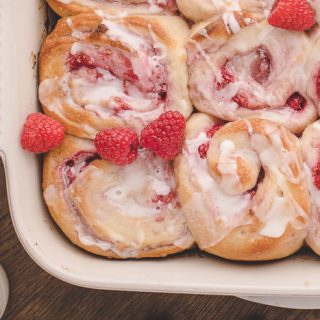 Yield: serves 8
Raspberry Sweet Rolls with Lemon Glaze
Ingredients
For the rolls
1 3/4 cups whole milk, warmed (*see notes)
2 1/4 teaspoons or 1 packet instant yeast
1 large egg, room temperature
3 tablespoons granulated sugar
1/2 teaspoon salt
3 tablespoons unsalted butter, melted
4 1/2 cups bread flour
1 tablespoon unsalted butter, melted (for greasing)
Filling
3 cups frozen raspberries
1/2 cup granulated sugar
1 1/2 teaspoons cornstarch
Lemon Glaze
1 lemon, juiced
2 cups powdered sugar
2-4 tablespoons heavy cream
Instructions
Make the dough:
In a large mixing bowl add the warm milk, yeast, egg, sugar, melted butter, and salt. Whisk together until bubbly.
Tip in the flour and use a stand mixer fitted with the dough hook to mix the dough for 3 minutes. Alternatively, mix with a spatula until a dough starts to form then tip the dough out onto a lightly floured surface and knead by hand for 5 minutes. To check the dough, touch it with a clean and dry finger, the dough should feel slightly tacky to the touch but will not stick to your finger.
Transfer the dough to a lightly oiled bowl, turn it in the oil then cover with cling wrap. Leave in a warm place to rise until doubles in size. This will take approximately one hour depending on the temperature.
When the dough has risen, punch it down and transfer it to a lightly floured surface. Roll it out into a rectangle of roughly 40cm by 20cm.
Make the filling:
Put the frozen raspberries, sugar, and cornstarch into a bowl and mix well to combine.
Transfer the filling on top of the dough rectangle leaving 1-2cm around the edge of the dough. Spread the filling out as best you can.
With the longest side facing you, tightly roll the rectangle of dough into a long sausage shape. Pinch the seam with your fingers then cut the sausage of dough in half to make it easier to divide.
Use a very sharp knife or dough cutter to cut each half of the dough into 6 equal sections.
Grease a 9"x13" baking dish with 1 tbsp melted butter. Arrange the rolls in the dish leaving a little space in-between each one.
Cover with cling wrap and put somewhere warm to rise. During this time the rolls will puff up in size and be touching. The second rise will take 45-60 minutes depending on the temperature. (See notes for making overnight.)
Preheat the oven to 350ºF.
When the raspberry sweet rolls have puffed up, remove the cling wrap and cover the dish with foil. Bake for 25 minutes then check on the rolls, if they are not golden in color remove the foil and bake for a further 5-10 minutes or until golden.
Remove from the oven and set aside.

Make the glaze:
Put the powdered sugar, lemon juice, and heavy cream into a bowl. Mix until smooth. At this point, you can decide if you want a thinner or thicker glaze and add more lemon juice or powdered sugar accordingly.
Drizzle the glaze over the Raspberry Sweet Rolls while they are still warm in the dish.
Serve immediately.
Notes
The milk should only be warm because if it's too hot it will kill the yeast. It should take 30-45 seconds to reach the required temperature in the microwave (however this will depend on the wattage of your microwave). A good way to test it is to put your finger in, if you can leave your finger in the milk without it feeling hot the milk is at a good temperature. It's better than it's too cool as opposed to too hot.
• It is best to use bread flour because it has a higher protein content and is thus suited to this type of recipe. The resulting dough will be softer and fluffier if you use bread flour. If you can't get bread flour this recipe has been tested with all-purpose flour and will still work.
• The first rise should take about an hour but it really does depend on the temperature of your kitchen. The best way to judge is whether or not the dough has doubled in size. It's a good idea to take a photograph of when the dough goes into the bowl so you can decide when the dough has doubled. A properly proofed dough will look domed on the top and will rise back slowly when you gently press your finger in.
• Make sure to use frozen raspberries, they can not be substituted for fresh because the juices from fresh raspberries will run much more than frozen.
• When it's time to roll up the dough you probably will find some of the fillings trying to escape! Roll the dough as neatly and tightly as you can. A wet filling like this is a bit trickier to work with rather than a dry filling like cinnamon and sugar. • When you put the raspberry sweet rolls into the dish the juice from the raspberries will seep out and this is nothing to worry about.
• Make ahead: If you would like to leave the rolls overnight to bake the next day - give them their second rise then put them into the fridge. When dough goes into the fridge the temperature puts the yeast to sleep which means without a second rise the dough will not have a chance to rise properly. The following day, take the dish from the fridge and leave it on the kitchen counter for at least one hour to allow the dough to come to room temperature before baking.
• You can substitute heavy cream for milk in the glaze. • We made quite a thin runny glaze to go with these Sweet Rolls, if you'd like it thicker you can add more powdered sugar. For a thinner glaze simply add more lemon juice or heavy cream/ milk.