Coconut Cheesecake Recipe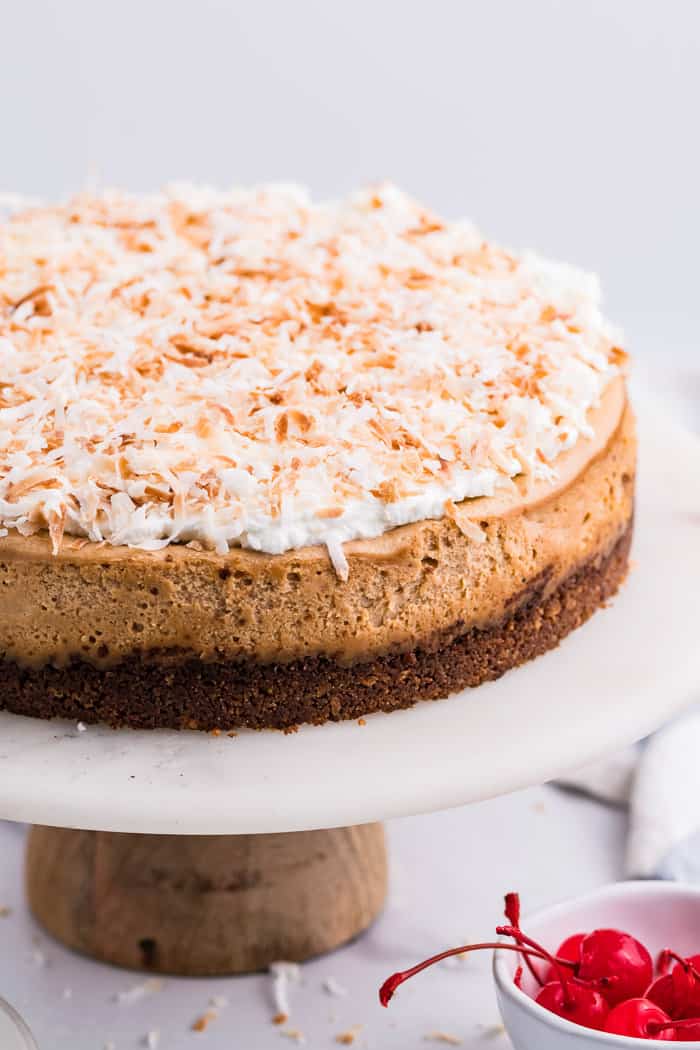 Hello everyone, and welcome to a new recipe that will become your favorite summer dessert. When I think of summer, my mind goes right to a few specific flavors I love and build recipes around because they represent the warmer months. Some of those flavors include fresh-picked berries, tangy citrus, and of course, coconut.
Coconut makes me happy when I sit at my desk with a stack of tasks. It transcends me to the tropics. It makes me think of pina coladas by the beach or a beautiful island getaway. But let's face it, summer revolves around our little ones, and a destination getaway is not always possible.
So give yourself a moment to enjoy the flavor of the islands with this Coconut Cheesecake. It's simple, delicious, and perfectly sweetened for the summer.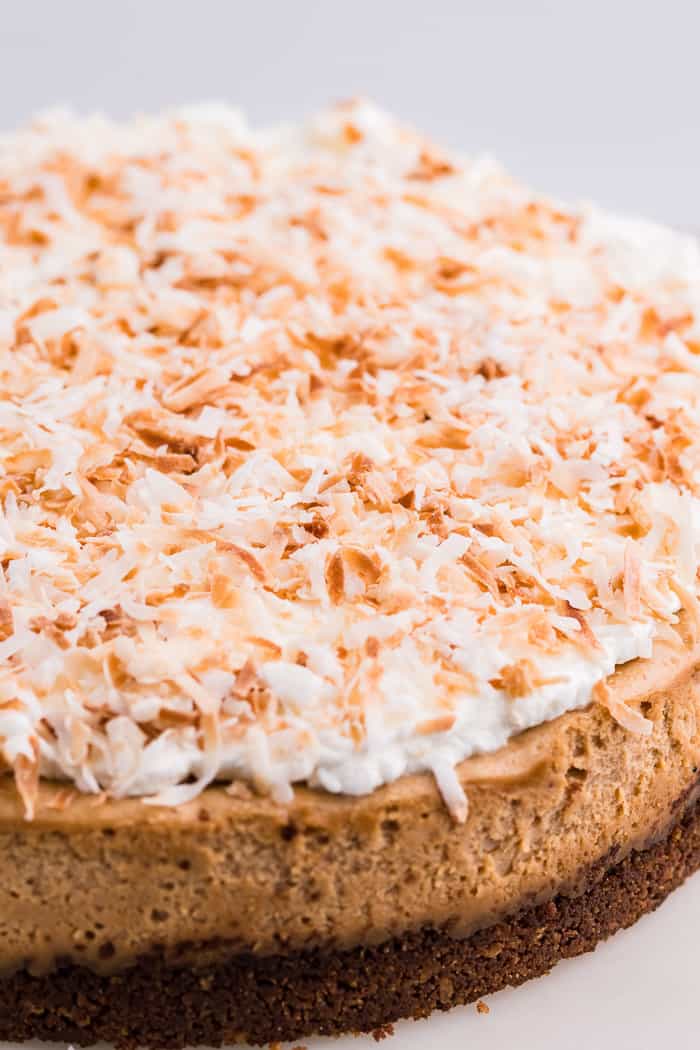 This Coconut Cheesecake isn't your typical cheesecake made with a pre-made crust. Oh no! I created a homemade, flaky, buttery crust from famous Amos cookies. These cookies make a perfect addition to your crust because they are crunchy with a bold coconut flavor. Crush up your cookies, mix them with melted butter, and you have a sweet and salty crust that will hold up to your fantastic filling and toppings.
Your filling is similar to a traditional cheesecake with cream cheese and whipping cream. However, once you add in your coconut sugar and coconut extract, it brings the flavor to a whole new level. Psst, you can add a dash of rum to the filling if you are feeling it. So if you love coconut, this recipe is right up your alley!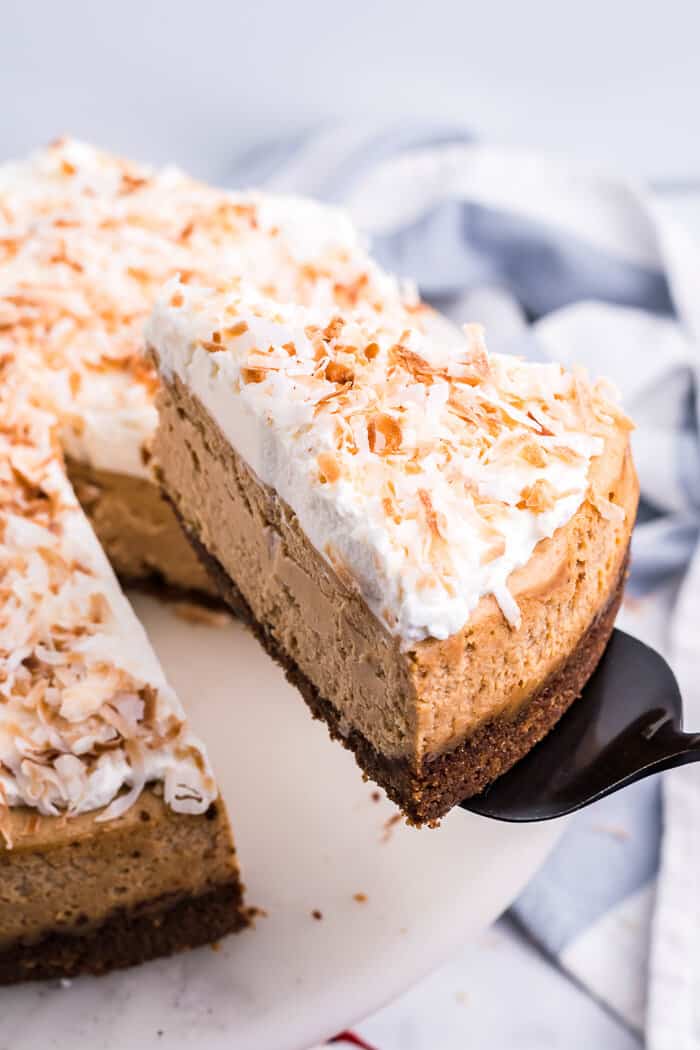 After you add your mound of filling to your golden brown buttery crust, all you need to do is top with your toasted coconut flakes and those irresistible maraschino cherries. Most of us remember digging into the jar in the fridge for these when our parents weren't looking or topping our Shirley temples. They are super sweet but add an outstanding balance to the heaviness of the filling.
This Coconut Cheesecake goes perfectly with a refreshing summer beverage and poolside parties. Just make sure you splurge on those heavier paper plates because this cheesecake is dense and needs a sturdy vessel to be served from. Also, I recommend keeping your cheesecake cooling in the fridge until you are ready to serve or on an ice-cold towel to avoid the cheesecake losing its signature look.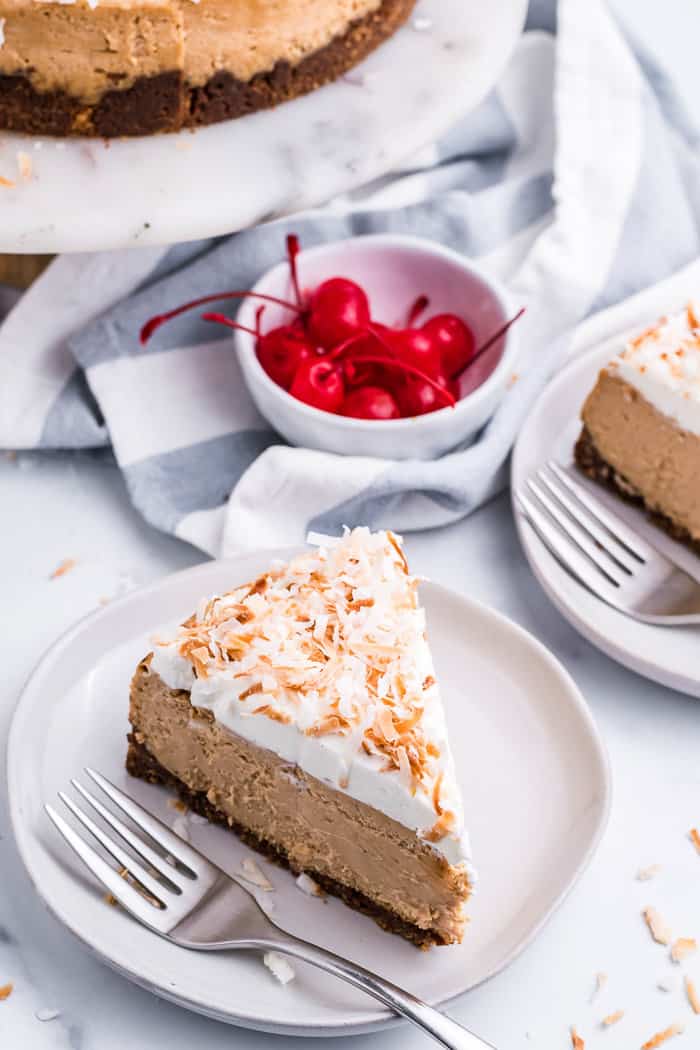 If you know anyone who loves coconut as much as I do, share this recipe or try baking it yourself, and you may change your pallet. Trust me; these flavors are fresh, smooth, sweet, and true to what you expect from your coconut dishes.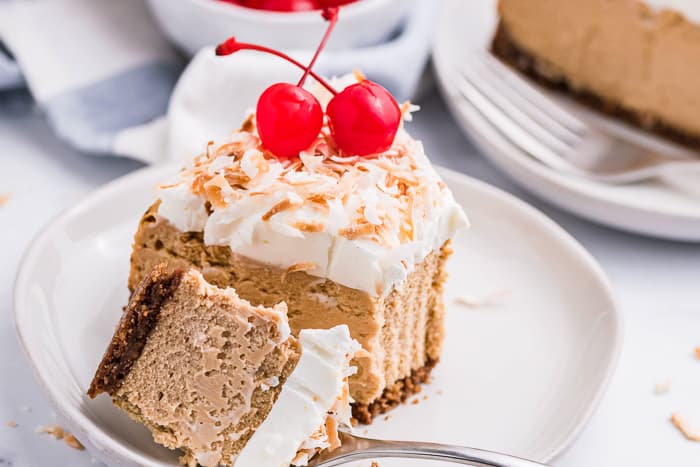 I have plenty of coconut recipes for you, but some of my favorites are this Key Lime Parfait with Coconut, Coconut Loaf Cake with Hibiscus Glaze, or this Tropical Coconut Layer Cake.
What do you think of this Coconut Cheesecake recipe? Are you ready to enjoy the moment of the tropics from your backyard? Let me know in the comment section below. I love hearing your input and how you liked the recipe.
As always, if you share your cheesecake across social media, tag #aclassictwist, so I can see your beautiful creation come to life.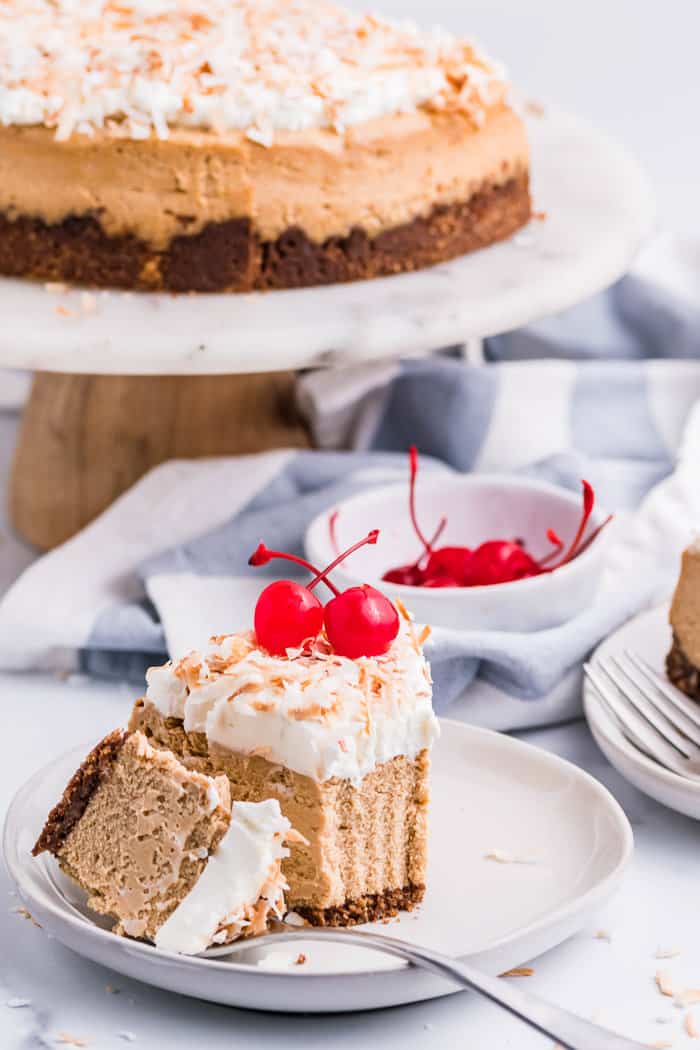 Happy tropical baking!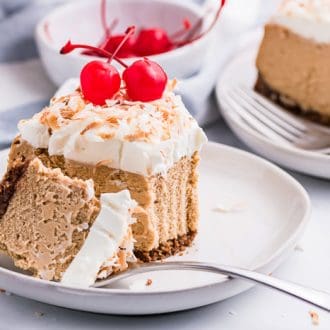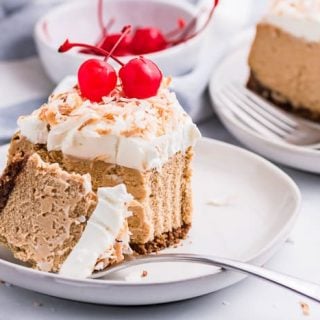 Yield: serves 10
Coconut Cheesecake Recipe
Total Time
7 hours
20 minutes
Ingredients
Crust
6 tablespoons butter, softened
Filling
32 ounces cream cheese, softened
1 cup coconut sugar
3 tablespoon all-purpose flour
1 teaspoon coconut extract
1 cup heavy whipping cream
3 large eggs, at room temperature
Topping
Whipped cream or cool whip
Toasted coconut flakes
Maraschino cherries
Instructions
Crust
Preheat your oven to 350 degrees F and prepare a 9-inch springform pan by spraying generously with non-stick spray. Set aside.
In a food processor, pulse coconut cookies until you get about 2 cups of crumbs. Add the melted butter and pulse until well combined.
Pour the crumbs into the bottom of the prepared springform pan and use the back of a spoon or measuring cup to press the crumbs to form a crust.
Bake the crust for 10 minutes and allow it to cool on a wire rack while you prepare the filling.

Filling
In the bowl of a stand mixer fitted with a paddle attachment, beat the cream cheese on high speed for 4-5 minutes, scraping the sides and bottom of the bowl often, until soft and there are no lumps remaining.
With the mixer on low speed, slowly pour in the coconut sugar and flour and mix until well combined. Scrape the sides and bottom of the bowl and mix additionally if needed.
Next, slowly pour in the heavy whipping cream and coconut extract. Mix on low speed until combined. Slowly increase the speed to high for about one minute. Scrape the sides and bottom of the bowl and mix additionally if needed.
Add the eggs in last, one at a time, mixing until just combined making sure not to overmix.
Pour the batter over the baked crust and gently tap the springform on the counter to release any air bubbles.
Bake at 350 for 15 minutes then, without opening the oven door, reduce heat to 200 degrees and bake for an additional 50-55 minutes or until the edges are set and the center is still slightly jiggly. (Keep in mind the cheesecake will set as it cools, you don't want to overbake, or you will have a dry and crumbly cheesecake).
Turn off the oven and crack the oven door and allow the cheesecake to cool for 10-15 minutes before removing it to a wire rack to cool completely.
Transfer to a wire rack to cool completely before placing in the refrigerator for at least 6 hours, but overnight is recommended.
Topping
Turn your oven on broil and place about 1 ½ cups shredded coconut in an even layer on a large baking sheet. Broil until golden brown. Be very careful because they will burn very quickly.
Top the set cheesecake with whipped cream or cool whip and sprinkle with the toasted coconut. Add maraschino cherries if desired and serve!
Keep any leftovers stored in an airtight container in the refrigerator for up to three days.
Recommended Products
As an Amazon Associate and member of other affiliate programs, I earn from qualifying purchases.