Tropical Coconut Layer Cake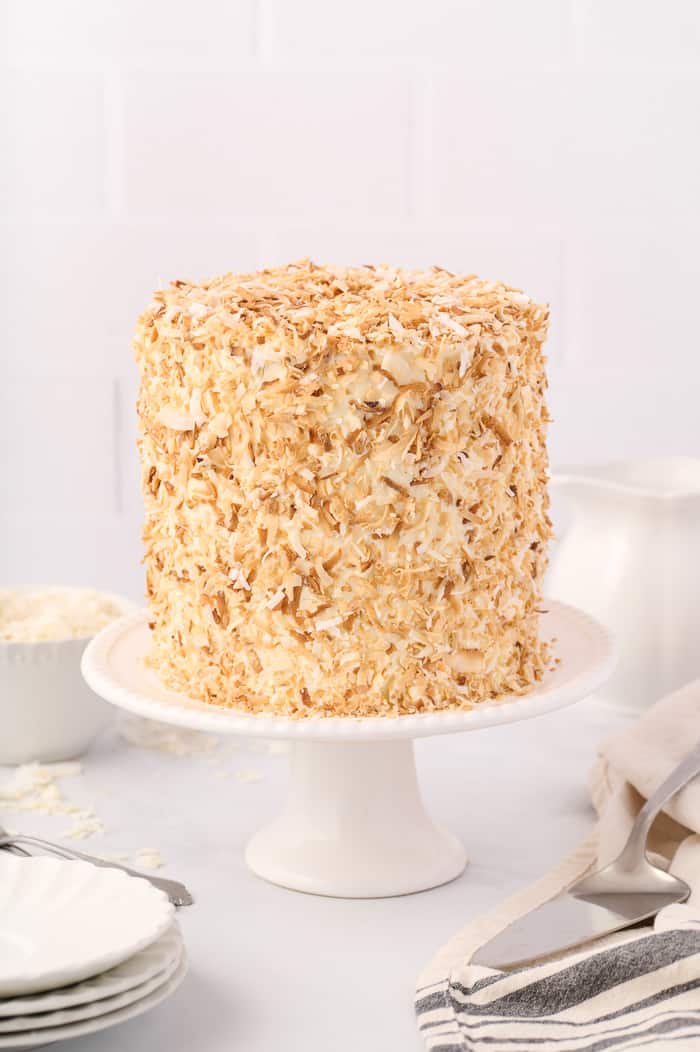 Hi friends!
Coconut Layer Cake
This coconut layer cake has LOTS of coconut flavor! A Soft and tender cake infused with coconut cream, coconut extract, and coconut flakes is wrapped in silky coconut swiss meringue buttercream.
So it turns out that I do not have a coconut layer cake on this blog. A realization that is impossible to believe. If you have been around here for a while, you know I love everything coconut. If you are new, welcome! I love coconut and use it in everything I bake – if I can.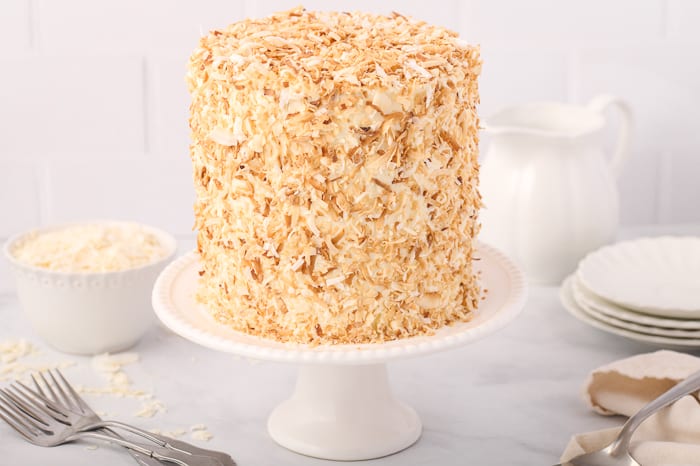 Of course, the reason why I have no classic coconut cake recipe is that I am always adding twists to my recipes. While it is fun to make these twists, it is also essential to have the classics.
This coconut layer cake is a classic coconut cake! If you are a coconut lover, then this cake is for you.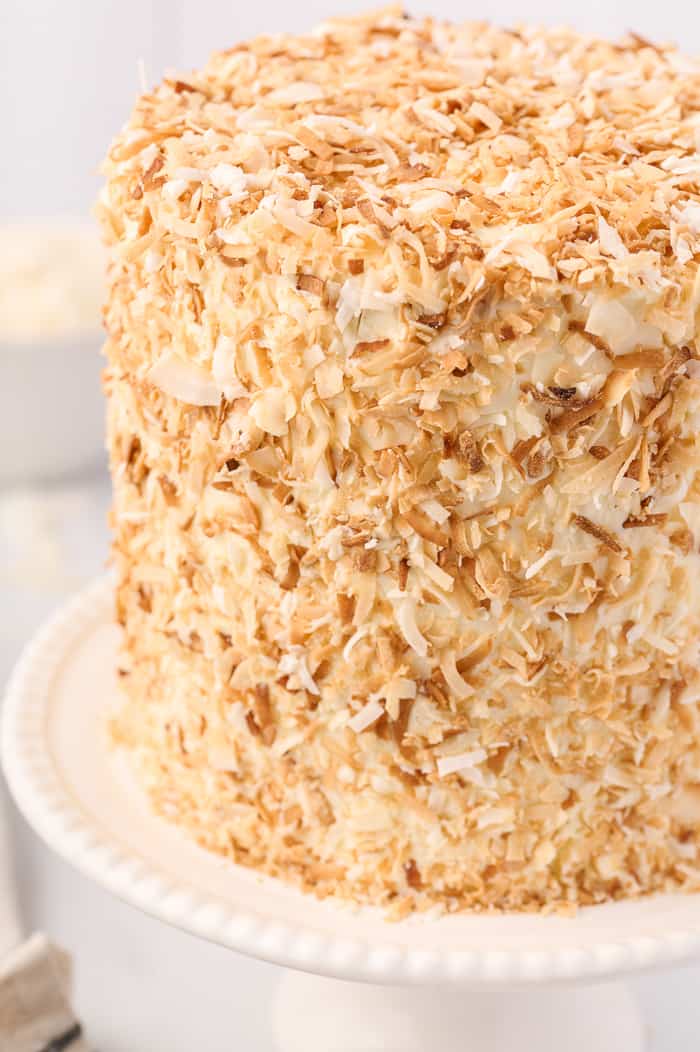 Before we get to the details of this cake, please allow me to share with you my other coconut cakes. First, my coconut lemon layer cake is just incredible.
Perfect for spring and Easter celebrations. Next up, is a coconut blueberry layer cake. Another great summer combination that is wonderful. I even have it in cupcake form since we love it so much! If you love cheesecake, try my coconut cheesecake with a toasted coconut topping.
Lastly my coconut passionfruit layer cake. Such a tropical delight that packs in flavor and zing. Excited? Be sure to check them all out.
Ok back to this cake! This is a pure coconut cake. A cake that takes the flavor of coconut and capitalizes on it.
Soft and tender coconut cake with THREE sources of coconut: coconut cream, coconut extract, and coconut flakes. If you do not like coconut flavor, then this cake isn't for you.
If you LOVE coconut flavor as I do, then this cake is for you.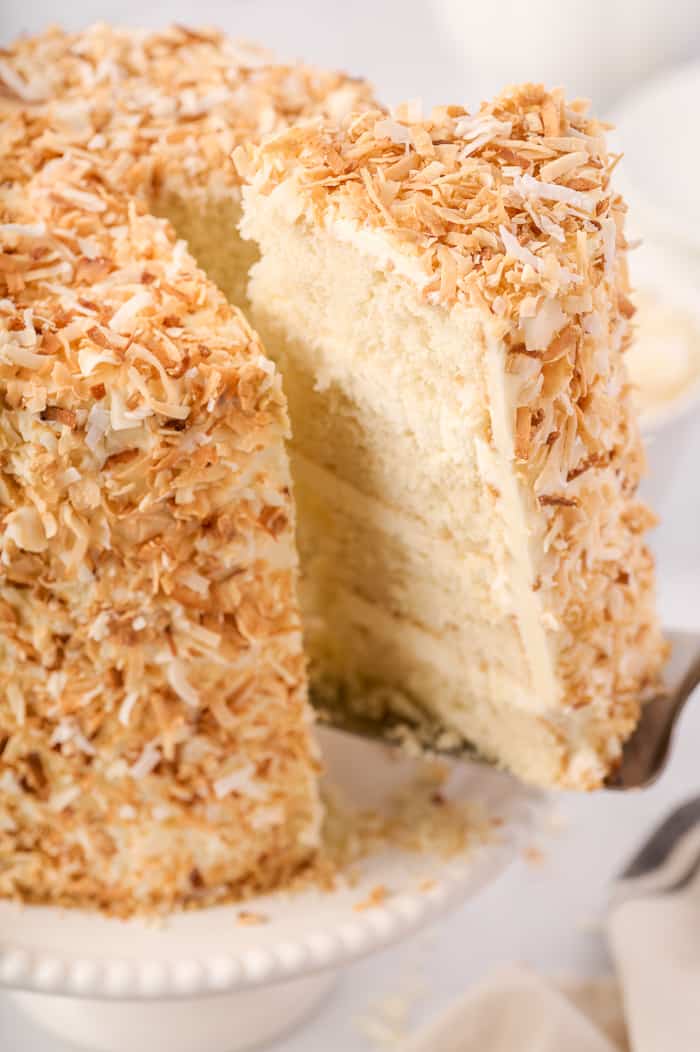 The cake is then topped with a silky swiss meringue buttercream infused with coconut, of course!! Add more toasted coconut flakes to decorate the cake; it is a beautiful cake.
The coconut flavor is rich in this cake! It is delightful when combined with a soft cake and silky buttercream. I hope you try this tropical coconut layer cake this spring and summer.
It surely will impress.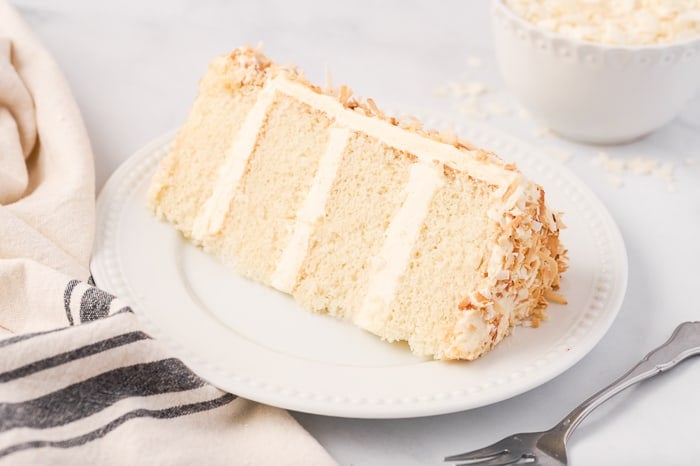 Let's walk through how to make this cake in step-by-step pictures. As always, if you don't need these step-by-step pictures, please scroll to the end for the recipe.
Coconut Layer Cake Ingredients
As always, start by gathering up our ingredients. These are the cake ingredients.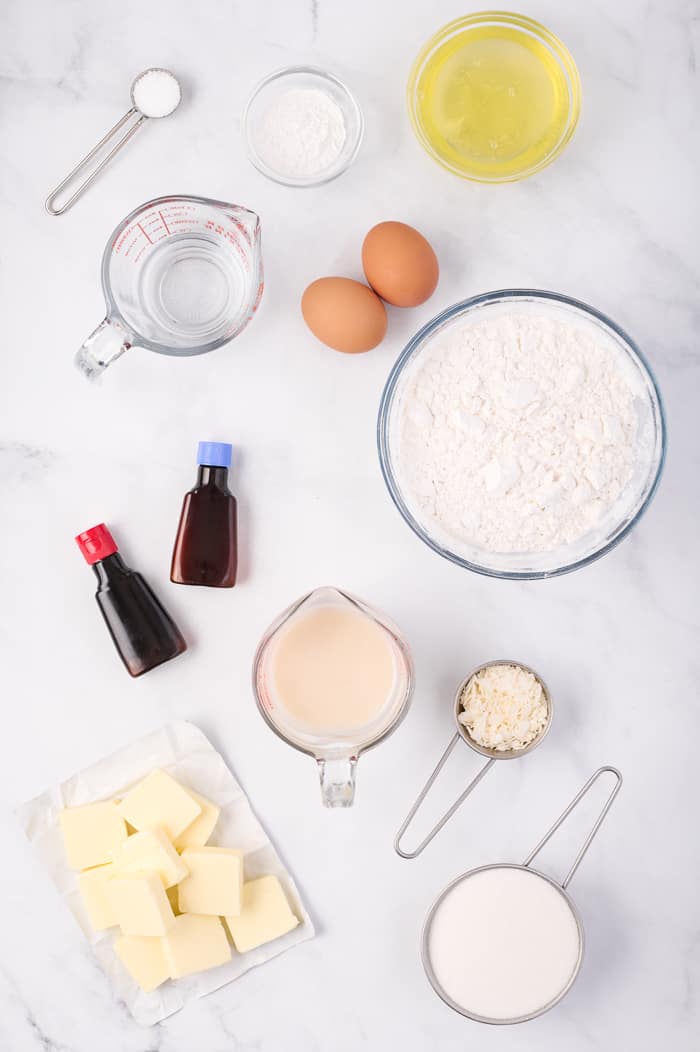 a few large eggs
cream of coconut or coconut cream (NOT COCONUT MILK)
pure vanilla extract
coconut extract
cake flour
granulated sugar
baking powder
kosher salt
unsalted butter
unsweetened coconut flakes
toasted coconut flakes
How to Make Coconut Layer Cake
Let's combine all your wet ingredients in a large bowl. Whisk them together so they are well combined.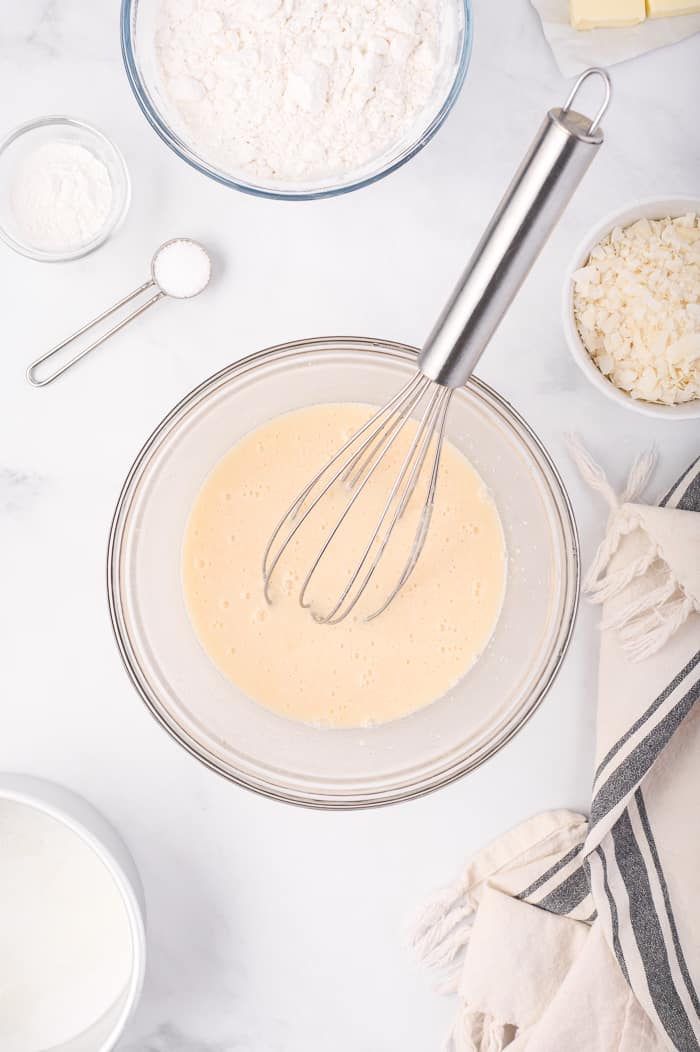 Next, in another large bowl. Whisk together the dry ingredients. Add in the butter into the dry ingredients, one cube at a time until combined and the mixture has pea-sized butter pieces.
This method is called reverse creaming and it makes soft and tender cakes. Be sure not to over-mix the batter from this stage on.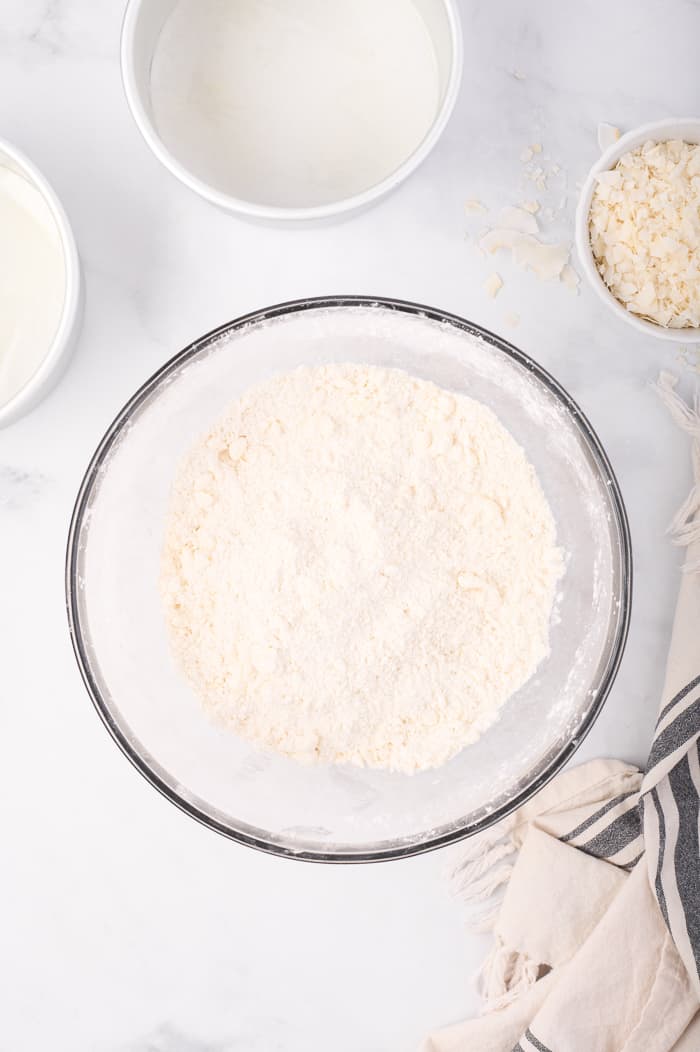 Next, you will add the wet ingredients in two additions. Mixing until combined after each addition.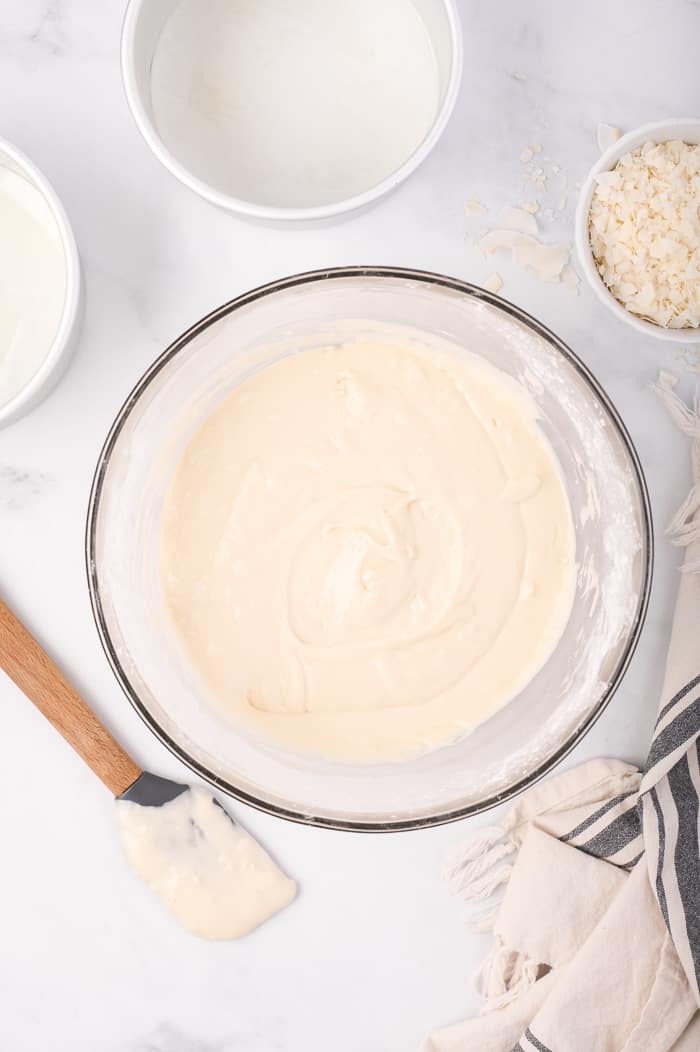 Pour the batter into the prepared cake pans and bake.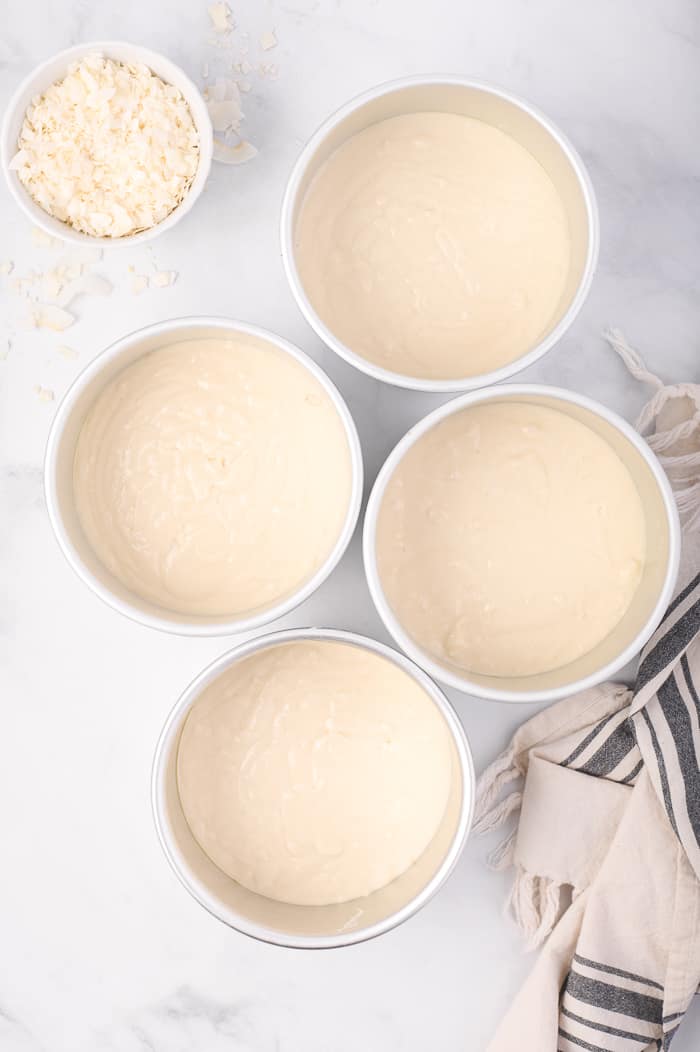 Let cakes cool while you make the frosting.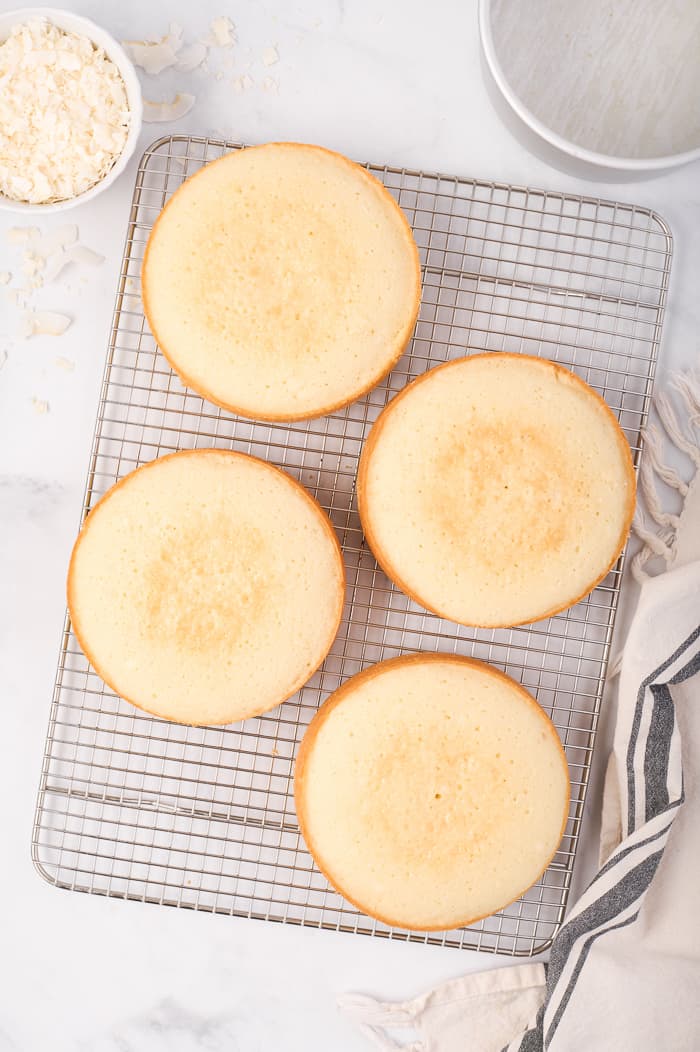 For the swiss meringue buttercream, we always start by measuring out our ingredients. Even more important since things tend to move fast.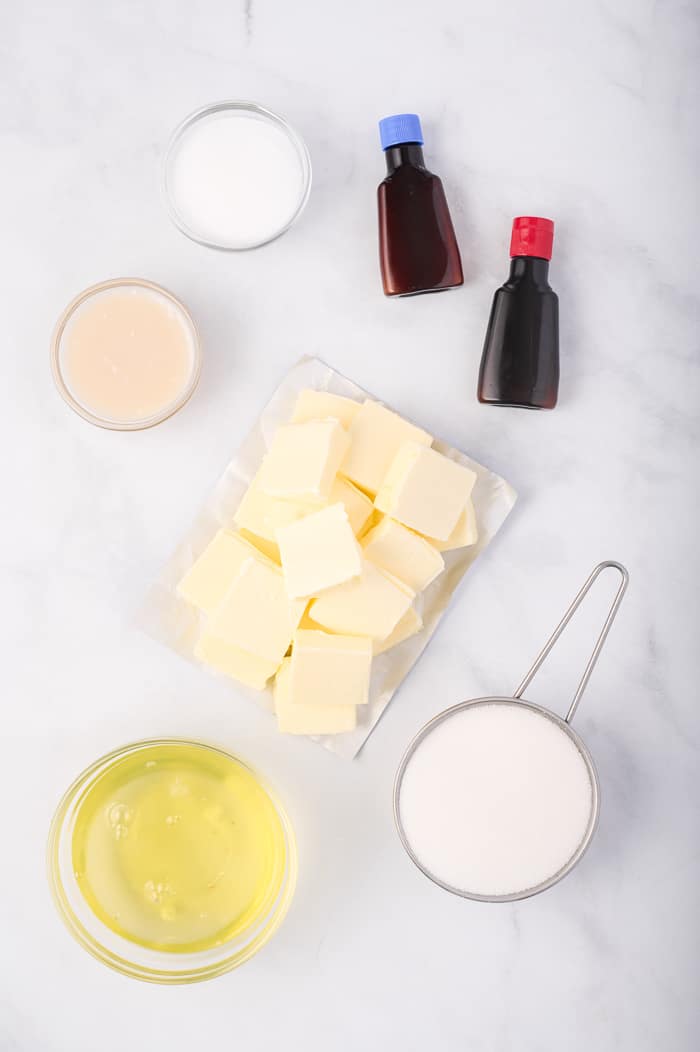 Combine the sugar and egg whites and cook over a pot of simmering water. Cook while whisking constantly until the sugar melts, about 2-3 minutes.
Remove from heat and use the whisk attachment of an electric mixer on high speed to beat the egg whites until stiff peaks form and the bowl is cool to touch.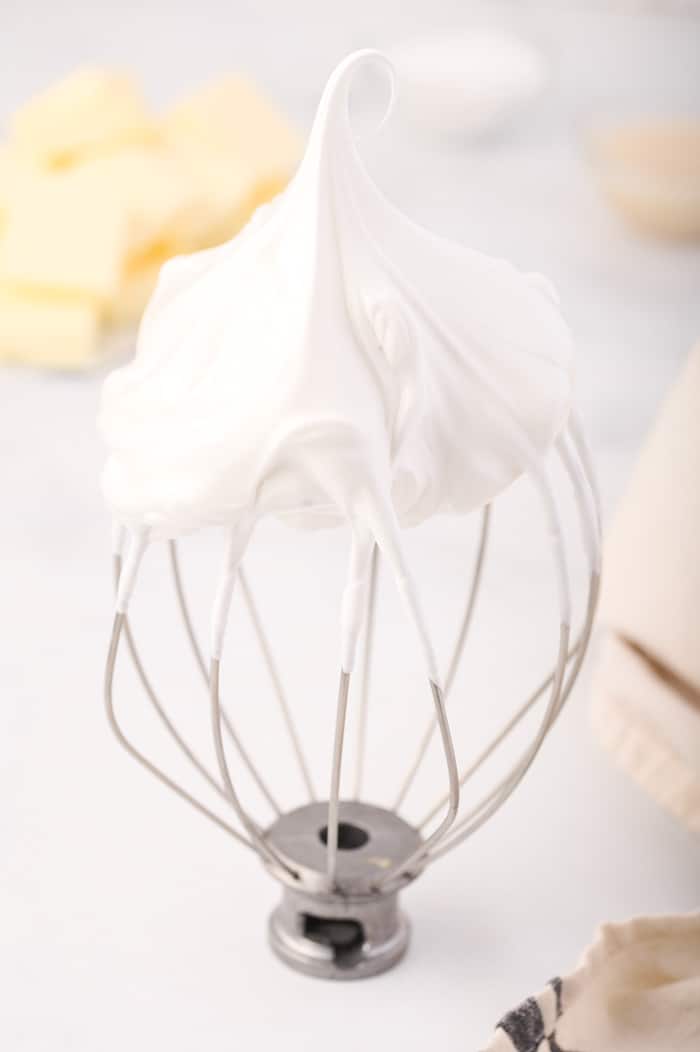 Then add in the butter, one cube at a time, mixing until incorporated.
The next part always makes people nervous as they think their buttercream is ruined. Provided you added your butter into a cooled meringue, you just need to keep beating the buttercream at medium-high speed until comes together.
IT WILL COME TOGETHER and be smooth and silky! Be patient!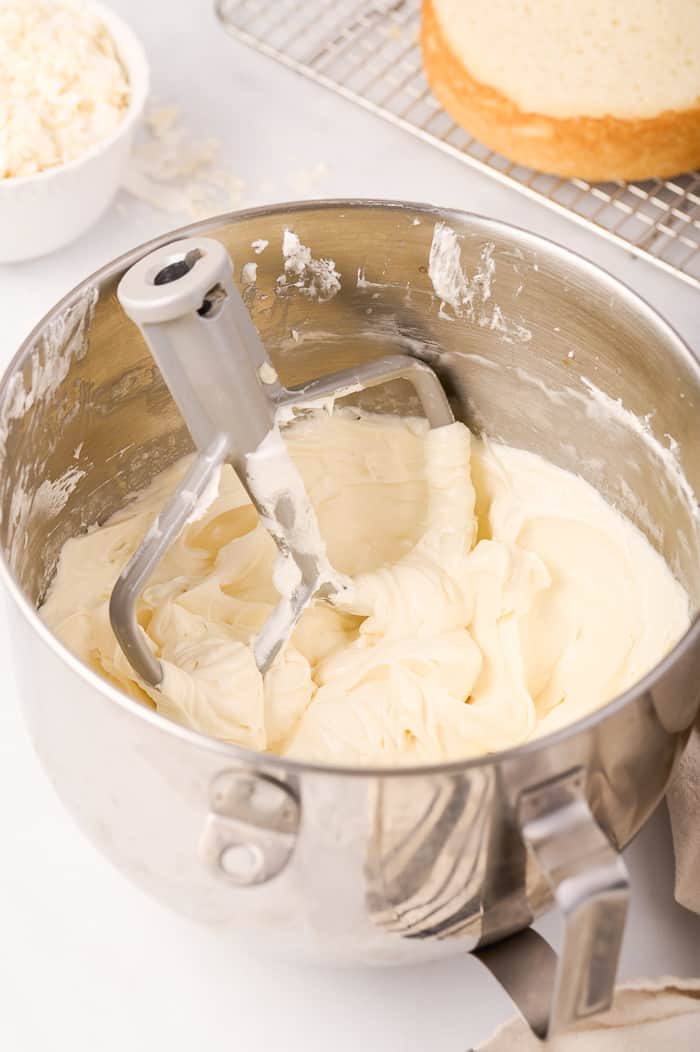 Once it does, add in your flavoring and the rest of your ingredients. Mix to combine and voila, all done!
Layer your cake with buttercream and assemble.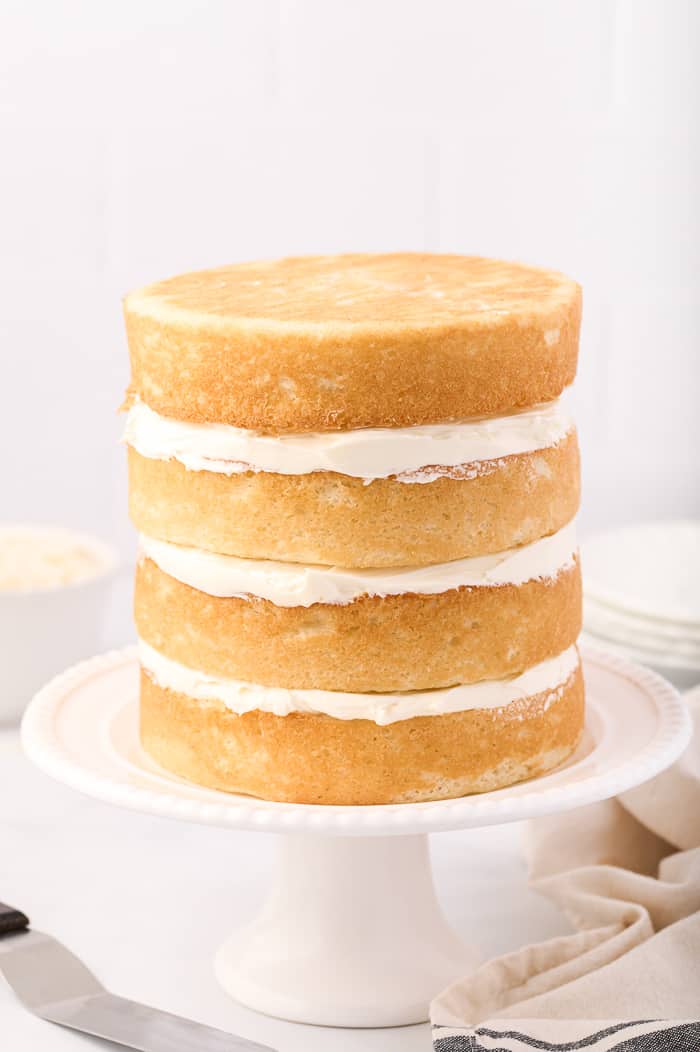 Decorate with toasted coconut or as you desire. You can make this easter themed or just leave it plain for spring!
How to Store Coconut Layer Cake
Store this cake in the refrigerator in an airtight container for up to 5 days.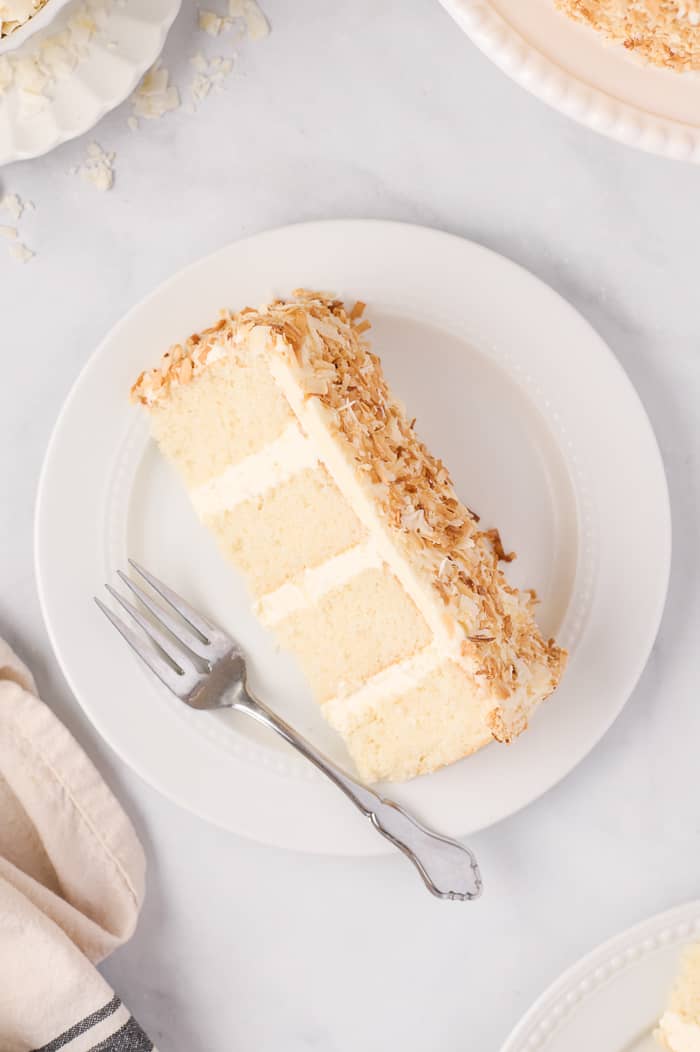 More Coconut Desserts
I hope you try this tropical coconut layer cake the next time you need some coconut in your life! If you do try it, I'd love to see it. Share with me by tagging #aclassictwist.
Happy baking!
Coconut Layer Cake Recipe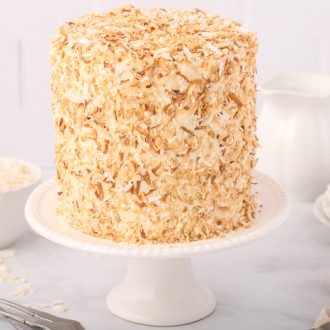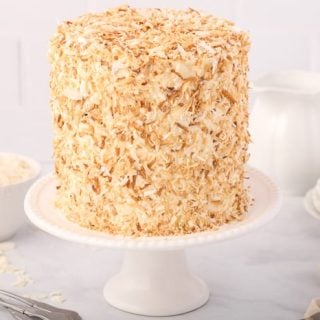 Yield: 1 6-inch layer cake
Coconut Layer Cake
A coconut layer cake with LOTS of coconut flavors! A Soft and tender cake infused with coconut cream, coconut extract, and coconut flakes is then wrapped in silky coconut swiss meringue buttercream.
Total Time
1 hour
25 minutes
Ingredients
For Coconut Cake:
2 large eggs, at room temperature
4 large egg whites, at room temperature (save the yolks for the curd filling!)
1/4 cup water
1 teaspoon pure vanilla extract
1 teaspoon coconut extract
2 1/4 cup cake flour, sifted
1 cup granulated sugar
1 tablespoon baking powder
1 teaspoon kosher salt
12 tablespoons (3/4 cup) unsalted butter, softened at room temperature cut into pieces
1/4 cup unsweetened coconut flakes
For Swiss Meringue Coconut Frosting:
5 large egg whites
1 cup granulated sugar
a pinch of salt
1 ½ cups (3 sticks) unsalted butter, softened to room temperature, and cut into pieces
2 tablespoons cream of coconut
½ teaspoon coconut extract
½ teaspoon vanilla extract
For Topping
Instructions
For Coconut Cake:
Preheat oven to 350 degrees F. Grease 4 6-inch round cake pans or 3 8-inch round cake pans, line with parchment and grease parchment.
In a medium bowl, whisk together the egg and egg whites. Whisk in the coconut cream, water, vanilla, and coconut extracts into the egg mixture. Set aside.
In a large bowl, combine the cake flour, sugar, baking powder, and salt. Using an electric mixer, mix on low for one minute. With the mixer on low, add in butter, one piece at a time, and mix until only pea-size pieces remain about 1 minute. Do not over-mix.
Add in half of the wet ingredients, increase speed to medium-high, and beat until light and fluffy, about 1 minute. Reduce speed to low and add in the remaining wet ingredients. Mix on low until combined, about 30 seconds. Stir batter once by hand with a rubber spatula (Do not over mix cake batter otherwise you will end up with a dense cake).
Divide batter evenly into prepared pan. Bake cakes until a toothpick inserted in centers comes out clean, about 20-25 mins, rotating pans halfway through baking. (Do not overbake the cake. Start checking the cake for doneness around 16 minutes. If you are using a bigger cake pan, adjust the time accordingly)
Let cakes cool in the pan for 10 minutes before removing and cooling completely on a wire rack.
Meanwhile, prepare the frosting.
Wrap the cakes in plastic wrap and keep refrigerated or frozen for up to 2-3 days. Be sure to bring it back to room temperature before frosting.
For Swiss Meringue Coconut Frosting:
Whisk together egg whites, sugar, and salt in a heatproof mixing bowl set over (not in) a pan of simmering water. Whisk until warm and sugar are dissolved (mixture should feel completely smooth when rubbed between your fingers), about 3 minutes. Remove from heat.
With an electric mixer with the whisk attachment, whip egg white and sugar mixture for 5 minutes over medium speed. Increase speed to medium-high, and whip until stiff, glossy peaks form and meringue has cooled (test by the feeling of the bottom of the bowl), about 6 minutes.
Switch to the paddle attachment. With the mixer on medium speed, add butter, one piece at a time, beating well after each addition. The frosting might look separated at first but keep beating until it comes together. Be patient and it will come together (as long as you dissolved all the sugar in the previous step and your meringue was cool before adding in the butter).
Once the buttercream is smooth and silky (and not before), beat in the coconut cream, coconut extract, and vanilla until combined, an additional one minute.
To Assemble Cake:
Using a serrated knife, remove the dome on cake layers. Place one layer of cake onto a cake platter.
Spread about 1 cup frosting evenly.
Repeat until your final cake is placed on top.
Spread the remaining frosting on top and the sides of the cake. Smooth frosting as evenly as possible and decorating as desired.
I decorated with toasted coconut flakes around the cake and on top too. But feel free to decorate as you please.
Store leftover cake refrigerated in an air-tight container.
Notes
Please use coconut cream OR cream of coconut. I am linking to two options on Amazon. https://amzn.to/38eZvfL https://amzn.to/38Y3YTu
Be very careful not to OVER MIX or OVER BAKE the cake. It will be dense. Also, wrap your cake in plastic wrap as it cools to maximize moistness.
The Swiss meringue frosting is not as sweet as the traditional American buttercream but it's a great match for this cake. If this is your first time making it, please be patient with it. It comes together after a good amount of beating with an electric mixer. If using a hand mixer, this will take up to 10 minutes. 
For a traditional buttercream, here's my favorite. Feel free to use it for this cake instead of the swiss meringue.
Cake recipe adapted from Sweetapolita
Recommended Products
As an Amazon Associate and member of other affiliate programs, I earn from qualifying purchases.
Nutrition Information:
Yield:
8
Serving Size:
1
Amount Per Serving:
Calories:

1148
Total Fat:

78g
Saturated Fat:

52g
Trans Fat:

2g
Unsaturated Fat:

21g
Cholesterol:

241mg
Sodium:

720mg
Carbohydrates:

103g
Fiber:

4g
Sugar:

67g
Protein:

14g