Coconut Cheesecake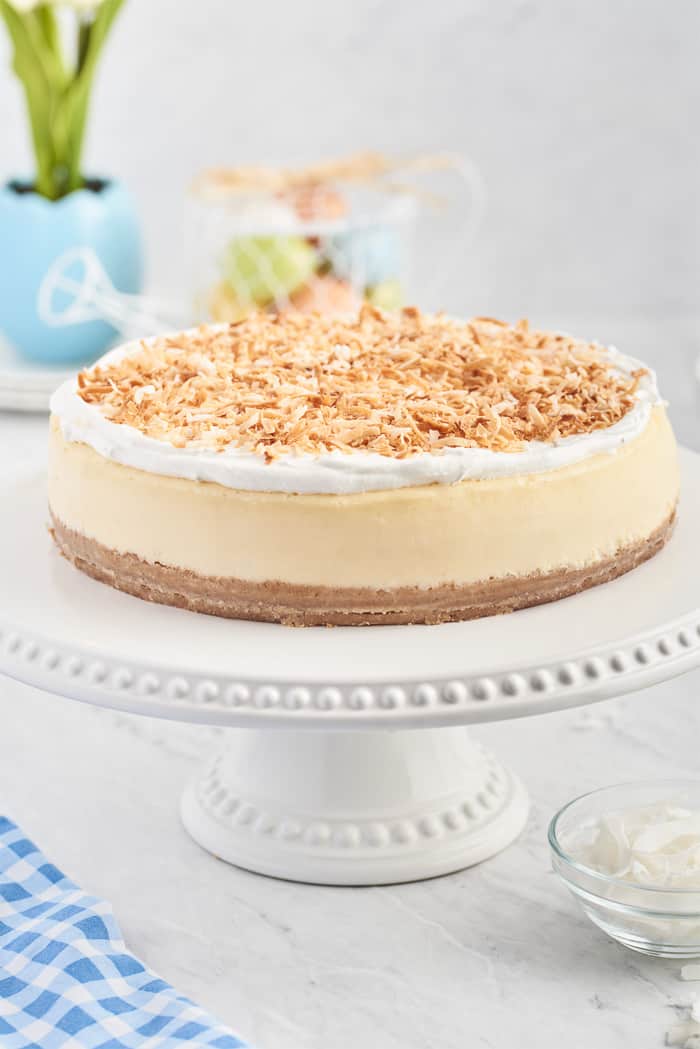 Coconut Cheesecake
Hi friends! Boy, do I have a real treat for you today! One of my all-time favorite ingredients wrapped up into a household staple dessert. Coconut cheesecake, the tropical delight you need this spring, Easter, and all summer long.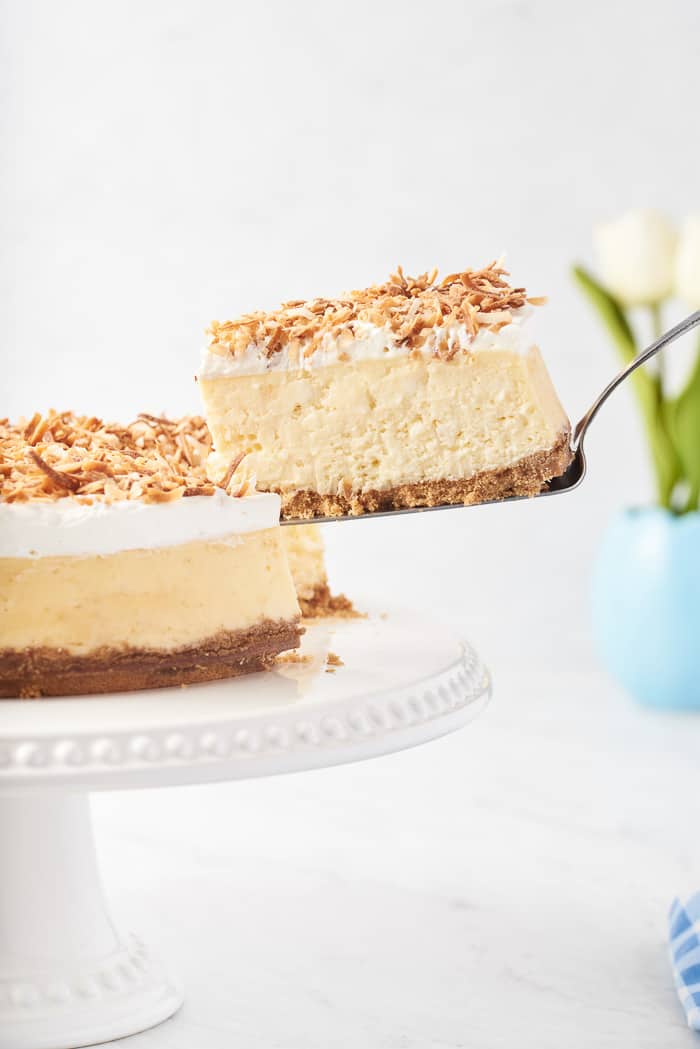 Homemade cheesecake is truly the best. and one of my favorites. Remember this pina colada cheesecake?? Sure, you can buy a pre-made cheesecake at any time. Sometimes it's easier! Our lives are chaotic and most of us feel like we never have a moment to just breathe.
I promise you this coconut cheesecake is worth every second it takes to make and it is quite relaxing to bake cheesecake. in my opinion.
Like the coconut fanatic that I am, I've infused it throughout this cheesecake. From the homemade crust to the creamy coconut cheesecake filling and to the delicate homemade whipped cream.
It is full of coconut bliss! The cheesecake is decadent, light, and oh so creamy.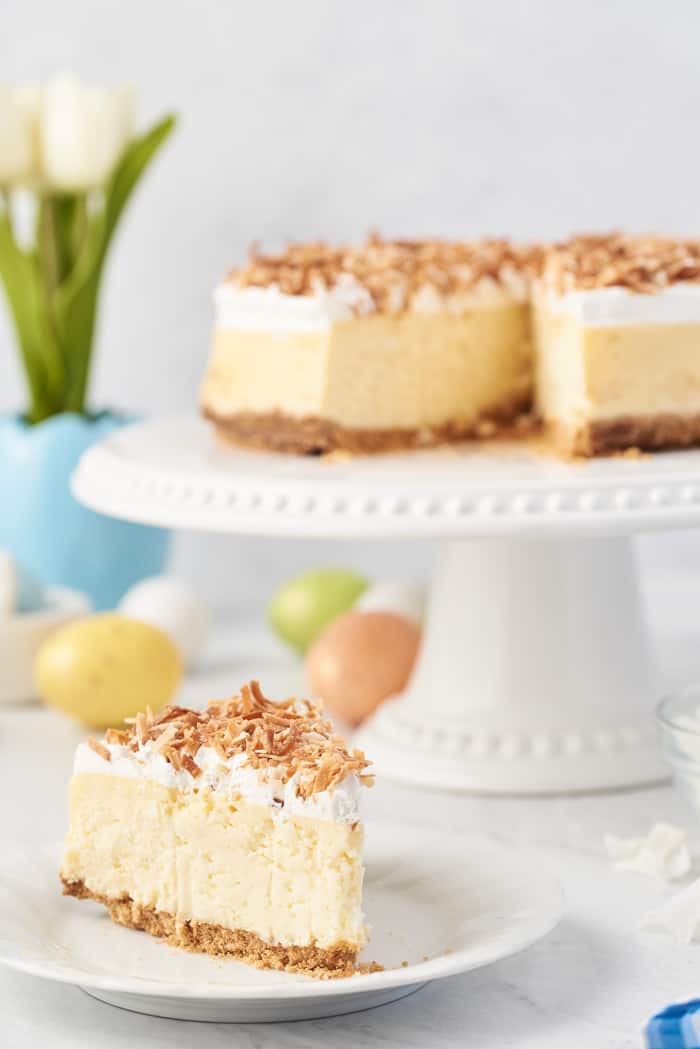 I have a step-by-step of the making of this easy coconut cheesecake to take you through how to whip it up. If you are not interested in the step-by-step, feel free to just skip to the end for the recipe card.
Coconut Cheesecake Ingredients
Use these ingredients to make a delicious toasted coconut cheesecake.
graham cracker crumbs
unsweetened coconut flakes
coconut oil
cream cheese
granulated sugar
all-purpose flour
cream of coconut or coconut cream (not coconut milk)
kosher salt
pure vanilla extract
coconut extract
4 large eggs
whipped cream
How to Make Coconut Cheesecake
Let's start with making the crust! The crust is made of graham crackers, coconut flakes, and coconut oil.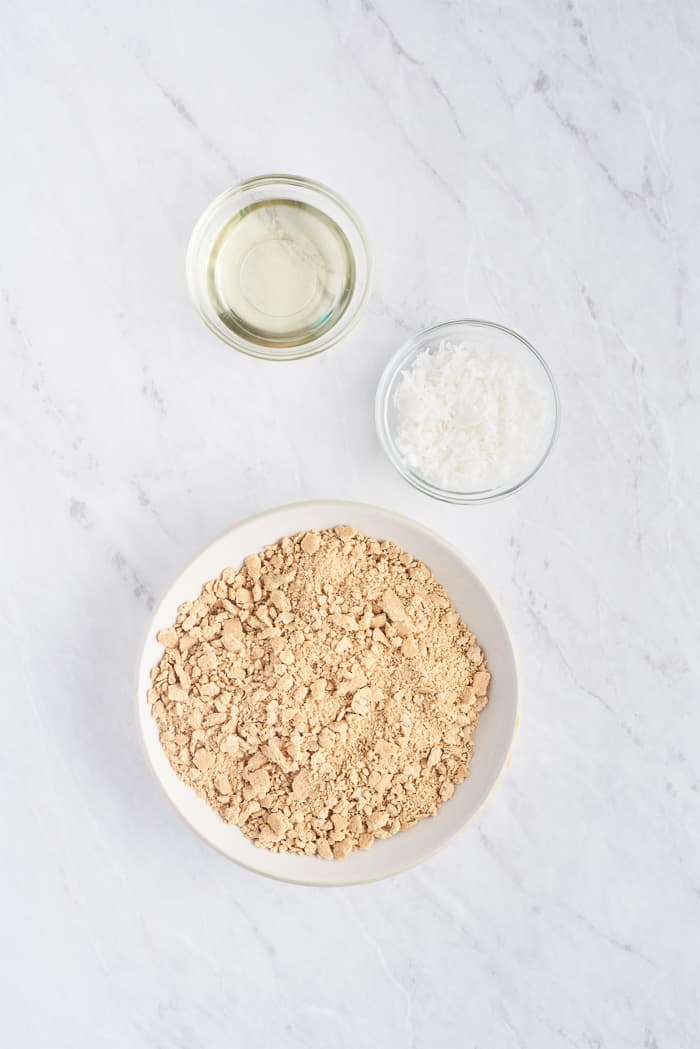 Blend these three ingredients until they become moist. This is our cheesecake crust.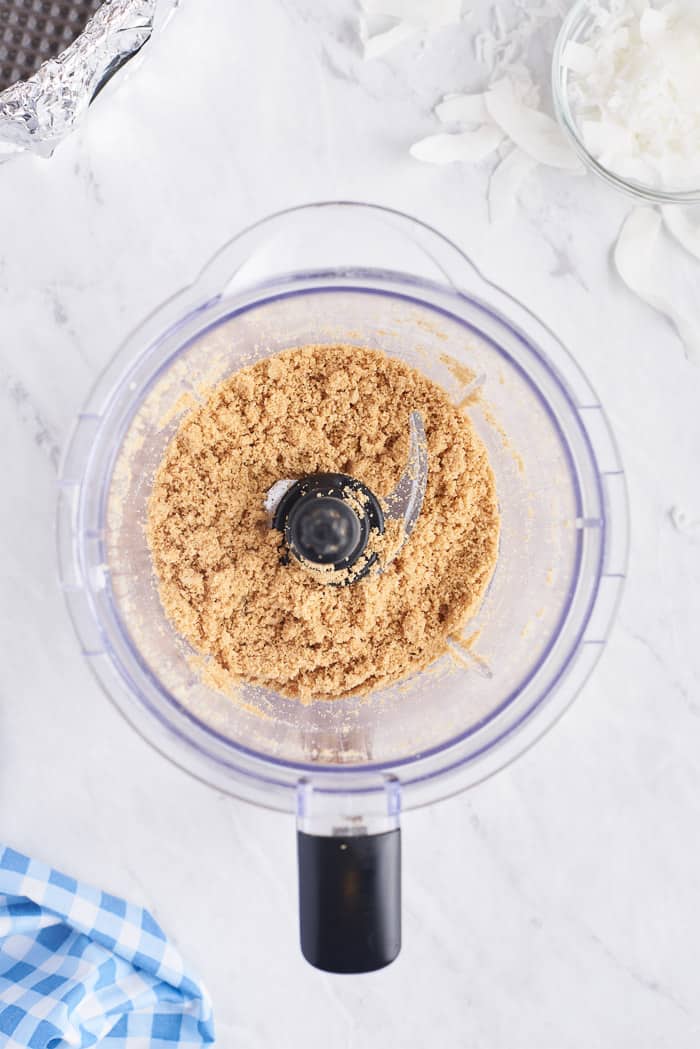 I have a leakproof springform pan but I always start by preparing my pan with two layers of foil to keep water out. Spread the crust mixture smoothly in the prepared baking pan and press down into an even layer, using the flat bottom of a glass.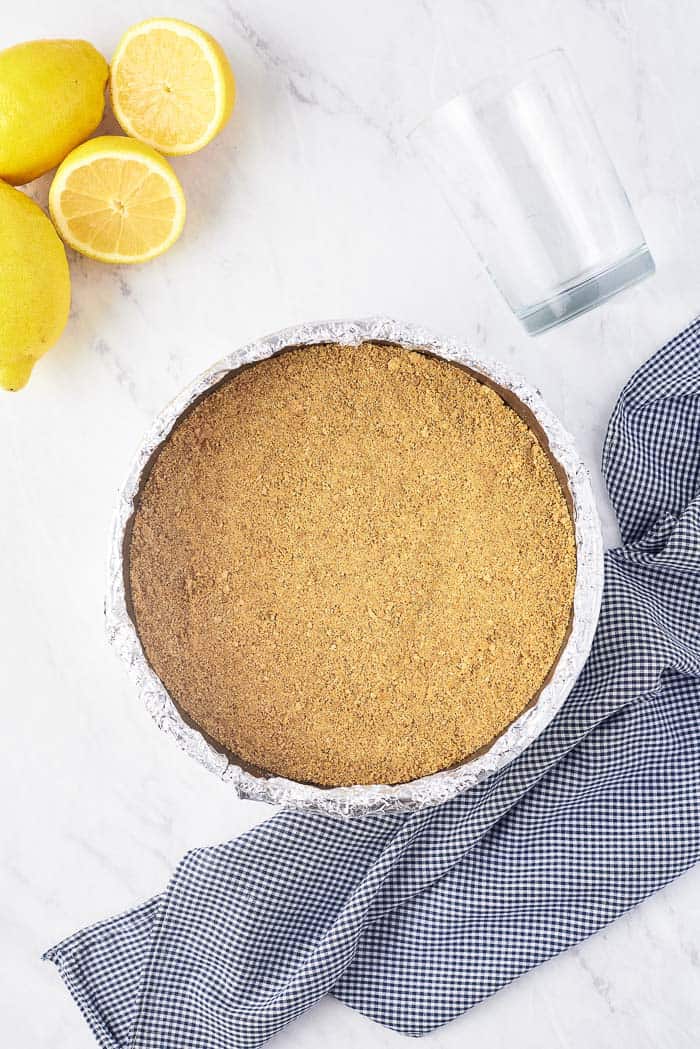 Bake the crust layer until light brown or golden. Let it cool while you are preparing your filling.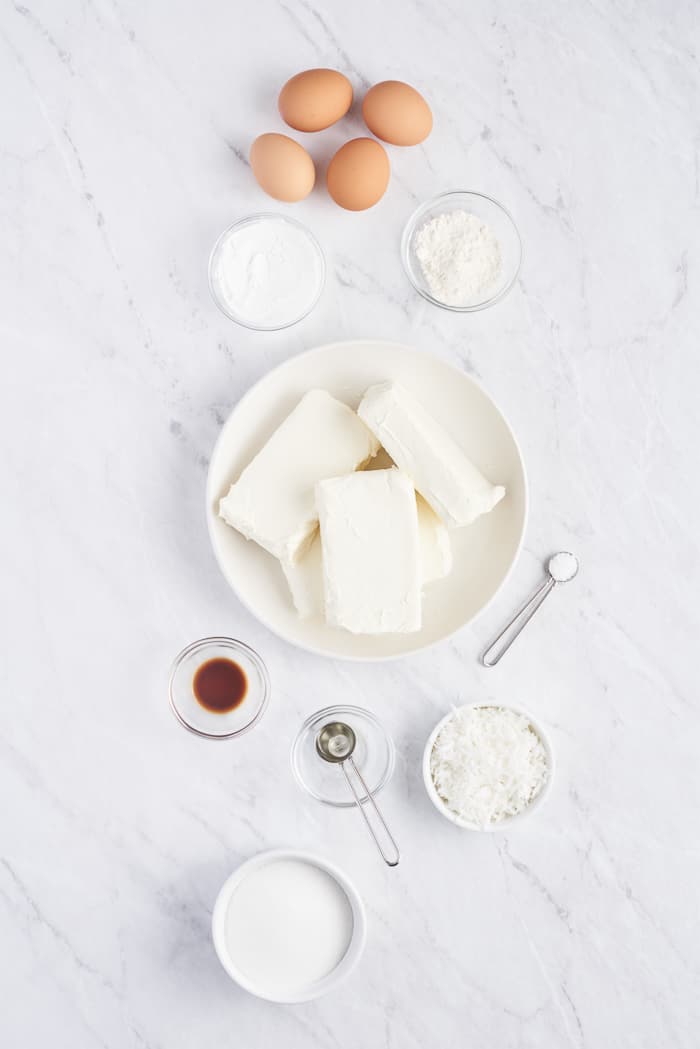 Before you get down to the filling, make sure to turn down your oven temp to 325 degrees F. Do this right after removing the crust so the temperature has ample time to go down.
In your electric mixer bowl, beat the softened cream cheese on medium speed until the consistency is creamy and smooth. If your cream cheese was previously removed from the fridge and softened it should only take about 2-3 minutes.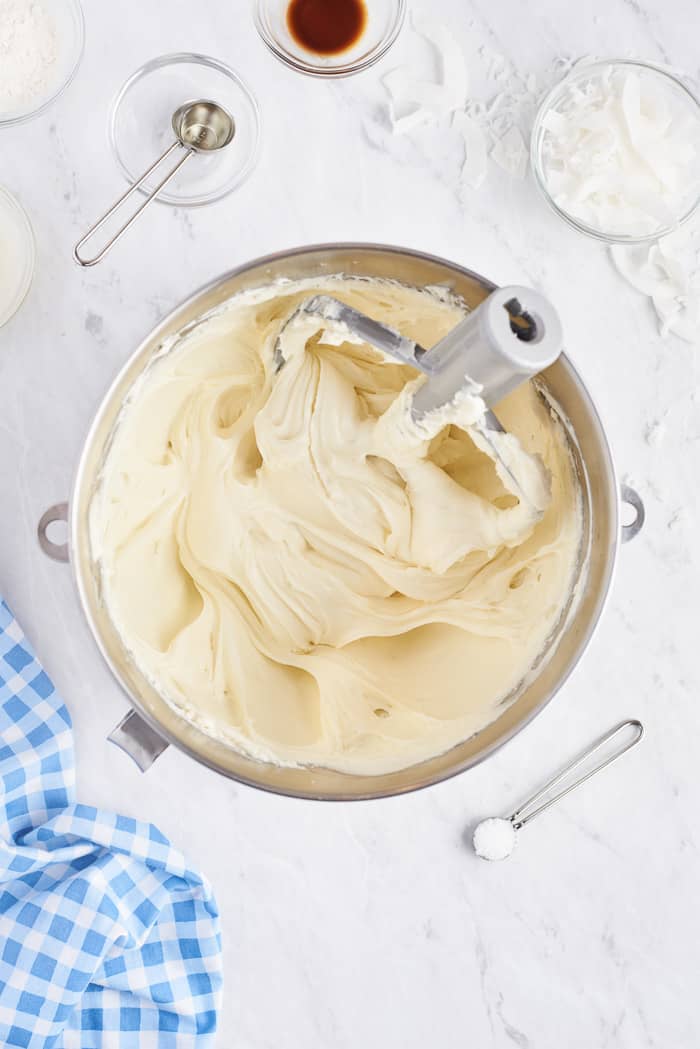 Pour in your sugar and mix again till combined. This should only take about a minute. Make sure to scrape down the sides of the bowl so all ingredients are blended well.
Pour in your flour, salt, coconut cream, vanilla, and coconut extracts. Yes, coconut extract!
Add the rest of the ingredients and mix until combined.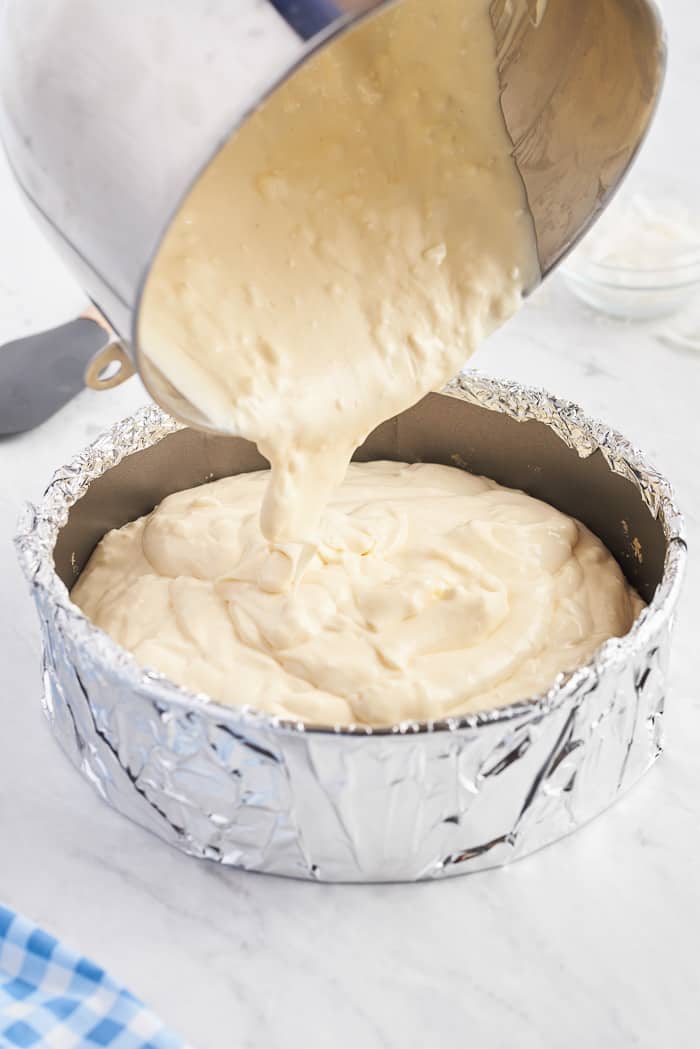 Pour the cheesecake batter into the cooled crust. Spread evenly to ensure it is leveled.
I use a large baking pan or casserole dish to create a water bath for baking cheesecake.
Place your springform pan into the deep baking dish and pour hot water into the large pan. Slowly add the water so nothing gets into your mixture and wrecks the batter.
Only pour water halfway up the springform pan. Do not overfill.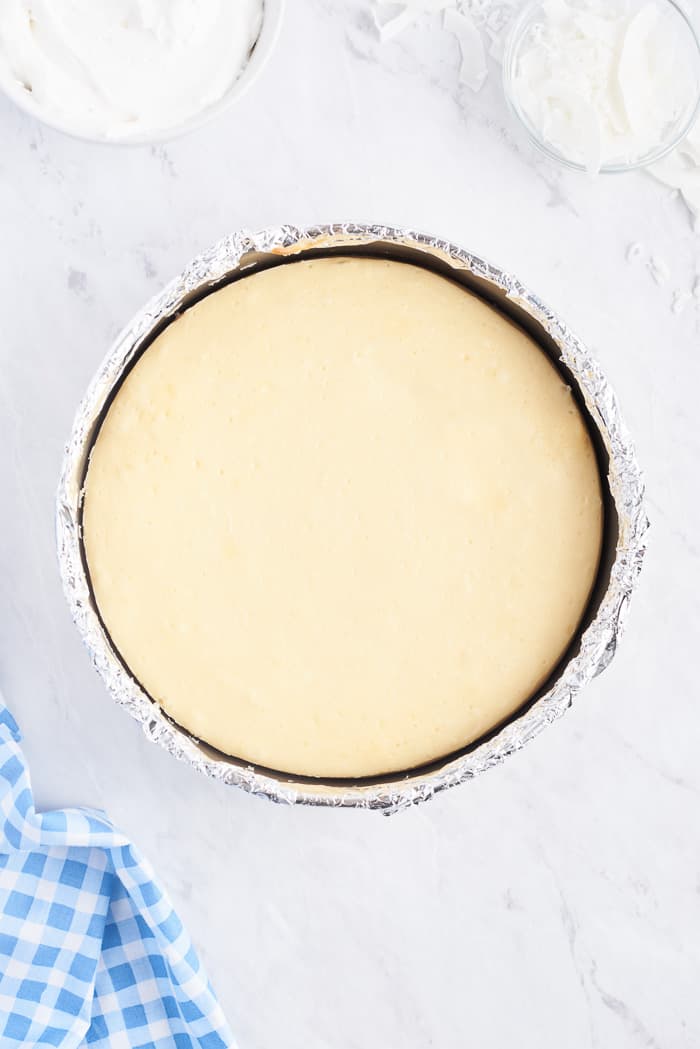 Bake your cheesecake at 325 degrees F for one hour or until the edges set and the center is still a little wobbly. Turn off the oven and leave the cheesecake in the oven for another 45 minutes.
Remove and let cool on the counter for one hour. This is a super important step prior to chilling so do not rush it. We can't rush perfection :-). Chill in the fridge for a minimum of six hours or even overnight.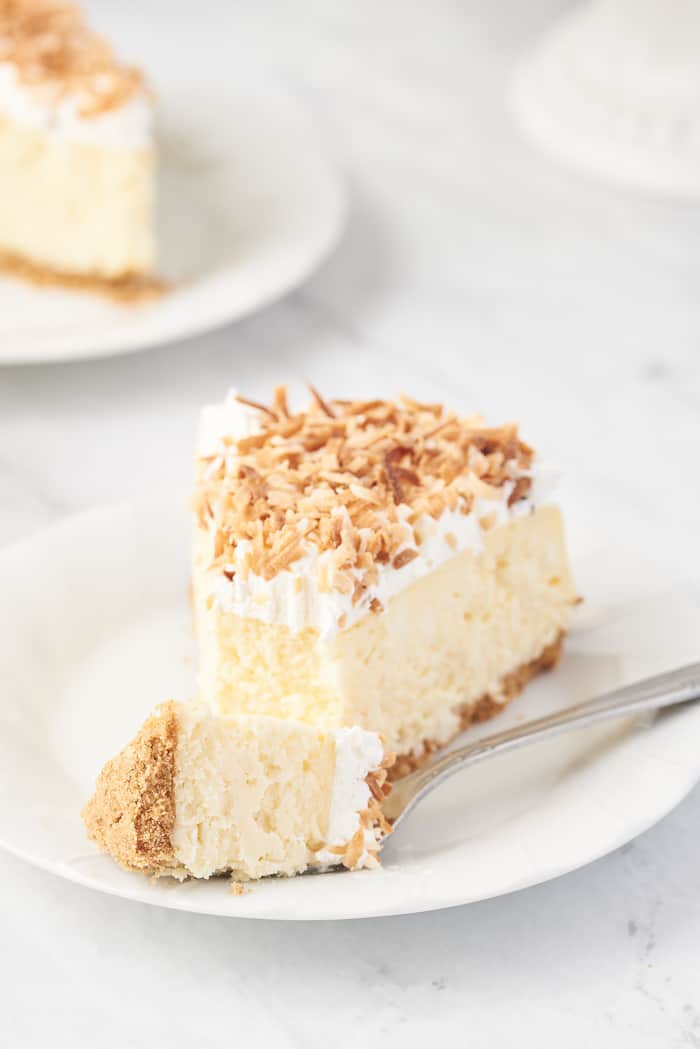 Once ready to serve, top with whipped cream and toasted coconut flakes.
What is the secret to making good cheesecake?
There are so many secrets to making a good cheesecake! I recommend doing these things to help you make the best cheesecake:
Room temperature cream cheese: this prevents the cream cheese from being lumpy in the batter.
Flour: add a little bit of flour to the batter. This helps create a creamy cheesecake.
Do not overmix the cheesecake batter: overmixing can cause too much air to be added to the batter. Too much air can cause cracking.
Water bath: a water bath helps make sure your cheesecake comes out perfectly creamy.
Underbake: take the cheesecake out when the center is still wobbly.
Cooling the Cheesecake: once your cheesecake is done baking, allow it to gently cool on the counter for at least an hour, and then place it in the fridge for another 6 hours. Resist cutting into it until it has properly set.
What do water baths do for cheesecake?
To make the best cheesecake you need to use a water bath. The water bath protects the cheesecake while it is baking in the oven. It prevents the cheesecake from getting a crack on the top and helps the cheesecake come out perfectly creamy. Always take the time to make a water bath for your cheesecake.
While making homemade cheesecake seems like a labor of love, it is well worth it. I can not wait to hear how you love it! Tell me what you served it with and what occasion you surprised everyone with this treat.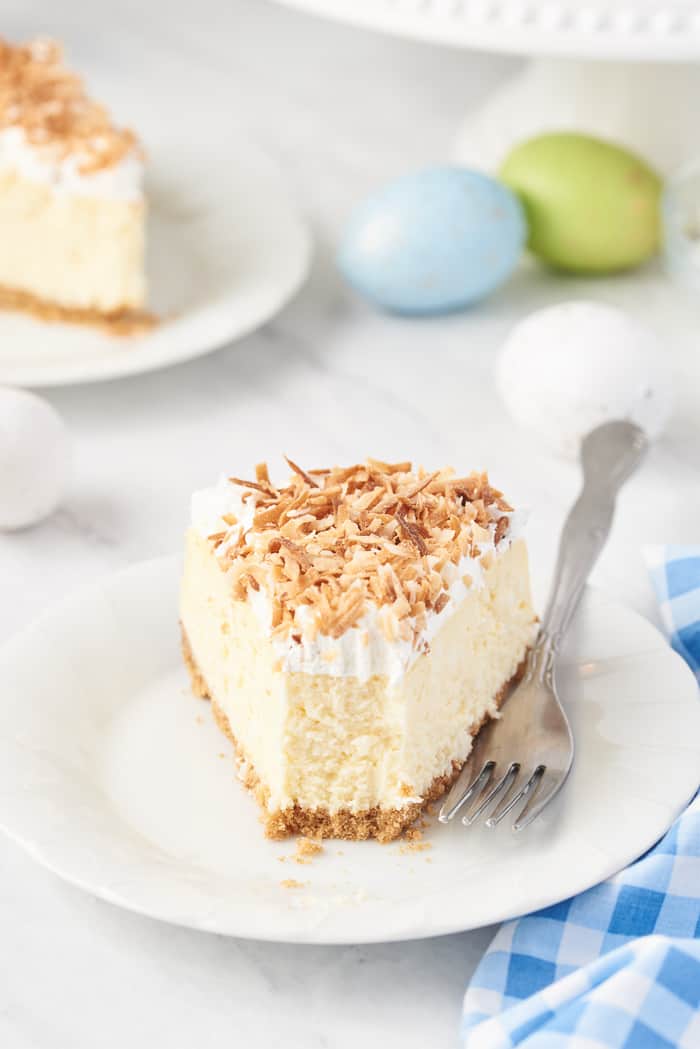 More Cheesecake Recipes to try
If you love creamy, decadent cheesecakes as much as I do, try out some of my favorites below.
Coconut Cheesecake Recipe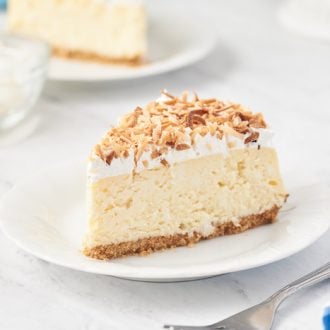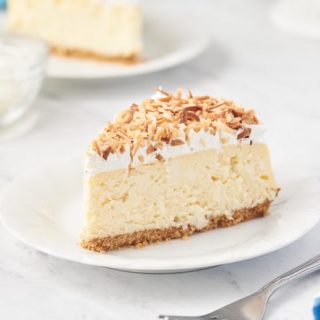 Yield: 1 9-inch cheesecake
Coconut Cheesecake
Creamy, decadent, and delicious coconut cheesecake!!
Prep Time 45 minutes
Cook Time 2 hours 45 minutes
Chill Time 6 hours
Total Time 9 hours 30 minutes
Ingredients
For Crust:
2 cups graham cracker crumbs
1/3 cup unsweetened coconut flakes
1/4 cup coconut oil, melted
For the Filling:
32 ounces (4 packages) cream cheese, softened at room temperature
1 cup granulated sugar
2 tablespoons all-purpose flour
1/4 cup cream of coconut or coconut cream (not coconut milk)
¼ teaspoon kosher salt
1 teaspoon pure vanilla extract
1 teaspoon coconut extract
4 large eggs, at room temperature
1/2 cup unsweetened coconut flakes
For Topping:
Homemade whipped cream
1/2 cup unsweetened coconut flakes, toasted
Instructions
Preheat oven to 350 degrees F. Wrap the entire outside of a 9-inch springform pan with two sheets of foil.
In the bowl of a food processor, combine the graham cracker crumbs, coconut crumbs, and coconut oil. Process until moist and mixture looks like wet sand.
Transfer the crumbs to the prepared pan and evenly spread it. Use a flat bottom cup and press down on the crust to create an even layer.
Bake crust for 10 minutes or until lightly golden. Let cool while you prepare the filling.
Reduce oven temperature to 325 degrees F.
In the bowl of an electric mixer, beat the cream cheese on medium speed until smooth and creamy, about 2 minutes. Add sugar and mix until combined, another minute or two, scraping down bowl as needed.
Add in flour, coconut cream, salt, and extracts. Mix well on medium-low speed. Reduce speed to low and add eggs in one at a time, mixing until combined. Mix filling until smooth for an additional minute. Fold in the coconut flakes into the batter.
Pour filling into springform pan with crust.
Place springform pan into a much larger baking pan (I like using a roasting pan). Add hot water into the larger baking pan to reach halfway up the side of your spring-form pan.
Bake at 325 degrees F for about one hour or until cheesecake is set around the edges but still slightly jiggly in the center. Then turn off the oven and leave the cheesecake in the oven for additional 45 minutes.
Remove cheesecake from the oven and from the water bath. Remove the foil around the pan and allow to cool at room temperature for at least an hour before chilling. Chill for 6 hours or overnight.
Before serving, top cheesecake with whipped cream and toasted coconut flakes.
Store leftovers covered in the refrigerator.
Notes
Cream of coconut linked below.
Recommended Products
As an Amazon Associate and member of other affiliate programs, I earn from qualifying purchases.
What do you think of this tasty coconut cheesecake recipe? What would you serve with a slice of this cheesecake? Let me know in the comment section below.
If you share across social media, make sure to tag #aclassictwist, so I can see your beautiful creation come to life!
Happy baking, friends!