Coconut Blueberry Cupcakes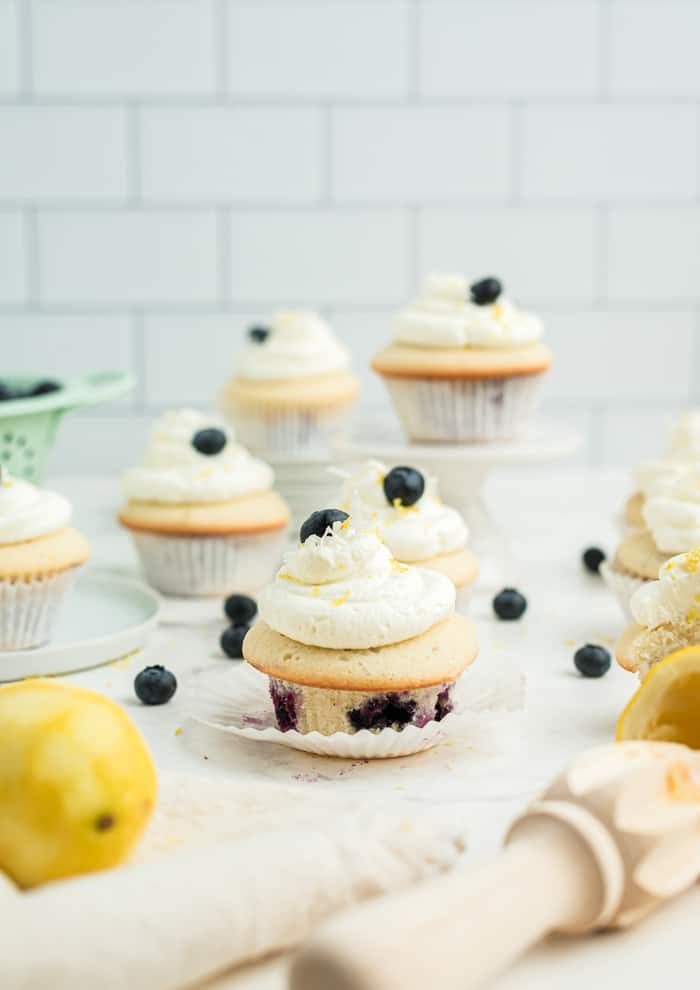 Hey friends! I have a new summer recipe for you! Tropical flavors, fresh summer berries all into one fantastic dessert; Coconut Blueberry Cupcakes.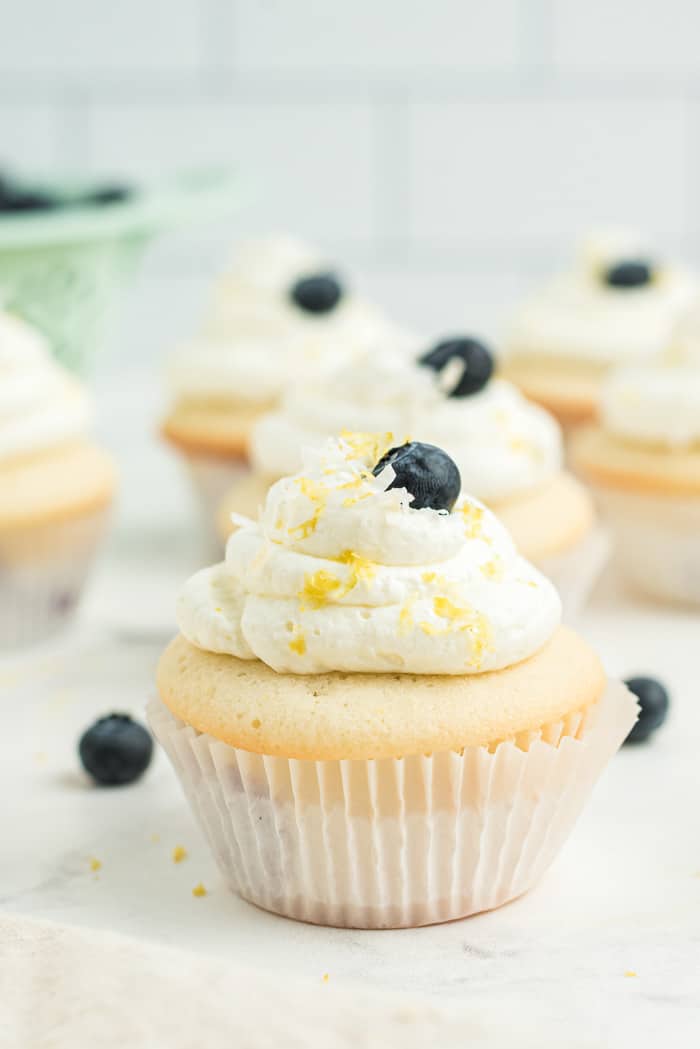 Can you believe that we are in AUGUST!? It is hard for me to wrap my head around, but my summer started off pretty busy with my family moving into a new home. Even with a hectic start, we are trying to soak up every drop of summer before the school year starts. Spending time in nature, slip n slide days with the kiddos (I'm just the observer), and eating all the fresh summer recipes we can before those leaves start falling.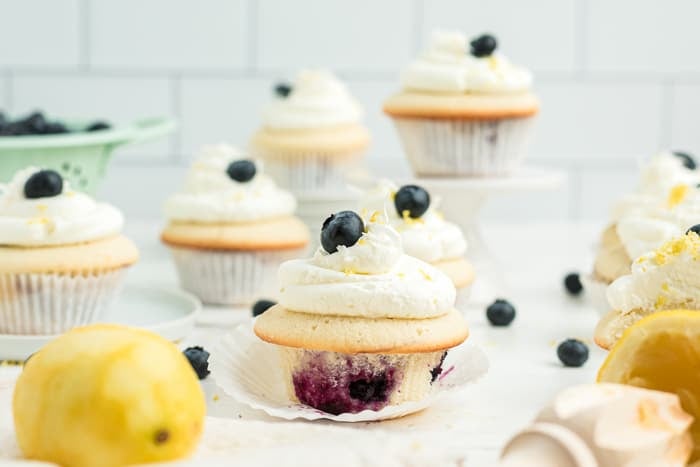 We already know that coconut and blueberry belong together. The combination works and I have a few cakes and recipes to prove this. Behold – my famous blueberry coconut layer cake. These cupcakes are the cupcake version of a fan favorite. Also, check out these mini coconut cupcakes with blueberries.
These sweet and tart cupcakes are wonderful for entertaining guests or just a little sweet pick-me-up during the day. The cupcake is super moist, like biting right into a cloud. Fluffy coconut whipped frosting adds that tropical feel you really want. Especially if you still haven't been able to take a vacation this summer. Bring the tropics to you! Once you take a big bite a surprise awaits you. A sugary and tart blueberry compote is the surprise you didn't know you needed from your dessert.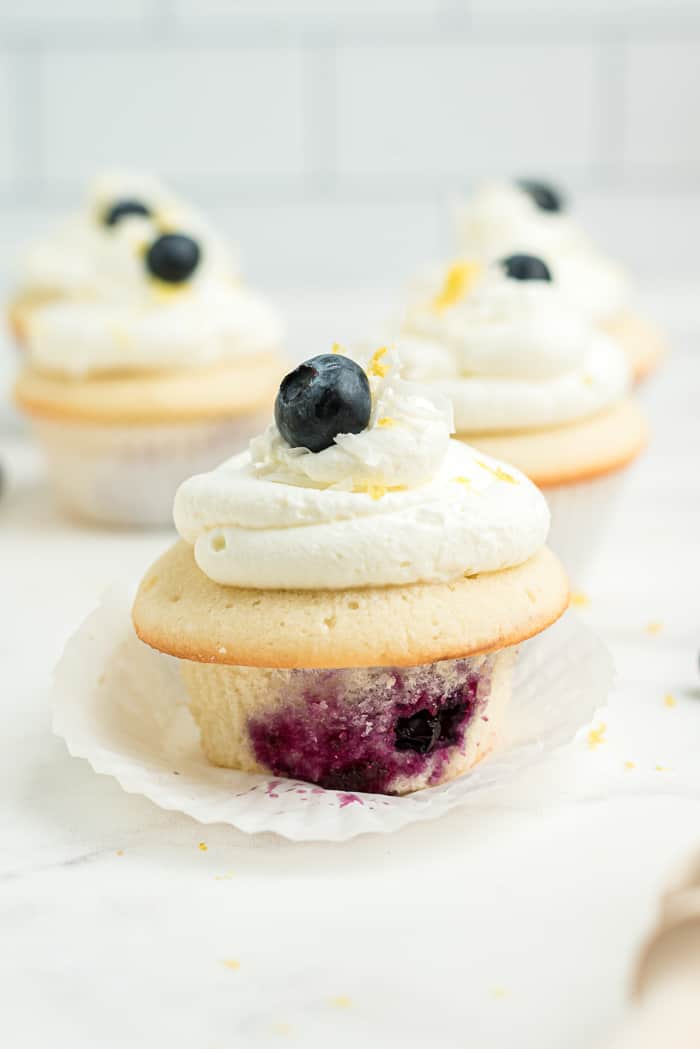 I love to enjoy mine with a sweet glass of white wine after a long day of wearing many hats. Sometimes, I may even sneak one for breakfast with my morning coffee. We have all had those days am I right?
The biggest tip I can give you when creating these coconut blueberry cupcakes at home is to always use fresh blueberries. I've tried baking these with frozen blueberries and the flavor is way milder.
If you don't want the step-by-step instructions then you can scroll to the bottom.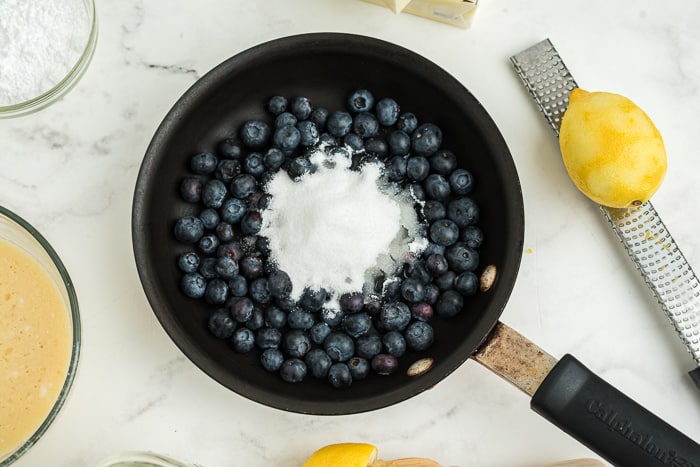 The first thing you want to make is the blueberry compote. Cook all ingredients down for 10-15 minutes. Transfer to a heat-safe bowl and set to the side so the compote can cool down while making the rest of this dessert.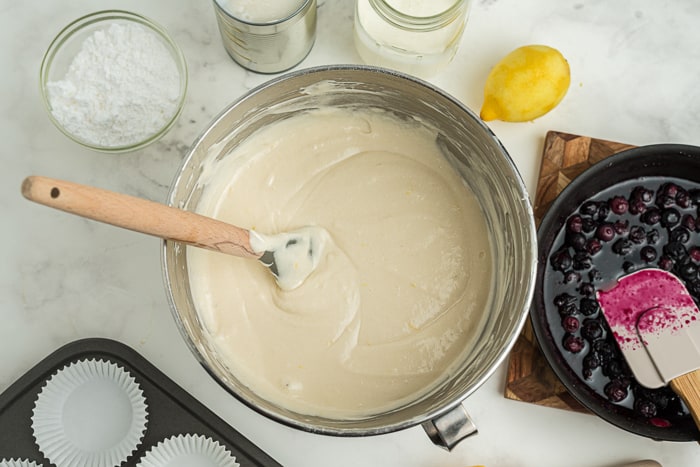 Pour batter in each tin only enough to fill them halfway.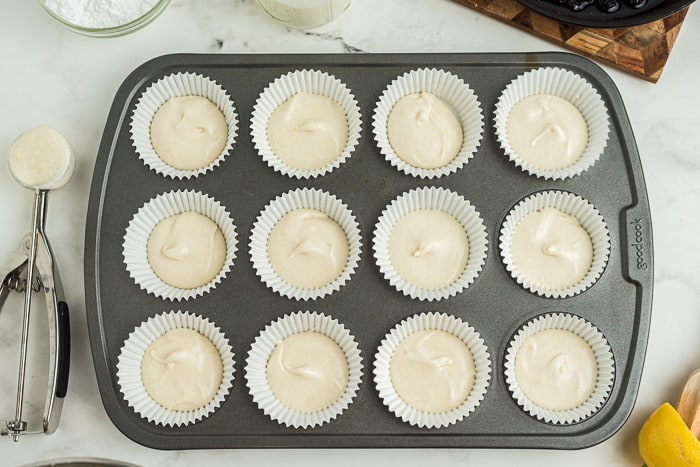 Then pour in a small amount of blueberry compote.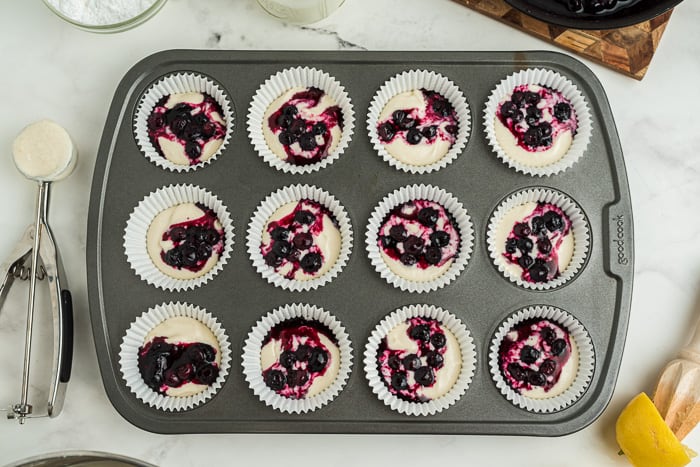 Sandwich the compote with more batter so each tin is about ⅔ of the way full.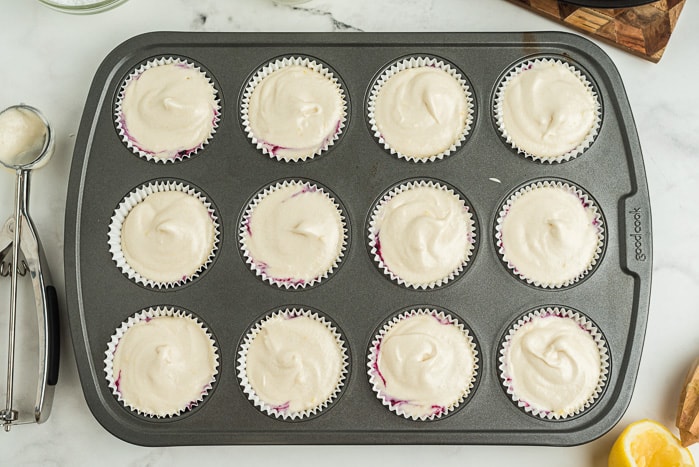 Bake until a cake tester (or a toothpick) comes out clean and set them to the side to cool before frosting.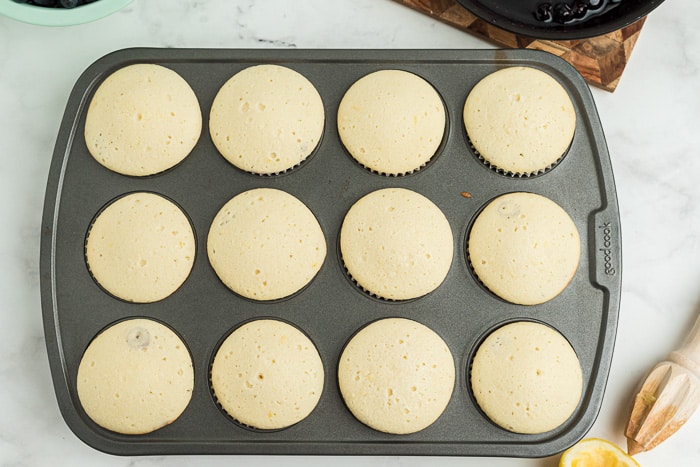 Mix all ingredients for frosting until stiff peaks form. Pipe onto your cupcakes and they are ready to be enjoyed!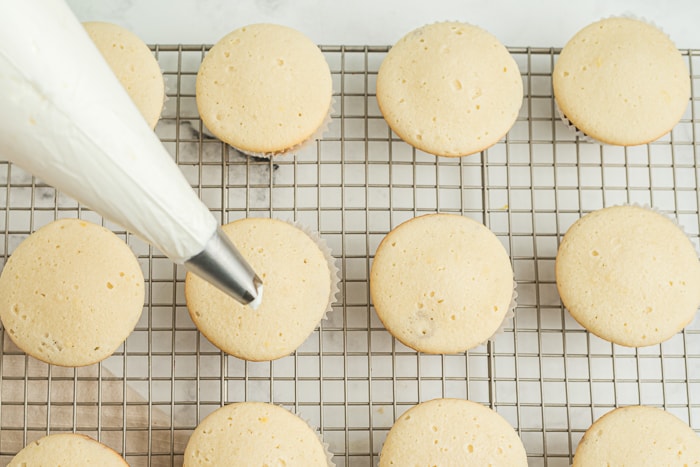 A super easy recipe that will give that "WOW" factor you want when entertaining friends and family. They will think you have been taking baking classes once these Coconut Blueberry Cupcakes hit the table.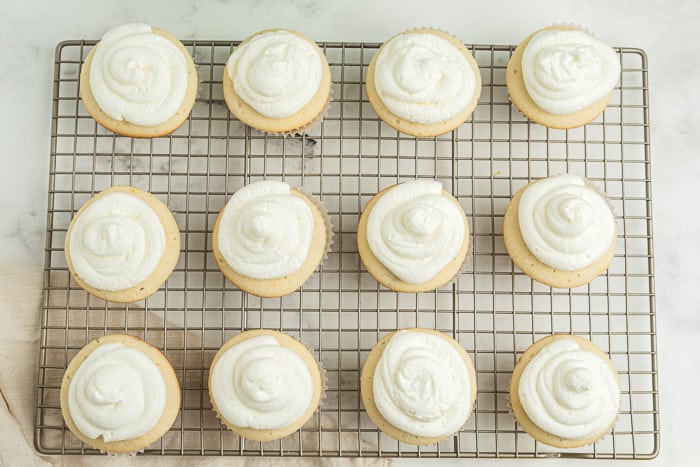 If you make these I would love to know in the comment section below. Sharing on social media? Make sure to use the hashtag #aclassictwist so I can admire your hard work! Until next time, have a wonderful day guys, and happy baking!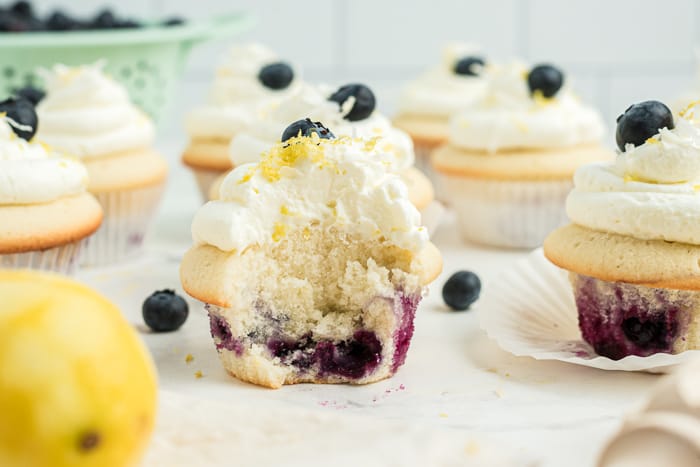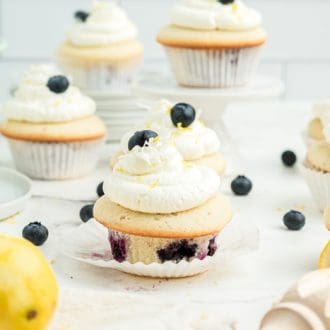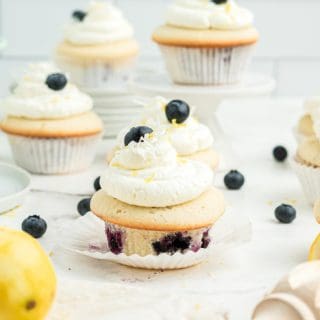 Yield: ~24 cupcakes
Coconut Blueberry Cupcakes
These coconut blueberry cupcakes start with a moist, tender coconut cake filled with a sweet blueberry compote and lightly whipped coconut frosting perfect for spring or summer entertaining. 
Prep Time
1 hour
30 minutes
Total Time
1 hour
55 minutes
Ingredients
For Blueberry Compote:
1 cup fresh blueberries
1 tablespoon lemon juice
1/4 cup granulated sugar
For the Cupcakes:
1 cup full-fat coconut milk, divided, room temperature
1 whole egg, room temperature
4 large egg whites, room temperature
2 teaspoons pure vanilla extract
2 ½ cups cake flour, sifted
1 ½ cups granulated sugar
1 ¼ tablespoons baking powder
¾ teaspoon kosher salt
zest of 1 lemon
1 ½ sticks unsalted butter, at room temperature and cut into cubes
For the Frosting:
1 cup heavy whipping cream, cold
1/2 cup confectioner's sugar
Instructions
Blueberry Compote
Combine all the ingredients for the compote in a medium saucepan set over medium-low heat.
Cook until berries break down and juices start to thicken up. About 10-15 minutes, stirring occasionally.
Remove from heat and transfer berry mixture to a heat-safe bowl and let cool completely.
For Cakes:
Preheat oven to 350 degrees F. Line two muffin tins with cupcake liners.
Whisk together a third cup of coconut milk, egg, egg whites, and vanilla extract.
Sift the cake flour in the bowl of an electric mixer fitted with the paddle attachment (Or a medium bowl if using a hand mixer). Add in the sugar, baking powder, salt, and lemon zest to the sifted flour. Stir together at low speed for 1 minute, until combined.
Add the butter one piece at a time and blend at low speed for 1-2 minutes or until the flour mixture resembles wet sand. Then add the remaining coconut milk, and mix at low speed until moistened. Increase speed to medium and mix for 1½ minutes. Be careful not to over mix. Scrape the sides of the bowl as needed.
Add the egg/coconut milk/extract mixture in 3 separate batches mixing on medium speed after each addition until combined.
Fill the muffin tin halfway with the cupcake batter. Then top the batter with about 1 tablespoon of the blueberry compote. Top the compote with more batter to fill the tin up to 2/3.
Bake in the center of the oven for 12-15 minutes or until a cake tester comes out clean when inserted in the center of a cupcake.
Let cupcakes cool completely before frosting.
Whipped Coconut Frosting
Combine all the frosting ingredients and mix at low speed for 1 minute. Then increase speed to medium and whisk until soft peaks form. The frosting will be light and fluffy. Do not over-mix.
Assembly:
Frost each cupcake with the whipped frosting. Enjoy!
Store leftovers in the refrigerator.
Recommended Products
As an Amazon Associate and member of other affiliate programs, I earn from qualifying purchases.