Orange Hazelnut Cake
A moist, aromatic orange hazelnut bundt cake is sweetened with honey and has subtle nutty flavors.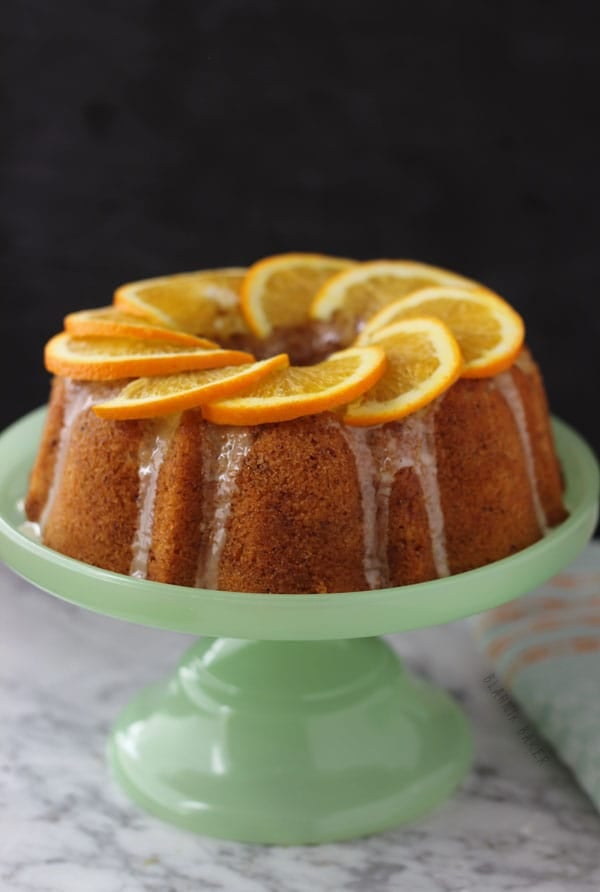 I don't know where you live but for us on the East Coast, it has felt a lot like Fall this week. But I refuse to give in to the idea because we are STILL in August!! I intend to continue savoring the best of summer until the official end next weekend, after labor day. Who is with me? Don't get me wrong, I am excited about Fall (Gosh it's my favorite season of them all) but we need to live in the present a bit more and wait for the future to actually get here. We are still in the citrus, juicy berries, corn, and zucchini everywhere summer phase and I am still going to town in the kitchen with these flavors!! This Orange Hazelnut Cake was the newest creation last weekend to not only satisfy my hazelnut kick recently but to continue enjoying juicy oranges!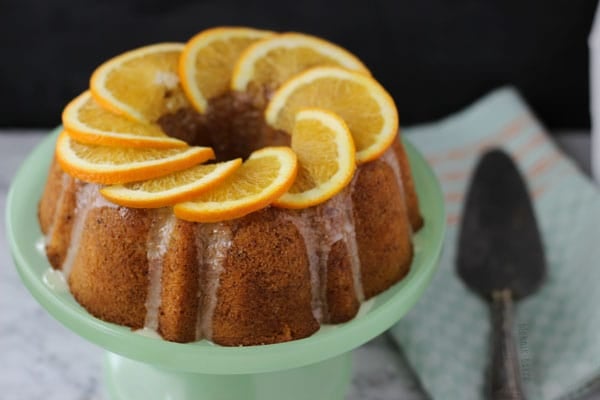 I am joining my fellow bundt cake lovers again this month for another bundt party. Bundt Bakers is a group of Bundt loving souls that share recipes each month with a common ingredient or theme. This month, our host Laura from Baking in Pajamas chose "Honey" as our ingredient of the month. How perfect! I decided to make an Orange Hazelnut Cake that is sweetened with honey!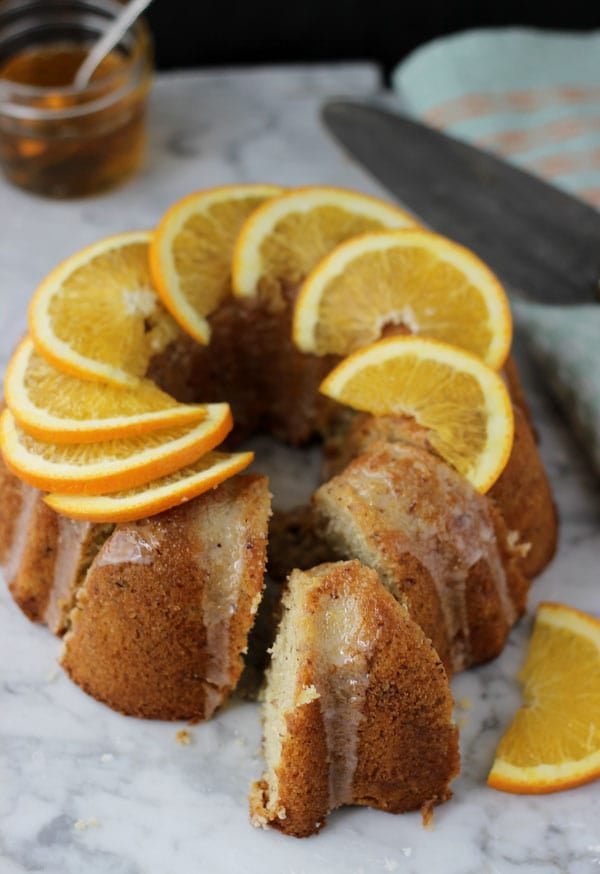 Why orange, hazelnut, and honey? A) because I love combinations that are not normal but sound just amazing and B) I am on a hazelnut kick!! Ever since I got my hands on this hazelnut flour from Bob's Red Mill, I've baked, cooked, and macaroned with it. After these hazelnut macarons with Chambord, I really loved the raspberry combination with the nutty flavor of hazelnuts. So when I was looking for a way to combine honey and orange in a crazy good cake, hazelnut was front and center.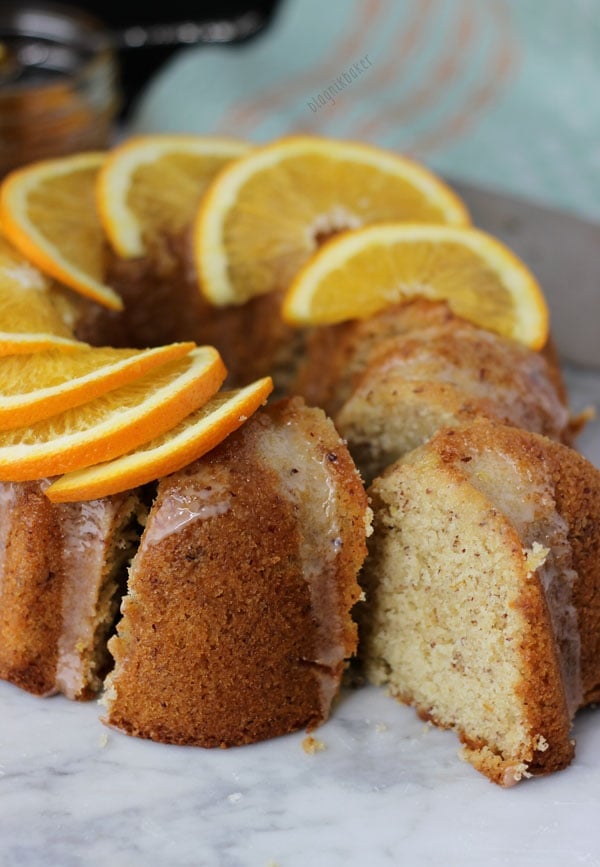 The cake is incredibly moist with very subtle nutty flavors of hazelnut. The orange zest and honey additions give the cake citrus and sweet balance that is a great added touch!!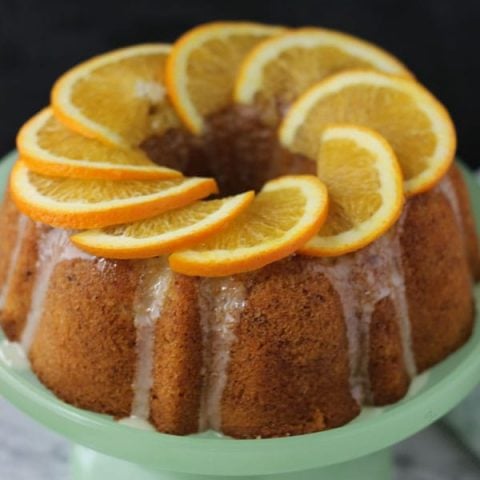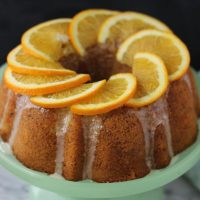 Yield: 1 6-inch bundt cake
Orange Hazelnut Cake
A moist, aromatic orange hazelnut bundt cake is sweetened with honey and has subtle nutty flavors.
Total Time
1 hour
5 minutes
Ingredients
For the Cake:
¾ cup cake flour
¼ teaspoon baking powder
⅛ teaspoon salt
4 large eggs, room temperature
2 teaspoons orange-vanilla extract (or vanilla extract)
½ cup granulated sugar
zest of one orange (about 2 teaspoons)
¼ cup hazelnut paste (recipe below)
1 ½ sticks unsalted butter, room temperature
¼ cup honey
For hazelnut paste:
¼ cup hazelnut flour (I love this Bob's Red Mill Hazelnut Flour)
1 tablespoon whisked egg
2 tablespoons powdered sugar
(Combine all the ingredients in a medium bowl and whisk together until the ball forms. )
For Orange Honey Glaze (optional):
2 tablespoons fresh orange juice
1 tablespoon honey
1 cup powdered sugar
Instructions
Preheat oven to 325 degrees F. Grease a 6-cup bundt pan with baking spray and set aside.
In a medium bowl, whisk together the flour, baking powder, and salt. In a measuring cup, whisk together the eggs and orange-vanilla extract.
In the bowl of an electric mixer, fitted with the paddle attachment, beat the sugar, orange zest, hazelnut paste, and butter until light and fluffy about 2-3 minutes on medium speed. Add honey and beat for an additional minute.
Reduce speed to medium-low and add in the egg mixture, a little at a time, mixing well after each addition. Add flour mixture in two additions, mixing until just combined.
Spoon batter into prepared pan. Bake until cake is golden brown or a cake tester inserted into the center comes out clean, about 45 minutes. Let cool in the pan for 10 minutes. Using a sharp knife, loosen the edges of the cake and invert onto a cooling rack. Let cool completely.
To make the glaze:
Whisk together all the ingredients. Pour over cooled cake. Let glaze set for 10 minutes. Decorate with freshly sliced oranges.
Store leftover cake in an airtight container at room temperature for 2-3 days.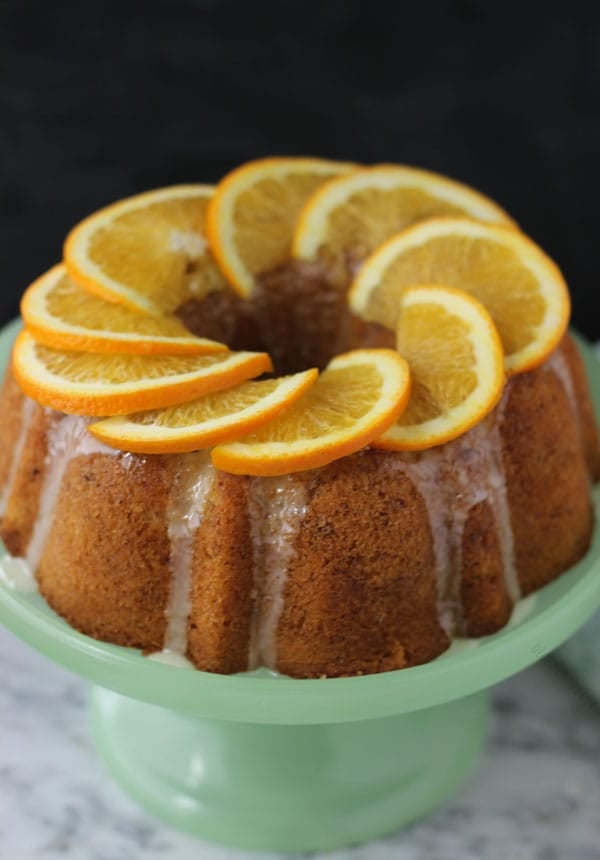 Check out this month's cakes from Bundt Bakers:
Some affiliate links included in the text above.
Want to know more?
#BundtBakers is a group of Bundt loving bakers who get together once a month to bake Bundts with a common ingredient or theme. Follow our Pinterest board right here. Links are also updated each month on the BundtBakers home page. We take turns hosting each month and choosing the theme/ingredient. If you are a food blogger and would like to join us, just send Stacy an email with your blog URL to foodlustpeoplelove@gmail.com.