Hazelnut Macarons with Chocolate Chambord Ganache
Because chocolate, hazelnut and raspberry were meant to ALWAYS be together!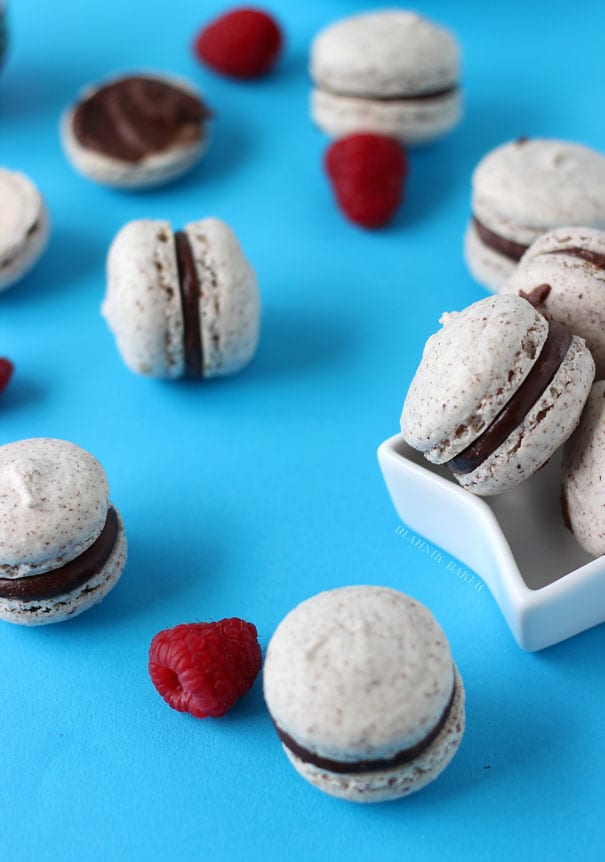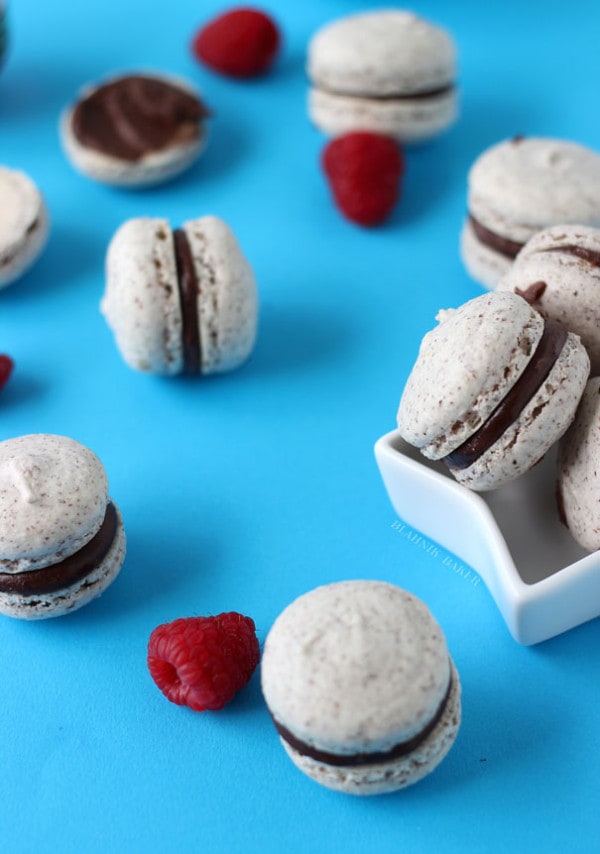 I may be onto a new berry already…well not so fast. Or it could just be a chambord inspired path. Yesterday was this white chocolate semifreddo spiked with Chambord (raspberry liqueur) and today I'm giving you these hazelnut macarons with chocolate Chambord ganache. What can I say, I did do a lot of recipe testing with that bottle of Chambord (and vodka) before the start of Ramadan.
When my friend Julie visited a few weeks ago, she wanted us to bake some macarons together so I decided to experiment with a new package of hazelnut flour I had just received from Bob's Red Mill. Some risky business since I just got comfortable making macarons with the traditional almond meal. But, you know what? I was pleasantly surprised! They were just as easy and I think much better!! The nutty hazelnut macaron shells are incredibly soft and pillow-y.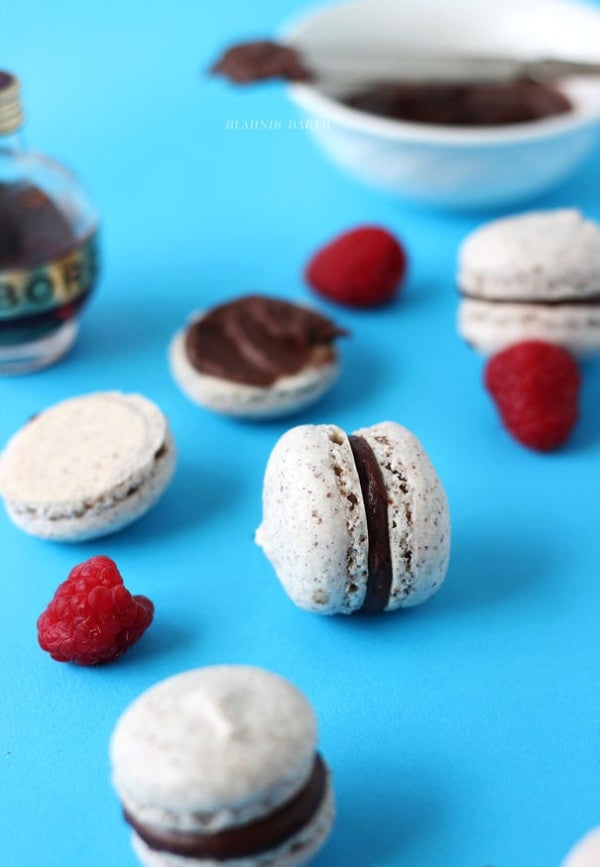 I decided to fill the macaron shells with a sweet chocolate ganache spiked with some raspberry liqueur because we all know hazelnut, chocolate and raspberries are just meant to be together ALWAYS. What a great combination, making these little sandwiches a delicious treat!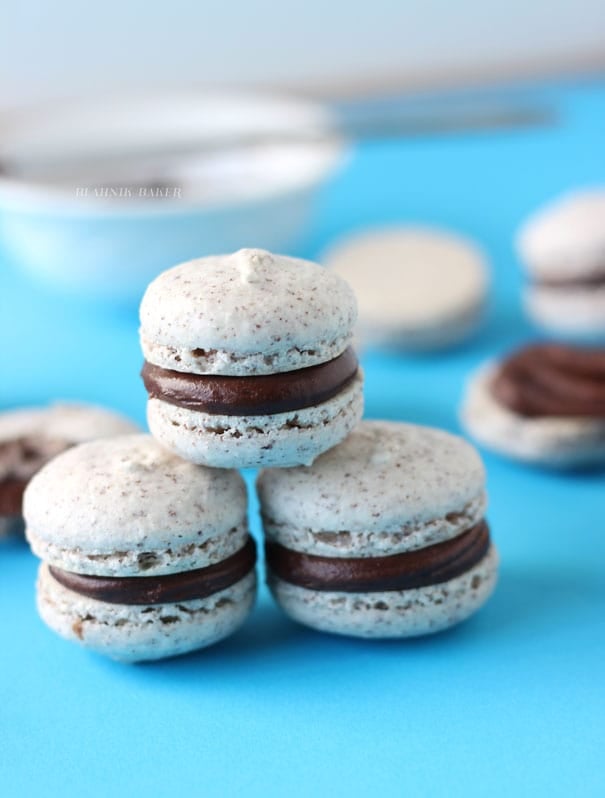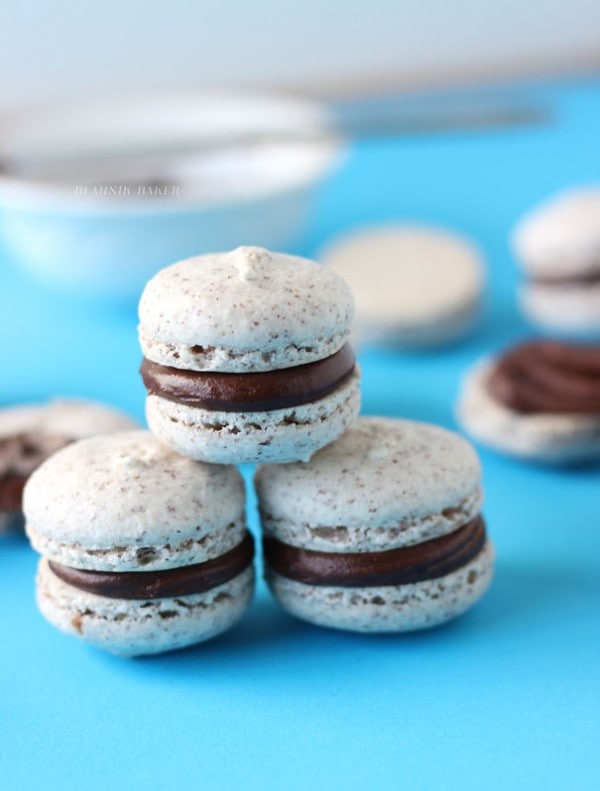 I'm sharing the recipe for these macarons today over at my friend Ala's blog, Wallflour Girl. I just recently met this wonderful lady through a guest post she did over on gotta get baked (Thanks Nancy!). Her post resonated with me that I spent all morning checking out her blog, writing and recipes!! Only to discover she is a PhD student like me and a passionate, honest and intelligent lady!! If you haven't read her blog yet, please do!! You will seriously fall in LOVE with her, her writing, recipes and just her honest view of life.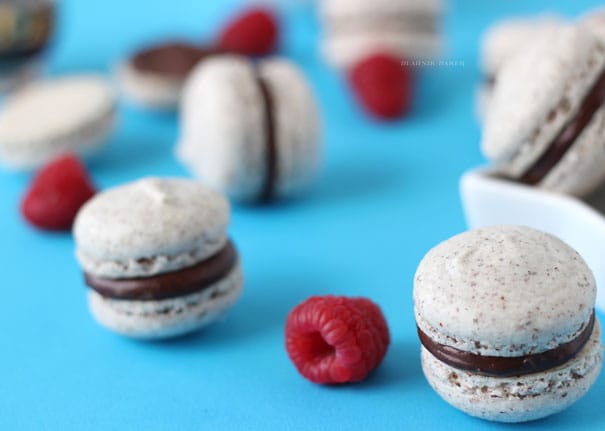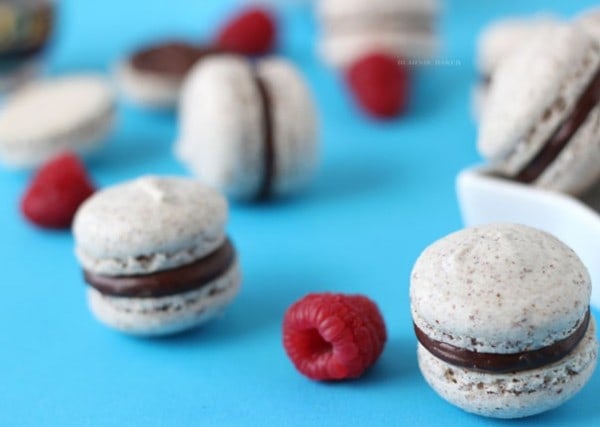 Make sure you grab the recipe for these hazelnut macarons over on Wallflour Girl today!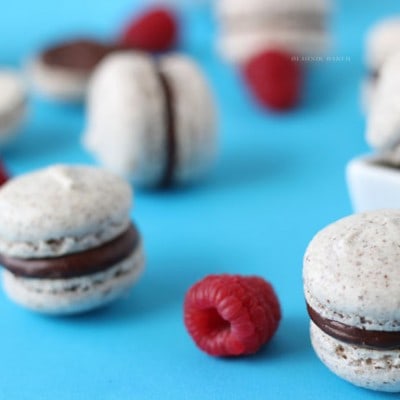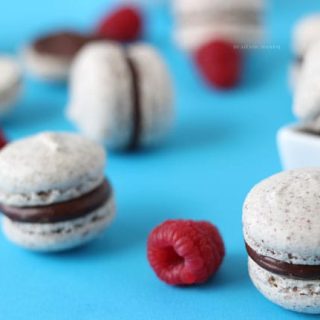 Hazelnut Macarons with Chocolate Chambord Ganache
Ingredients
For Macarons
125g hazelnut flour
175g powdered sugar
105g egg whites
75g sugar
pinch of salt
For Chocolate Chambord Ganache
1⁄2 cup bittersweet chocolate
2 tablespoons heavy cream (plus more if needed)
1 tablespoons butter
2 tablespoons Chambord (raspberry liqueur)
Instructions
For the Macarons:
Line two sheet pans with parchment paper. I used a 11⁄2-inch round cookie cutter to draw circles on the parchment paper and flip over the paper (drawing side down). Prepare a pastry bag with a round tip. I used Wilton 2A.
Pulse the powdered sugar and hazelnut flour into a fine powder using a food processor. Sift several times until less than two tablespoons of hazelnut bits are left. Add these to the mixture.
In the bowl of an electric mixer with the whisk attachment, combine the egg whites and sugar. Whip on medium-high speed until stiff peaks form, about 5-7 minutes.
Add the dry ingredients to the meringue and fold with a rubber spatula. Gently fold to deflate the meringue by pressing against the side of the bowl and scooping from the bottom until the batter is smooth and shiny; about 20-25 folds. To check consistency, drop a spoonful of batter that should have a peak that quickly relaxes back into the batter. Start checking the batter after 20 folds.
Transfer batter into a pastry bag and pipe the batter into the pre-traced circles on the baking sheet. Tap the baking sheet hard on the counter to release any air bubbles trapped in the batter. Let shells sit on the counter for 20-30 minutes to dry until a slight skin forms.
Preheat the oven to 300 degrees F. Bake for 15-18 minutes or until shells are hard, rotating cookie sheets halfway through baking time. You should be able to peel off the macaron from the parchment. Cool completely on cookie sheets before peeling from the parchment.
For the Ganache:
Combine the chocolate and heavy cream in a microwave-safe bowl. Microwave for 30-45 seconds and stir until chocolate melts. Remove from microwave and stir in butter until melted and chocolate is smooth. Whisk in Chambord with butter. Match same-size cookies; pipe a little mound of buttercream onto the flat side of one cookie and top with another. Store refrigerated for at least 24 hours before serving.
Some affiliate links included in text above.