Bacon Cheddar Cheeseburger
This epic bacon cheddar cheeseburger recipe is sponsored by Cabot Cheese. All opinions are 100% mine.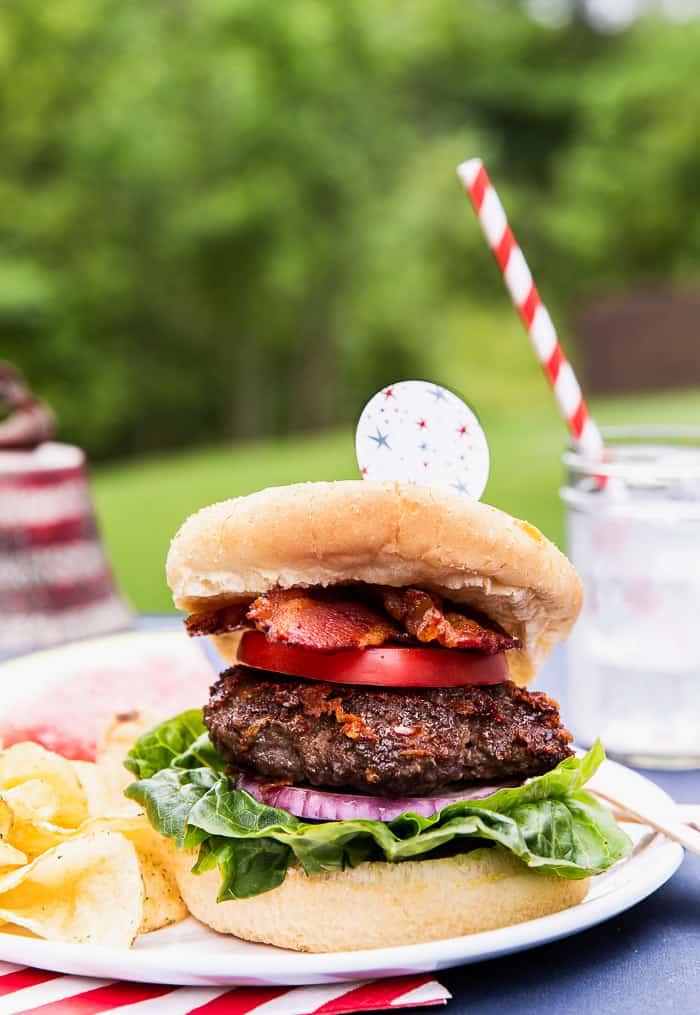 Hi friends, it is officially summer and that means it is time for another savory recipe. I don't share with you as much what I am eating in the savory department and I think that is because I don't cook much in our home. I am the baker, my husband is the cook and that has been the arrangement that works for us for years. The day he made this bacon cheddar cheeseburger, I made us a homemade strawberry pie. It was the perfect summer day!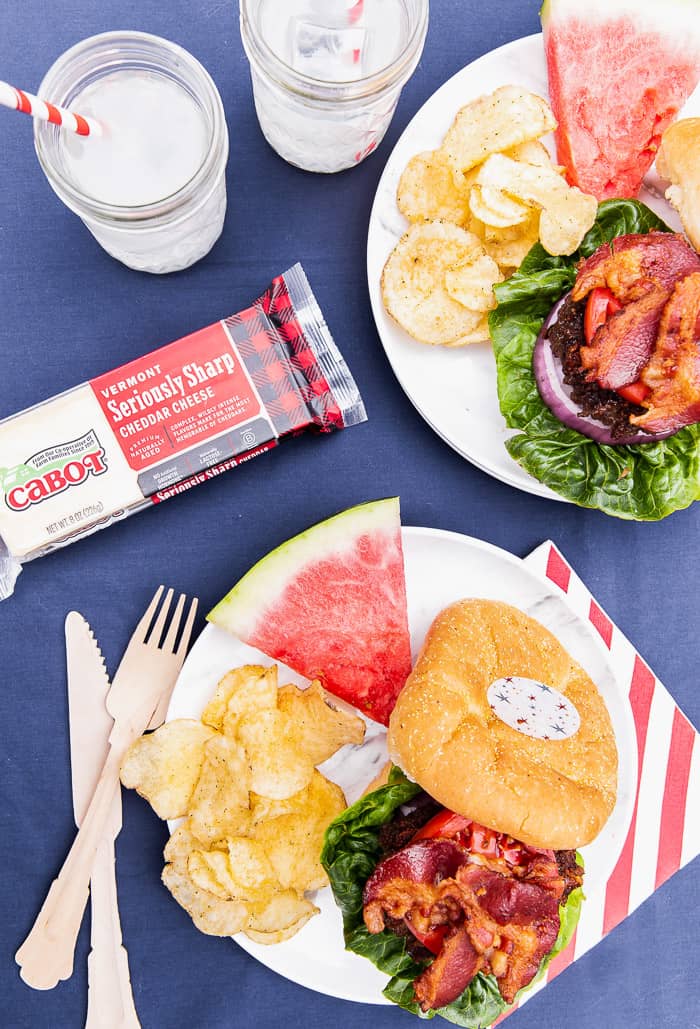 He is the grill master of the house and he loves trying new things. I swear the man won't stop creating new concoctions even if he tries. Take this bacon cheddar cheeseburger, for example, I told him I needed a new recipe for my collaboration with Cabot Cheese and I wanted to highlight the variety in their collection. He immediately decided he would come up with something for me.
By the way, my collaboration with Cabot Cheese is naturally because of his love for their products. Early on in our dating lives, I noticed he only used Cabot sharp cheddar cheese when he cooks, and when we moved in together, that became part of our routine. That is why I am so excited to share our love for Cabot Cheese and showcase how we use Cabot in our everyday lives. Whether it's in a cheese board for entertaining or in an easy asparagus cheese tart for brunch or in this new cheddar cheeseburger, it's always a go-to!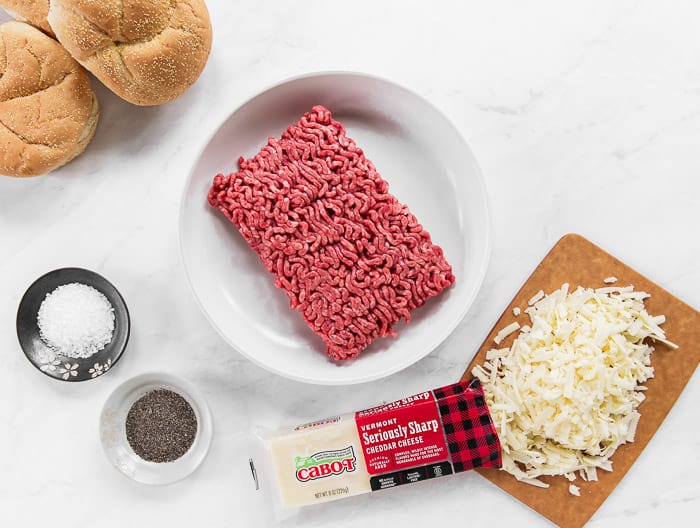 My husband makes his famous meatballs with shredded cheddar cheese in them (so good!!) so he decided to add that same great sharp cheddar flavor in his burger patties. He loves making his own patties because he can control how he adds flavors. Don't ask me, he is just one of those. In the past, he's added dry ranch dressing as you can see from this Ranch Burger or minced jalapenos and garlic into the patties.
For this burger, he sticks with shredded cheddar to really highlight the cheese flavors in the patty. Every epic burger has bacon. That is a fact that I think I can get behind. Adding crispy bacon to this cheddar cheeseburger made it an epic burger and GOSH is it a great idea.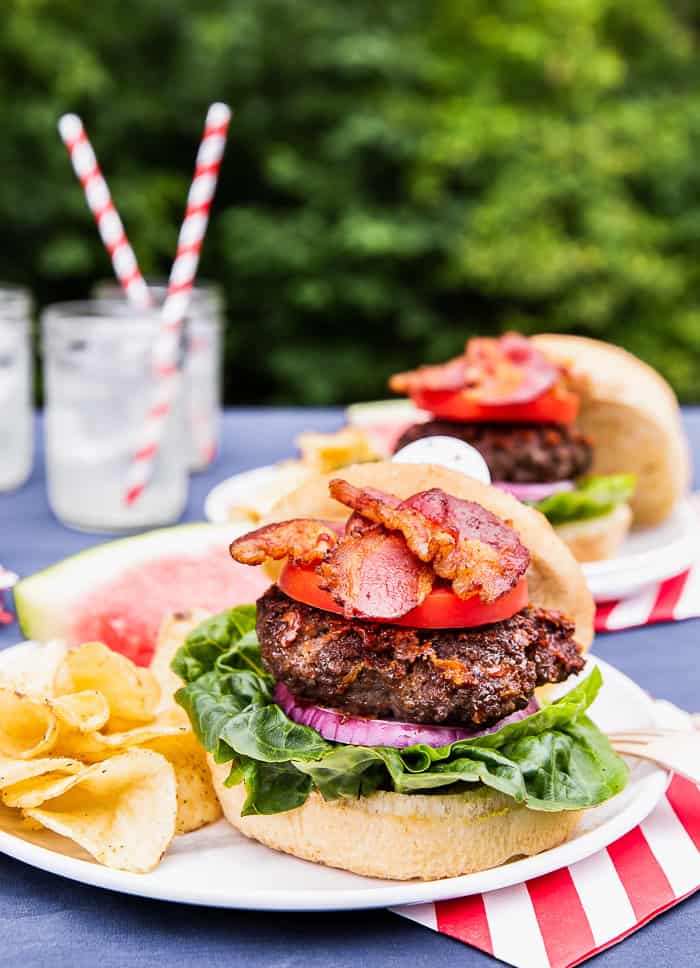 For toppings, you can customize as you need. I do actually add sliced jalapenos to my burger as I love me some heat, But you can dress up your burger as you like. Regardless, you will enjoy this cheddar bacon cheeseburger.
We are officially entering grilling season and you need to make these bacon cheddar cheeseburger at your next barbeque or summer gatherings!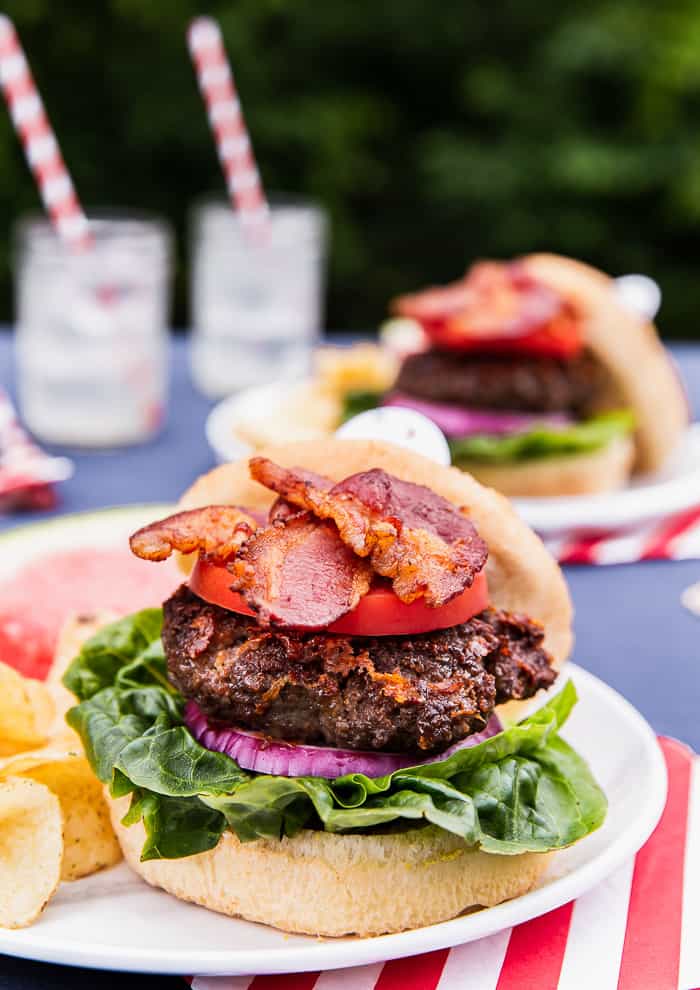 For more information on Cabot Cheese and recipe inspirations check out their website and social media channels.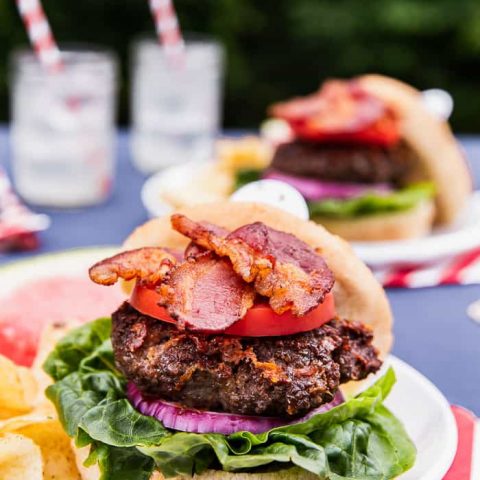 Yield: 4 servings
Bacon Cheddar Cheeseburger
Juicy bacon cheddar cheeseburgers perfect for your summer grilling parties.
Ingredients
FOR BURGER:
1 pound ground lean beef
salt and pepper, to taste
6-8 bacon slices (you can use turkey bacon too)
TOPPINGS:
butter-toasted Kaiser Rolls or Hamburger Rolls
thinly sliced Cabot sharp cheddar cheese
fresh lettuce
sliced ripe tomatoes
sliced red onions
Instructions
In a medium bowl, season beef with salt and pepper and add in the shredded cheese. Mix until combined. Form burger patties loosely into a ¾" thick burger, about 4-6 patties depending on the size you like.
On a heated grill or medium saucepan over medium heat, cook the burgers until burger is no longer pink, about 6-8 minutes on each side. On the same grill, cook the bacon to the desired doneness.
Top each burger patty with slices of cheese and cook until
just melted. Remove from grill and place on bread rolls.
Top the buns with lettuce, tomato, onions, and bacon. Top
with the buns. Serve immediately.