No-Knead Rosemary Sea Salt Bread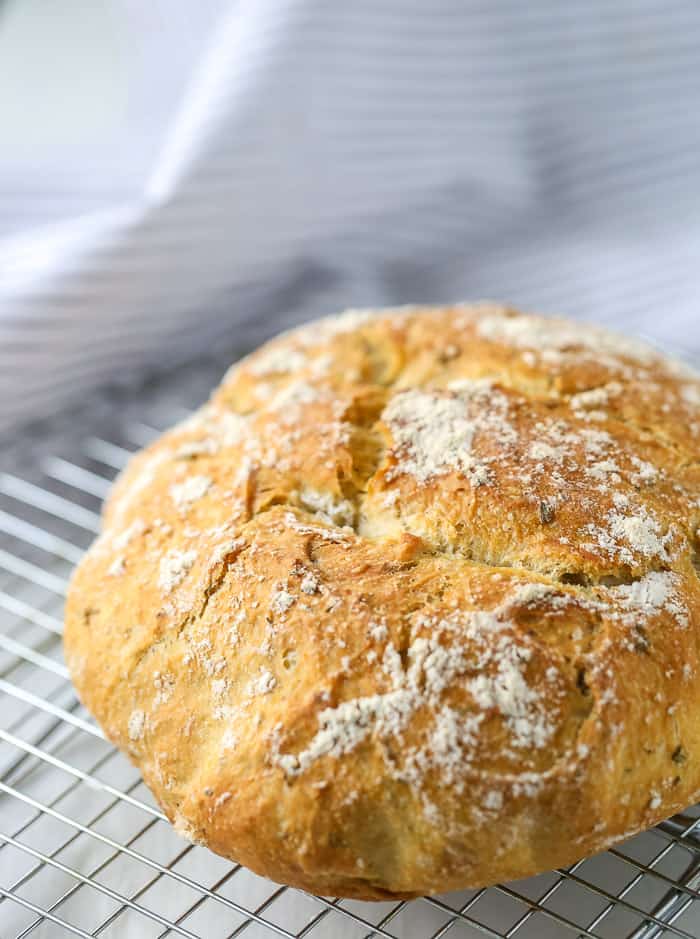 Hi friends! I hope you are doing well and safe. As most of us are still staying home or cautiously coming out of lockdown, folks are still baking bread. I wish I could say I have been baking bread as much as the world but I did manage to make one loaf of bread in the now 15 weeks I've been home. This No-Knead Rosemary Sea Salt Bread is the one bread I've baked in 4 months of sheltering in place.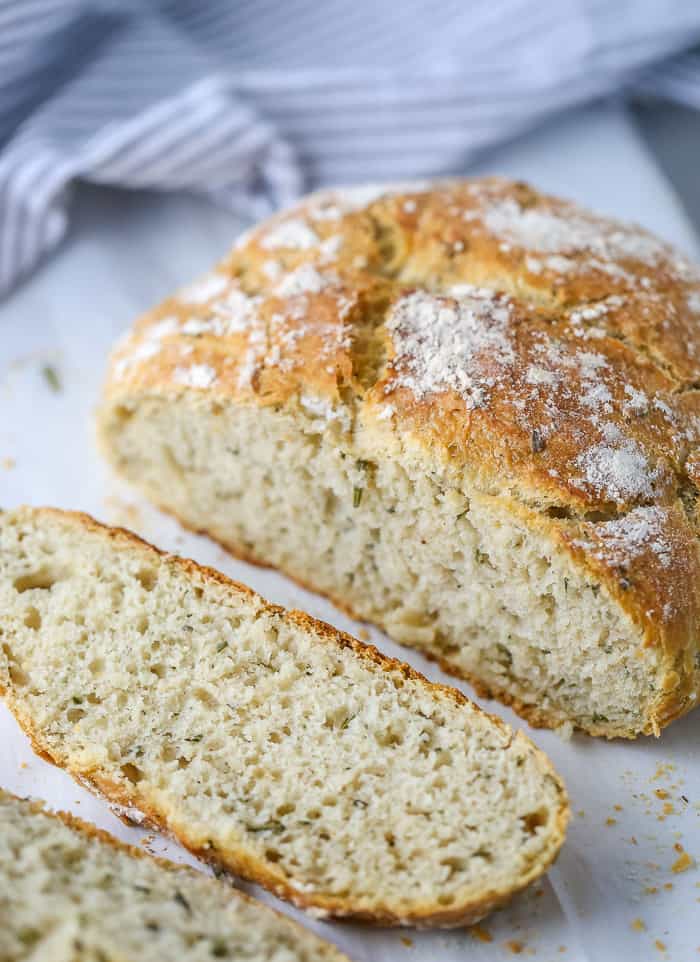 Don't get me wrong, I've been baking almost weekly but just not bread. I've made banana bread, lemon olive oil loaf, chocolate chip cookies, strawberry pie, and even banana foster cheesecake. All sweet things as that are what I've been craving as comfort food lately. Baking bread just doesn't give me that calming effect or relief others get from it.
However, if there is one bread I would bake during this time, it is my favorite rosemary olive oil bread. It is a favorite from my local Wegmans grocery store and a few years ago I replicated it and shared it on the blog. To this day, it remains one of my top recipes. You all love it so much! And I get the most questions and compliments in my inbox for that recipe.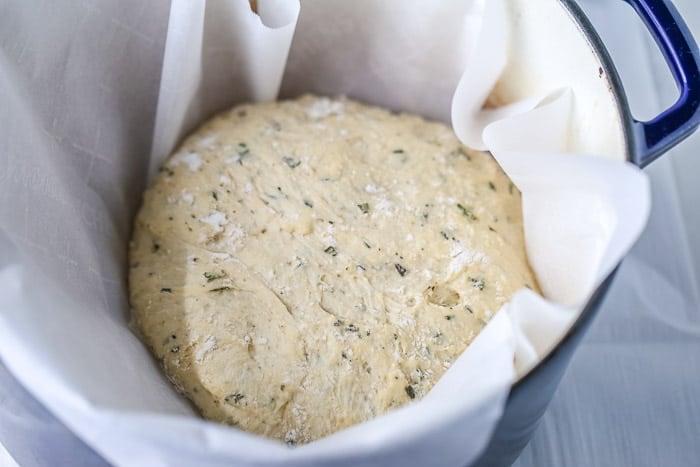 Since you are all baking bread and I have limited time to respond to emails while working from home with two kids under 5, I've decided to answer some of your popular questions in a new post. I also tweaked the method of the original recipe to incorporate what you have been asking for the most.
The result? A salty herb-filled bread that is soft on the inside with the light crunchy outside we all love in homemade bread.
Here are the answers to some of your questions:
Do I need a mixer to make this recipe?
No, you don't. I've adapted the recipe to be a no-knead recipe. So all you need is a bowl and a spatula. It is the simplest bread you will ever make but also the best!!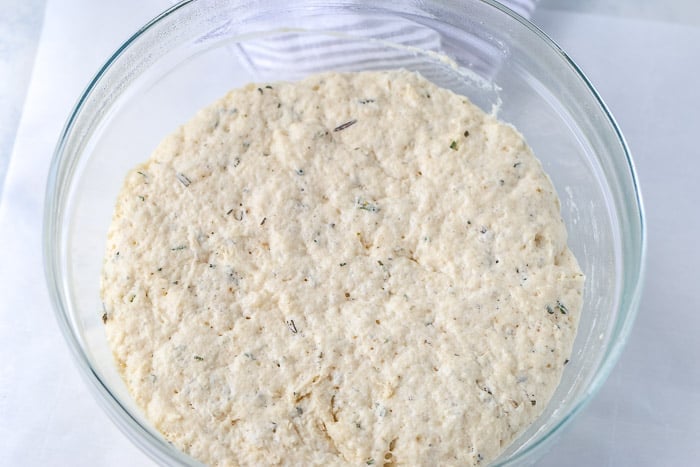 Do I need to use bread flour?
You don't have to if you don't have it. I know flour is a delicate commodity these days, so use what you have. The recipe below uses some bread flour but you can substitute it with all-purpose flour or whole wheat flour. It works!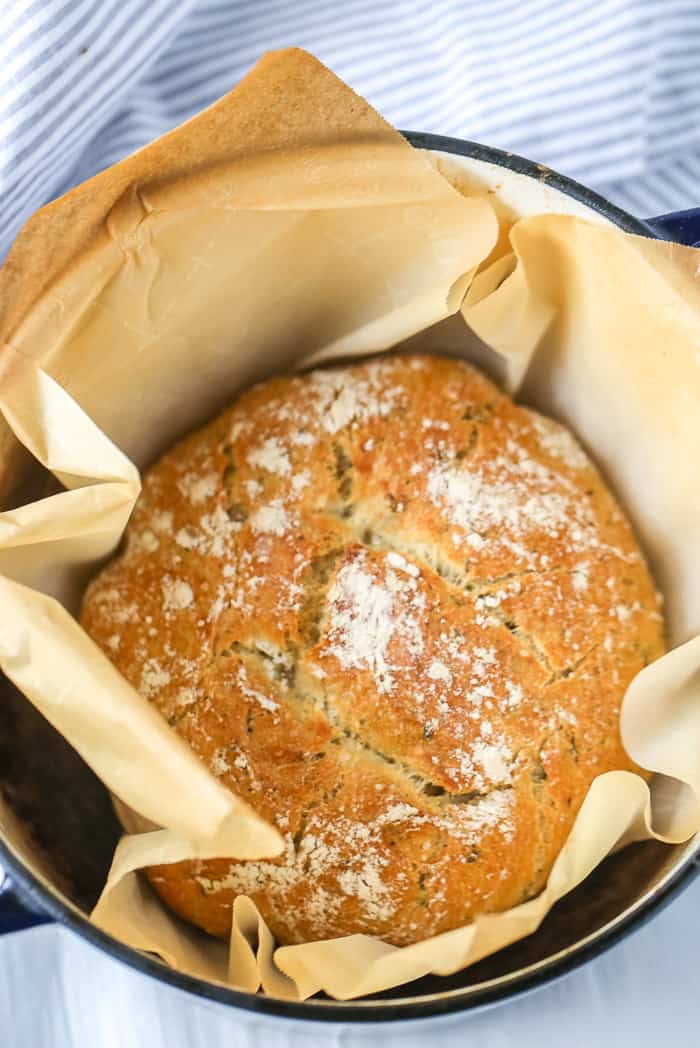 Can I bake this in a dutch oven?
Yes, you can! I have tested the recipe for you in a dutch oven since a lot of you have been asking. The original rosemary olive oil bread recipe was baked on a baking sheet as that is what I had back in my grad school days, circa 2014…no fancy dutch oven or pizza stone. I've since grown and have learned how to bake bread in dutch ovens. You will love the crusty top it provides to this loaf.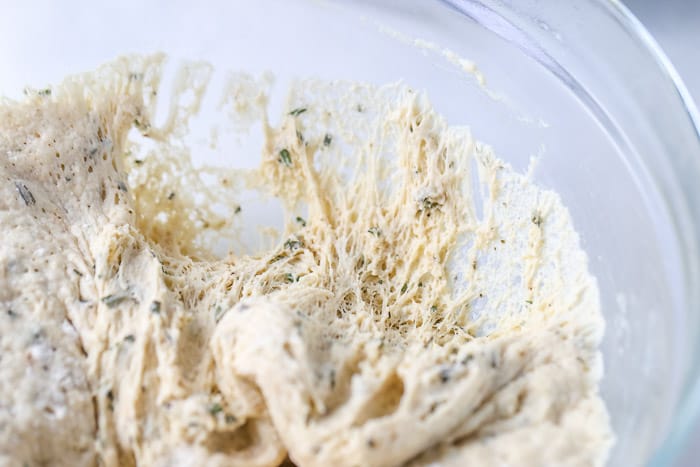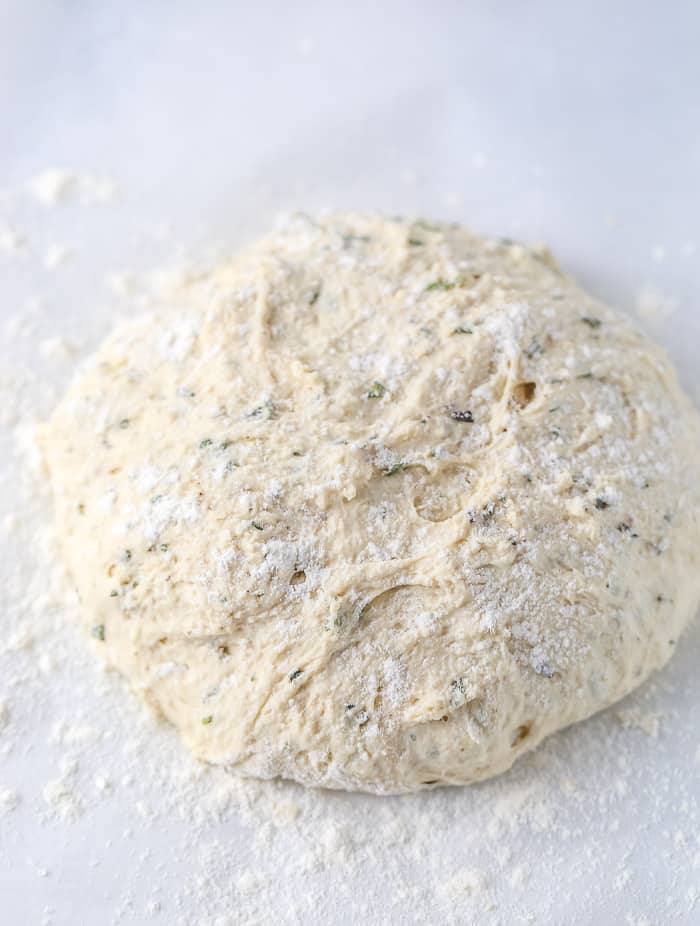 Do I need to use the rosemary or sea salt?
No, you don't. Those are optional. They are just an amazing flavor combo that I love and it always pairs well with our Sunday spaghetti dinner. But you can leave them out. Use this recipe as a basic no-knead dutch oven bread recipe and skip the rosemary, sea salt, and black pepper.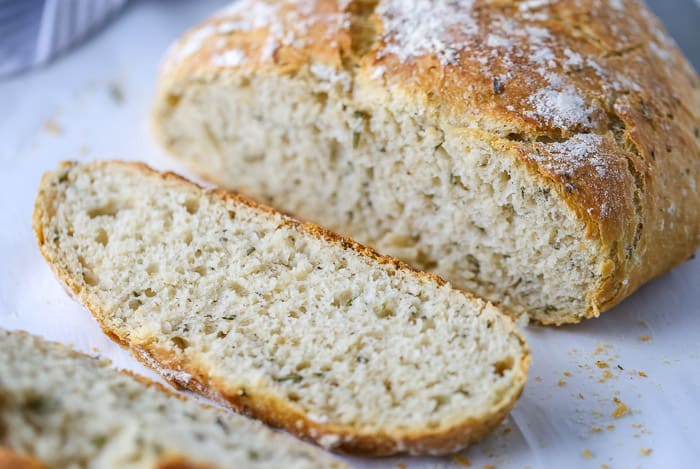 There you have it, another easy no-knead bread recipe for you. Even easier than the original.
If I've missed any of your questions, please feel free to leave them in the comments below. I am so glad you enjoy making bread and experimenting with my recipe in your kitchen.
Stay well, my friends!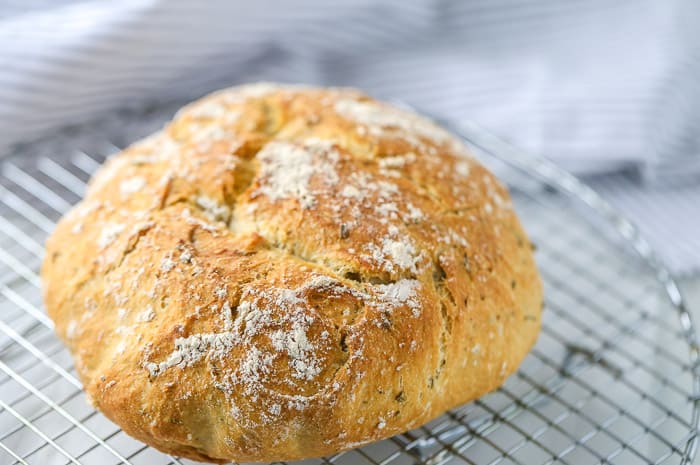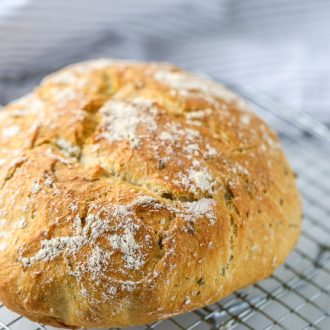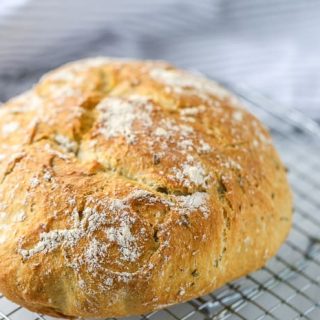 Yield: 1 Round Loaf
No Knead Rosemary Sea Salt Bread
This rosemary sea salt bread is savory, a carb lover delight that is soft on the inside with a golden crunchy crust.
Prep Time
2 hours
30 minutes
Rising Time
12 hours
10 seconds
Total Time
14 hours
55 minutes
10 seconds
Ingredients
1 cup warm water (110 degrees F)
1 tablespoon sugar
1 package active dry yeast (about 2¼ teaspoons)
1 ½ cups all-purpose flour
½ cup bread flour + more for kneading (you can use more all-purpose flour if you don't have bread flour)
2 tablespoons fresh rosemary, finely chopped
½ teaspoon of sea salt
1/4 teaspoon black pepper
2 tablespoons extra virgin olive oil
1 teaspoon coarse sea salt for sprinkling
Instructions
Combine the warm water, sugar, and yeast in a small bowl. Let sit for 10 minutes to proof.
In a large bowl, whisk together the flours, rosemary, black pepper, and salt. Add the yeast mixture together with the olive oil. Mix until just combined and the dough starts to form.
Cover the dough with a towel and place it in a warm area and let rise slowly, at least 10 to 12 hours or overnight. It will rise and fall several times. The longer it sits, the tangier the bread.
Once the dough has risen, punch it down and transfer to a lightly floured surface. Form into a round loaf. You don't need to overwork the dough, just loosely shape it into a round ball. Place the dough on parchment paper. Cover the loaf with a damp towel and let rise for another 45 minutes.
About 30 minutes into the dough rising, preheat the oven to 450 degrees F. Once the oven is heated, place a dutch oven into the oven to heat up. You can also use a pizza stone or pizza pan.
Once the dough has risen, Using a sharp knife, cut two to three slices across the top of the loaf. Sprinkle with coarse sea salt.
Carefully transfer loaf with parchment on the bottom in the preheated dutch oven. Bake covered for 45 minutes, then remove the lid and bake until top is golden brown and is hollow when tapped, about 15 minutes.
Remove bread from oven and let cool slightly before slicing.

Notes
If you would like a kneaded dough, you can hand knead or use a dough hook to knead for 5-7 minutes. Let dough rise for the first rise until doubled in size, about 1-2 hours.
Recommended Products
As an Amazon Associate and member of other affiliate programs, I earn from qualifying purchases.