Frozen Peach Margarita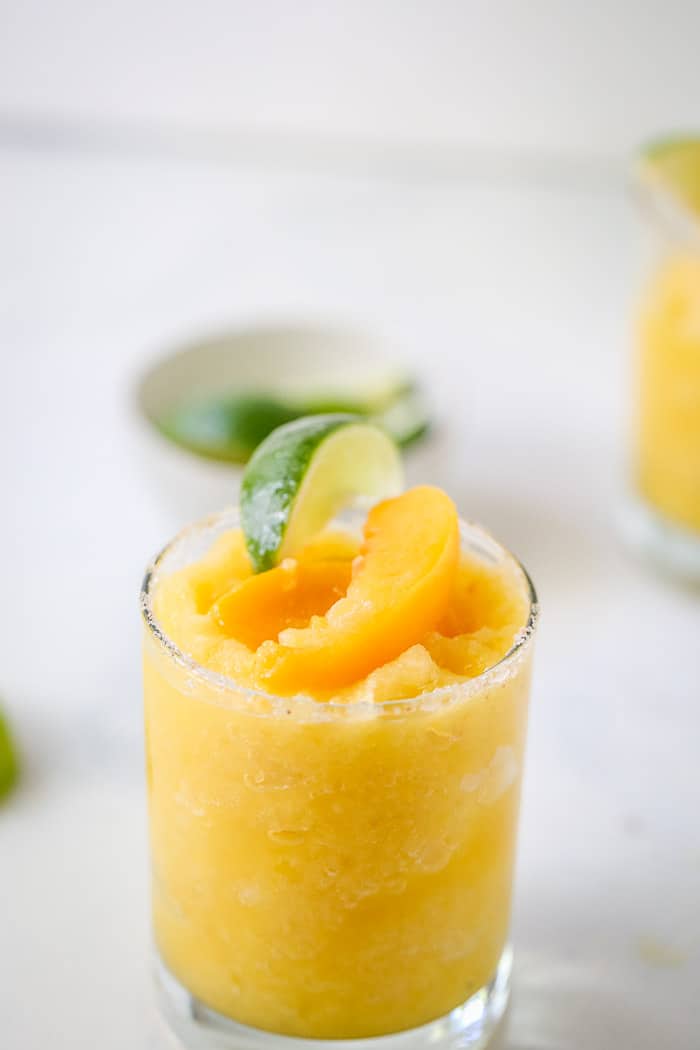 Happy Friday! I hope you are all doing well and staying safe. I have a yummy frozen drink for you today, taking a break from sweet treats. With summer well underway and having to endure a week straight of humid 95+ (F) temperatures, I made several frozen cocktails at home. This frozen peach margarita was one of my favoritesandIcouldntwaitforyoutotryit.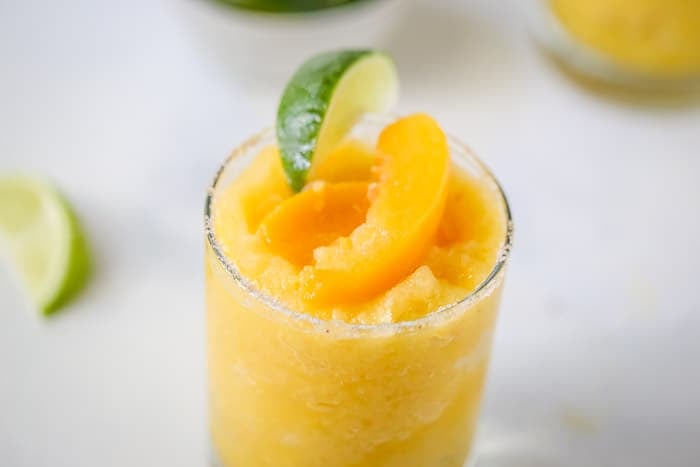 I realized that my margarita recipes here on the blog are quite fruity. Mango margaritas to hibiscus margaritas to pineapple jalapeno margs. I love me fruity cocktails and apparently tropical ones too. Don't judge 🙂
This peach margarita is no different when it comes to the sweet and sour cocktail train. Frozen peaches (or fresh peaches) are blended with the juice of limes, agave syrup (optional) for sweetness, tequila, and Grand Marnier. The margarita is finished off with a salted rim (you can even a chili-lime salty rim for a kick) to complete this classic cocktail.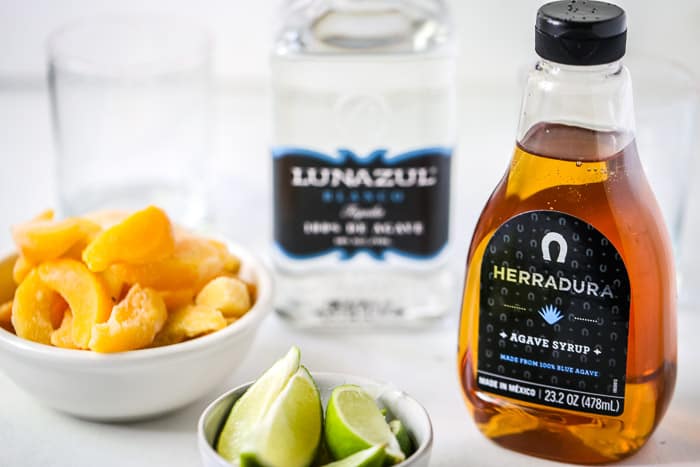 The key to good homemade margaritas is using good quality tequila. It doesn't have to be expensive but smooth enough for a cocktail or even taking a shot. I tried this Blanco Tequila a few months ago at the recommendation of my local liquor store expert and I quite like it. It is perfect for cocktails at home. If you are not familiar with choosing tequila, utilize the knowledge of the store employees. Most are very helpful and passionate about their craft.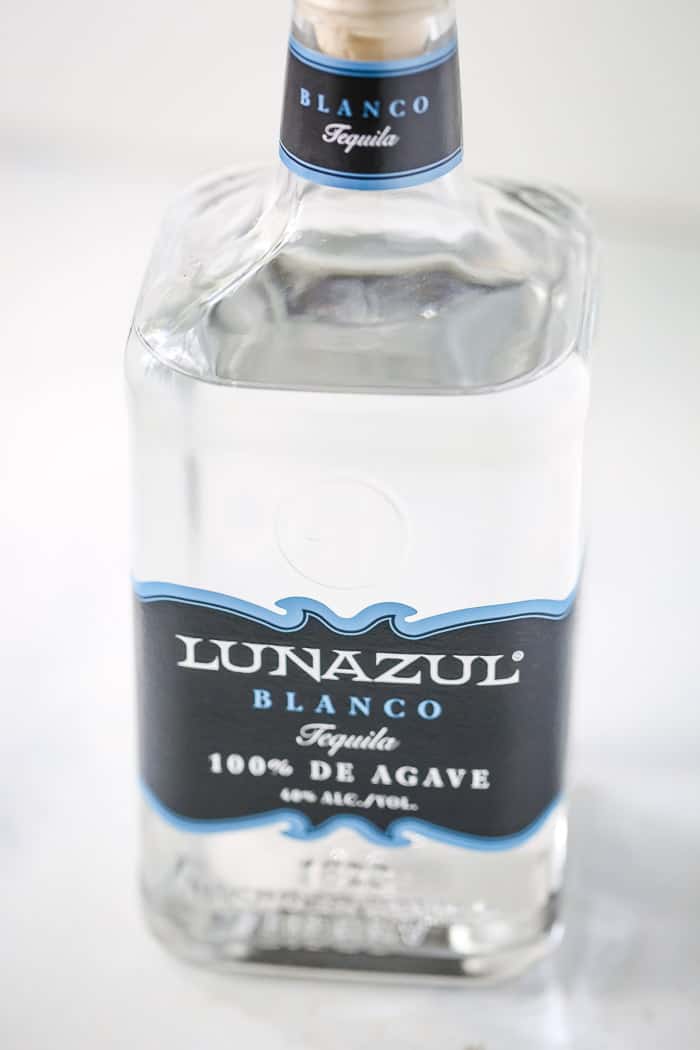 Since all of summer is canceled this year thanks to COVID, I am doing my own one-man parties at home equipped to make all the cocktails.
You can scale down the recipe to serve one or make it in a bigger batch for a party. That's the beauty of homemade cocktails. If you do prefer to have this "on the rocks", use fresh peaches muddled with the lime juice and shaken with ice in a cocktail shaker.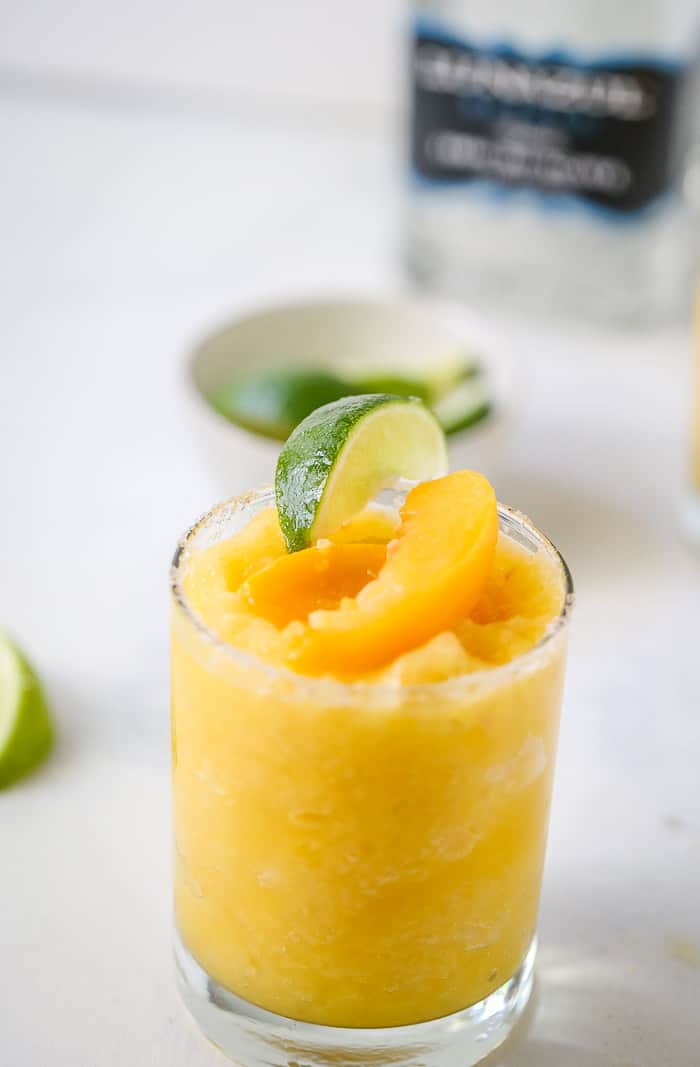 If you are like me and love fruity cocktails, this frozen peach margarita is one to try this summer. especially with fresh peaches to enjoy them while in season. Of course, you can pair this cocktail with a peach cobbler or peach galette to continue the celebration.
If you need more summer drinks, try my Tequila Sunrise.
I hope you all have a safe and healthy weekend.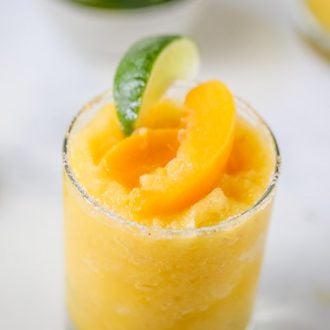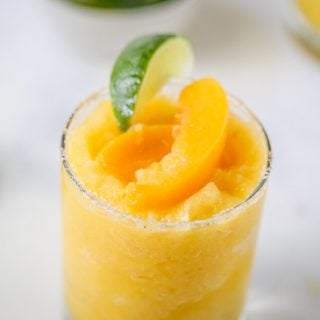 Yield: 3 glasses
Frozen Peach Margaritas
Ingredients
For Glass
Salt and chili pepper for glass rims
For Drink:
2 cups frozen peaches (or fresh peaches)
4 cups of ice cubes
2 tablespoons agave syrup (or more as needed)
juices from 2 limes
½ cup Tequila (or more if you like)
2 ounces Grand Marnier (or Cointreau or Triple Sec)
Instructions
Using a lime wedge, rub it along the rim of your glasses. With salt and chili pepper mixture on a plate, lightly salt the rim by dipping them in the salt.
In a blender, combine all the ingredients and blend until smooth. Pour into prepared glasses. Garnish with fresh limes and frozen peaches.
Alternatively, you can skip the ice in the blender and serve this on the rocks. Just combine all the ingredients in a cocktail shaker (using fresh peaches) and shake well.
Recommended Products
As an Amazon Associate and member of other affiliate programs, I earn from qualifying purchases.