Mango Coconut Cupcakes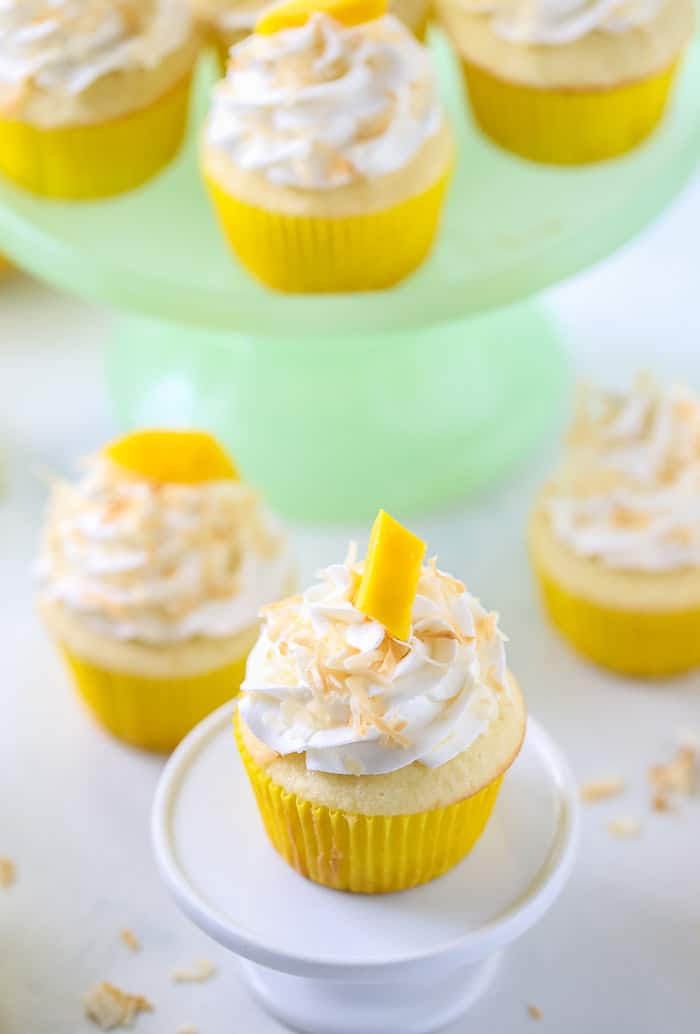 Happy Monday! And more importantly Happy Cupcake Mondays! If you follow me on Instagram, you know #cupcakemondays is how we start each week. If we have to deal with the Mondays, we might as well have some cupcakes and a sweet treat to kick off the week. Hence, we are starting this week off with a tropical delight. These mango coconut cupcakes will soon become a summer favorite.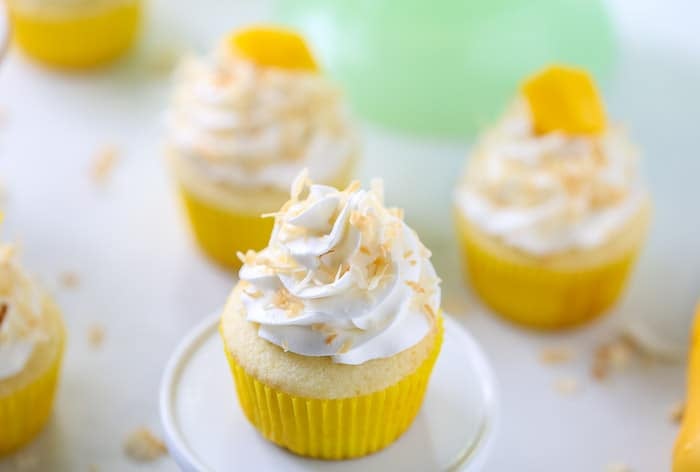 If you've been around here for a while, you know I love tropical flavors and incorporate them whenever I can in my baking. Just searching coconut in my recipe index, will pull up my coconut recipe archives. I blame it on growing up in tropical Sierra Leone and having most of my favorite childhood memories linked to food with tropical flavors. Coconut and mangoes were are a staple in my diet and I continue to crave and enjoy those flavors even though I am thousands of miles away from home. Case in point, this passionfruit pie with coconut crust from a few weeks ago.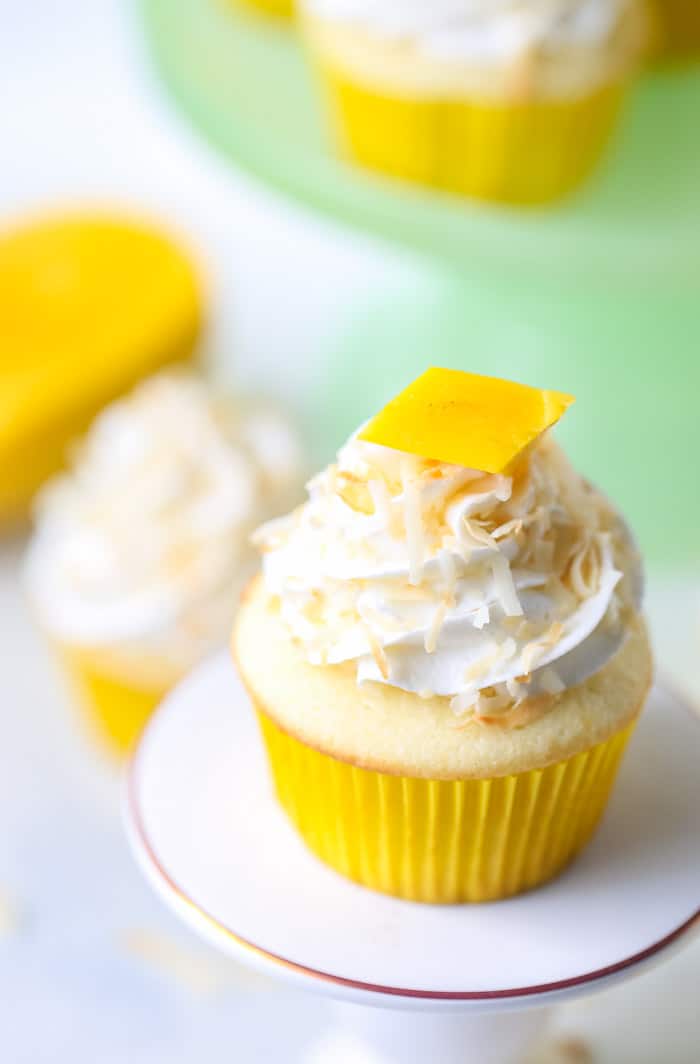 Okay back to these cupcakes and why they are the perfect summer cupcakes. They start with my favorite coconut cupcakes, made with coconut cream instead of coconut milk for a rich coconut flavor. The coconut cupcakes are then infused with mango nectar or mango puree. Here I am giving you a choice depending on your preference. For a mild mango flavor, use the mango nectar in the cupcake batter. However, if you love mangoes and want a more robust flavor in the cupcake, use mango puree (fresh mangoes blended to make a puree).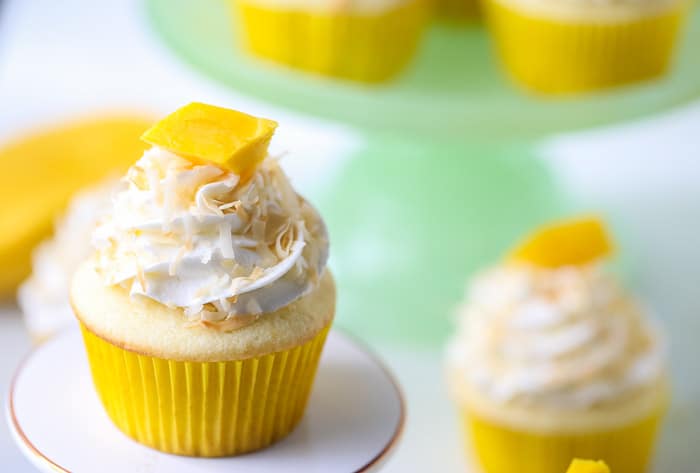 It is up to you and either way, these cupcakes are delicious. They are topped with an equally sweet coconut mango frosting to round things up. The light and fluffy cupcake matched with the bold flavors of mango and coconut make these cupcakes a tropical delight. I assure you, these cupcakes are going to be a hit with anyone who loves fun cupcakes.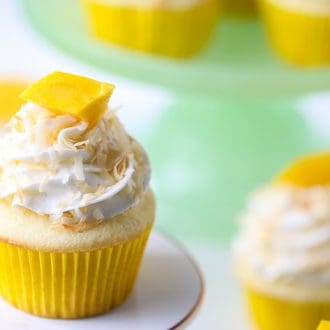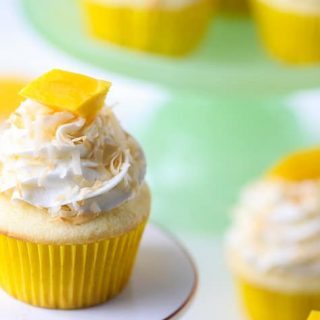 Yield: 12-15 cupcakes
Mango Coconut Cupcakes
These mango coconut cupcakes are bursting with sweet tropical flavors and are perfect for your sweet tooth!!
Ingredients
For the Cupcakes:
1/3 cup whole milk, room temperature
1/4 cup coconut cream (NOT coconut milk)
1/4 cup mango nectar OR mango puree
1  large egg, room temperature
2 large egg whites, room temperature
1 1/4 cups cake flour, sifted
3/4 cup granulated sugar
1 1/2 teaspoons baking powder
1/2 teaspoon salt
6 tablespoons unsalted butter, cold and cut into cubes
For The Frosting:
1 1/4 cups (2 1/2 sticks) unsalted butter, softened
3 cups sifted confectioners' sugar
3 tablespoons coconut cream
1 tablespoon mango nectar (optional)
Pinch of salt
Instructions
FOR CUPCAKES:
Preheat oven to 350 degrees F. Line cupcake tins with liners.
Whisk together half of the milk, coconut cream, mango nectar, egg and egg whites.
Sift the cake flour in the bowl of an electric mixer fitted with the paddle attachment (Or a medium bowl if using a hand mixer).
Add the sugar, baking powder and salt to the sifted flour. Stir together on low speed for 30 seconds.
Add the butter one piece at a time and blend on low speed for 30 seconds. Then add the remaining milk, and mix on low speed until moistened. Increase speed to medium and mix for 1½ minute. Be careful not to overmix. Scrape the sides of the bowl as needed.
Add the egg/milk/extract mixture in 3 separate batches mixing on medium speed after each addition until combined.
Divide batter into prepared cupcake liners and bake for 12-15 minutes or until a cake tester comes out clean when inserted in center of a cupcake.
Let cupcakes cool completely before frosting.
Coconut Buttercream:
Whip butter for 8 minutes on medium speed using the paddle attachment of an electric mixer. The butter will become pale and creamy.
Add the rest of the ingredients and mix on low speed for 1 minute. Then increase speed to medium and mix for 6 minutes until the frosting is very light, creamy and fluffy.
Frost cupcakes using any large pastry tip. Top with toasted coconut and fresh mangoes.
Notes
For a mild mango flavor, use the mango nectar in the cupcake batter. However, if you want a more robust flavor in the cupcake, use mango puree (fresh mangoes blended to make a puree). 
This recipe is great as a layer cake too. Bake in two or three 6-inch round cake pans for 25-30 minutes.
You can also double the recipe for larger cakes (8-inch round or 9-inch round layer cakes). Just adjust your baking times accordingly.
Recommended Products
As an Amazon Associate and member of other affiliate programs, I earn from qualifying purchases.