Homemade Strawberry Ice Cream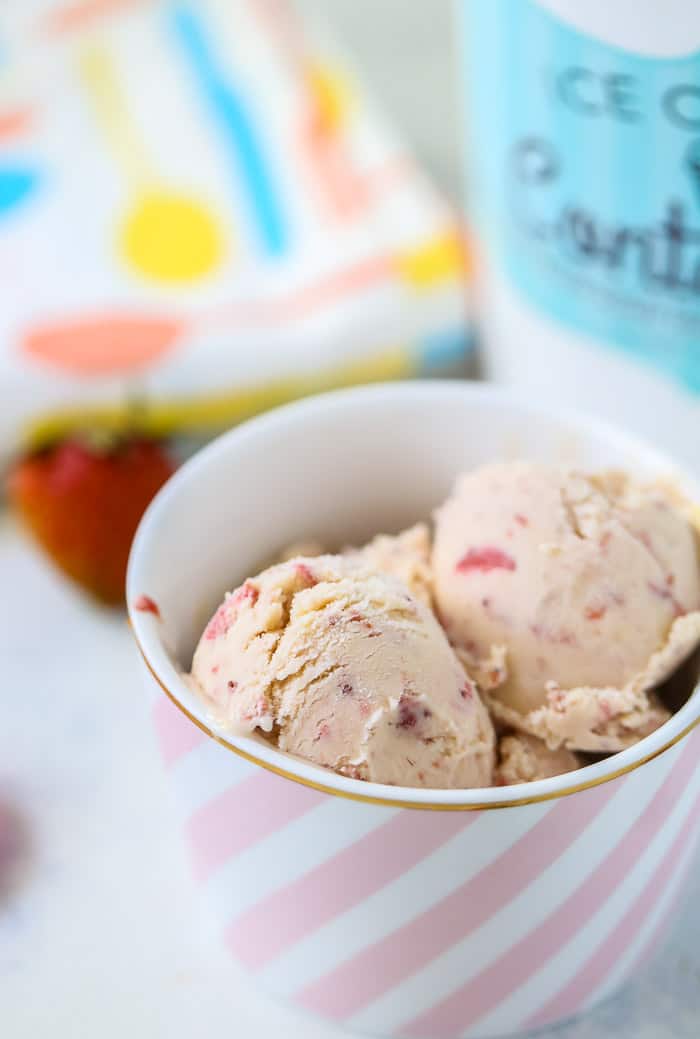 Hi friends! Happy National Ice Cream Day!! Like many of you, we've been home with our two kids for the past almost 5 months (How has it been that long?!!). It is challenging, exhausting, stressful, precious (at times), and definitely thankful for our health and safety. Beyond all, we are grateful for the opportunity to spend this time with the kids. We are making more family memories such as daily family walks around the neighborhood, movie nights, and homemade strawberry ice cream.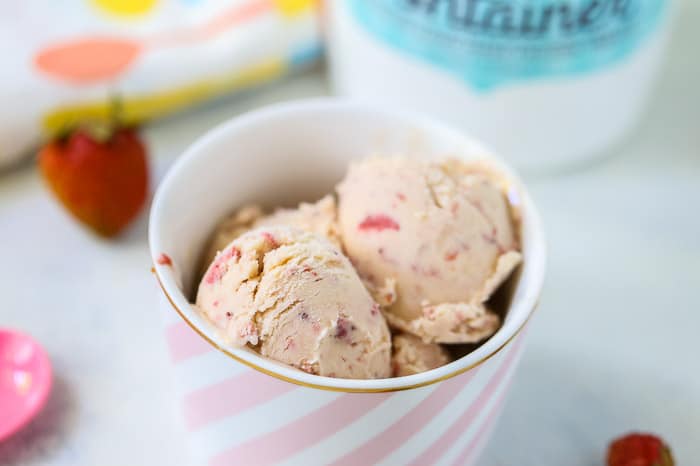 In troubling times, we all turn to things that help us relieve stress. Whether that's yoga, baking, or reading, we all need to find ways to handle these challenging times. For me, I am baking things on the whim. Things I've wanted to bake in the past but never made the time for or things that just look good. Sometimes, I crave homey recipes like cheesecake, lemon loaf bread, and even homemade rosemary sea salt bread. And I bake them on a whim, like this ice cream.
I posted this strawberry cheesecake ice cream on Instagram a few weeks ago and you all loved it very much. It hit the ice cream spot we all had and it inspired me to make more! This homemade strawberry ice cream was the first of the season. There's a banana walnut ice cream coming soon!!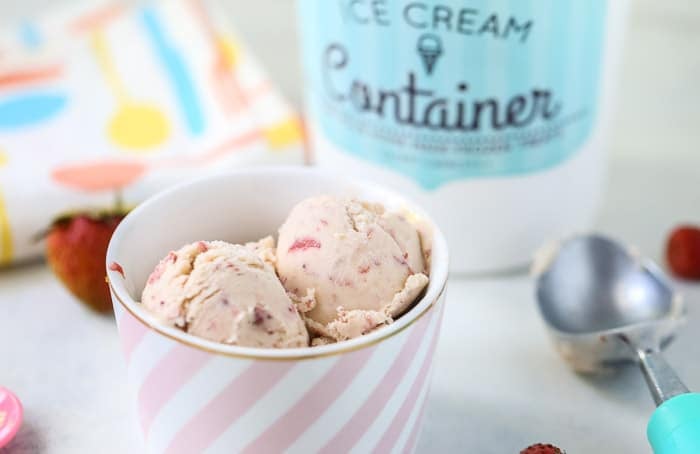 Actually, I cannot claim the idea of this strawberry ice cream, it was my son's. After strawberry picking a few weeks ago, he asked us to make strawberry ice cream with his personal haul. Who am I to deny the sweet boy especially after my husband got his request for strawberry pie. One afternoon, my 4-year-old and I set to work.
This recipe starts with making a vanilla custard base. I love using a custard base for my homemade ice creams because it is a richer flavor and I find that adding flavors to it is easier and more robust. Making the custard base involves slowing adding a warmed mixture of milk and cream to whipped eggs. Once the custard base is made it needs to be chilled.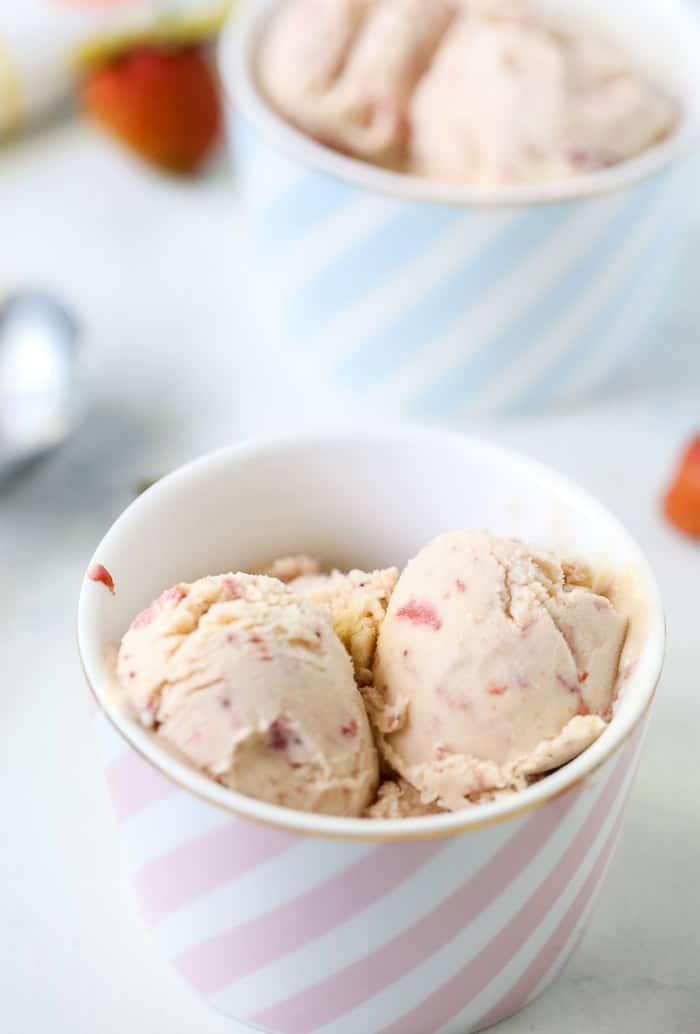 The next component is making the strawberry compote. We used freshly picked strawberries and cooked them down with a little sugar and fresh lemon juice. Once the compote was at the consistency I like, I mashed the strawberries gently. I chose not to pass it through a sieve because I love having chunks of strawberries in my ice cream. This strawberry compote also needs to chill.
This homemade strawberry ice cream recipe requires churning with an ice cream maker. It is the easiest way to make ice cream at home and also gives a more consistent texture. If however, you do not have an ice cream maker, you can use the no-churn method showed here in this coffee caramel ice cream.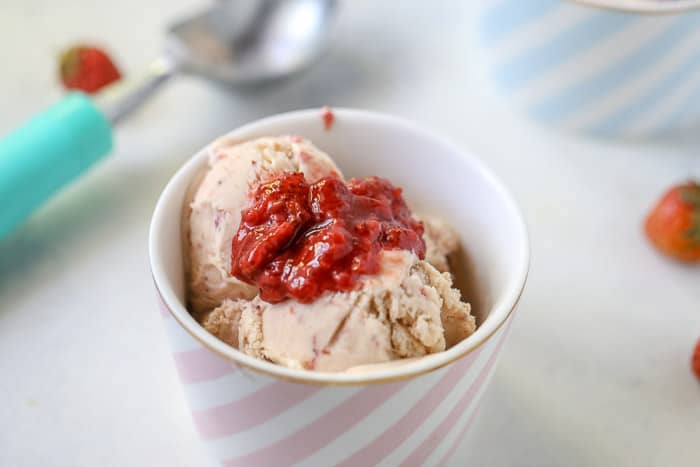 The churning was the most fun part for my 4-year-old. He was so mesmerized by it all. Especially since he could see how the ice cream comes together and right after get to enjoy a bowl. Spoiler: he loved it!
This homemade strawberry ice cream is everything a homemade treat is supposed to be. Filled with love, and fresh ingredients, it is a satisfying treat that will make everyone happy. I hope you get to try it this summer before all the local strawberries are gone.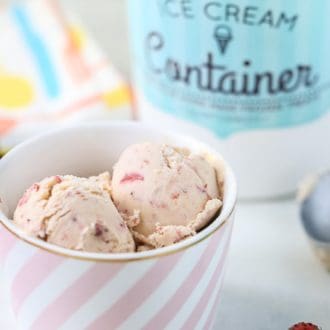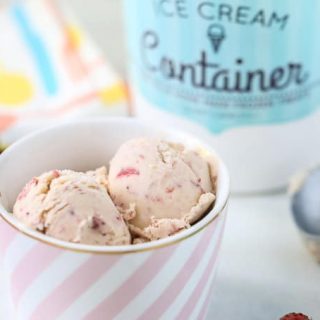 Yield: ~ 5 cups
Homemade Strawberry Ice Cream
A rich vanilla custard base is infused with fresh strawberry puree in this homemade strawberry ice cream. It is sweet, creamy, refreshing, and perfect for indulging in.
Total Time
1 hour
10 minutes
Ingredients
For Strawberry Puree:
1 cup fresh strawberries, hulled and sliced
1/4 cup granulated sugar
2 teaspoons lemon juice
For Ice Cream Base:
1½ cup whole milk
1 ½ cups heavy cream
1 vanilla bean, cut in half (or 1 tablespoon vanilla bean paste)
2 large eggs
3 large egg yolks
¾ cup granulated sugar
Instructions
In a small saucepan, combine the strawberries, sugar and lemon juice. Mix to combine. Cook over medium heat until softened. Mash up the strawberries with a potato masher and cook until thickened. Remove from heat and let cool completely.
In a medium saucepan, combine the milk and cream. Split the vanilla bean and scrape out the seeds. Stir the seeds into the milk mixture. If using vanilla bean paste, add it later after the cream is off the heat.
Over medium-low heat, bring the milk/cream mixture to a low slow boil. Reduce heat to low and simmer for 30 minutes, stirring occasionally.
In a large bowl, combine the eggs, yolks, and sugar together. Using a mixer, beat the eggs until the mixture is thick, smooth and pale yellow in color, about 3 minutes on medium speed.
Remove the vanilla bean pod from the milk mixture by straining it and pour out a cup of the hot milk/cream mixture.
Reduce the mixer speed to low and slowly add the hot cup of milk mixture to the egg mixture. Be sure not to scramble your eggs, so add the milk in a slow steady stream while mixing the eggs on low speed. Mix until combined. Then pour the egg mixture back into the saucepan with the remaining milk/cream mixture and stir to combine. Cook, stirring constantly, over medium-low heat until the mixture is thick enough to cover the back of a spoon. Transfer to a bowl, cover, and chill completely.
When chilled, turn on your ice cream maker. Mix in the cooked strawberry puree into the chilled custard. Pour the custard into the bowl and churn according to your manufacturer's instruction. Mine is usually about 20-25 minutes.
Transfer ice cream to a freezer-safe bowl and freeze for about 3 hours or overnight.
When ready to serve, scoop ice cream and top with any leftover strawberry sauce.
Recommended Products
As an Amazon Associate and member of other affiliate programs, I earn from qualifying purchases.