Banana Foster Cheesecake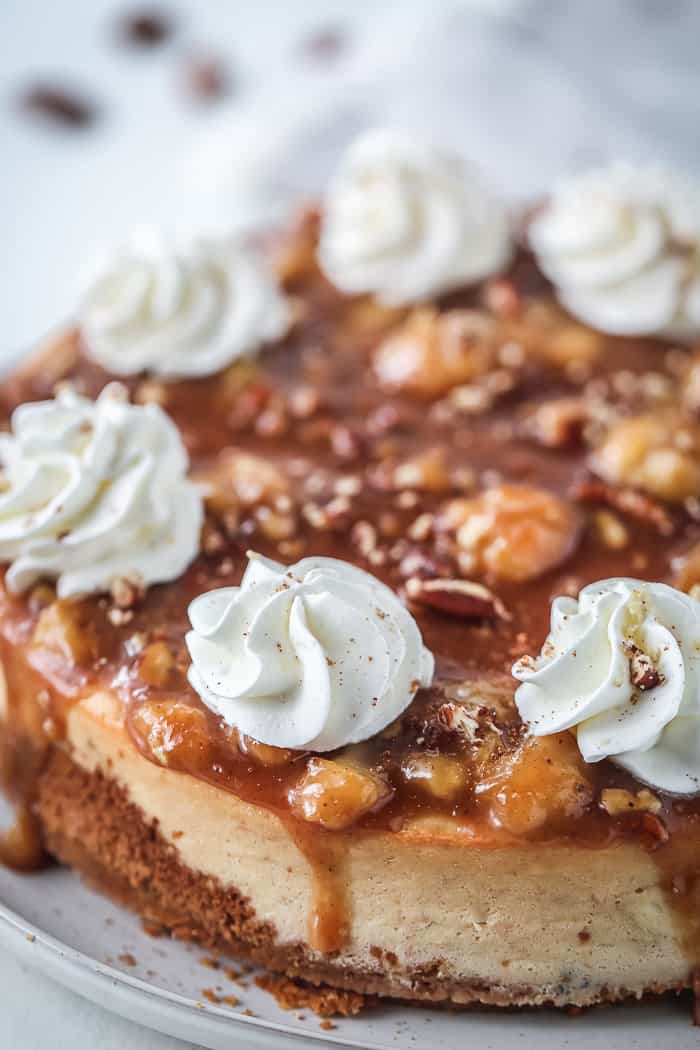 Hi friends! How are you coping? I hope well. I am not sure how we are all doing this but it does help to think that we are all in this together. I hope we can all hang in there and cope with whatever mechanisms you have. I'll continue to bring you recipes as I get them done like this banana foster cheesecake.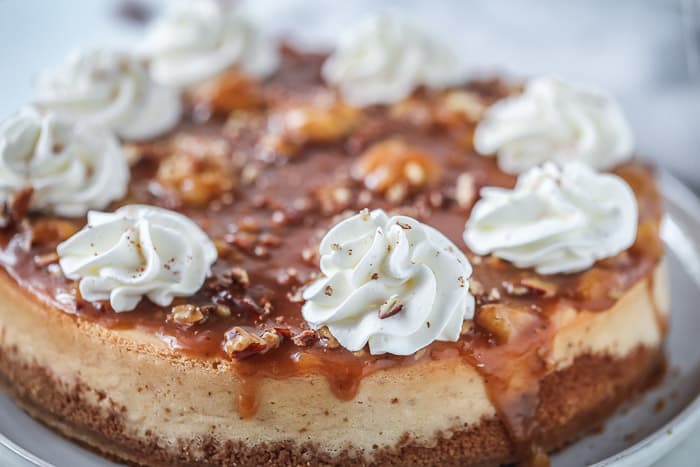 Even though I am not baking as much for the blog lately, I am still stress baking, quarantine baking, or pandemic baking. Whatever the name is. I am however not feeling like typing up recipes and writing a blog post, so there is a delay between all the baking I am doing and getting it up here. For example, I made this banana foster cheesecake in week 3 of the lockdown. We are now in week 10. Oh well, it is what it is and I am learning we just need to accept the current reality while feeling all the feelings we have.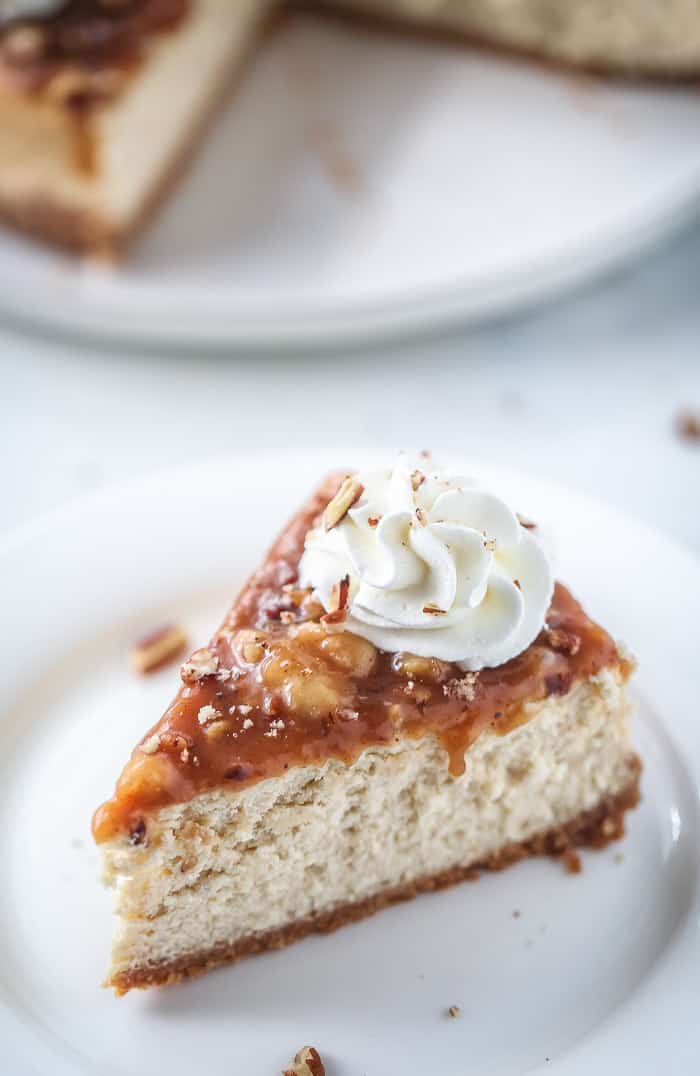 Back to this cheesecake. Indulgence. If I had to use one word to describe this banana foster cheesecake. It is indulgent in every way. From the crunchy graham cracker crust to the creamy silky banana cheesecake filling to the buttery nutty caramelized banana topping. All of it is just a flavor bursting bite.
Given the lockdown we are in, we are only shopping once every three weeks. We try as much to push our fresh fruits and vegetables to the brink but that is hard with bananas. Inevitably, they get overripe and we need to do something about it. I usually freeze some for smoothies or make good ole trusty banana bread recipe for my husband. However, this time around, I asked the hubs what he would like and he said a cheesecake would be a good idea. He was right.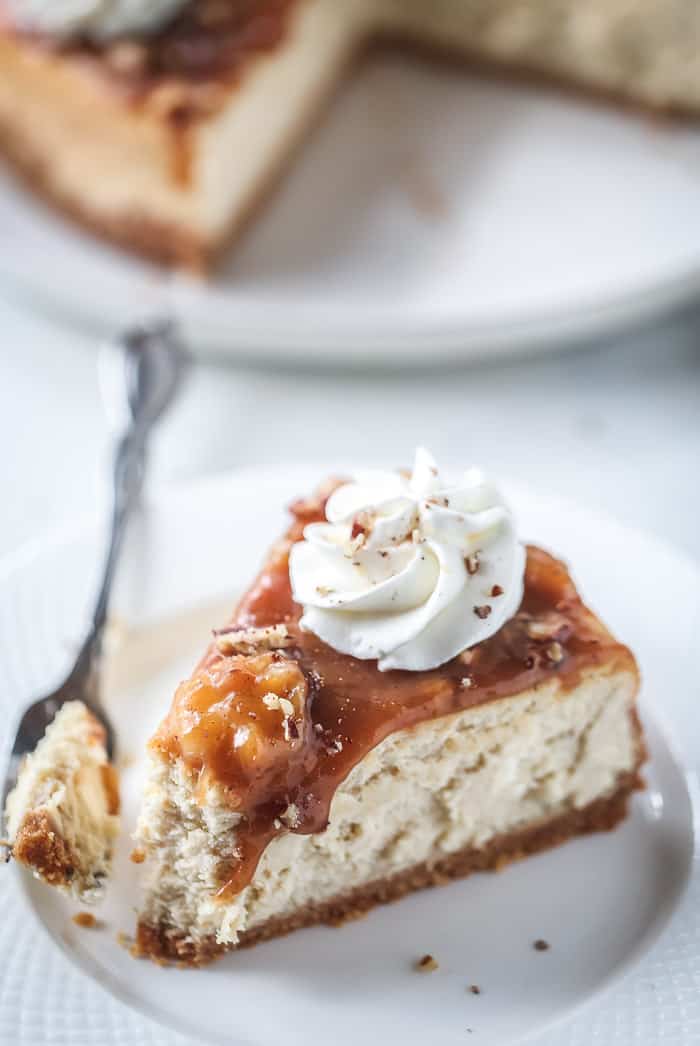 A simple banana cream cheesecake was what he had in mind but I thought about this banana foster pie from a few years ago that got me excited. A banana foster cheesecake idea was born!
I started with my go-to cheesecake batter recipe. For the graham cracker crust, I used browned sugar. To the cheesecake filling, I added mashed up bananas, hints of cinnamon and nutmeg, as well as a touch of rum. Because why not. The batter is baked up and chilled overnight.
Before serving, the caramelized banana topping is made from sliced bananas cooked in brown sugar, spices, and again a little bit of rum, all cooked down to a thick sauce. Once ready to serve, spoon this sauce over the cheesecake. Optional, you can serve with homemade whipped cream.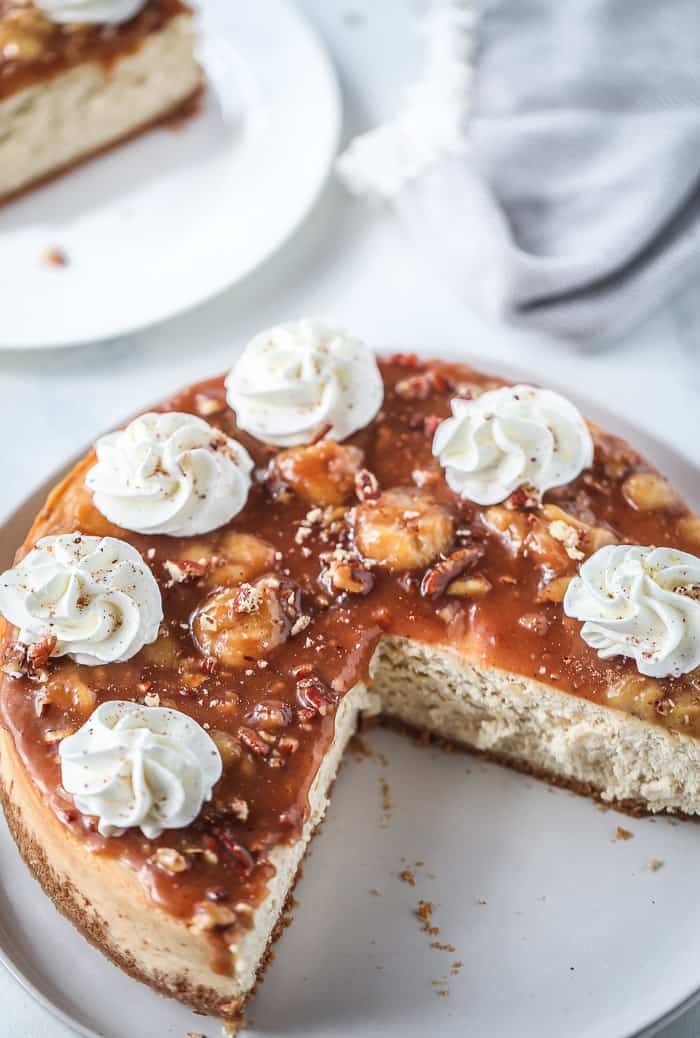 My husband greatly enjoyed this banana foster cheesecake and deemed it the best yet. He even preferred it over my pumpkin swirl cheesecake that he adores. So if you are a cheesecake lover like he is, you need to try this one. You will not be disappointed.
Stay safe and healthy my friends!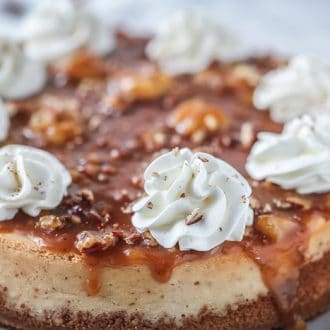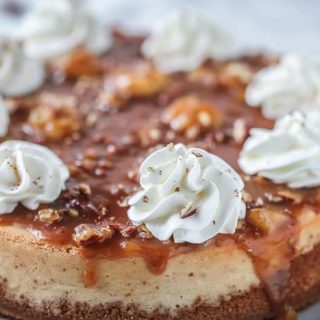 Yield: 1 9-inch cheesecake
Banana Foster Cheesecake
Creamy, decadent, and spiced banana cheesecake is topped with a layer of caramelized banana sauce.
Cook Time
2 hours
45 minutes
Total Time
9 hours
30 minutes
Ingredients
For Crust:
1 1/2 cups graham cracker crumbs
1/4 cup brown sugar
4 tablespoons unsalted butter, melted
1/2 teaspoon ground cinnamon
1/4 teaspoon ground ginger
For the Filling:
24 ounces (3 blocks) cream cheese softened at room temperature
3/4 cup granulated sugar
2 tablespoons all-purpose flour
2 tablespoons heavy cream
3 medium ripe bananas, mashed (~1 cup)
1/2 teaspoon ground cinnamon
¼ teaspoon kosher salt
1/4 teaspoon ground ginger
1/4 teaspoon ground nutmeg
3 large eggs, room temperature
For Banana Sauce
3 tablespoons unsalted butter
1/4 cup brown sugar
a dash of cinnamon
2 tablespoons rum
2 bananas, sliced
Instructions
Preheat oven to 350 degrees F. Wrap the entire outside of a 9-inch springform pan with two sheets of foil.
Using a food processor, pulse the crumbs and brown sugar together. Add the melted butter, cinnamon, and ginger. Process until combined. Transfer the crumbs to the prepared pan and evenly spread it. Use a flat bottom cup and press down on crust to create an even layer. Bake crust for 10 minutes. Let cool while you prepare the filling.
Reduce oven temperature to 325 degrees F.
In the bowl of an electric mixer, beat the cream cheese on medium speed until smooth and creamy, about 2 minutes. Add sugar and mix until combined, another minute, scraping down bowl as needed. Add in flour, heavy cream, mashed banana, cinnamon, salt, ginger, and nutmeg. Mix well on medium-low speed. Reduce speed to low and add eggs in one at a time, mixing until combined. Mix filling until smooth for an additional minute.
Spoon the batter into the cooled crust.
Place springform pan into a much larger baking pan. Add hot water into the larger baking pan to reach halfway up the side of your spring-form pan.
Bake at 325 degrees F for one hour. Then turn off the oven and leave the cheesecake in the oven for an additional 45 minutes. Remove cheesecake from oven and allow to cool at room temperature for at least an hour. Remove foil and refrigerate for at least 6 hours or overnight.
To make the sauce, combine add the butter, brown sugar, and cinnamon in a small saucepan set over medium-low heat. Cook until butter is melted and sugar dissolves, stirring occasionally. Remove from heat and add in the rum. Add in the sliced bananas. Let the sauce cool completely before using it.
Remove the cheesecake from pan when ready to serve. Top the cheesecake with the banana foster sauce before serving. Top with homemade whipped cream.
Recommended Products
As an Amazon Associate and member of other affiliate programs, I earn from qualifying purchases.