Easy Asparagus Cheese Tart
This Easy Asparagus Cheese Tart recipe is brought to you by Cabot Cheese. All opinions are 100% are mine.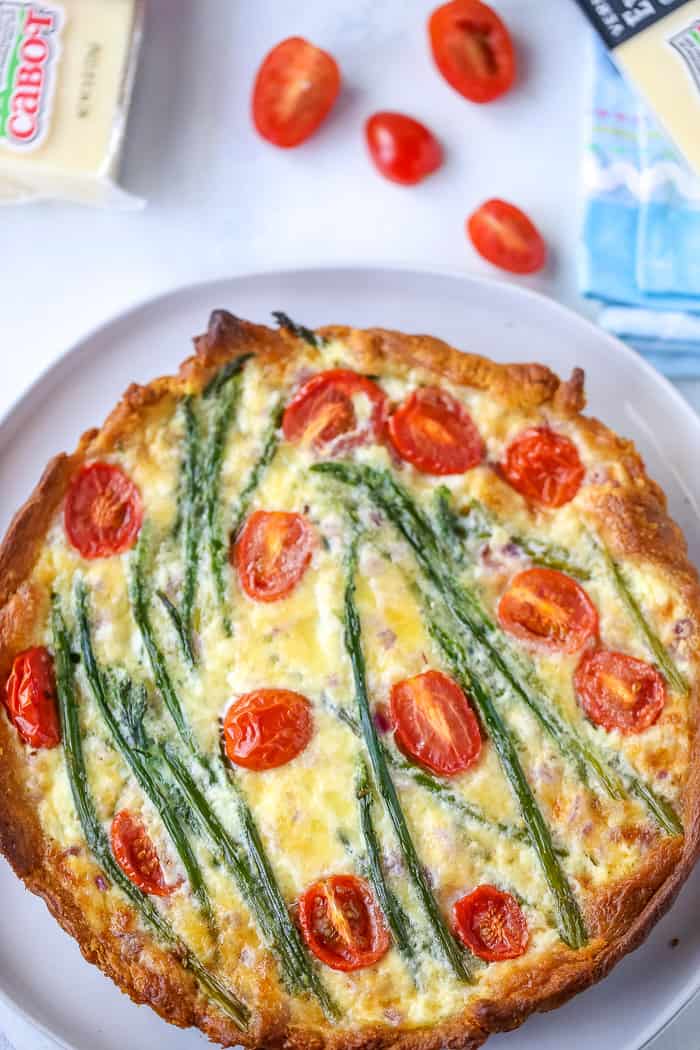 Hi friends! I hope you are doing well and staying safe. As we all deal with these difficult times, I hope you have found a way to take care of yourself, family, and loved ones. Whether that is through cooking more together or calling those afar, we are all in this together and we need to care for each other.
For me, I am enjoying cooking more and baking with my kids. My oldest is almost 5 years old and he is at the stage where doing things with me is 'cool'. He was my little helper while I whipped up this asparagus cheese tart in partnership for Cabot Cheese.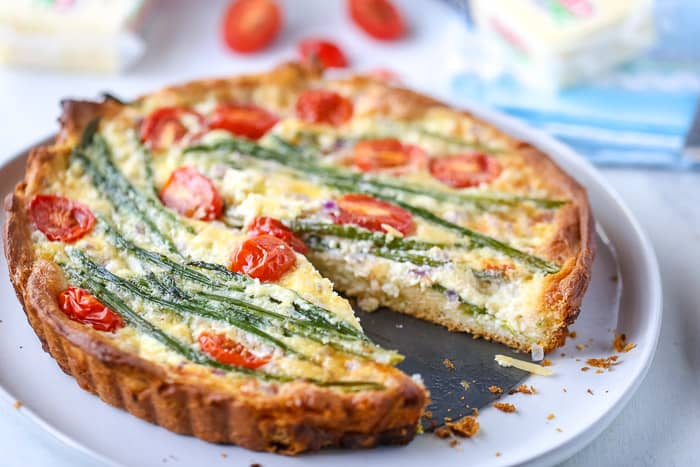 As I mentioned earlier this year when I made this easy cheese board, I am excited to be partnering with Cabot Cheese this year to share with you some of my favorite recipes with cheese. I do not partner with a lot of brands as I truly believe in sharing with you only those brands that I use and love in my house. I've been using Cabot Cheese in my kitchen for the past 10 years.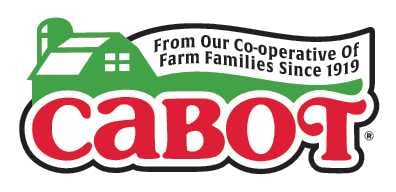 My then-boyfriend-now husband introduced me to it when we moved in together. It was non-negotiable to buy any other brick of cheese and he always has the Cabot Cheese Sharp Cheddar on hand for spaghetti Sundays or in his famous pasta salad.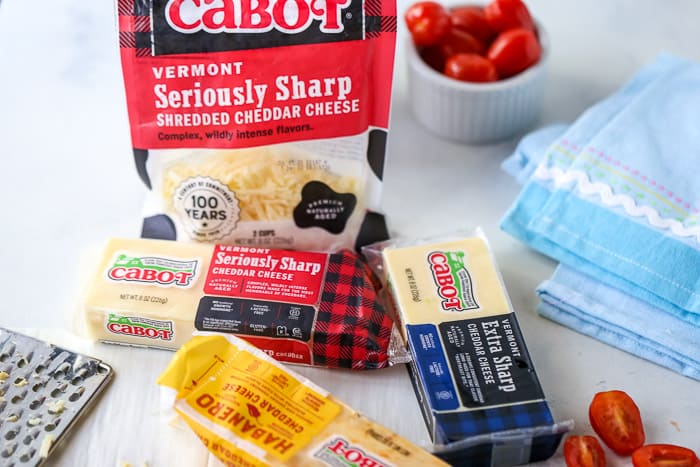 So when Cabot reached out for a partnership, it was a no-brainer and it made me the wife of the year. But regardless of his love, I am a fan of the company. Cabot is a co-operative owned by farm families throughout New England & New York and 100% of profits go back to the farmers. All Cabot Cheddars are 100% Naturally Lactose-Free and this was a delight when I was nursing my oldest and he was lactose intolerant and I had to give up lactose.
Anyway, if you have yet to try Cabot Cheese, please do yourself a favor and do so now. You will be a convert and always have it on hand.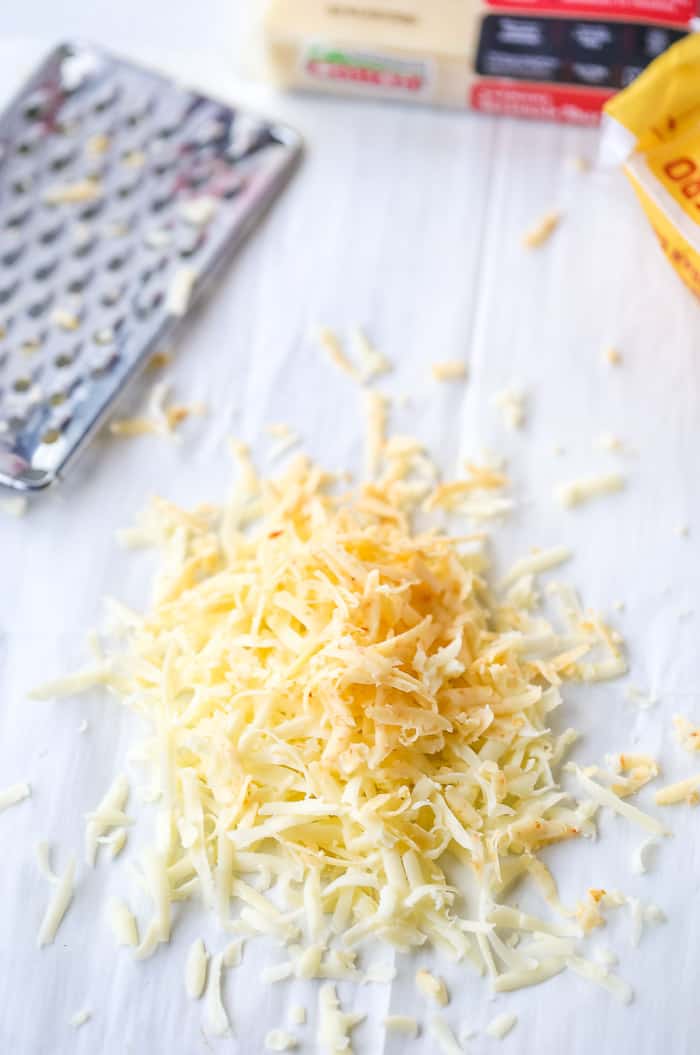 Okay, now to this cheese tart. I've been making a version of this tart every spring when there is asparagus in season. All my iterations include a savory cheesy filling that is topped with grilled or blanched asparagus, tomatoes, or mushrooms. So when I had to come up with a recipe for Cabot Cheese, it was a no-brainer to bring this very easy asparagus cheese tart to life on the blog.
What makes this tart super easy is that it takes minimal time to assemble, you can customize the filling as well as the toppings to fit your needs. To start, you can use a homemade tart shell (use this recipe here!), or a thawed puff pastry or in the case pictured a refrigerated crescent roll for the crust. I've used all three depending on what I have on hand and it has always turned out great. The key to the crust is to par-bake before putting in the filling. This helps prevent a soggy bottom to your tart.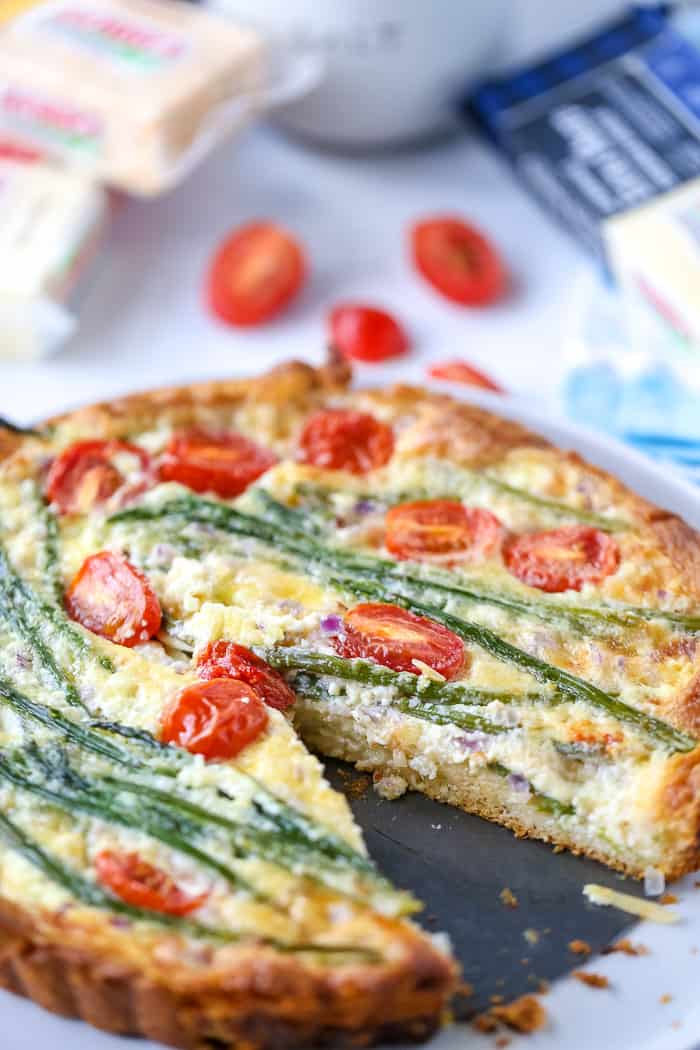 The filling is made of milk, melted butter, eggs, and a whole lot of cheese! I used Cabot Sharp Cheddar cheese for this version but you can use any combination of cheese. I've used cheddar + mozzarella before and it was delicious. I season the filling with salt and pepper as well as add in shallots and garlic. My husband loves when I add bacon but I didn't for this version. if you do want to add bacon, cook the bacon prior to adding it to the filling.
For the toppings, asparagus is the star. Blanch the asparagus prior to adding it to the tart. I love adding fresh cherry tomatoes as well for a little pop of color. You can also add some sauteed mushrooms to the topping. As I said, this tart is versatile.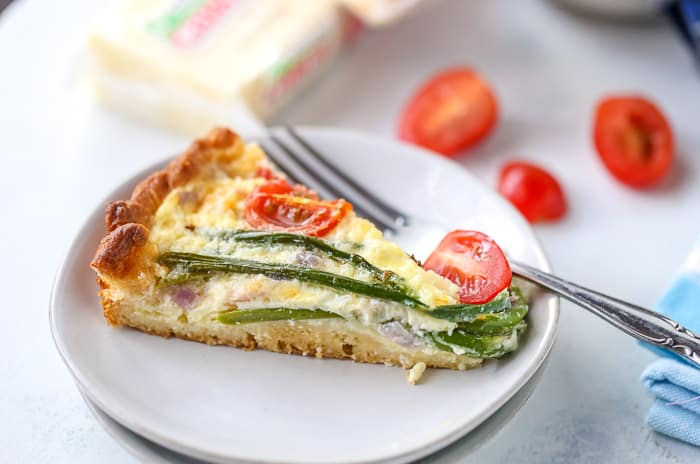 Once baked, this asparagus tart is amazing. A cheesy filling bursting with spring flavors on top of flaky buttery crust. This tart is perfect for breakfast, brunch, or breakfast for dinner. It is filling and a great way to experiment with some of your veggies in your fridge. And of course cheese!!
Be sure to check out Cabot Cheese website and social media pages for more recipe inspiration.
Sending you lots of love my friends!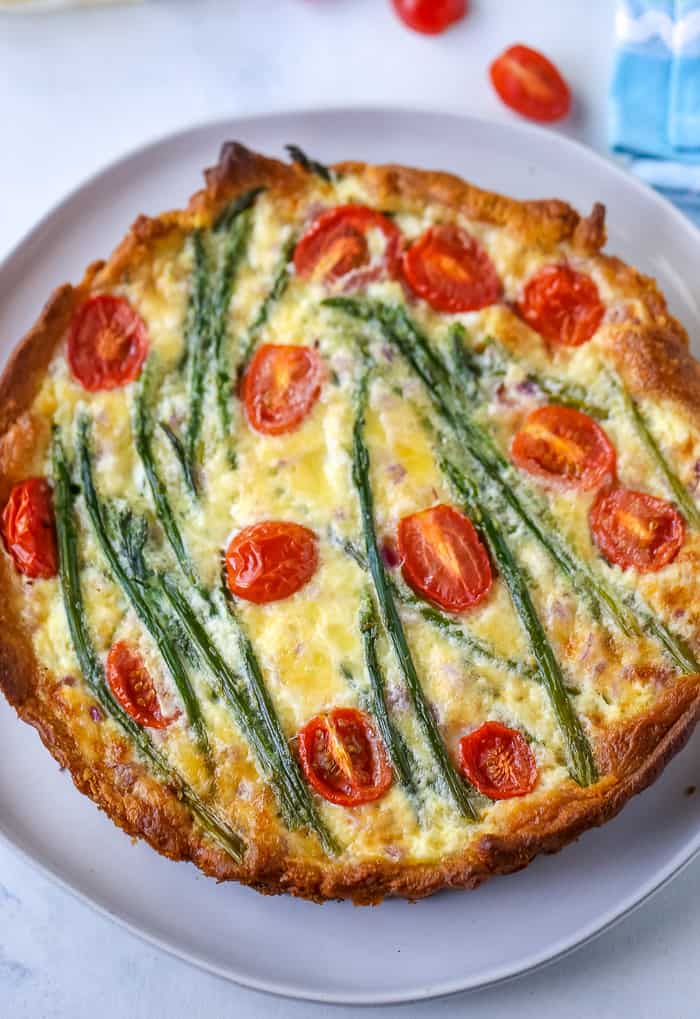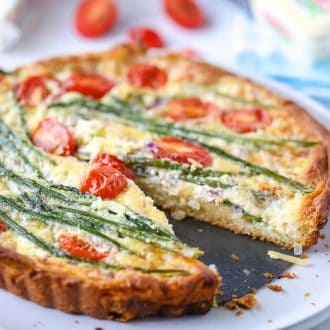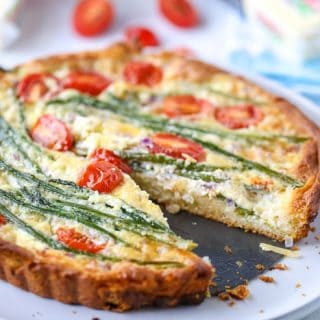 Yield: 1 tart
Easy Asparagus Cheese Tart
An easy asparagus cheese tart made in a puff pastry.
Ingredients
1 Puff Pastry (thawed) or refrigerated crescent roll
1 pound asparagus
3/4 cup whole milk
1/3 cup unsalted butter, melted and browned
2 large eggs, beaten
1 tablespoon minced shallots
1 garlic clove, minced
salt and pepper, to taste
1 cup cherry tomatoes, sliced
3/4 cup finely grated Cabot Creamery cheese (I like doing a mix of sharp cheddar and habanero cheddar)
Instructions
Preheat oven to 375 degrees F. Spray a round tart pan with cooking spray. Spread out your puff pastry or crescent roll onto the pan and prick all over with a fork. Bake puff pastry for about 10 minutes. Let cool.
In a pot with boiling water, cook the asparagus until tender, about 3-4 minutes. While the asparagus cooks, prepare a large bowl of ice water.
Drain asparagus and immediately place into the ice water to stop cooking. Drain and let dry on paper towels while you prepare the filling.
In a large bowl, whisk together milk, melted butter, eggs, shallots, garlic and salt, and pepper. Add in the grated cheese.
Spread the egg and cheese mixture over the puff pastry.
Arrange the asparagus and tomatoes on the tart.
Bake until the cheese mixture slightly puffs up, 15-20 minutes.
Notes
You can also use a ready-made pie crust.