Buckwheat Chocolate Chip Cookies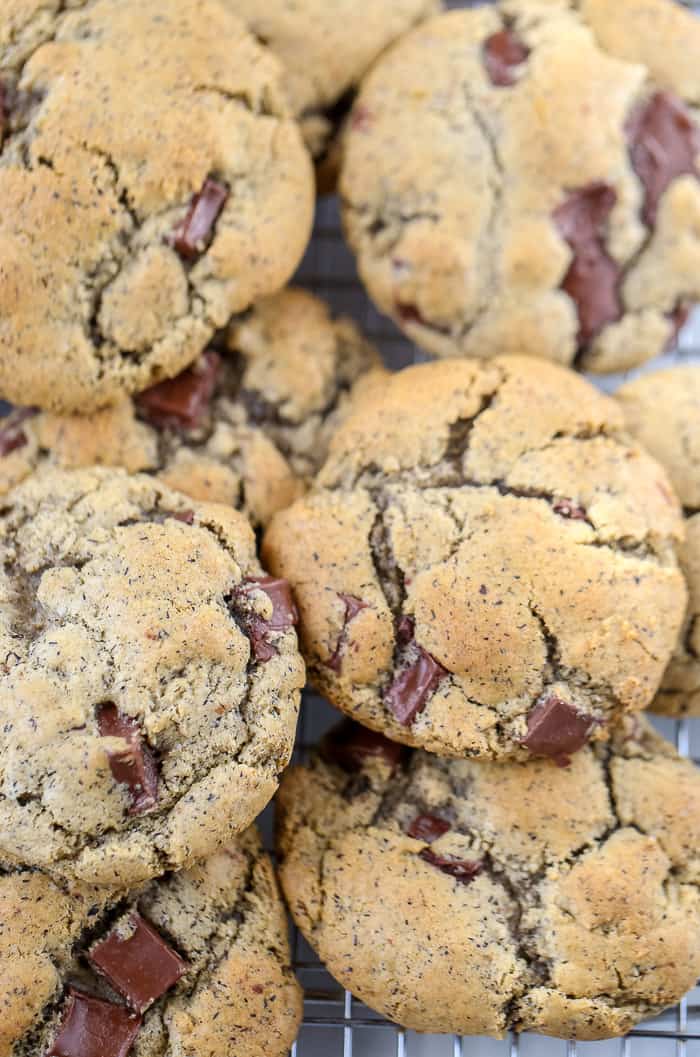 Chocolate chip cookies. Do we even need another recipe for this age old classic? Well, I am here to tell you that yes you do. Yes, you need these buckwheat chocolate chip cookies. They are to die for.
We all have our grandmother's chocolate chip cookie recipe we swear by. Or the one our moms made for us for years that has that nostalgic flair. We also are always looking for a new recipe to try because there is just something about those warm gooey cookies that is comforting.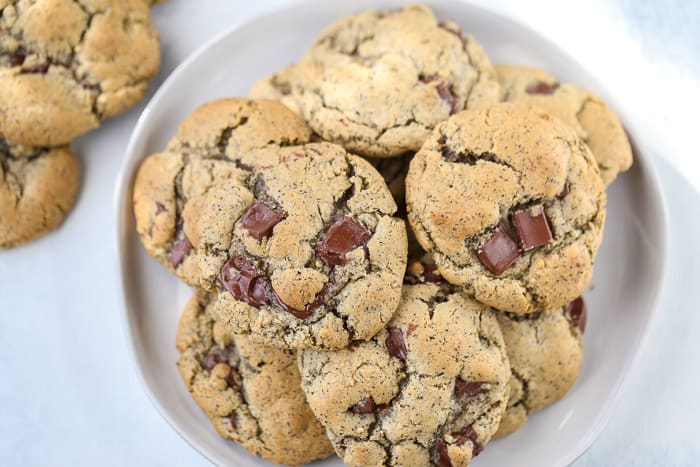 These chocolate chip cookies were in the latest issue of bon appetit magazine. As we've been locked in for the pandemic, I've actually lost my mojo when it comes to baking and creating new recipes. I am trying to cope in my own way and it seems as if it is baking and cooking comforting recipes. I made this lemon olive oil loaf a few weeks ago on a whim. So when these cookies popped up on the page, I knew I had to get them.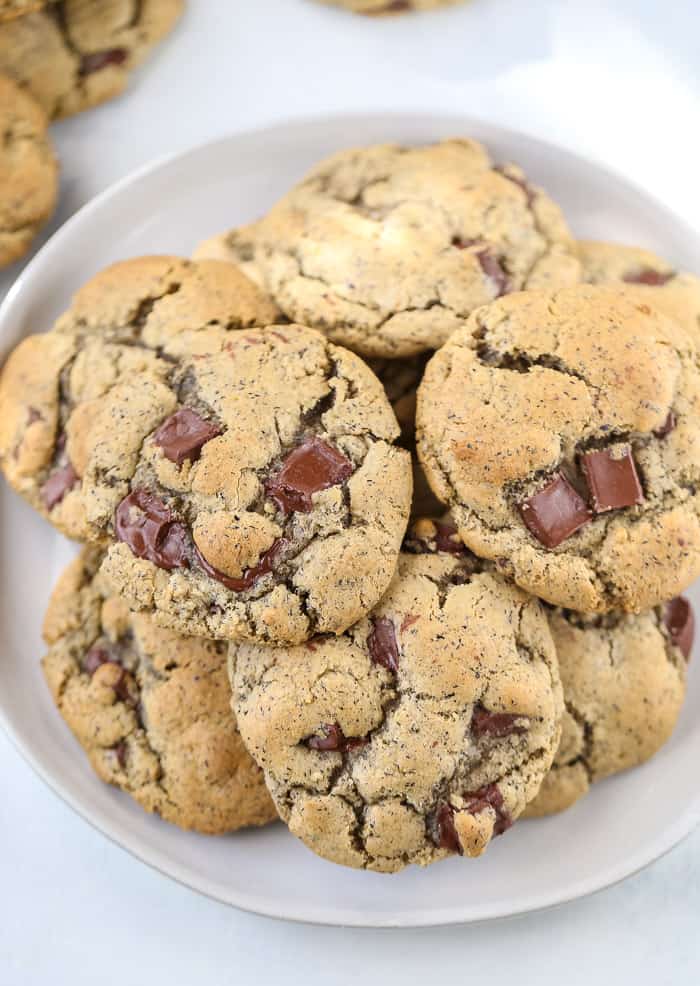 These cookies are unique because of the texture and that is due to the buckwheat flour. I know I know, that is not a usual ingredient for chocolate chip cookies, but you need to do it. You need to trust me and the very wise folks over at bon appetit that these cookies are worth the hassle of getting buckwheat flour (amazon! affiliate link) for your pantry. You can use the remaining flour to add to your pancakes, bread, and cakes. If however, you do not have buckwheat flour, you can substitute with whole wheat flour.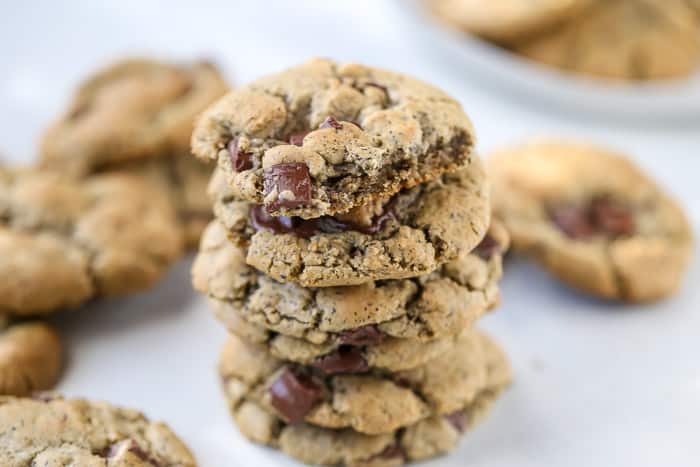 For these cookies, you get a chewy nutty texture from the melted butter and buckwheat flour. You also get a soft center that is glory. They are seriously one of the best cookies I've had. If you are looking for a new chocolate chip cookie recipe to try (who isn't!), this will not disappoint. It will become one of your family's favorites soon.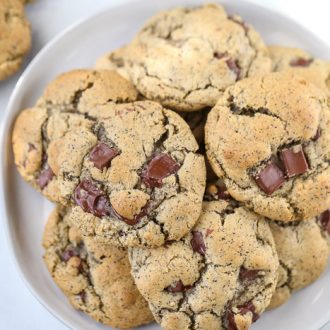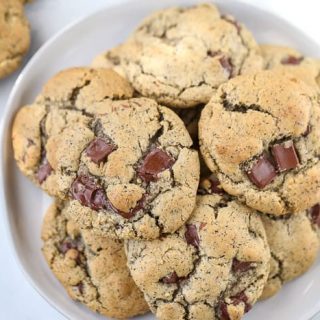 Yield: ~16 cookies
Buckwheat Chocolate Chip Cookies
Chewy and soft buckwheat chocolate chip cookies are hearty and a must!!
Total Time
2 hours
30 minutes
Ingredients
½ cup unsalted butter, cut into 8 equal pieces
1 cup all-purpose flour
½ cup buckwheat flour
½ teaspoon baking powder
½ teaspoon baking soda
¾ teaspoon Morton kosher salt
⅔ cup light brown sugar
½ cup granulated sugar
1 large egg
2 large egg yolks
1 teaspoon vanilla extract
6 ounces bittersweet chocolate, chopped
Instructions
Melt butter in a small saucepan set over very low heat, about 5 minutes stirring occasionally
While butter melts, whisk together flours, baking powder, baking soda, and salt in a medium bowl.
Transfer melted butter into a large mixing bowl. Add in sugars and whisk vigorously until well combined and butter is absorbed by sugar.
Add in egg, egg yolks, and vanilla extract. Whisk until combined. The mixture should be light in color and creamy.
Using a rubber spatula, stir in the dry ingredients until no flour streaks remain. Add in the chopped chocolate and gently mix in.
Cover the bowl with plastic wrap and chill for 2 hours.
Preheat oven to 375 degrees F. Line two baking sheets with parchment paper.
Using a medium cookie scoop, or about 2 tablespoons, portion the cookie dough. Roll dough into balls and place on baking sheet at least 2-inches apart. Bake about 6 cookies on one sheet at a time.
bake cookies until edges are brown and center puffy, about 8-10 minutes. Rotate cookie sheet halfway through baking.
Pull the cookies from the oven and tap the cookie sheet on the counter a few times to deflate the cookies. Let cookies cool on baking sheet for 5 minutes.
Transfer to a cooling rack.
Recommended Products
As an Amazon Associate and member of other affiliate programs, I earn from qualifying purchases.