Strawberry Cheesecake Ice Cream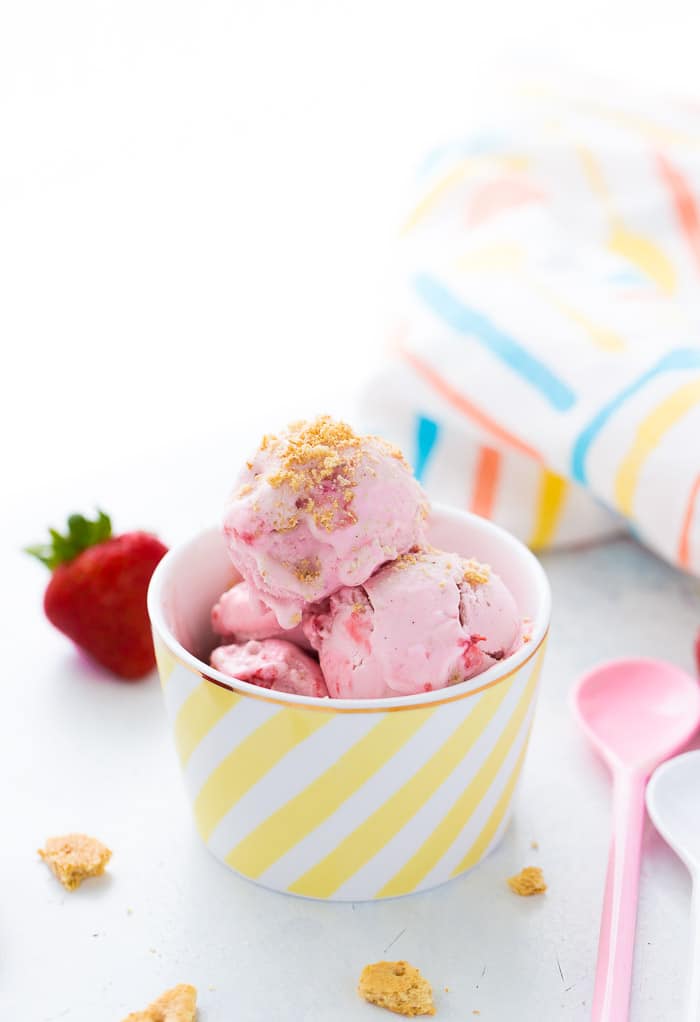 Happy August friends! It's time for another summer ice cream recipe! After these strawberry coconut cheesecake popsicles, I realized you guys love strawberry + cheesecake combination as much as I do. So I am bringing you this homemade strawberry cheesecake ice cream recipe to add to your summer recipe list!! It's creamy delicious, slightly tangy and bursting with sweet strawberries!!
What makes a cheesecake delicious? The crunchy crust and tangy filling combination …in my opinion. So this ice cream starts with a cream cheese and greek yogurt base that is infused with a fresh strawberry sauce. You get sweet, tangy and creaminess in one bite. It's already a winner. But when you add in some crunch with graham crackers churned into the ice cream, you have a gold star winner in this ice cream. It is seriously my favorite summer ice cream. It beats this blackberry coconut ice cream from a few weeks ago. I couldn't do just one serving.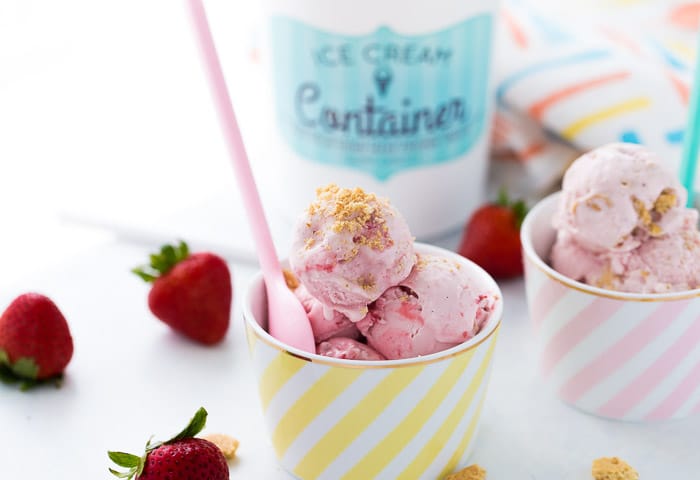 In my defense, I haven't had time to enjoy ice cream breaks this summer. The past two weeks have been plagued with illnesses in my house. The baby got hand, foot and mouth disease (yippeee!) followed by diarrhea. Not exactly food blog discussion but my life has been occupied by sick people because my husband followed right along after the baby with both diseases. Aieee! After a long day of taking care of both of them, I sit on the couch with a bowl of this ice cream to unwind. Worth every bite and calorie if you ask me.
As we savor the last 6 weeks of summer, let's all make this strawberry cheesecake ice cream and relax from whatever has been plaguing you. Let it all go, it's summer!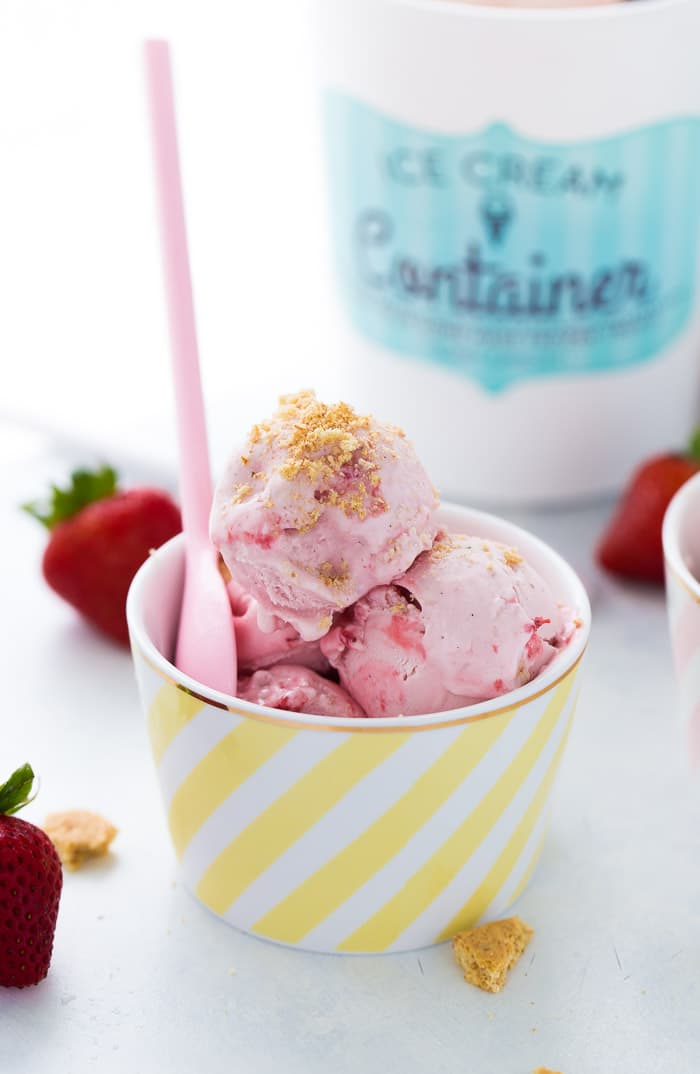 If you liked this recipe, you will love these homemade ice cream recipes too:
Coconut Marshmallow Fluff Ice Cream
Chocolate Marshmallow Rice Krispie Treats Ice Cream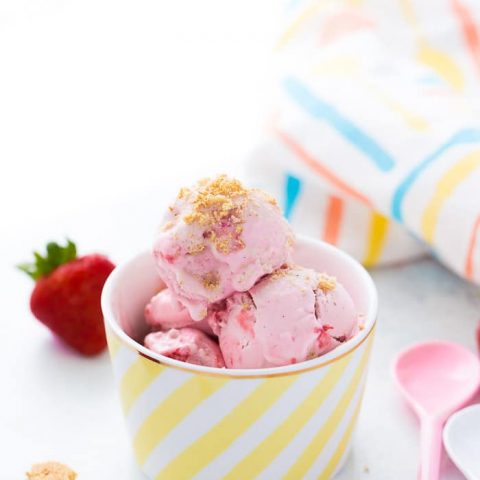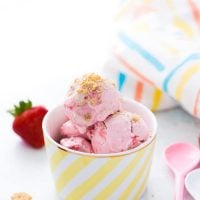 Yield: ~3 cups
Strawberry Cheesecake Ice Cream
Ingredients
2 cups fresh strawberries
¼ cup sugar
zest and juice of 1 lemon
8 ounces cream cheese, room temperature
2 teaspoons vanilla bean paste (or pure vanilla extract)
1 cup Greek yogurt, chilled
½ cup half-and-half, chilled
⅔ cup granulated sugar
⅛ teaspoon salt
¼ cup graham crackers, crushed
Instructions
For strawberry sauce:

In a medium saucepan set over low-medium heat, combine the strawberries, sugar, lemon juice and zest. Cook until berries start to release their juices and break down. Reduce heat to low and cook for about 5 minutes stirring occasionally until mixture thickens. Remove from heat and cool completely. There will be chunks of strawberries in the sauce which you can mash if you do not want strawberry chunks in your ice cream. I love the chunks so I left them there.

Cheesecake Ice Cream:

In the bowl of a food processor, combine all the ingredients for the ice cream base except the graham crackers. Process until smooth, about 2 minutes, then add in half of the strawberry sauce from above. Mix until combined. Transfer to an airtight container and chill for at least 3-4 hours or overnight.
When chilled, churn ice cream according to the instructions of your ice cream maker. Five minutes before the end, add half of the remaining strawberry sauce and the crushed graham crackers into the ice cream. When completed, transfer half of the ice cream to a freezer safe bowl. Top with the remaining of the strawberry sauce before adding the rest of the ice cream. Swirl sauce and ice cream together. Freeze ice cream for a few hours until hard.
Serve with fresh strawberries and crushed graham crackers.