Strawberry Coconut Cheesecake Popsicles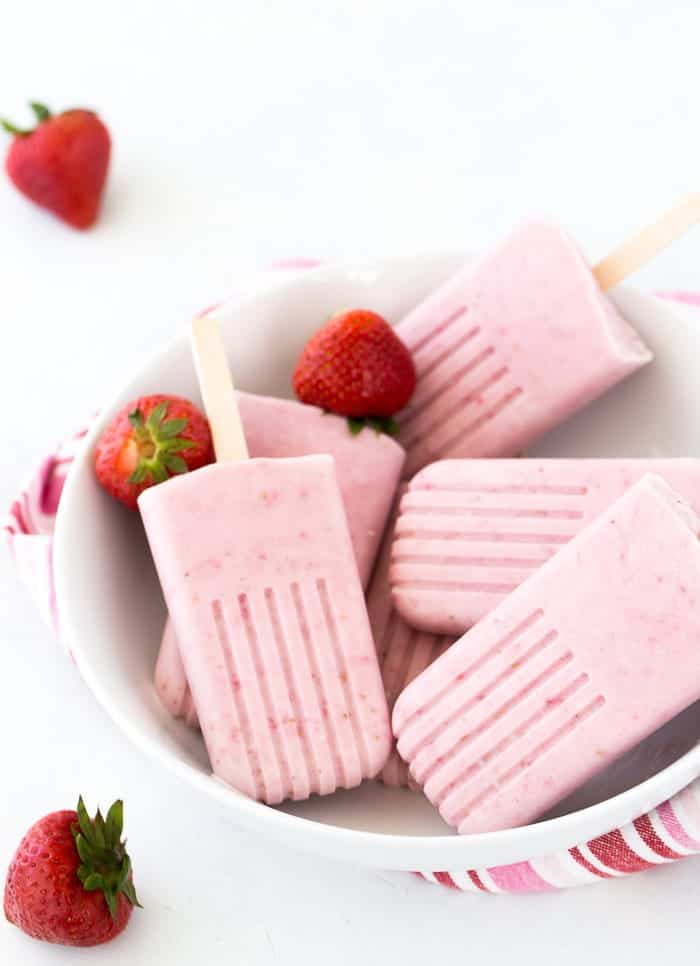 We are just coming out of a long weekend ushering in the start of summer! As someone pointed out last week, we have fifteen weekends before Labor day and I intend to relish every single one of them. That includes eating as much summer produce as possible, spending more quality time with my family, including more experiences into our daily activities and eating more popsicles of course.
Nothing says summer like homemade popsicles and I have a new one for you to add to your collection. These strawberry coconut cheesecake popsicles are creamy, delicious and refreshing. They are the perfect snack, dessert or hot weather chiller.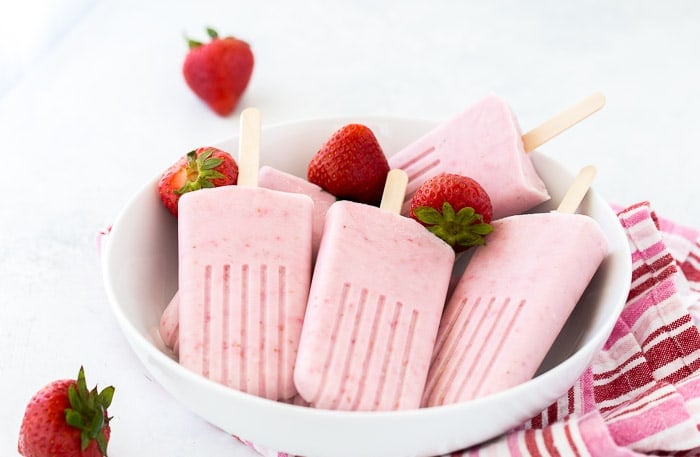 I've made a few popsicles in my days (check out my collection HERE) and every time I combine cream cheese with a fruity blend, I am in love. The cream cheese adds a tangy flavor and creaminess that regular popsicles don't have. You need to try it sometime. It also is great in ice cream like this blueberry cheesecake ice cream.
To our strawberry and cream cheese mixture here, I added some coconut to the mix by using coconut milk instead of whole milk. Not only is coconut great with strawberries, it also makes the pops a little healthier (but I'm sure that's canceled out with the cream cheese!!).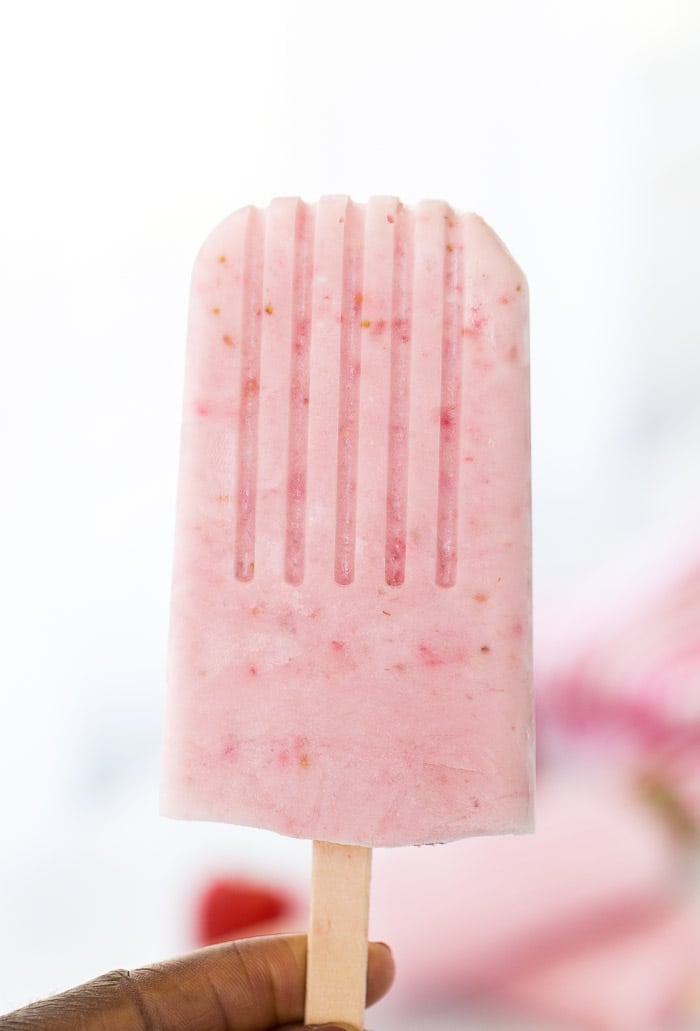 Regardless, this combination of flavors is a must this summer! Add these strawberry coconut cheesecake popsicles to your list! For more popsicle ideas, check out these favorites too.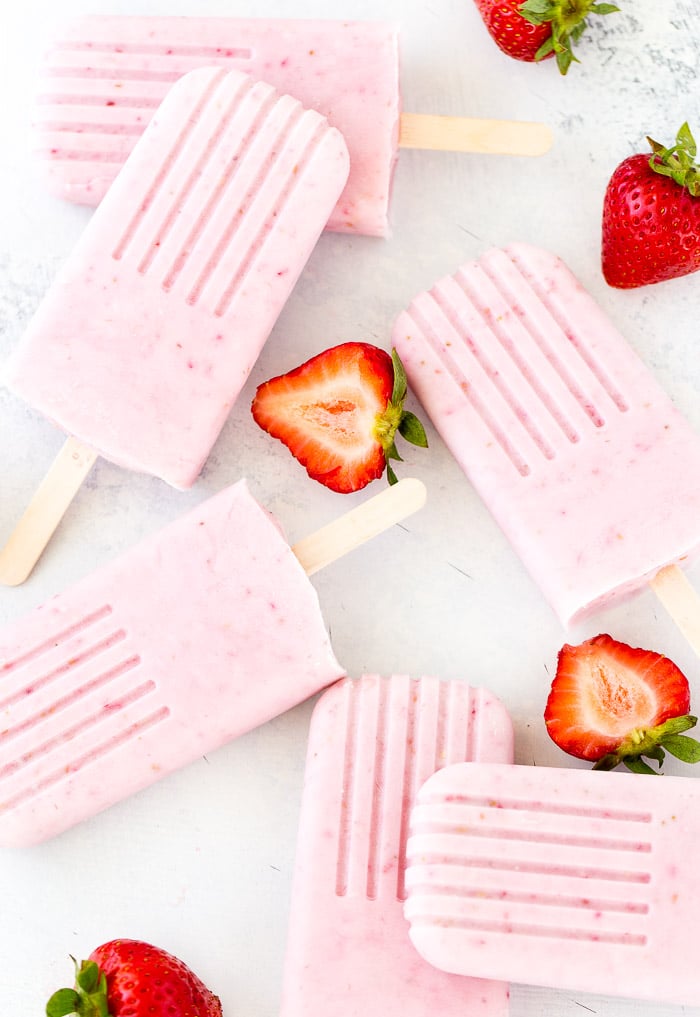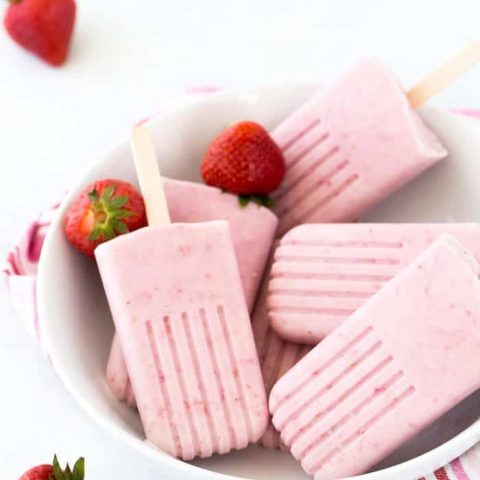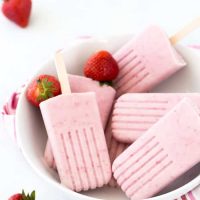 Yield: 6 pops
Strawberry Cheesecake Popsicles
Ingredients
4 ounces cream cheese, softened
1 can (14oz) coconut milk
1/4 cup powdered sugar
zest of one lemon
juice of 1/2 lemon
1 cup fresh strawberries, hulled and halved.
Instructions
In a food processor, pulse the cream cheese until smooth.
Add the rest of the ingredients to the food processor. Process until strawberries are smooth.
Pour the mixture into popsicle molds, insert popsicle sticks 3/4 of the way in and freeze for at least 6 hours or overnight.
To unmold, run under warm water for 30 seconds and release from the mold.