Blueberry Cheesecake Ice Cream
Fresh blueberry sauce is layered in a creamy cheesecake base with graham cracker chunks. This blueberry cheesecake ice cream is a summer delight!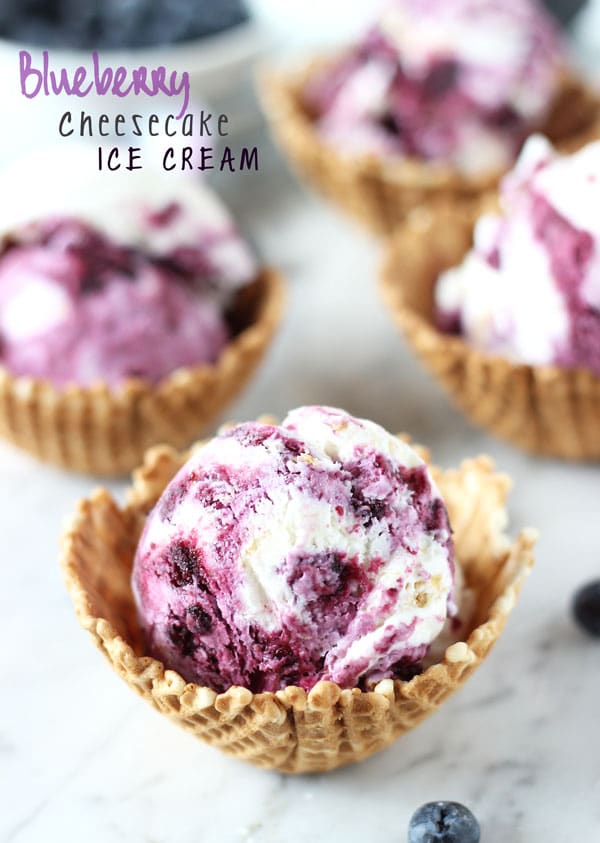 What do you do with 5 pounds of blueberries you bought out of no self-control? Well, first you make fresh blueberry pie but that really only uses up half of your haul. Since it's summer, and you need a delicious cool down treat why not make ice cream? Creamy blueberry cheesecake ice cream to be exact! That's what I did with some of the blueberries I was hoarding all last week. And boy am I excited to share this recipe with you today!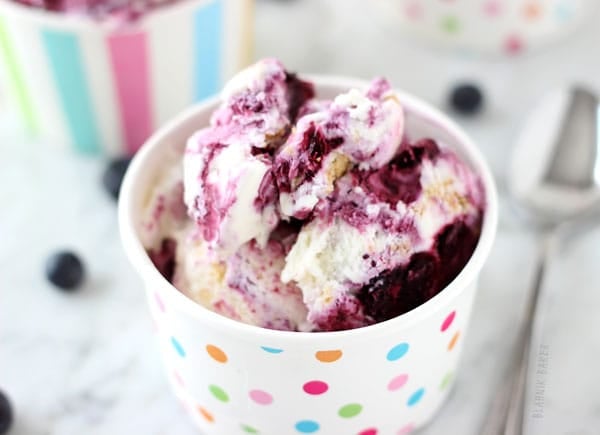 This ice cream is made up of three incredible parts. It starts with a ridiculously easy base that I dare you not to eat by the spoonful before making your frozen treat. It's a cheesecake-Greek yogurt base that is blended wit fresh lemon juices and a little bit of sugar. Made right in your blender or food processor bowl, it's quick and easy to whip up. Next you have a blueberry sauce that I am now using as topping on everything. Fresh blueberries are cooked down slightly with some lemon zest, fresh lemon juice and sugar. The sauce is thickened slightly with some cornstarch. This stuff is seriously dangerous. The recipe below makes more than what you will need for the ice cream so be prepared to use leftovers on pancakes (highly recommend), plain ice cream topping or just eat by the spoonful. I won't judge. Finally, the last component of the ice cream is the crunchy chunks of graham crackers that you get with every bite. These are added in during the last two minutes of churning so they get incorporated well. Love the bits of surprises they give you!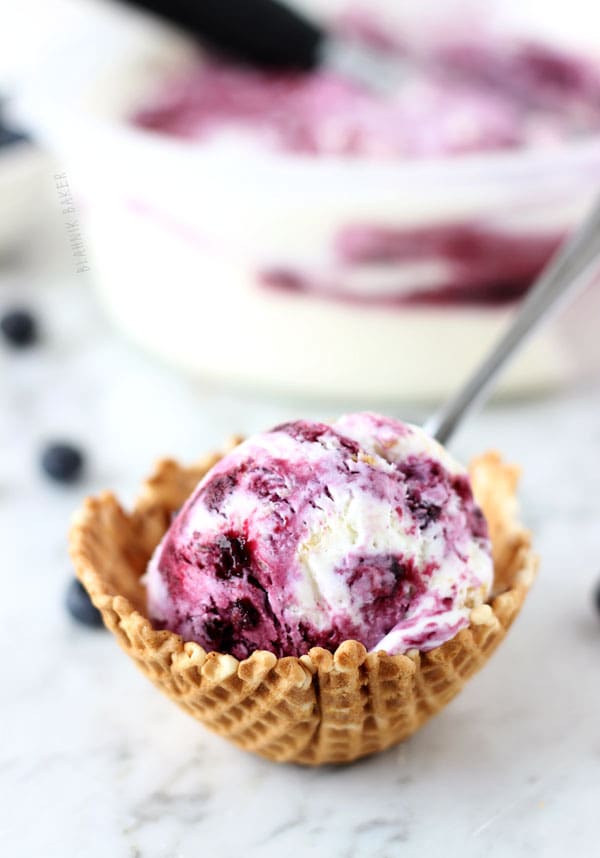 OK so did I convince you to go make this blueberry cheesecake ice cream yet? No? Really? It's creamy good and you will LOVE it if you are a blueberry fan. Heck, if you are a blueberry hater I am sure you will enjoy this. But you can substitute your favorite berry here as this ice cream base is a keeper!!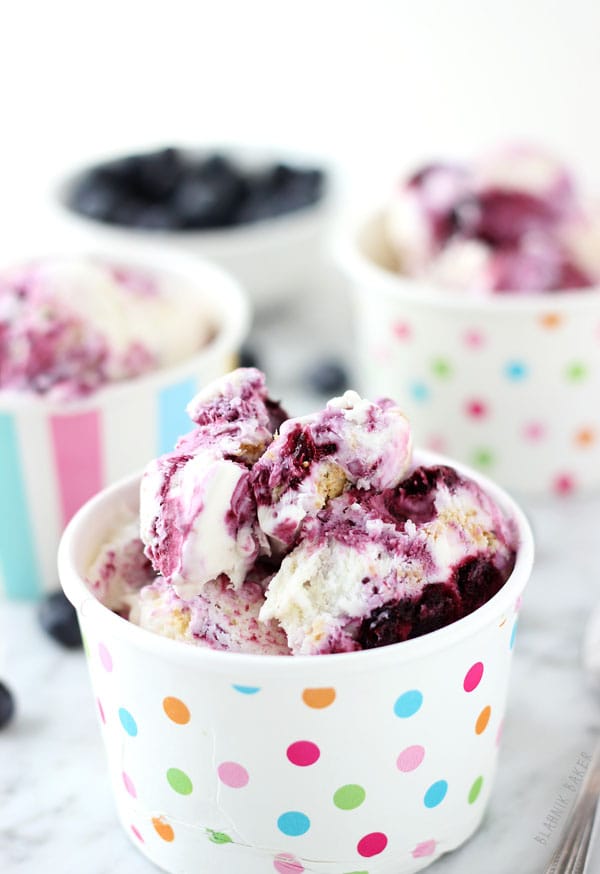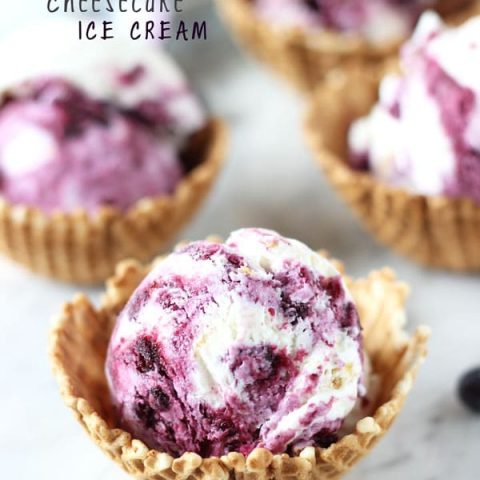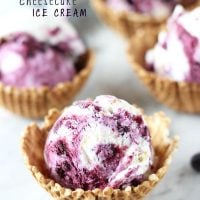 Yield: ~3 cups of ice cream
Blueberry Cheesecake Ice Cream
Fresh blueberry sauce is layered in a creamy cheesecake base with graham cracker chunks. This blueberry cheesecake ice cream is a summer delight!
Ingredients
2 cups fresh blueberries
¼ cup sugar
zest and juice of 1 lemon
2 teaspoons cornstarch
1 tablespoon water
1 tablespoon whiskey
8 ounces cream cheese
zest of 1 lemon
1 teaspoon lemon juice
1 cup Greek yogurt
½ cup half-and-half
⅔ cup sugar
⅛ teaspoon salt
¼ cup graham crackers, crushed
Instructions
For blueberry sauce
In a medium saucepan set over medium heat, combine the blueberries, sugar and lemon zest. Cook until berries start to release their juices and break down. In a small bowl, whisk together the cornstarch, lemon juice and water. Whisk into berries and bring to a boil. Reduce heat and cook for a minute stirring constantly. Remove from heat and stir in whiskey. Cool completely. There will be chunks in the sauce, you can mash some of the berries if you do not want blueberry chunks in your ice cream.
Cheesecake Ice Cream
In the bowl of a food processor, combine all the ingredients for the ice cream base except the graham crackers. Process until smooth then transfer to an airtight container and chill for at least 3-4 hours or overnight.
When chilled, freeze ice cream according to the instructions of your ice cream maker. Five minutes before the end, add the crushed graham crackers into the ice cream. When completed, transfer half of the ice cream to a freezer safe bowl. Dollop 3-4 tablespoons of blueberry sauce. Using a knife, swirl the sauce into the ice cream. Top with the rest of the ice cream and another 4 tablespoons of the blueberry sauce. Swirl sauce and ice cream together. Freeze ice cream for a few hours until hard.
More Ice Cream Recipes from Around the Web:
Blueberry Chocolate Chip Ice Cream – Love and Olive Oil
Vegan Creamy Chocolate-Avocado Ice Cream – Jessiker in the Kitchen
Rhubarb Buttermilk Ice Cream – The Law Student's Wife
Pistachio Ice Cream – Cooking with Curls