Peach Raspberry Martini
This Peach Raspberry Martini recipe is sponsored by Finlandia Vodka. All thoughts and opinions are mine. Thank you for supporting the brands that enable me to create new recipes for you!! Must be 21 or older to consume alcohol. Please drink responsibly.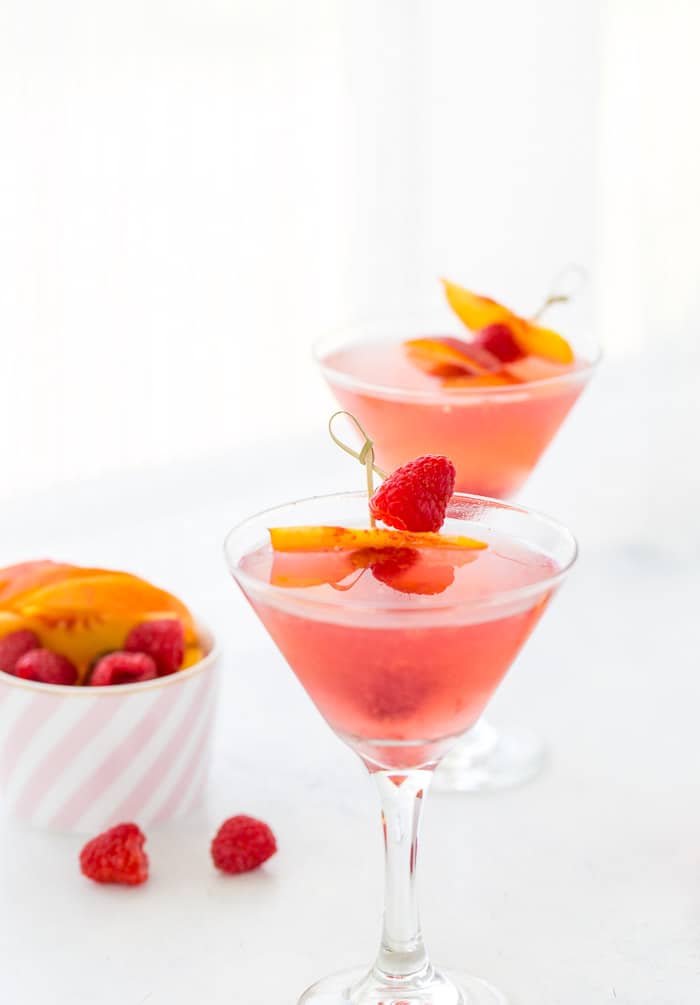 You guys, we are in peak peach season and I have not shared any peach recipes with you. Eeek, I am failing this summer but in my defense, I've been out there having fun and making memories with my little one after him being sick for a period there. I've also been making old favorites like this strawberry peach ice tea and peach raspberry cobbler to enjoy the seasonal peaches. But it is time for a new peach recipe and this peach raspberry martini is the perfect adult beverage for your parties. Summer entertaining made easy with a homemade cocktail.
As you can tell, I love the combination of fresh, juicy peaches with sweet  summer berries. If you've not yet tried this combination, you need to as soon as possible. It's a match made in heaven. I've had peaches with raspberries or blueberries in comforting cobblers, rustic galettes and now in a summer martini, and it is always amazing.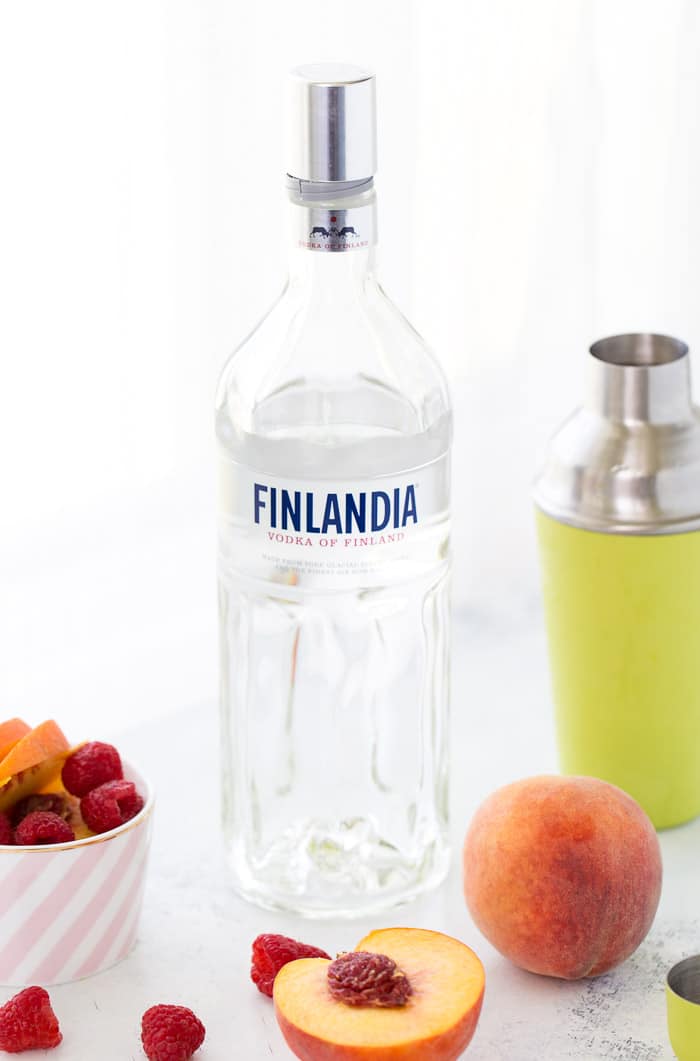 I recently tried Finlandia Vodka's classic vodka and it inspired me to whip up this summer cocktail. There's nothing more classic and refreshing than a vodka martini. Shaken, not stirred. Of course.
It's been a while since I whipped up one. Martinis are fun to make at home for a crowd or a small dinner party.  I love setting up a cocktail bar with ingredients and encourage my guests to make their own cocktail. It would be helpful to have a few cocktail shakers and a variety of ingredients. For this peach raspberry martini, I used sliced fresh peaches, fresh raspberries, a hint of almond extract and simple syrup. Combine all the ingredients and shake with ice in a cocktail shaker.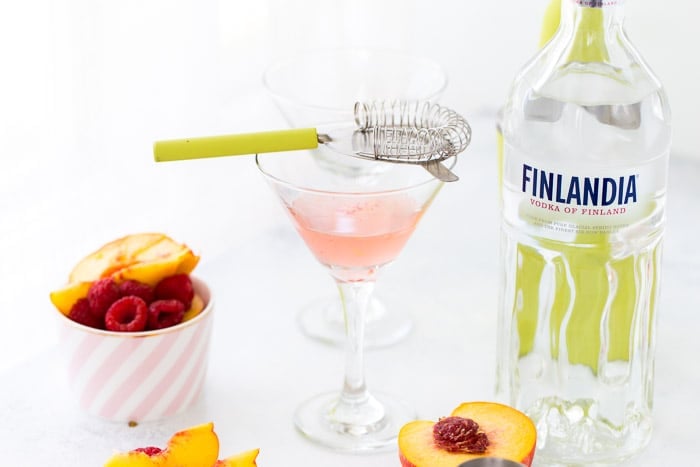 Strain into a chilled martini glass and garnish with fresh peaches and strawberries. Easy peasy!!
You can use any fresh summer fruit to add variety to you cocktail bar. You could also infuse fruit and flavors into your simple syrup. For this recipe, I kept the syrup plain to highlight the peaches and raspberries.  There are so many ways you can customize your cocktails but start with this delicious combination of peaches and raspberries!
You need to add this martini to your summer cocktail list. Grab a bottle of Finlandia Vodka at your local store and whip this peach raspberry martini for your summer gatherings!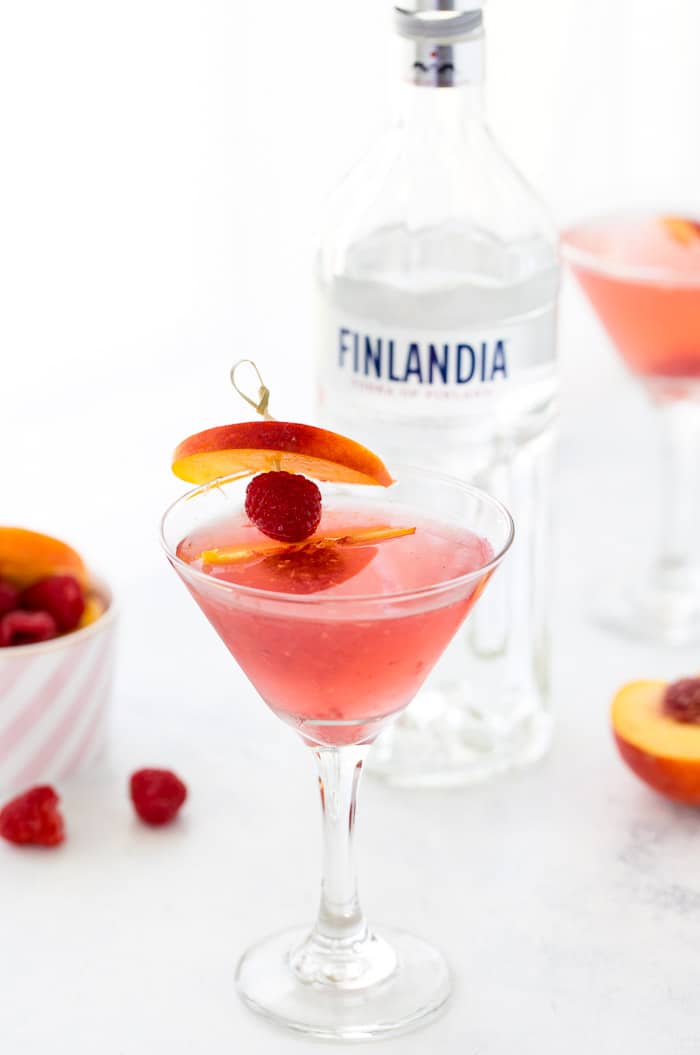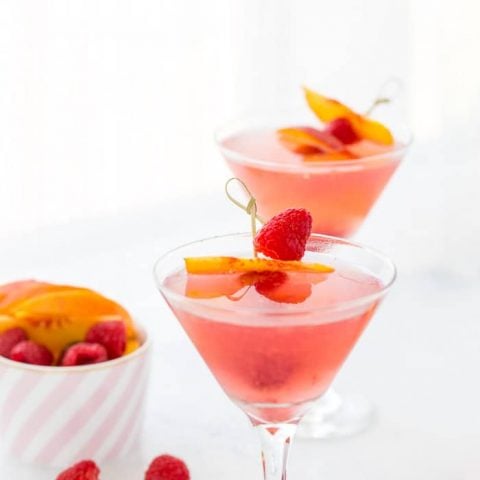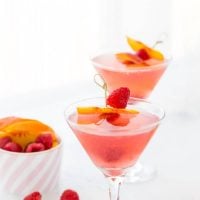 Yield: 2 cocktails
Peach Raspberry Martini
Ingredients
4 ounces Finlandia Vodka
¼ cup sliced peaches
2 tablespoon raspberries
2 ounces simple syrup (or to taste)
dash of almond extract
Instructions
Chill two martini glasses.
In a shaker full of ice, combine half of the vodka, peaches, raspberries, simple syrup and dash of almond extract. Shake well and strain into chilled martini glass. Repeat with the rest of the ingredients for the second glass. Enjoy immediately!