Peach Blueberry Galette
This peach blueberry galette is sweet and juicy with a tender, buttery crust and a warm filling of baked peaches and blueberries.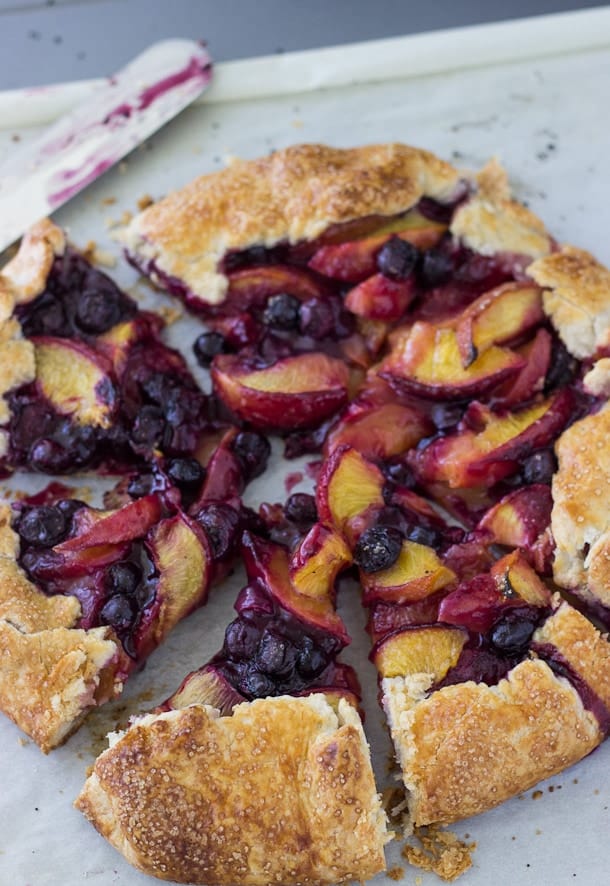 It's all about peaches and blueberries today. Juicy peaches are beginning to show up at the local farmers market and so are blueberries.  In my opinion, blueberries are just meant to go with fresh peaches in baked goods, especially when there is a little bourbon involved, the party gets wild in the flavor department with these two.
I made a peach blueberry bourbon cake a few years ago and that is how my obsession with peaches and berries started. Ever since, it's an annual occurrence for any peaches coming into my kitchen. I was thinking of a pie this time but for some reason I got lazy and greedy that day and decided to just throw together a galette which is basically a lazy man's pie. Or a rustic chic slab of pie. Whatever it's called, it's got everything you find in a pie; flaky buttery crust wrapped around a juicy fruit filling with a sweet and sometimes tart ending.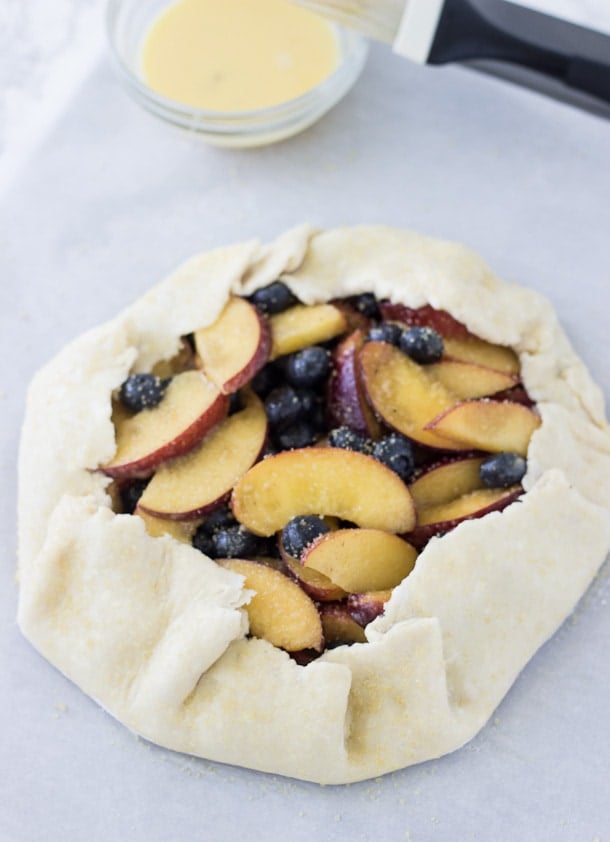 This peach blueberry galette is all sweet and juicy. The crust is tender, buttery and just crunchy in the right places while the filling is oozing of warm baked peaches and blueberries with a hint of almond extract. Deliciousness to the highest degree. Can I recommend you toss your fruits with a splash of bourbon before baking? You will love this galette even more.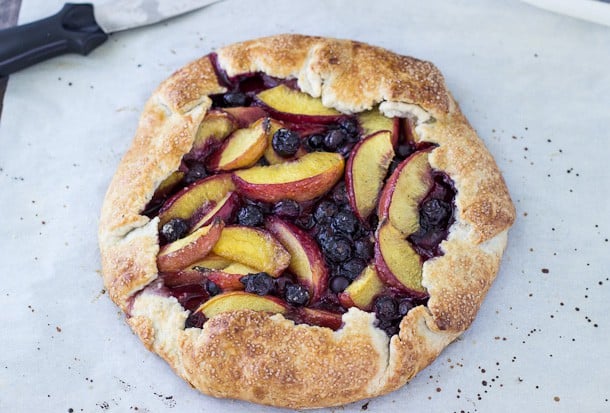 Now promise me this will be part of your summer baking bucket list?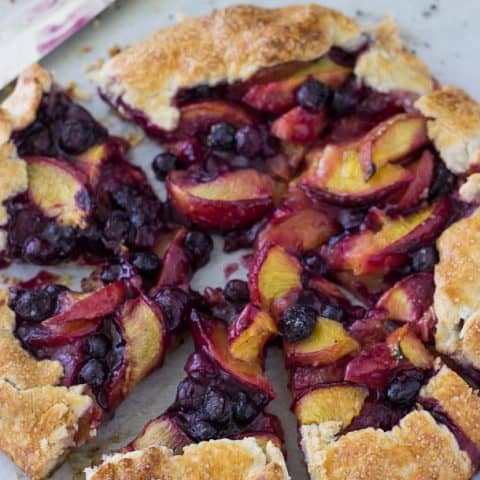 Yield: 1 10-inch round galette
Peach Blueberry Galette
Prep Time 20 minutes

Cook Time 50 minutes

Total Time 1 hour 10 minutes
Ingredients
For Crust:
1¼ cup all-purpose flour
6 tablespoons unsalted butter, cold and cut into cubes
2 tablespoon shortening, cold and cut into cubes
2 tablespoons granulated sugar
¼ teaspoon salt
Filling;
4 medium peaches, sliced into half-inch slices
1 cup blueberries
2 teaspoons vanilla extract
1/2 teaspoon almond extract
1/4 cup brown sugar
¼ cup all-purpose flour
1-2 tablespoons bourbon (optional)
1 egg beaten with 1 tablespoon water
2 tablespoons turbinado sugar for sprinkling
Instructions
To make crust: Prepare a ¼ cup of ice cold water. Combine all the ingredients in a food processor. Process a few times until butter is about the size of a pea. With processor on, slowly drizzle in ice cold water to mixture, one tablespoon at a time, until dough comes together. Remove dough from bowl and pat down into a disc. Wrap in plastic wrap and chill for at least an hour.
In a medium bowl, combine the peaches, blueberries, vanilla extract, almond extract, brown sugar and flour (and bourbon if using). Toss together until the flour is incorporated. Let sit for 10-15 minutes as you prepare the crust.
Preheat oven to 400 degrees.
When dough is chilled, roll out into a 12-inch circle. (I rolled mine onto a well floured parchment to make transfer easy). Transfer to a baking sheet.
Spoon the fruit mixture into the center of the crust, leaving 2-3 inch borders. Fold up the sides, gently tucking in over the fruit in a folding/pleating pattern.
Brush the dough with egg wash. Sprinkle dough with turbinado sugar. Bake galette for 50-55 minutes until crust is golden and juice from the fruit runs out. Let cool before serving warm.


More Peachy Keen recipes:
Peach and Blackberry Margarita Popsicles – Real Food Dad
Frozen Peach Bellini – Crunchy Creamy Sweet
Raspberry and Peach Sorbet – Bakers Royale
Peach Raspberry Ice Cream – Grandbaby Cakes