Cherry Lime Cheesecake Bars
A sweet lime cheesecake filling is topped with a tart cherry swirl in these cherry lime cheesecake bars! Thank you ALDI for sponsoring this post.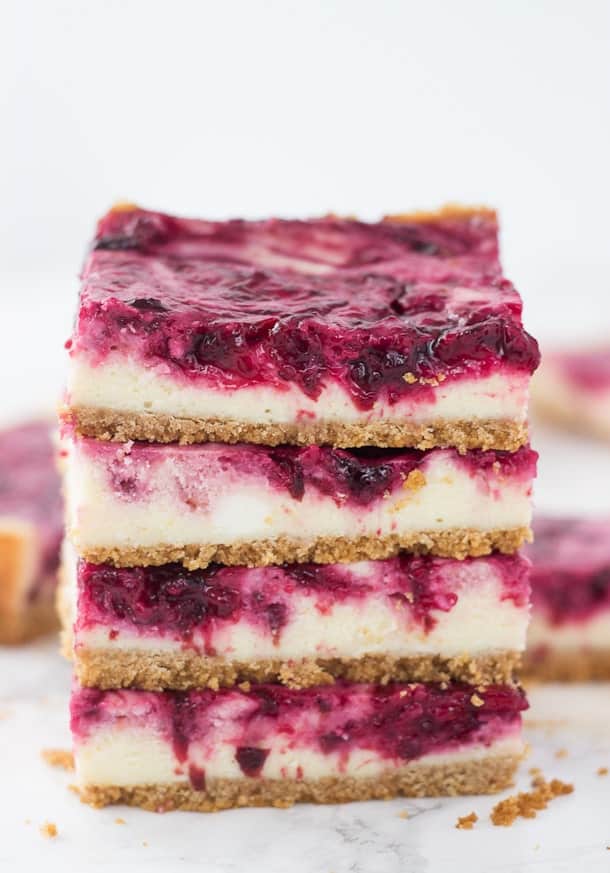 Happy Monday everyone!! I hope you had a lovely summer holiday weekend (US folks). It was very exciting in our next of the woods with multiple parties, a trip to the zoo, one too many ice cream cones and fireworks at the end of it all. Summer weekends are truly the best; lots of family time, outdoor activities and fresh fruits and produce.
I've reached the point where I need to eat more than berries and embrace the rest of the fruits in season like cherries and peaches. I love the sweet cherries that are in peak season right now but man, can they get pricy when you want a few pounds for a pie or to snack on.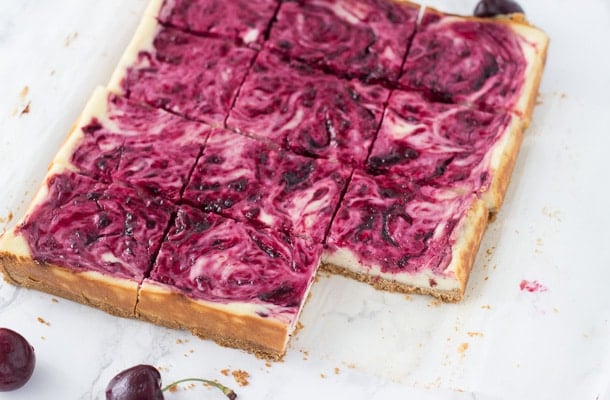 I needed a few pounds of cherries last weekend so I hit my local ALDI grocery market where I know I can get fresh fruits and produce for a great price. After eating almost a pound of the cherries, I decided I should bake something. These cherry lime cheesecake bars were the resulting culprits. I love cheesecake bars as they are miniature cheesecake slices in your hand but take less the time and effort to put together.
These bars start with a classic graham cracker crust, that's pre-baked and topped with a sweet lime cheesecake filling and finally topped with a swirl of cherry lime topping. It's three layers of complete bliss; a crunchy crust, a sweet cheesecake filling and a tart cherry lime topping.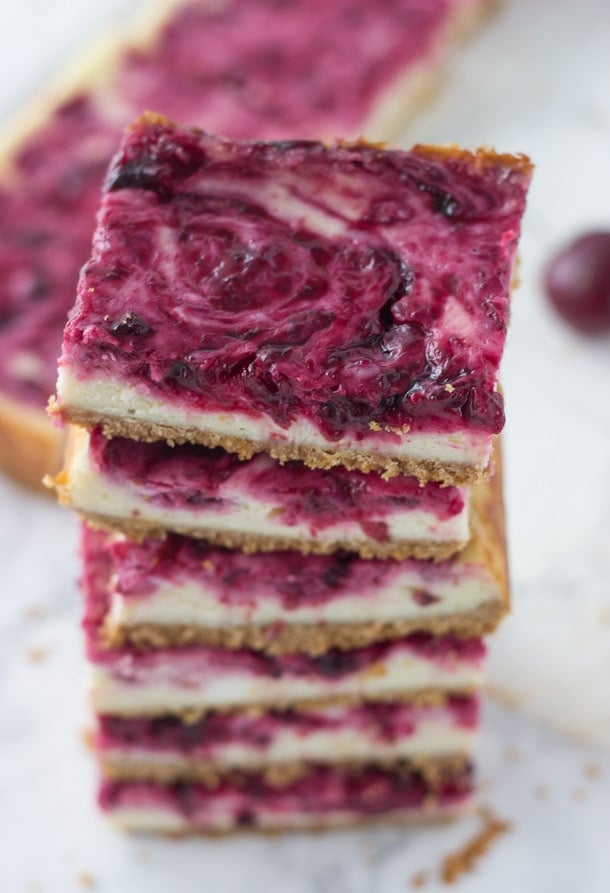 Absolutely what you want to be indulging on this summer!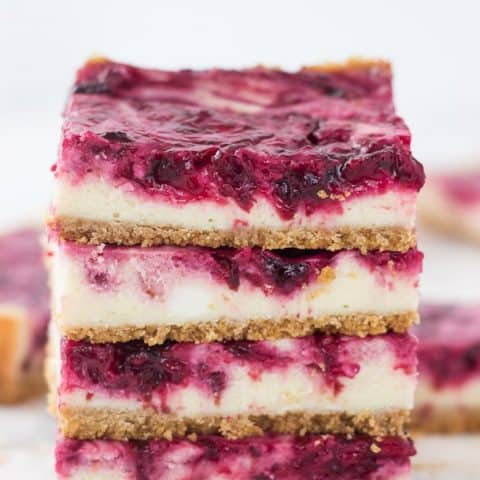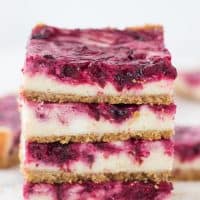 Yield: ~12 bars
Cherry Lime Cheesecake Bars
Ingredients
For Crust:
10 whole graham crackers
5 tablespoons unsalted butter, melted
a pinch of salt
For Cherry Swirl
1 ½ cup cherries, pitted and chopped
¼ cup granulated sugar
zest of 1 lime
juice of ½ a lime
For Filling:
2 8-ounce cream cheese packages, softened at room temperature
½ cup granulated sugar
a pinch of salt
juice of half a lime
2 large eggs
1 teaspoon vanilla extract
3 tablespoons all-purpose flour
Instructions
For Crust:
Preheat oven to 350 degrees F. Grease an 8 x 8-inch square pan and line with parchment paper with overhang.
In the bowl of a food processor, pulse the graham crackers until processed. Add in the melted butter and pulse until combined.
Press the graham cracker mixture to the bottom of the prepared pan and distribute evenly. Bake crust for 10 minutes and let cool completely.
For Cherry Swirl:
Meanwhile in a small saucepan combine the cherries, sugar, zest and lime juice along with a ¼ cup water. Bring to a boil and then reduce heat to simmer. Cook for about 5 minutes, until cherries are soft and mixture starts to thicken.
Transfer the cherry mixture to a food processor or blender and pulse briefly to break up the cherries.You don't want it smooth. Transfer cherry compote to a small bowl and set aside to cool.
For Filling:
In the large bowl, beat the cream cheese, sugar and salt until combined and smooth. Add in the lime juice and mix until combined. Add in eggs, vanilla extract and all-purpose flour. Mix until just combined and mixture is smooth.
Pour the cream cheese filling into the cooled crust and smooth with a spatula to evenly distribute. Dollop the cherry compote over the filling one tablespoon at a time. Using a small knife or skewer, swirl the cherry compote.
Bake cheesecake for about 25-30 minutes or until the edges are set and lightly brown. The middle will be slightly jiggly. Remove from oven and let cool completely on a wire rack to set. Chill cheesecake for at two hours to set.
When ready to serve, remove the cheesecake from the pan using the overhangs. Cut into squares.
I'm sharing this recipe in partnership with ALDI. As always all opinions are 100% mine. Thank you for supporting the companies that make it possible for me to continue to create great recipes for you. For more information and recipe ideas, visit ALDI on Facebook, Twitter and Pinterest.