Summer Corn Salad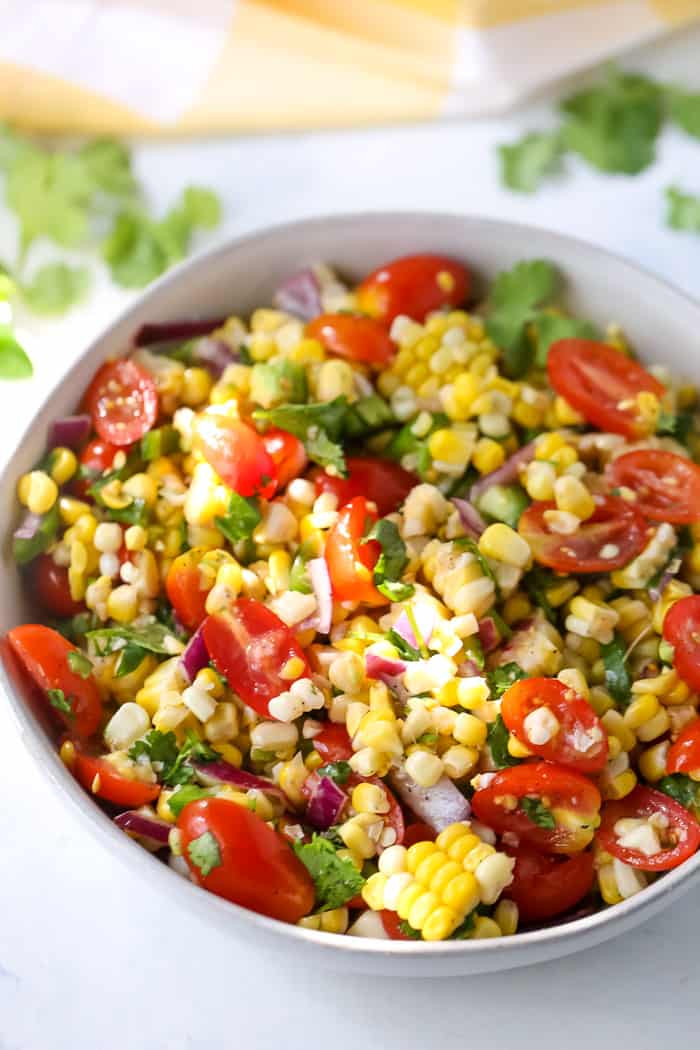 Hello friends! I hope you are doing well. I have a quick one for you today. This has got to be the easiest recipe ever! I am not even sure I can call it a recipe. Recently, I posted a summer dinner on Instagram (if you are not following me there, please do!) featuring this corn salad with steak and many of my followers asked me to share the recipe. So here I am sharing it with you. I am calling it my summer corn salad.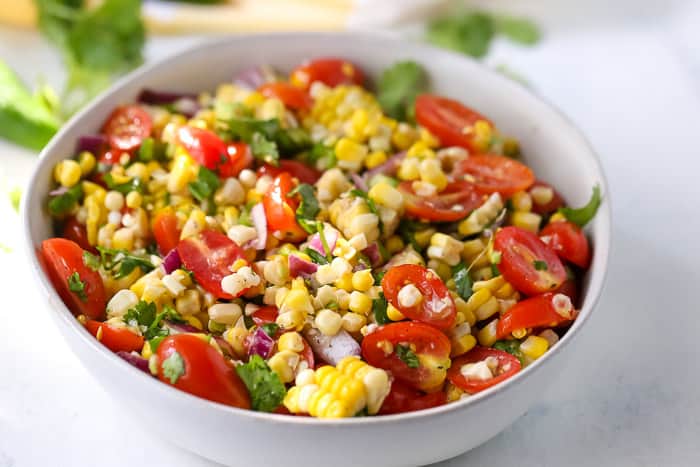 I am not technically sure this is considered a salad but I was not sure what else to call it. So salad it is. What I am sure of is that this mixture is bursting of fresh summer vegetables and flavors. I've made a version of this side dish for a long time as all the ingredients are usually staples in my kitchen. Now, you can enjoy it year-round too.
To make this summer corn salad, you need fresh sweet corn (cooked!), grape tomatoes, jalapeno, limes, red onion, and cilantro. That is it! You simply mix all these ingredients together, season with salt and pepper and viola!. I do suggest letting the salad "rest" for a little bit allowing the flavors t0 meld together. It gets better with age, trust me.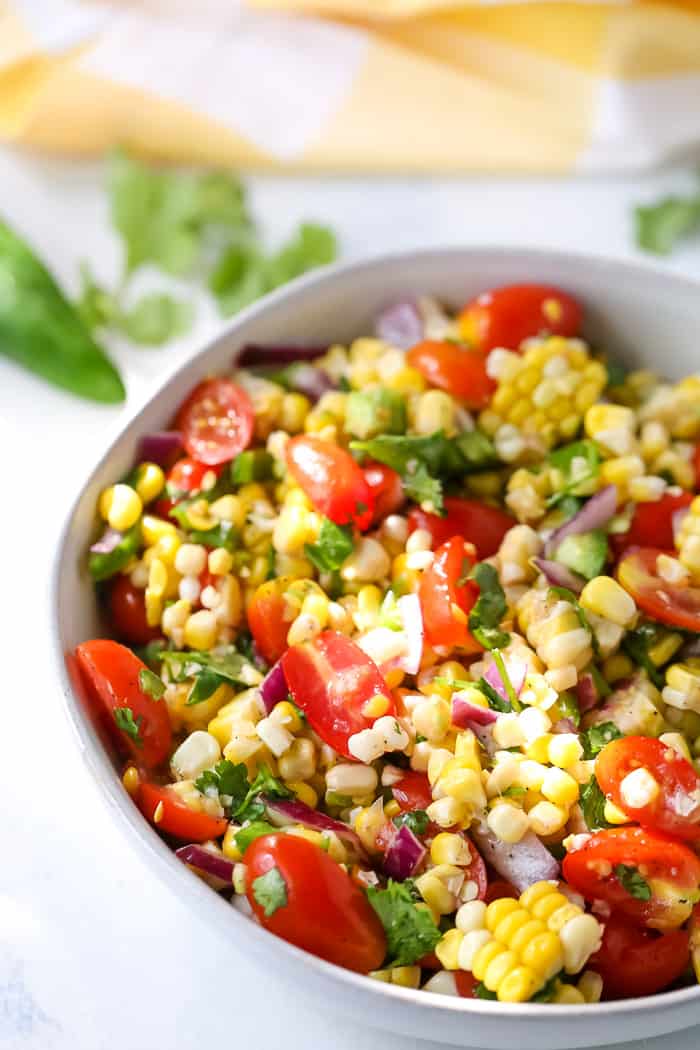 It's a simple yet amazing fresh side that is perfect for all your summer BBQs and meals. I love serving it with a side of grilled protein. Fish, lamb, steak, or chicken are all great with this and are my go-to summer dinners.
You can also add in some other toppings to this salad. Avocado, crispy bacon, summer squash are all variations I've done and loved. The possibilities are endless and I am glad I decided to share this with you.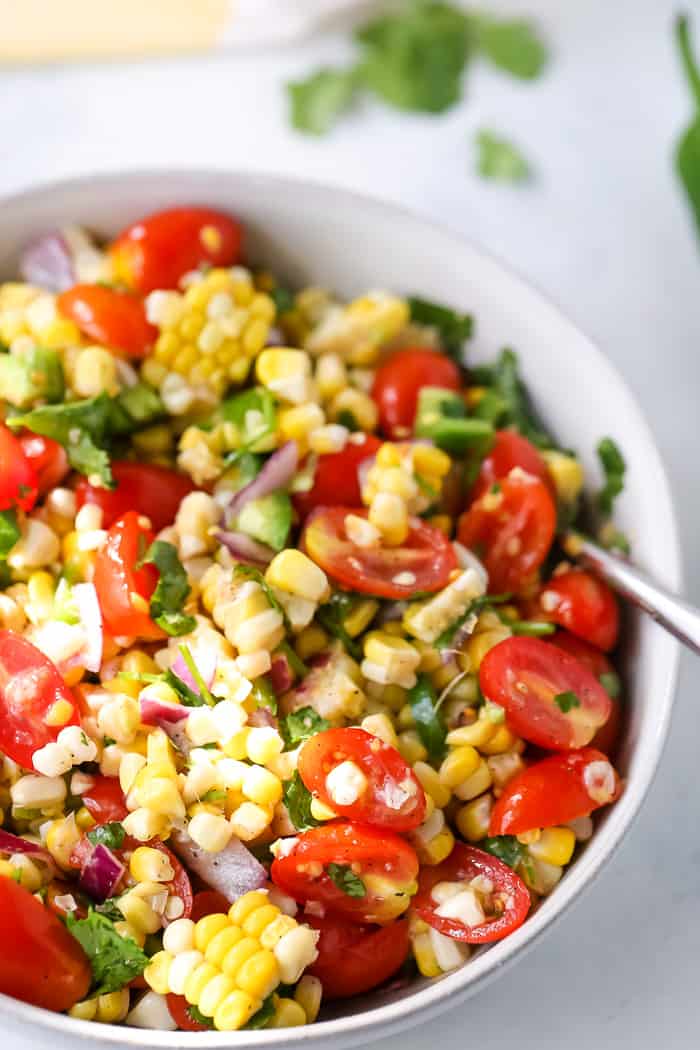 I hope you enjoy this summer corn salad!! The season for corn is still here so be sure to make the most of it.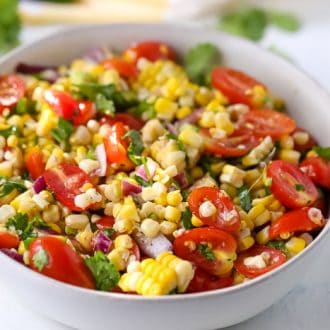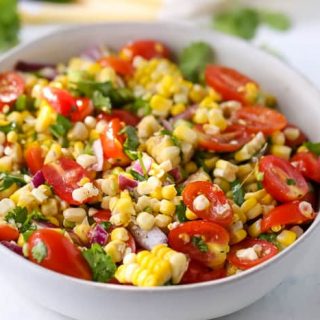 Summer Corn Salad
This summer corn salad is full of everything that is good about summer veggies.
Ingredients
3 ears of cooked corn
2 cups cherry tomatoes
1 jalapeno, minced
juice of 1 lime (or more to taste)
1/2 red onion, chopped
a handful of cilantro, chopped
salt and pepper to taste
Optional Add-ins:
1 avocado, sliced
1/4 cup chopped cooked bacon
Instructions
In a large bowl, combine all the ingredients and mix well.
Let the mixture sit for at least 30 minutes at room temperature or chilled. This allows the flavors to meld together.
Serve at room temperature or cold.