Passionfruit Coconut Bundt Cake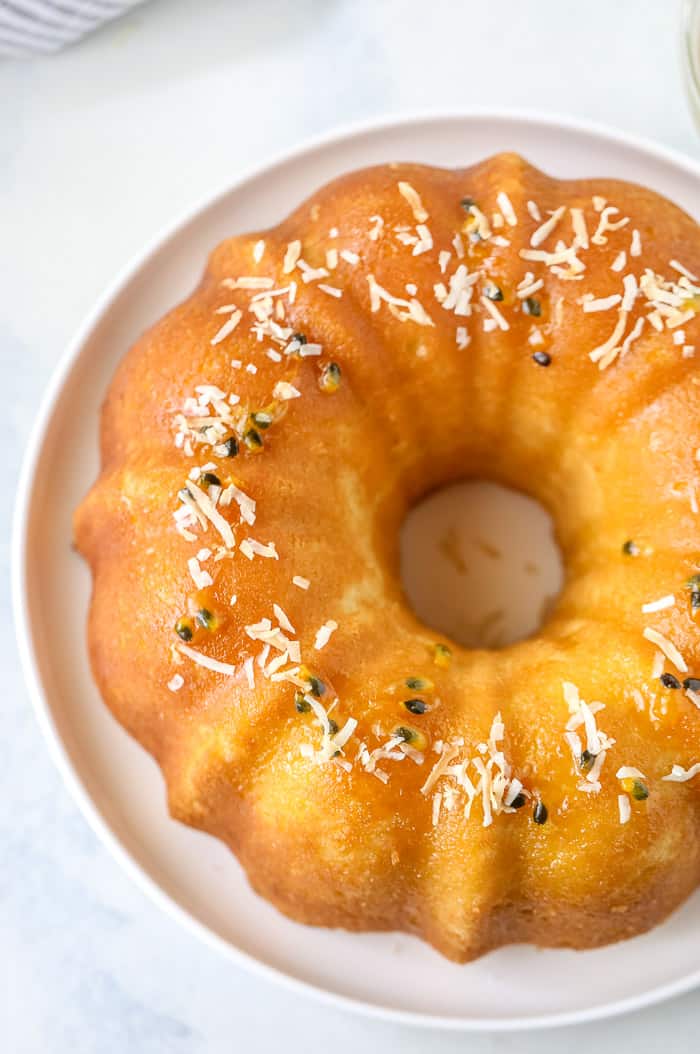 Hi friends!! I have a sweet and tropical recipe for you today. This passionfruit coconut bundt cake screams summer and you are not going to want to miss it.
If you've been around here for a long time, you know my love for coconut and all tropical flavors. I eat these flavors daily and they naturally make it into my baked goods. A few years ago, I shared this coconut bundt cake recipe with you all. It is still my favorite coconut cake and it is perfect. It holds up over time and a no-fail with a great coconut flavor.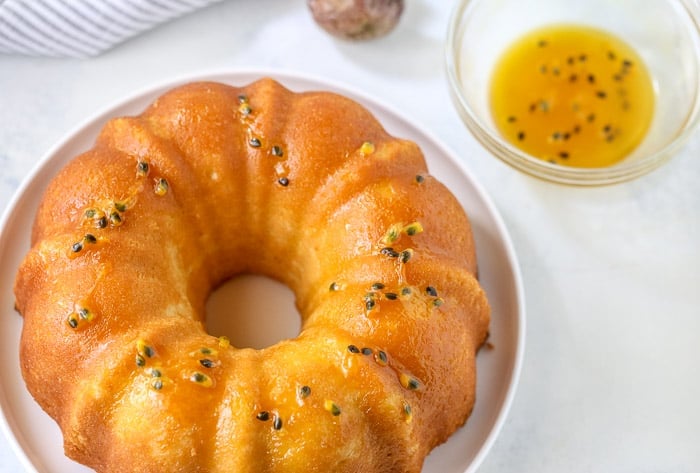 This passionfruit bundt cake starts with a cake batter that is rich in coconut flavor; with both coconut milk and shredded coconut flakes. We add in passionfruit puree and some rum to finish off the batter. Once the cake is baked to perfection, we brush it with a sweet concentrated passionfruit syrup. It not only keeps the cake moist but also adds a bold flavor on top.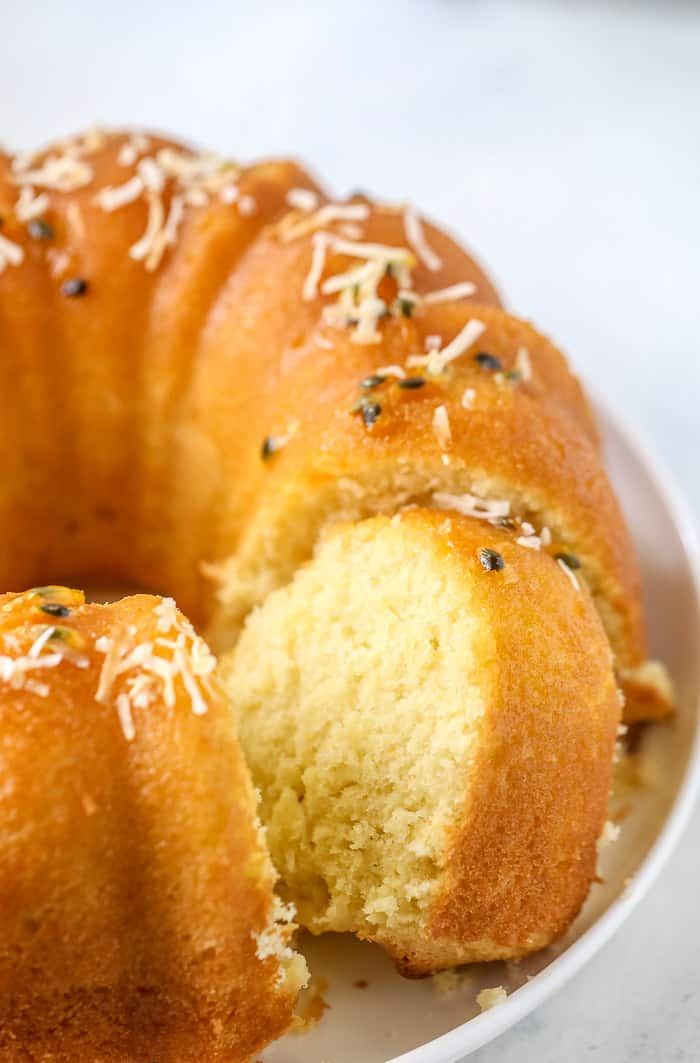 All in all, this bundt cake is moist, tender, and full of coconut and passionfruit flavors. With a slightly chewy texture from the coconut flakes, it is sweet and yet tart. The combination is one that I think you will love.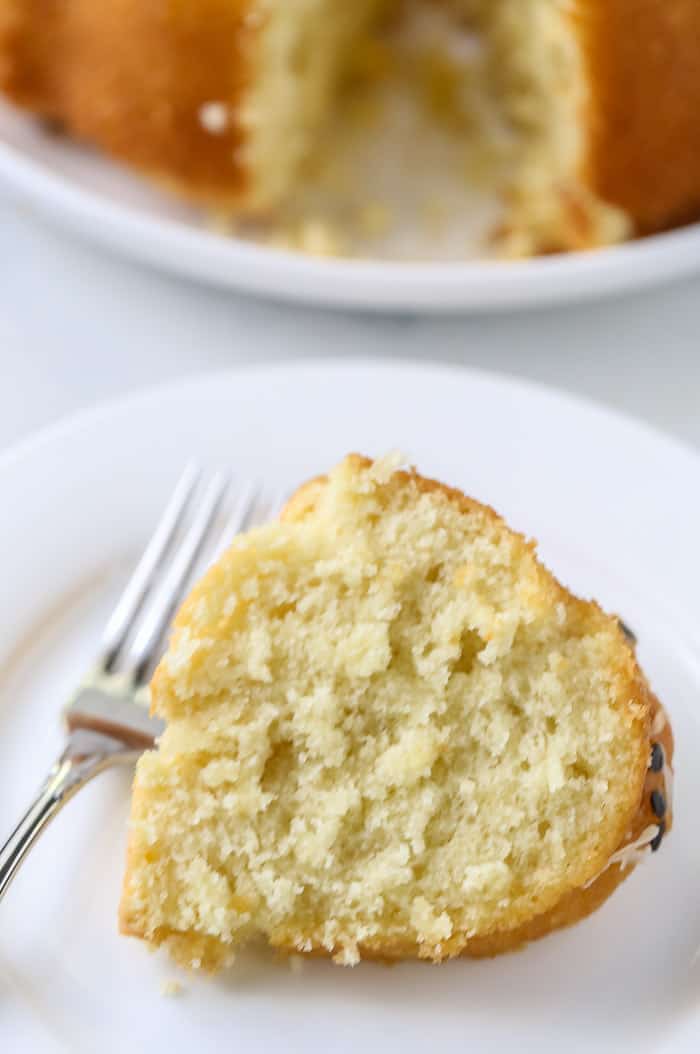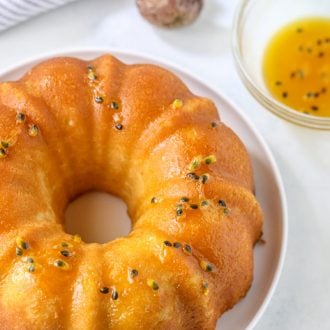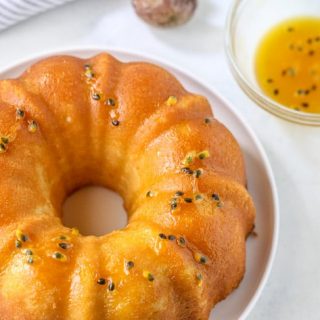 Yield: 1 large bundt cake
Passionfruit Coconut Bundt Cake
This Passionfruit Coconut Bundt Cake is a tropical delight. With a tender coconut cake that is infused with tangy passionfruit, this cake is perfect.
Total Time
1 hour
10 minutes
Ingredients
For the Cake:
2 1/2 cups all-purpose flour
1/2 teaspoon salt
2 teaspoons baking powder
1 cup (2 sticks) unsalted butter, room temp, plus 1 tablespoon for greasing bundt pan
1 1/2 cups granulated sugar
6 large eggs, room temperature
1 teaspoon pure vanilla extract
2 tablespoons dark rum (optional)
3/4 cup canned unsweetened coconut milk
1/4 cup passion fruit concentrate
1/2 cup unsweetened shredded coconut
For the Syrup:
1/4 cup passionfruit concentrate (or pulp juice)
1/4 cup granulated sugar
Instructions
Preheat the oven to 350 degrees F. Butter your bundt pan (12-inch) and set aside.
Sift the flour, salt, and baking powder into a medium bowl.
In the bowl of your stand mixer or a large bowl with a hand mixer, cream the butter and sugar until light and fluffy, approximately 5 minutes. Beat in the eggs, one at a time, scraping down the sides of the bowl as necessary. Add the vanilla extract and dark rum, and mix to combine. Add in the coconut milk and passion fruit concentrate and mix to combine. Slowly add the dry ingredients and mix until the batter is smooth. Add the shredded coconut and mix to combine.
Pour the batter into the bundt pan and bake for 45-50 minutes or until a cake tester comes out clean.
While the cake bakes, make the passionfruit syrup by combining the passionfruit concentrate and sugar in a small saucepan set over medium heat. Bring to a boil and stir until sugar dissolves. Cook for an additional 2 minutes, and then remove the syrup from the heat to a heatproof bowl.
Let the cake cool in the pan for at least 10 minutes. While cooling in the pan, use a wooden skewer and poke a few holes on the surface of the cake. Brush the surface with the passionfruit syrup.
Turn the cake onto a wire rack to finish cooling. Again, using a wooden skewer, poke holes in the top of the cake and then brush with the remaining syrup. Let the cake cool completely.
The bundt will keep at room temperature in an airtight container for three days or in the freezer for three months. It's also fabulous toasted.
Recommended Products
As an Amazon Associate and member of other affiliate programs, I earn from qualifying purchases.