Coconut Bundt Cake
I'm still on maternity leave and I've asked a few of my amazing blogger friends to fill in with some guest posts. Nancy, from gotta get baked, is here again today to help me out…isn't she amazing? You met her last week when she shared these ooey-gooey Chocolate Bar Cookie Bars and today she is here again after my heart with this lovely coconut bundt cake. THANK YOU Nancy…xoxo (PS: I had no idea you didn't take part because of the pictures…I knew you were on a break! )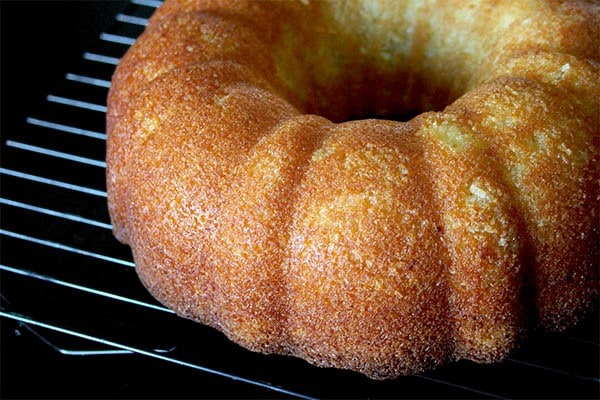 Nancy here, from gotta get baked (I know, I know, I'm here AGAIN! What was Zainab thinking allowing me to guest post twice this month?)
I totally feel off my baking game lately. It's as if I've lost my mojo. It all started a few months ago, when I was attempting a layer cake for my best friend's baby shower. It was a recipe I had made in the past with great success: a coconut layer cake with white chocolate buttercream icing. I baked the cake layers and the next day, after I had whipped up three cups of icing, I looked at the layers and knew immediately something was wrong. They looked awful – flat instead of tall and fluffy. I ripped off a piece, put it in my mouth and realized the cake was completely gummy and dense.
Ugh.
Into the compost it went. The icing went into the freezer (after I devoured a cup of it to drown my sorrows).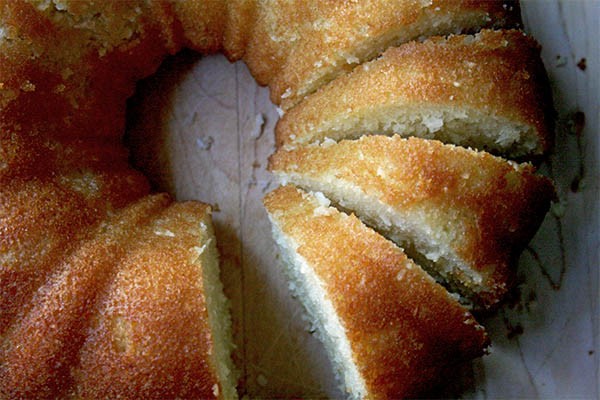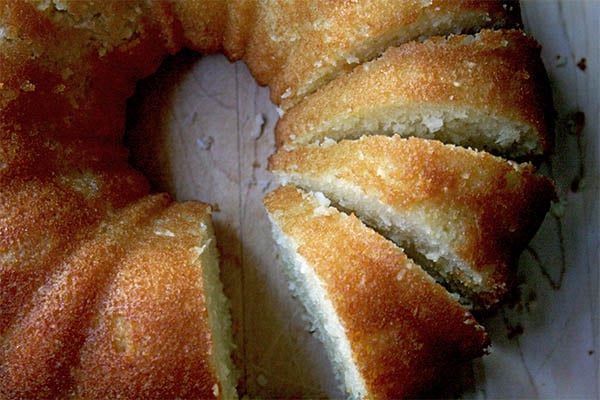 A lovely group of bloggers got together a few months ago to throw Zainab a virtual baby shower with the theme being one of her favourite flavours: coconut. I was so excited to join in but couldn't decide for a long time what to make. I decided on bread pudding because, c'mon, bread pudding is delicious! I baked up a huge pan of coconut bread pudding with a streusel topping, was delighted with the taste, took about three hundred photos of it and realized as I was browsing through them that they all looked like crap. I just couldn't bear using such hideous photos so I didn't participate in the shower. I no longer have the right to call myself a food blogger.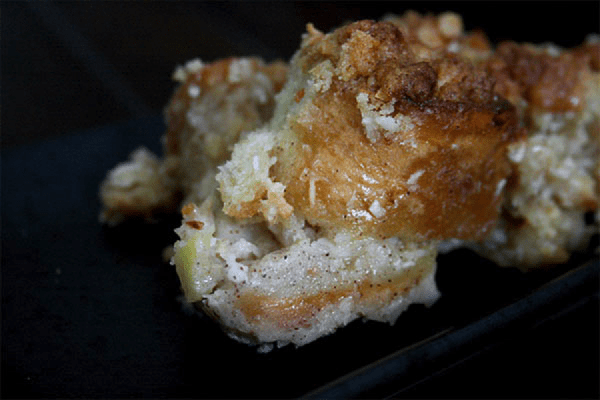 I mean, what the hell is that?!
Just recently, I was baking for my guest posts for Zainab. I wanted to use coconut because she loves it and to redeem myself for that failed baby shower post. I wanted to bake a coconut bundt cake but thought it would be fabulous to add a streusel topping. Since I couldn't use a traditional bundt pan with a streusel topping (because a streusel topping on the bottom of a cake is sheer madness), I baked my cake in a tube pan, which requires you to invert the cake when you remove it and then put it back right-side-up.
I took the cake from the oven but only let it cool for about half an hour before I attempted removing it from the pan. BIG MISTAKE, people! The cake was still so hot and fragile that it completely fell apart as I inverted it onto a cooling rack.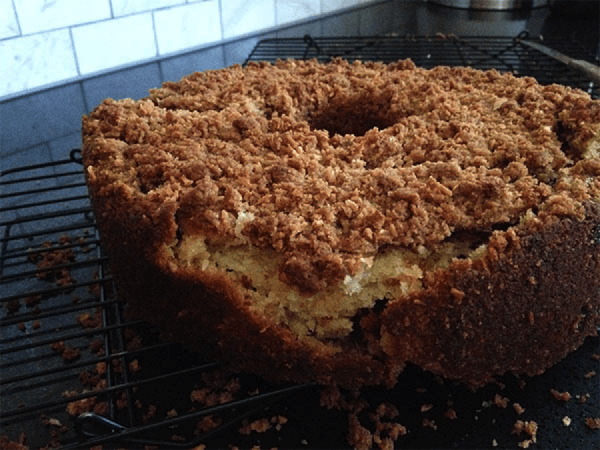 My heart shattered as surely as the cake did.
It tasted awesome but there's no way I was going to present Zainab with a cracked up cake (even though I know she would have appreciated the humour of the situation!). What is going on with me?! Well, I've been soldiering on with baking (it's like riding a bike, right?) and thankfully, this lovely coconut bundt cake turned out beautifully, in taste and in looks! The bundt is super moist and fluffy, with a strong coconut flavour.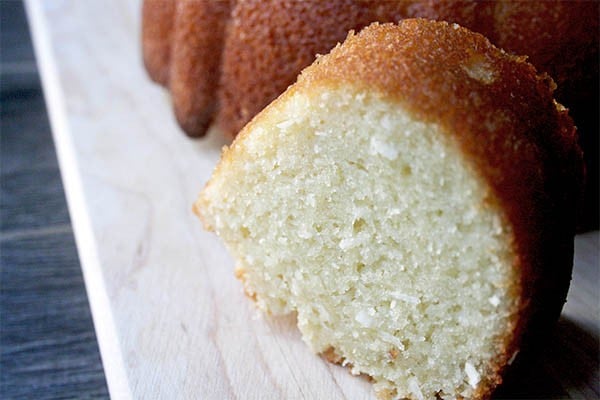 I've learned a few important lessons here, you guys. Never turn a hot ass cake out of its pan. And have a sense of humour. Roll with it! Life isn't perfect. Looks aren't everything. Have a little patience and definitely a lot of perseverance.
And eat cake. Because no matter what it looks like, its what's inside that counts!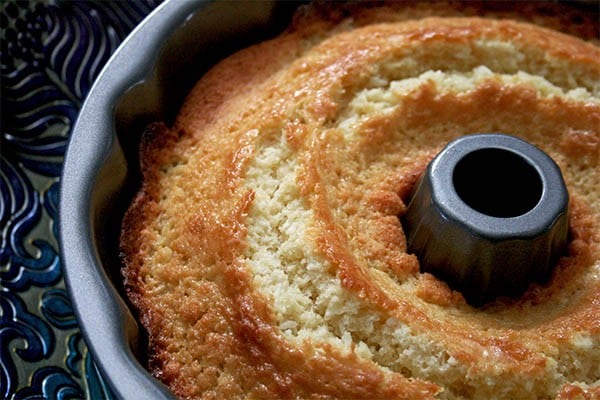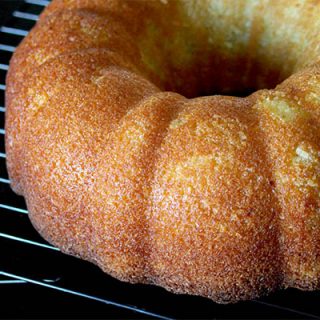 Yield: 1 large bundt cake
Coconut Bundt Cake
Prep Time 20 minutes

Cook Time 50 minutes

Total Time 1 hour 10 minutes
Ingredients
2 1/2 cups all-purpose flour
1/2 teaspoon salt
2 teaspoons baking powder
1 cup unsalted butter, room temp, plus 1 tablespoon for greasing bundt pan
1 3/4 cups granulated sugar
6 large eggs, room temperature
1 teaspoon pure vanilla extract
2 tablespoons dark rum (optional)
1 cup canned unsweetened coconut milk
1 cup unsweetened shredded coconut
Instructions
Preheat the oven to 350 degrees F. Butter your bundt pan (12-inch) and set aside.
In a small bowl, whisk together the flour, salt and baking powder.
In the bowl of your stand mixer or a large bowl with a hand mixer, cream the butter and sugar together until light and fluffy, approximately 5 minutes. Beat in the eggs, one at a time, scraping down the sides of the bowl as necessary. Add the vanilla extract and dark rum, mix to combine. Add in the coconut milk and mix to combine. Slowly add the dry ingredients and mix until the batter is smooth. Add the shredded coconut and mix to combine.
Pour the batter into the bundt pan and bake for 45-50 minutes, or until a cake tester comes out clean.
Cool the cake for at least an hour in the pan before turning the cake onto a wire rack to finish cooling.
The bundt will keep at room temperature in an airtight container for three days or in the freezer for three months. It's also fabulous toasted.
MAKING THIS RECIPE? Share it with us on Instagram using #aclassictwist so we can see what you are baking up in your kitchen!