Chocolate Chip Cookie Dough Ice Cream Cake
Thank you Florida Dairy Farmers for sponsoring this recipe. As usual, all my opinions are 100% mine and I love sharing with you brands/products I use and enjoy in my kitchen.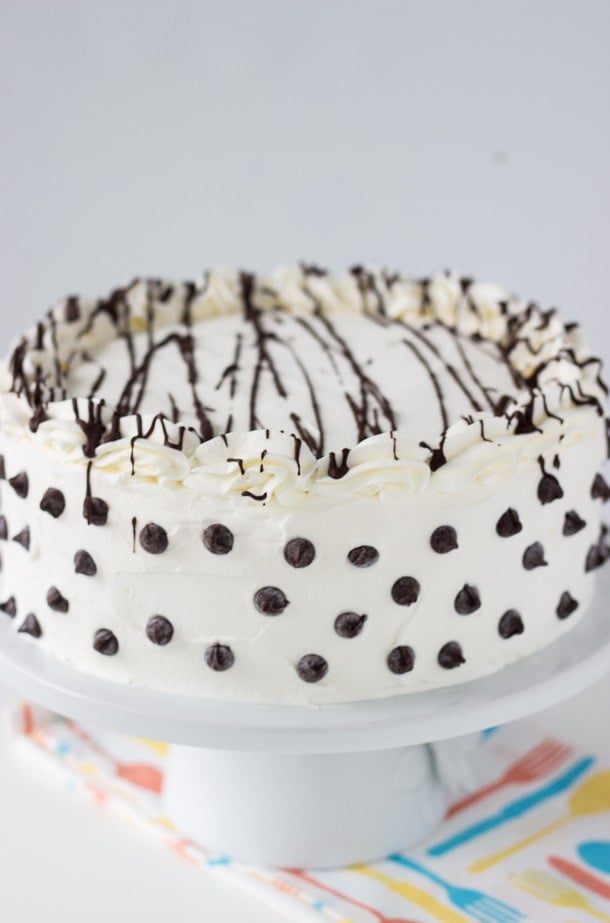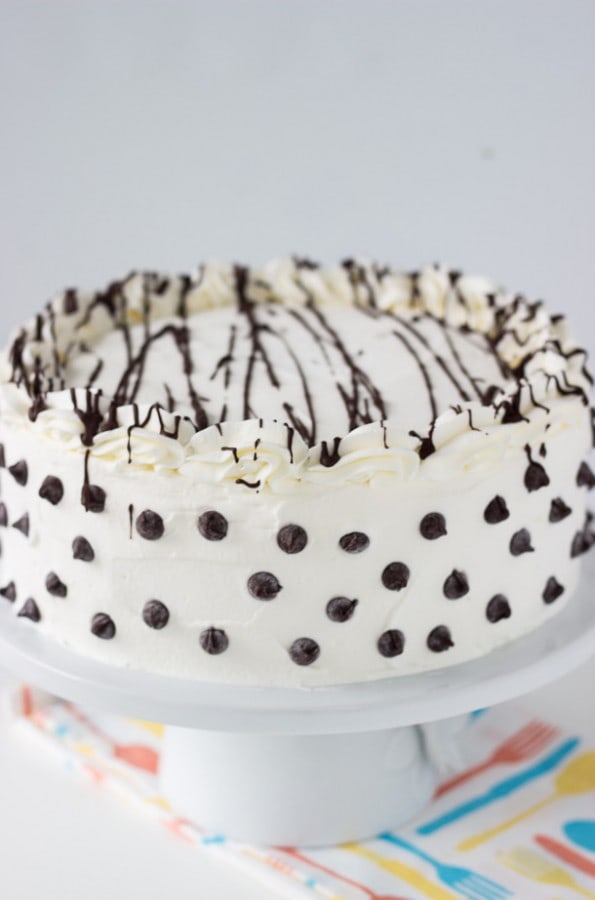 I realized the other day that I have not made a single ice cream cake this summer. The travesty of this realization was appalling since last year I made my first and best ice cream cakes ever. How could I forget that ice cream cakes were a blast to make?? See this birthday ice cream cake and peanut butter chocolate ice cream cake for proof.
Granted I was preoccupied with the third trimester of pregnancy most of the summer but still that's no good excuse to miss out on the ice cream cake train. So I rectified that this week and made this chocolate chip cookie dough ice cream cake!!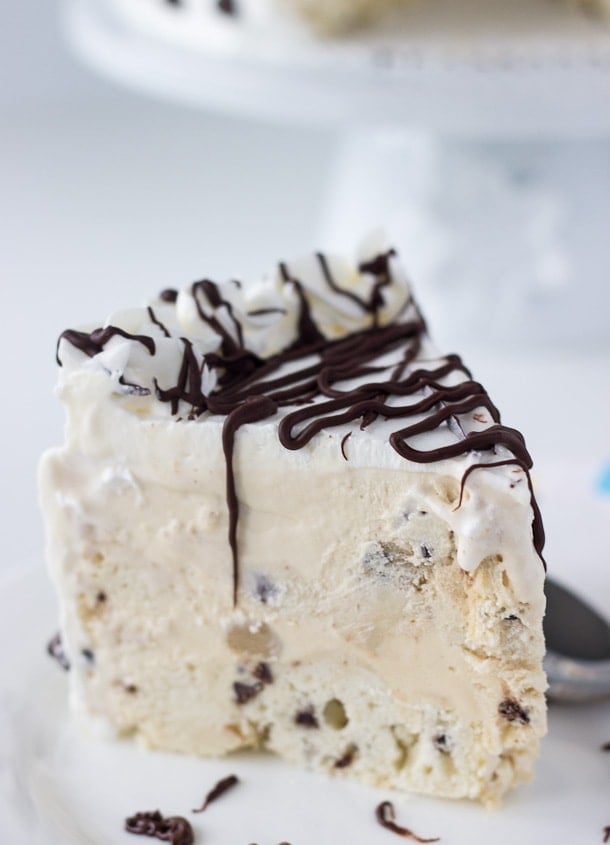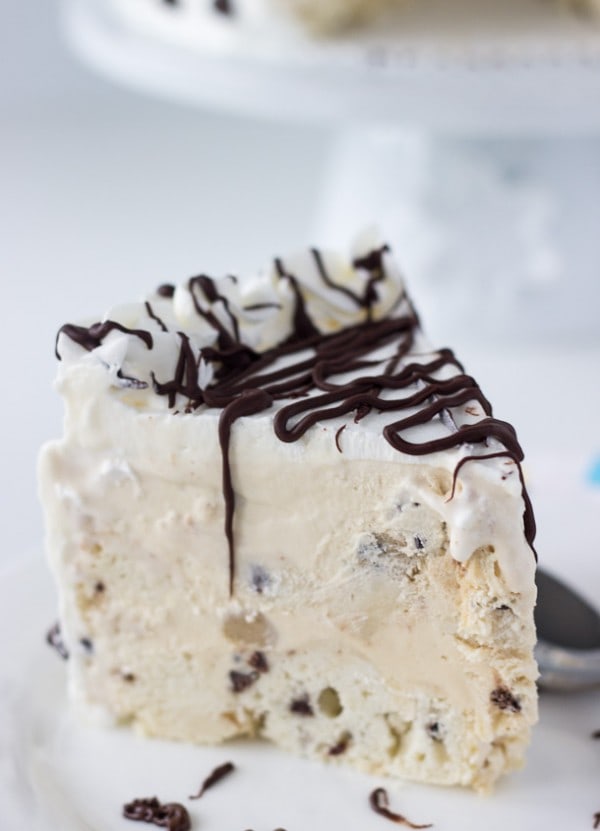 You know what though?? It took me 4 days to complete the cake and get to the eating of it. Here's how it went down >> Day 1: bake chocolate chip cake layers, Day 2: assemble cake, Day 3: make whipped cream frosting and frost cake, Day 4: take pictures and enjoy. Ahhh the glories of a new mom life with just 30mins -1 hour nap times. But I can't complain when now I have an ice cream cake in the freezer for those rough late night meltdowns and snuggles.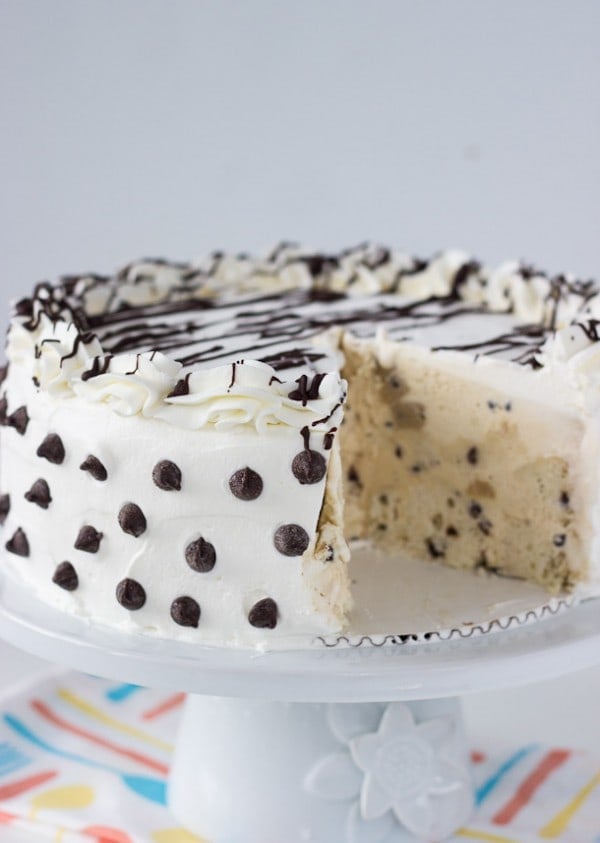 Back to what matters to you… you need to make this ice cream cake before the summer is over!!! The cake is a simple white vanilla cake adorned with chocolate chips and I used my favorite chocolate chip cookie dough ice cream to fill in the layers. Topped with a drizzle of chocolate ganache, this cake is perfect for a hot summer day and for upcoming Labor Day festivities!
Let's eat cake and savor the last of these summer days!
xo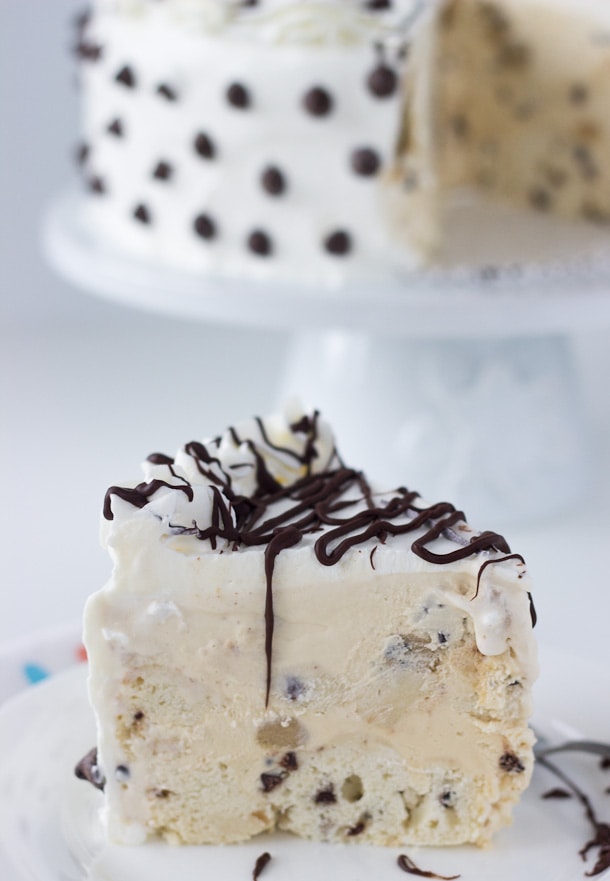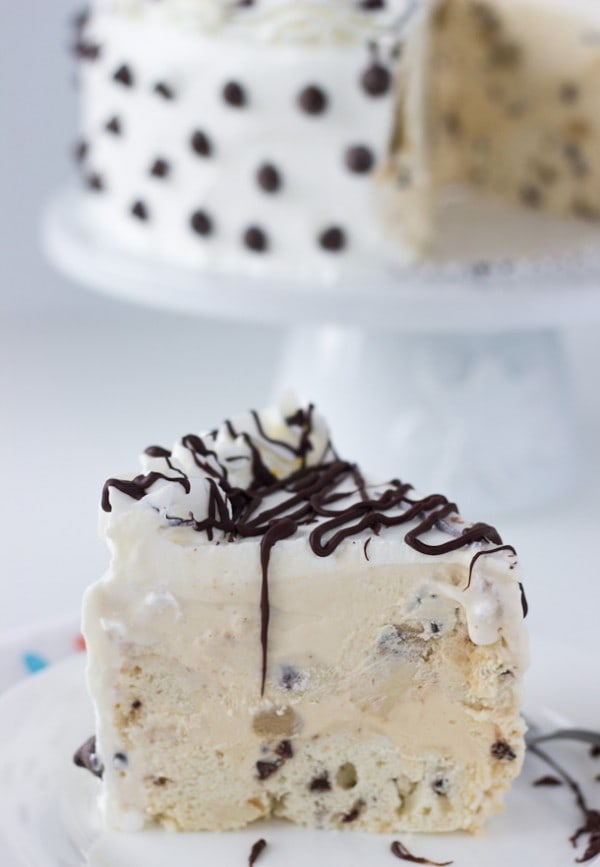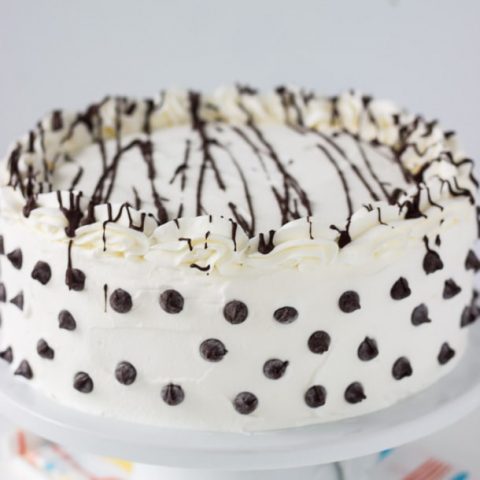 Yield: 1 9-inch cake
Chocolate Chip Cookie Dough Ice Cream Cake
Total Time
7 hours
22 minutes
Ingredients
For Cake Layers:
2 cups cake flour, sifted
1 1/2 teaspoons baking powder
1/4 teaspoon salt
1/3 cup unsalted butter, at room temperature
3 tablespoons vegetable oil
3/4 cup granulated sugar
3 large egg whites, at room temperature
1/2 cups buttermilk
1/3 cup mini chocolate chips
For Ice Cream Layers:
2 pints chocolate chip cookie dough ice cream
1½ cups heavy whipping cream
½ cup powdered sugar
chocolate ganache for drizzling
Instructions
For Cake Layers:
Preheat the oven to 350 degrees F.
Coat two 8-inch round baking pans with baking spray, line with parchment paper and spray parchment.
In a large bowl, whisk together the flour, baking powder and salt.
In another bowl, beat the butter, oil and sugar until light and fluffy. Add in the egg whites, one at a time until just combined. Reduce the mixer speed to low and beat in the flour and buttermilk, alternatively, starting and ending with the flour. Gently fold in the mini chocolate chips.
Divide the batter equally into the prepared pans and bake for 18-22 minutes or until a toothpick inserted into the center comes out clean.
Let the cake cool in the pan for at least 10 minutes before turning out onto a wire cooling rack. Let cake cool completely. You can freeze cake layers before assembling ice cream cake.
For Ice Cream Layer
A day before serving, assemble the cake. Spray a 9-inch springform pan with cooking spray. Line with parchment. Spray parchment. Line the inside of the pan with plastic wrap, leaving an overhang on all sides. Smooth out the plastic very carefully. Place the prepared pan in the freezer for at least an hour.
Remove the first pint of ice cream from the freezer and let sit at room temperature for 15-20 minutes. Use a spoon and mix the ice cream until spreadable. Place one cake at the bottom of the springform pan. Top with first pint of ice cream and spread evenly. Transfer to freezer and let firm up for at least an hour. Repeat with the other cake layer and pint of ice cream Wrap cake top with plastic wrap and freeze until firm, at least 3-4 hours but preferably overnight.
On the day of serving, unmold cake from pan by passing a sharp knife around the edges before loosening the springform pan. Remove plastic wrap and move cake to a cake board or stand. Return to freezer.
Using an electric mixer, in a medium bowl whip the heavy cream and sugar until stiff peaks form. Do not overbeat until grainy.
Remove cake from freezer and frost as you would normally with whipped cream. Decorate with sprinkles if desired. Freeze cake for another hour.
To serve, remove from freezer about 30 minutes before serving. Cut with a sharp knife.
I partnered with the good folks over at Florida Dairy Farmers to promote the great benefits of dairy in our diets. They support the local dairy farmers of Florida and spread the goodness of milk and all the dairy products produced locally. For more information, check out their Dairy Facts page. For more dairy recipe ideas, be sure to follow Florida Dairy Farmers on Facebook, Twitter andPinterest.