Chocolate Bar Cookie Bars
I'm taking some time off the next few weeks to enjoy time with our little bundle of joy. While I'm away, I've scheduled some recipes here and there to share with you and I've also asked a few of my amazing blogger friends to fill in with some guest posts.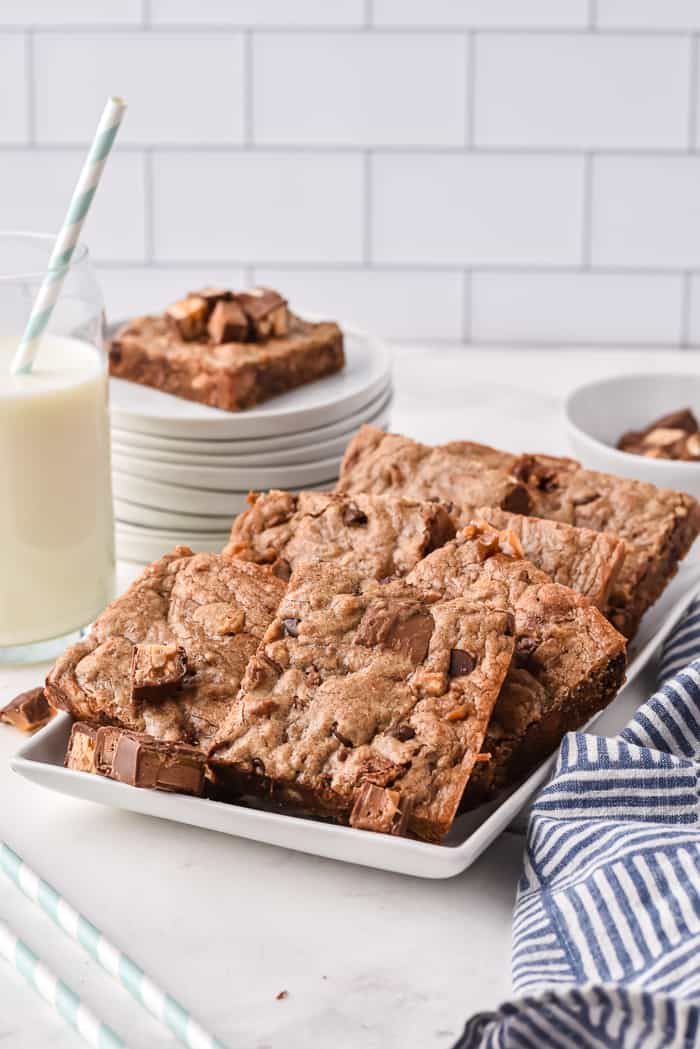 Today, my boo Nancy from gotta get baked is here to share with you these chocolate bar cookie bars. First of all, cookie bars are my thing!! I love how easy they are to whip up and just so ooey, gooey decadent. I can't wait to try these. Secondly, you know Nancy right?? She is the kick-ass, sassy writer of the blog gotta get baked. She is a constant inspiration for me and someone I truly think you should get to know. My girlfriend is real, funny, and uber-talented. Go check out her blog after this and show her some love on social media too (Facebook, Twitter, Pinterest)!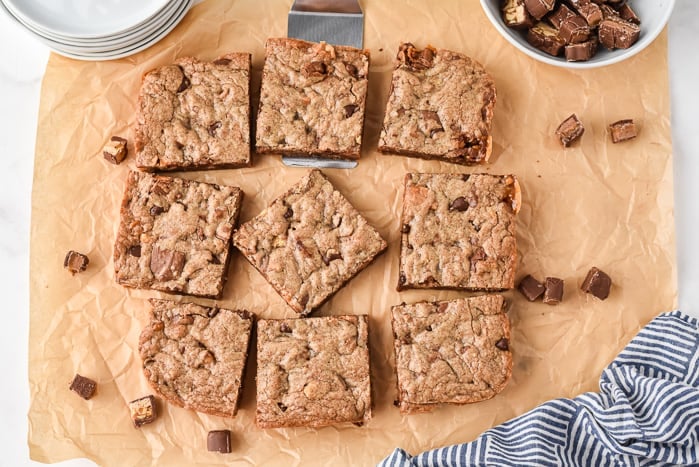 Hi everyone! I'm Nancy of gotta get baked. I've known Zainab for a few years now, mostly by stalking her on all forms of social media. Even though we have yet to meet in person (the court tells me I have to stay 100 yards away), I'm proud to say that we've become friends. Lucky for me because Zainab is one of the smartest (she's a neuroscience Ph.D. student fergoodnessakes!), most stylish, positive, friendly, supportive, and talented ladies I know.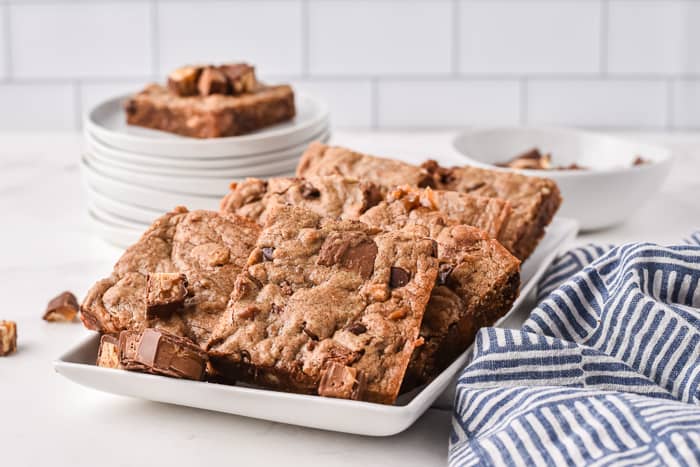 I'm honored to be guest posting for Zainab today while she's taking a very well-deserved break to spend time with her new little mister, who was just born on July 31st. Congratulations to you and Mr. J! Your sweet baby boy is absolutely adorable.
I'm not a momma myself but after seeing my sisters, sister-in-law, and friends go through the awesome, exhilarating, and let's face it, exhausting period of new motherhood, I figured I'd make something super easy and super delicious for Zainab.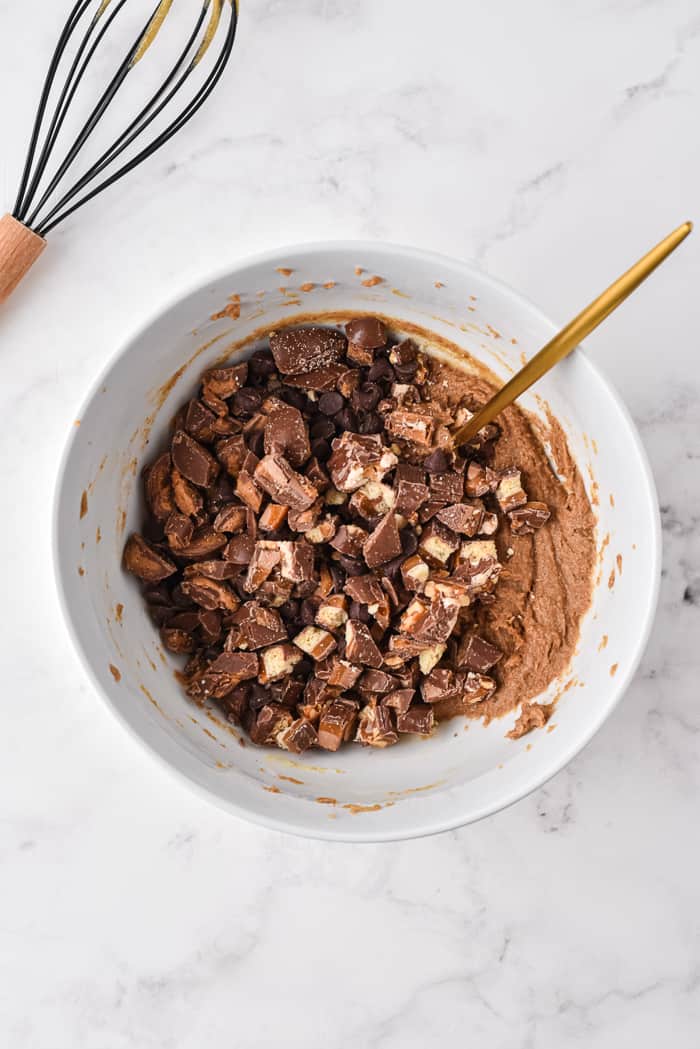 Hello, one-bowl chocolate bar cookie bars!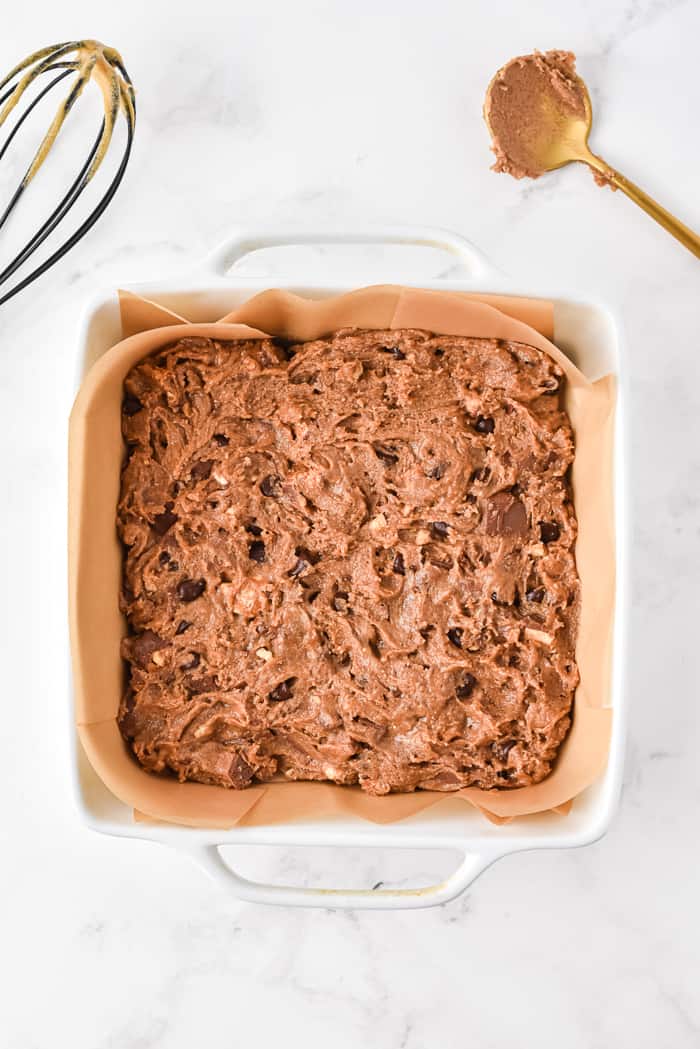 You don't have to wait for butter to come to room temp. You can toss in whatever chocolate you have lurking in your cabinets. It whips up and comes out of the oven in under an hour. Heck, you don't even have to let this cool! Just pile some ice cream over the top when it's finished baking and attack it with a spoon. That's how I like to roll.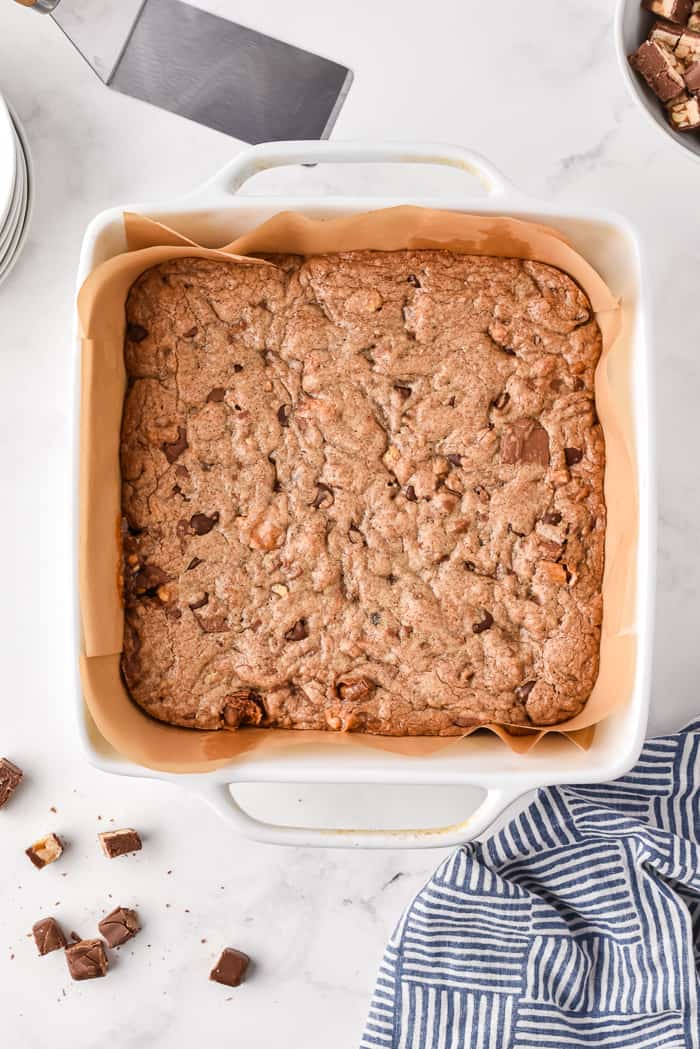 Baby in one arm, a pan of cookie bars in the other.
I don't think life can get any sweeter.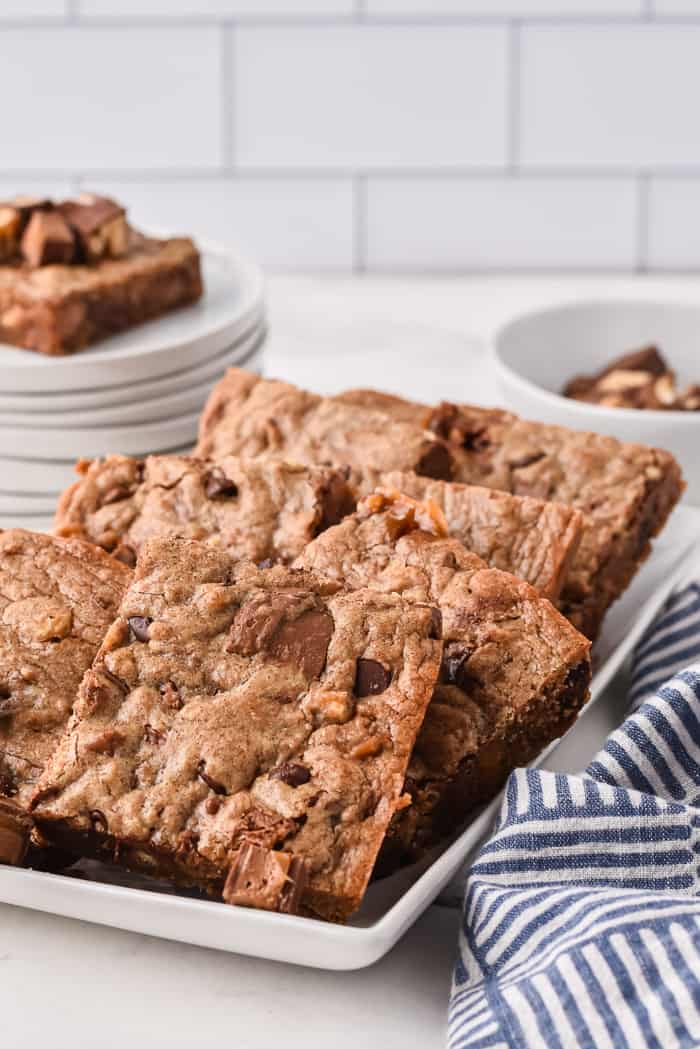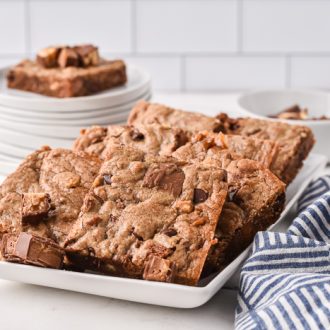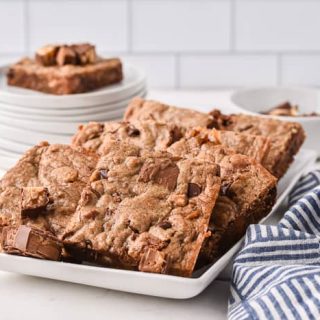 Yield: serves 6
Chocolate Bar Cookie Bars
Ingredients
½ cup unsalted butter, melted and slightly cooled
¾ cup light brown sugar
1 teaspoon pure vanilla extract
1 tablespoon dark rum or 1 teaspoon rum extract (optional)
1 large egg
1 cup whole wheat flour
1 teaspoon ground cinnamon
1 teaspoon kosher salt
1 ½ to 2 cups chopped up chocolate bars of your choice (I used Reese's, Rolo,
Caramilk and Dairy Milk milk chocolate)
Instructions
Preheat the oven to 350 degrees F. Line an 8X8 or 9X9 inch baking pan with parchment paper. Set aside.
Stir together the melted butter, brown sugar, vanilla, and rum. Add the egg and whisk until combined. Add the flour, cinnamon, and salt. Stir until just combined and no streaks of flour remain.
Add the chopped-up chocolate bars.
Pour the batter into the prepared pan and smooth the top with a spatula or the back of a spoon. The batter will be thick.
Bake for 25-28 minutes or until a cake tester comes out with a few moist crumbs. Baking time will be a bit less if you use a 9X9 pan (since the bars will be thinner). You don't want to over-bake or the cookie bars will be too dry. I always prefer to under-bake a bit because the bars will be firm as they cool. Allow bars to cool in the pan for at least 1 hour before slicing and serving.
Recommended Products
As an Amazon Associate and member of other affiliate programs, I earn from qualifying purchases.
Needless to say, these bars are mighty tasty. I love how the caramel, rum, and cinnamon flavors complement each other. And since I made this with whole wheat flour, it totally counts as healthy food (well, good for your mental health anyway!).