Peach Raspberry Galette
A  simple, rustic, and honest summer fruit galette with juicy peaches, nectarines and raspberries.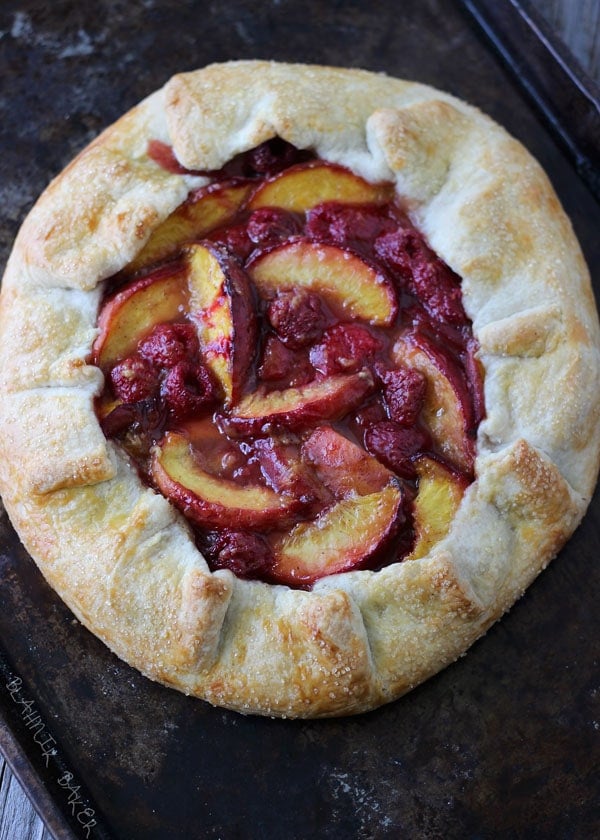 It's time for another episode of Mystery Dish! Our host for this month's Mystery ingredients was Meriem from Culinary Coutoure. She gave us a very fun basket with these ingredients: peaches, cheddar cheese, green beans, corn, chicken, nectarines, butter, pecans, heavy cream, pesto, coconut milk/cream and challenged us to use at least three in our recipes.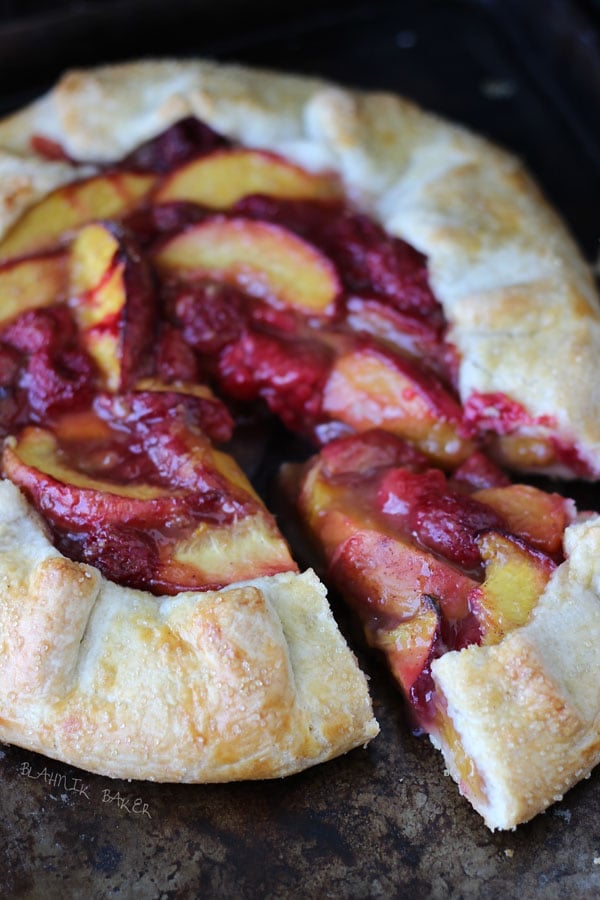 I love peaches very much so I knew I had to break out the peach recipes for the season with this basket of ingredients. However there was one slight problem…I live with one of those people who think peaches are 'bleh'. Do you have certain foods that your significant other dislikes? (My hands are in the air!) And do you make these foods anyway?
My husband doesn't like seafood (so frustrating!) so I don't get to cook any at home since even the smell bothers him. I always get my fix by ordering salmon or scallop dishes at restaurants. He also doesn't like peaches. But I refuse to let him prevent me from enjoying one of my favorite stone fruits. Individual peach cobblers, crisps or nectarine concoctions are my "I want some me time" desserts. Now this peach raspberry galette is added to the list!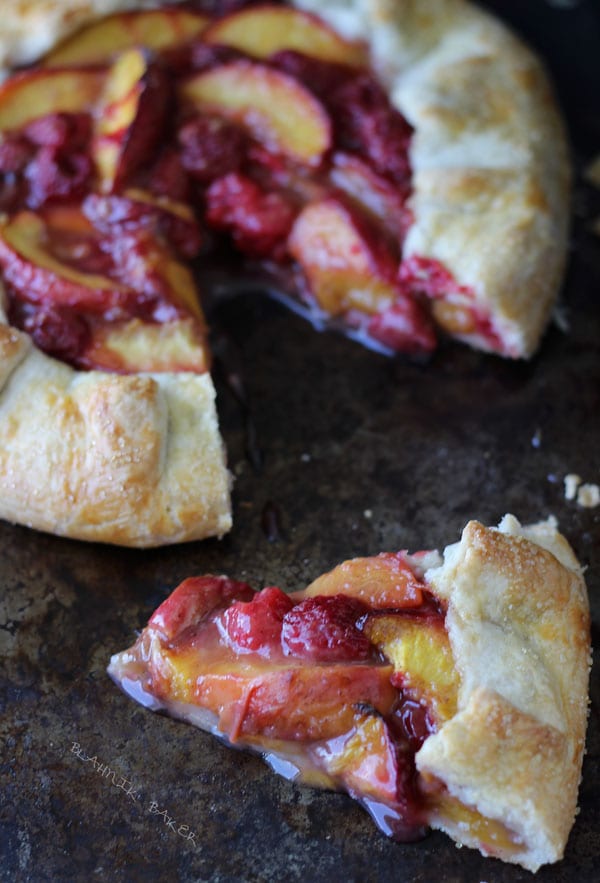 With every Mystery Dish challenge I push myself to go beyond the ingredients and recipe creation challenge and try something new (baking technique wise) like this panna cotta. This was my first time making a galette and I should say I'm quite in love with them. The rustic, laissez-faire look is appealing and was perfect for our afternoon picnic I brought it to. Sadly (or not!) I was the only one who enjoyed it.
Galettes taste just like pies but they are less delicate and easy to deal with than pies. You get all the benefits of a pie (buttery crust, juicy filling and complete satisfaction) without the fuss and stress of pie baking. This peach raspberry galette is a summer fruit galore with juicy peaches, nectarines and bold raspberries wrapped in buttery, flaky crust. Just simply amazing!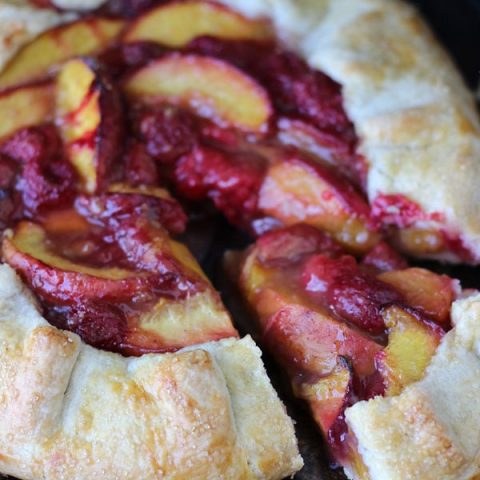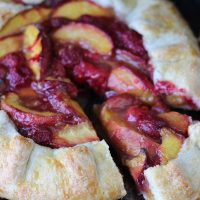 Yield: 1 galette
Peach Raspberry Galette
A  simple, rustic, and honest summer fruit galette with juicy peaches, nectarines and raspberries.
Total Time
1 hour
25 minutes
Ingredients
1¼ cup all-purpose flour
6 tablespoons unsalted butter, cold and cut into cubes
2 tablespoon shortening, cold and cut into cubes
2 tablespoons granulated sugar
¼ cup ice cold water
2-3 firm ripe peaches (make sure they are firm so they hold their shapes during baking)
1 firm ripe nectarine
½ cup raspberries
2 teaspoons vanilla extract
¼ cup brown sugar
½ teaspoon cinnamon
¼ teaspoon nutmeg
2 tablespoons cornstarch or flour
1 egg beaten with 1 tablespoon water
2 tablespoons turbinado sugar for sprinkling
Instructions
To make crust: combine all the ingredients in a food processor. Process a few times until butter is about the size of a pea. With processor on, slowly drizzle in ice cold water to mixture, one tablespoon at a time, until dough comes together. Remove dough from bowl and pat down into a disc. Wrap in plastic wrap and chill for at least an hour.
Cut peaches in half, remove pit and slice each half into 6 slices. In a large bowl, combine peaches and vanilla extract. Add in brown sugar, cinnamon, nutmeg and cornstarch. Gently mix to combine. Fold in the raspberries.
When dough is chilled, roll out into a 12 inch circle. (I rolled mine onto a well floured parchment to make transfer easy). Transfer to a baking sheet.
Spoon the fruits into the center of the crust, leaving 2-3 inch borders. Fold up the sides, gently tucking in over the fruit in a folding/pleating pattern. Transfer dough to freezer and let chill for 15 minutes.
Preheat oven to 375 degrees F. Remove galette from freezer and brush dough with egg wash. Sprinkle dough with turbinado sugar. Bake galette for 50-55 minutes until crust is golden and juice from the fruit runs out. Let cool before serving warm.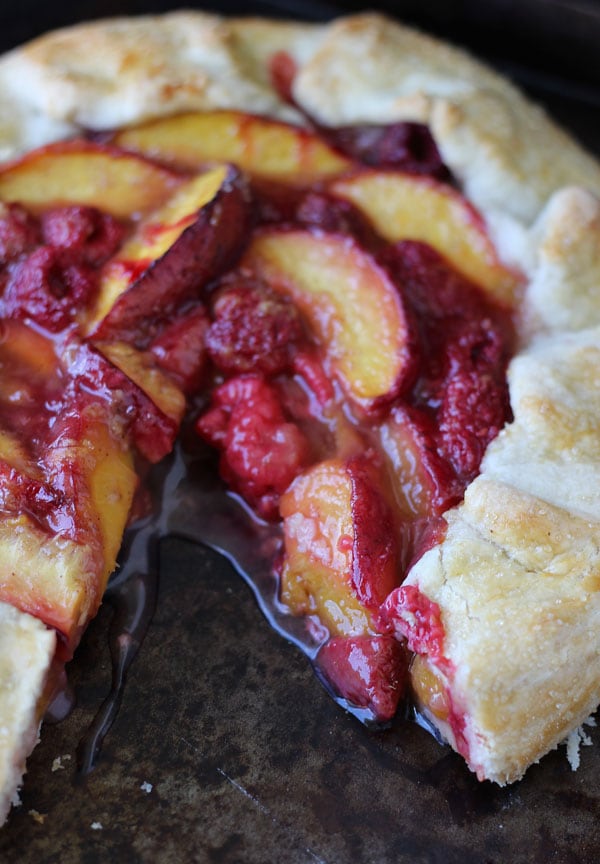 Check out this Month's Mystery Dish Recipes: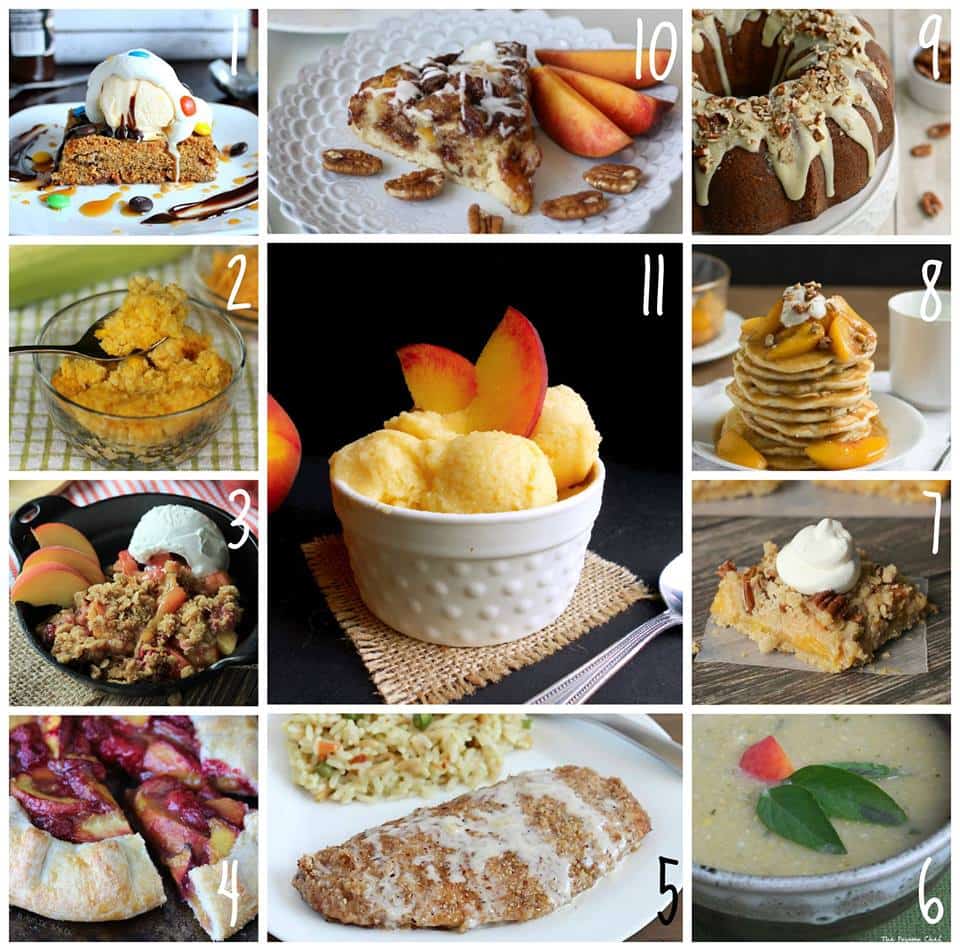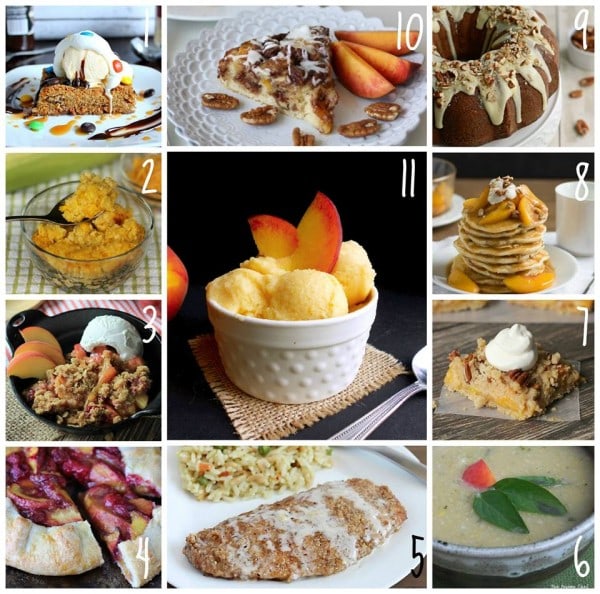 1. Ice Cream Sundae Cookie Bars by I Want Crazy
2. Old Fashioned Corn Pudding by The Weary Chef
3. Raspberry Peach Cobbler with Oatmeal Pecan Crumble by Joyful Healthy Eats
4. Peach Raspberry Galette by Blahnik Baker
5. Pecan Crusted Chicken with Apple Cream Sauce by Yummy Healthy Easy
6. Sweet Corn Soup with Peaches by The Pajama Chef
7. Dutch Peach Pie Bars by I Dig Pinterest
8. Toasted Pecan Pancakes with Brown Butter Bourbon Peach Syrup by Baking A Moment
9. Brown Sugar Pound Cake with Butter Rum Pecan Glaze by The Well Floured Kitchen
10. Peach Pecan Cinnamon Roll Cake by Chez Catey Lou
11. Peach Frozen Yogurt with Pecan Graham Cracker Crumble by Culinary Couture