Grilled Vegetable Quinoa Salad
This grilled vegetable quinoa salad is an easy side or light dinner for any summer night.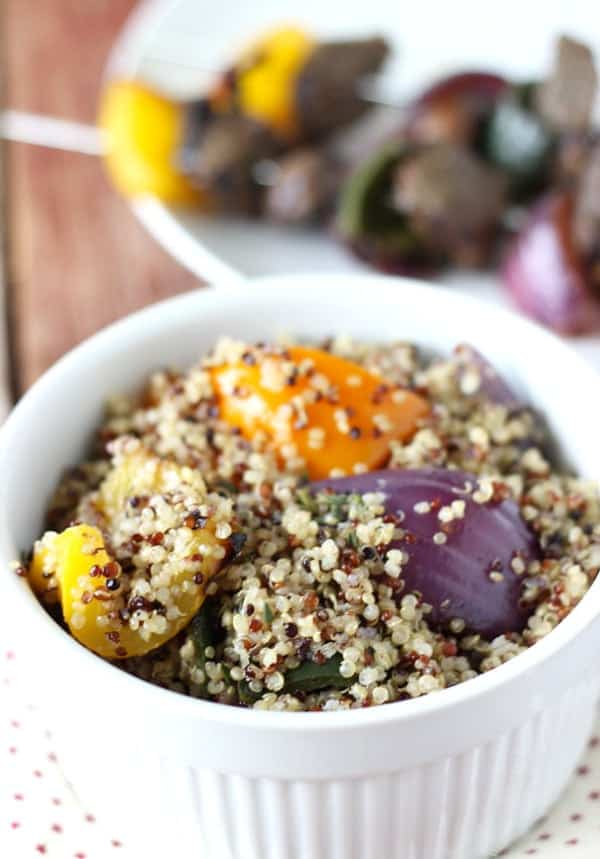 As many of you are getting ready for a weekend of BBQ, grilling and summer cooking I wanted to share with you a quick, healthy and savory side dish that I think you might enjoy. I've surely been enjoying it recently.
Our summer dinners are really simple and involve grilling to avoid spending time in a hot kitchen. We usually have some sort of grilled vegetable (peppers, zucchini, or fruits: peaches, pineapples etc) paired with a grilled protein and a small starchy side. My recent side has been this simple quinoa salad. My favorite organic tricolor quinoa cooked and tossed with grilled vegetables, olive oil, lemon juice, fresh herbs from my porch garden (yay apartment living!!) and some salt and pepper. So simple and insanely delicious. Serve with a few steak kebabs, chicken or grilled fish and you have yourself a full dinner! We are seriously hooked on this meal 🙂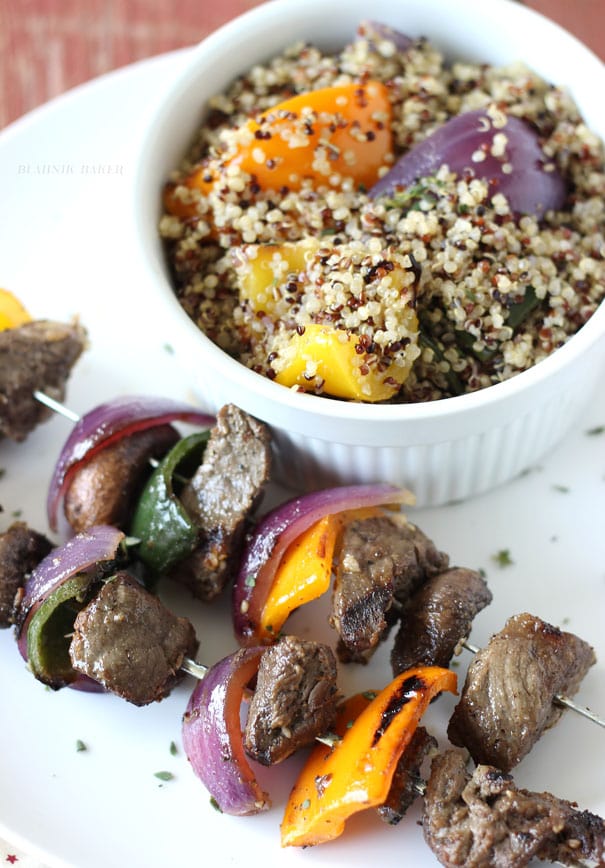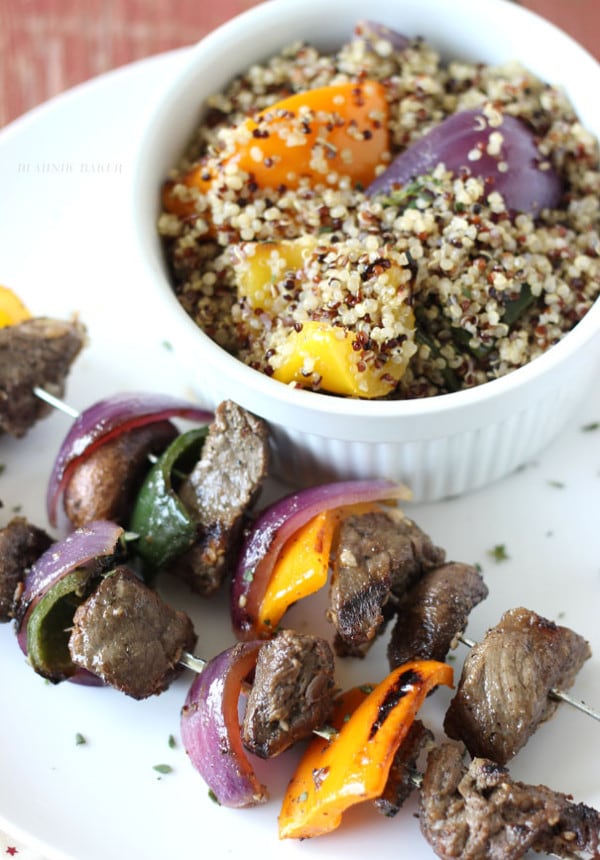 It's so light and easy that I think you need to add it to your dinner rotations this summer. Better yet, add it to your menu this weekend as you gather with friends and family!! It will be a great healthy side to go alongside your BBQ items and of course will leave room for this Red, White and Blue layered Flag Cake… just saying 🙂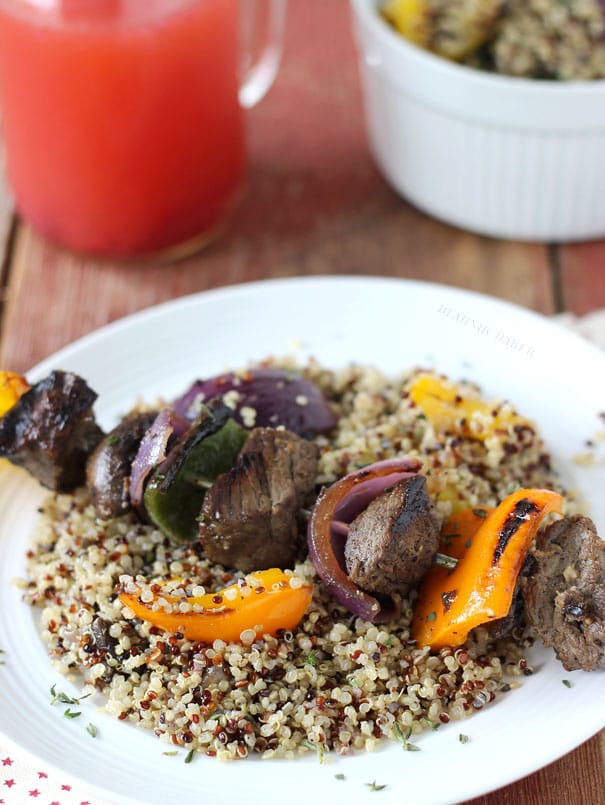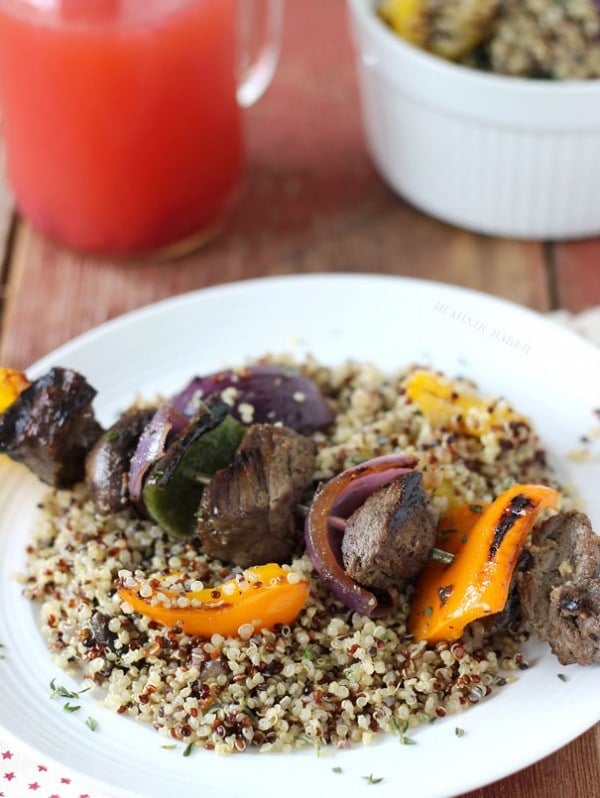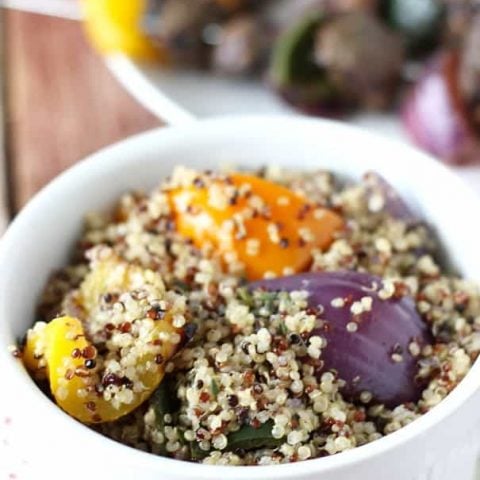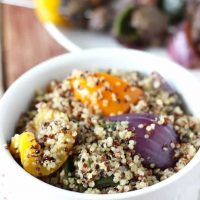 Yield: 4
Grilled Vegetable Quinoa Salad
This grilled vegetable quinoa salad is an easy side or light dinner for any summer night.
Ingredients
1 cup quinoa
½ red pepper, cut in squares
½ yellow or orange pepper, cut in squares
¼ cup whole baby bella mushrooms, halved
½ red onion
3 tablespoons olive oil
1 tablespoons fresh herb, chopped (i used rosemary and thyme)
Zest and juice of 1 lemon
Salt and pepper to taste
Instructions
Prepare quinoa as directed on package. Or if you bought in bulk: bring two cups of water to boil in a medium saucepan. Add quinoa and mix. Cover and bring to boil. Reduce heat to medium and cook until quinoa absorbs all the liquid. Fluff with a fork when done and remove from heat.
Meanwhile, toss the vegetables with a tablespoon of olive oil and fresh herbs. Season with salt if desired. Heat up grill until hot. If you have a grater, place that on top of your grill. I used skewers. Roast veggies until crisp and tender.
Once cooked, transfer quinoa to a large bowl. Toss with remaining olive oil, lemon juice and zest, roasted vegetables. Salt and pepper to taste.
Serve with steak kebabs and vegetables.
Before I let you go, I have a great giveaway for you today!! I love using Bob's Red Mill products and have been enjoying exploring some of their ancient grains (like amaranth, farro and bulgur). I used their tricolor quinoa in this salad for a pop of color!
Today, ONE lucky reader will win a $50 gift card to Bob's Red Mill.com where you can purchase anything your heart desires. Use the widget below to enter. Good Luck!
*Disclosure: This giveaway is sponsored by Bob's Red Mill. All opinions are as usual 100% mine.* Some affiliate links included in text above.