Hibiscus Margaritas with Pineapple and Jalapenos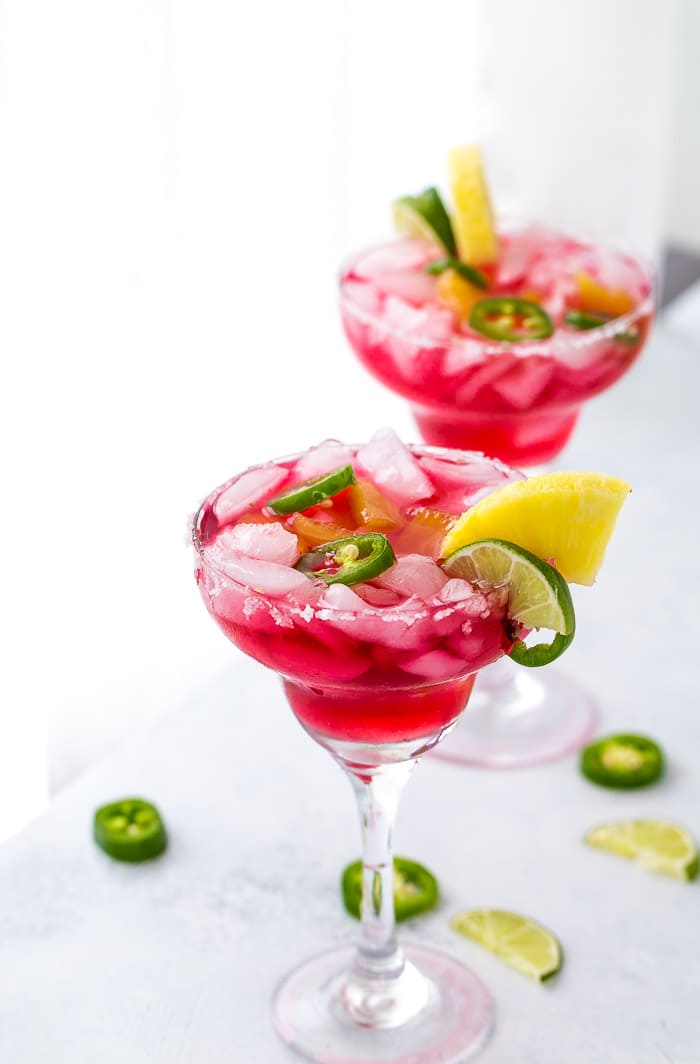 I've been on a hibiscus kick lately even though I have only shared one recipe with you. Ever since I found it at my local African grocery store, it's been bringing back memories of my childhood.
It's amazing what food can do. Just smelling this vibrant red drink brings back happy memories of the hibiscus flowers at home, the sweet tart hibiscus (or sorrel) African juice my mother used to make for us on hot humid days and just the great times we had as kids. I shared with you my favorite way to enjoy this childhood favorite, Hibiscus Sparkler, but today I am exploring more with this adult version of hibiscus margaritas with pineapples and jalapeños.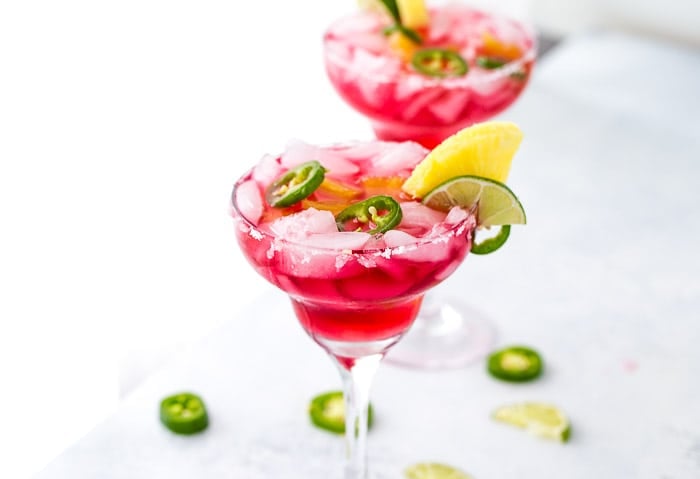 I made a burger (will share soon!!) recently that I topped with grilled pineapples and jalapeños that I knew needed a great margarita to complete the meal. So I whipped these up and I was happy how the hibiscus completed the sweet and spicy flavors of the pineapples and jalapeños.
These hibiscus margaritas start with a sweet pineapple simple syrup. A syrup that should not be limited to just mixed drinks because it is addicting. The pineapple chunks used in making the syrup are kept and served in the drink. The margarita itself has all the classic ingredients; tequila, lime juice and triple sec that you will find in any good ole one. Added to it though is tart hibiscus. Shaken with the rest of the ingredients and served on the rocks. I chose not to shake the jalapeños with the ingredients because I wanted to have just a hint of spicy, so I threw them into the served drink. As you sip, you get a hint of the spicy.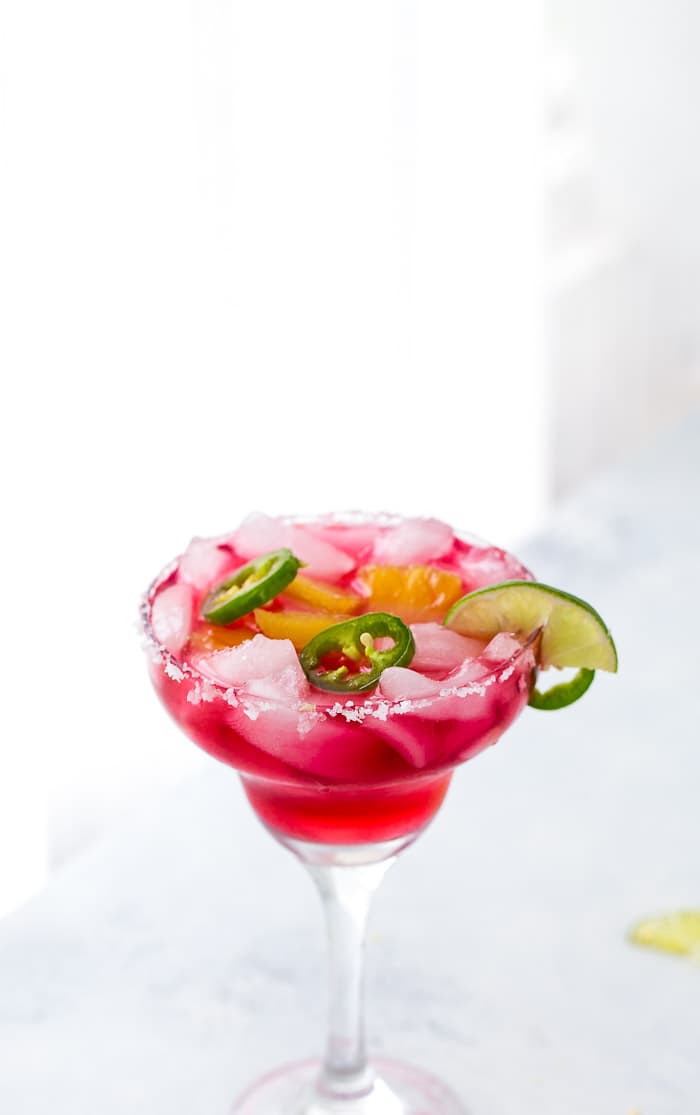 These margaritas are the perfect combination of sweet, tart and spicy. If you are looking for new cocktails to introduce to your summer, try these refreshing hibiscus margaritas! You won't regret it, I promise.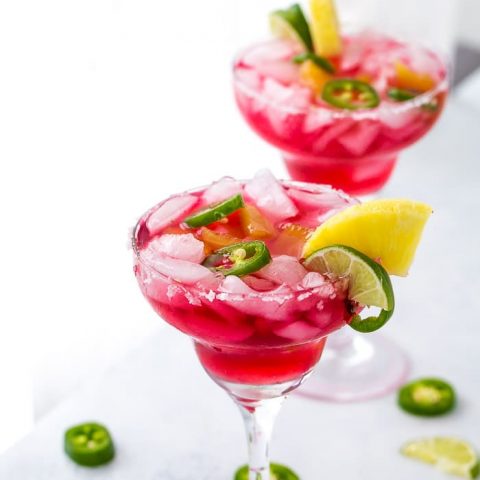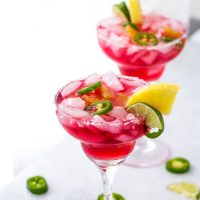 Yield: 4 servings
Hibiscus Margaritas with Pineapple and Jalapenos
Additional Time
30 minutes
Ingredients
1 cup sugar
3/4 cup pineapple chunks
1/4 cup dried hibiscus flower
2 ounces tequila
1 ounces triple sec
1 ounces lime juice
1 jalapeno, sliced and seeds removed
Instructions
For Simple Syrup:
In a medium saucepan, combine the sugar with 1 cup water. Bring to boil over medium heat and cook until sugar melts, stirring occasionally. Reduce heat to low and add in pineapple chunks. Cook on low simmer for 10 minutes. Remove from heat and let sit for 30 minutes to steep pineapple flavor into syrup. Transfer the syrup to a small bowl, straining out the pineapple chunks. Chill syrup until ready to use. Reserve pineapple chunks for serving.
Place the dried hibiscus flowers in a small heatproof bowl. Pour 1/4 cup boiling water over the flowers and let steep for 10 minutes. Strain the flowers out and chill liquid until ready to use.
When ready to serve the margarita, salt the rim of 2 glasses. Place ice rocks in glasses. In a cocktail shaker filled with ice, add 2 ounces hibiscus liquid, 1-ounce simple syrup, tequila, triple sec and lime juice. Shake well and serve over ice in prepared glasses. Top with sliced jalapenos, reserved pineapple chunks, and mint (optional).