Strawberry Mascarpone Crepes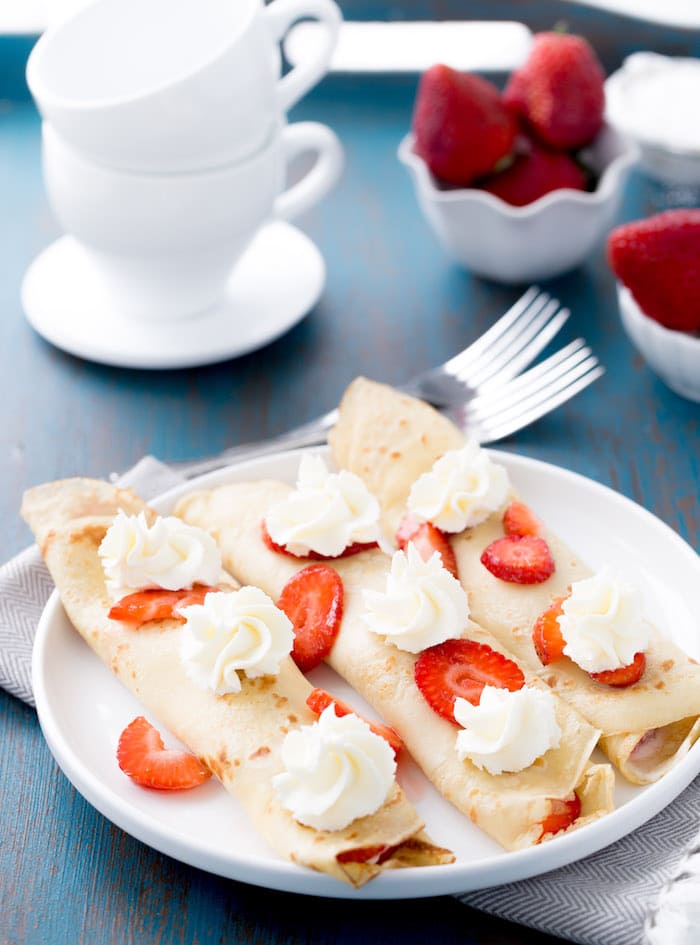 Happy Monday friends. Mother's Day is just a week away and I have a new recipe for you to make for Mom on her special day. These strawberry mascarpone crepes will be perfect for a light brunch and/or a breakfast in bed for Mom.
Growing up, we didn't have Mother's Day to celebrate in Sierra Leone so I didn't get to spoil my mom on that one day of the year. Of course, like any teenager, I was appreciative of my mother and parents when I was having my way but not so much when I was not. It was not until I left home at 19 that I realized how important they were and of course I was half way through the world. Since then, I've only had a few weeks a year to be with my Mom and I always try to make them count. This year, she won't be here until July for my son's birthday but I will try to celebrate Mother's Day with her in person.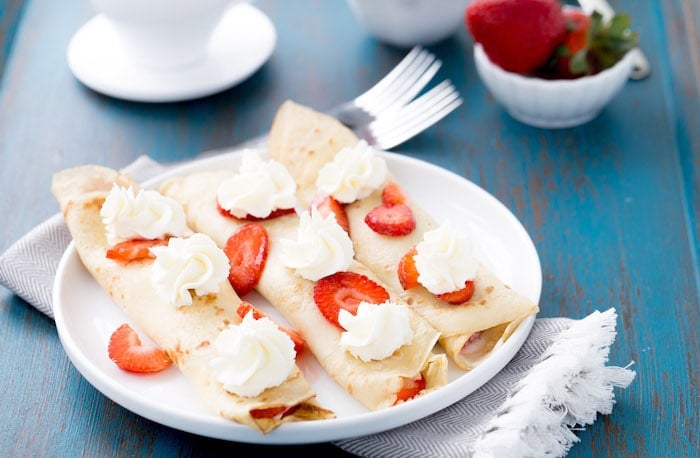 For now, I will settle for giving my husband ideas of recipes to make for me on Mother's Day. These crepes are right up there because I am sure this white chocolate rose cake will be impossible for him. I will settle for these any day though as it doesn't get better than a filled crepe with creamy mascarpone cheese and sweet strawberries. It's just so gooooood! All you need is a blender and you will have these crepes in no time.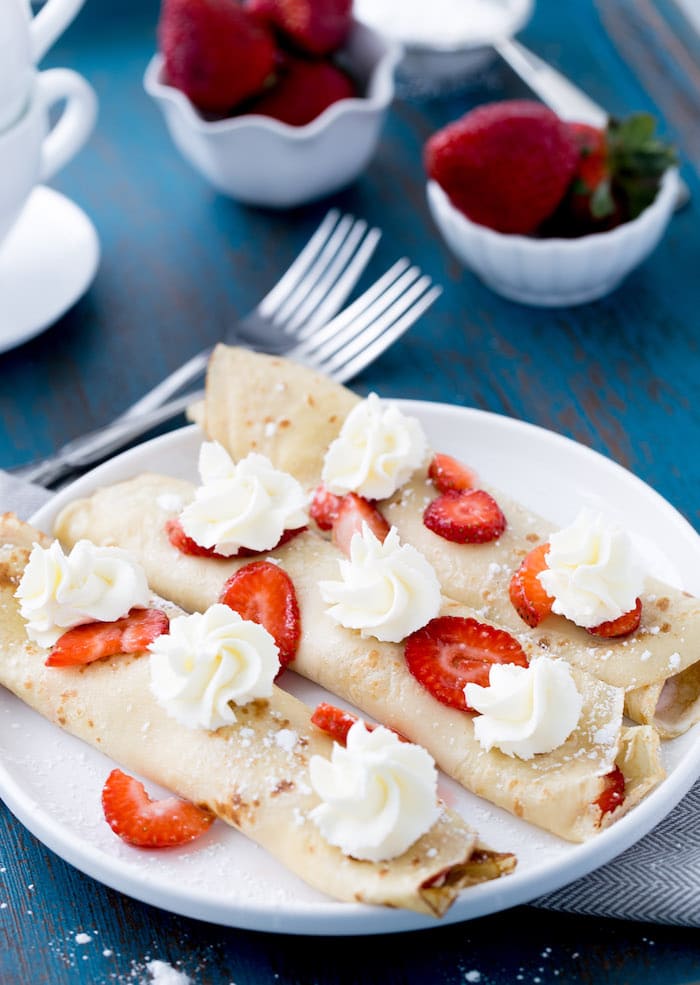 So share this recipe with your spouses, brothers and male friends who would like to spoil their favorite moms.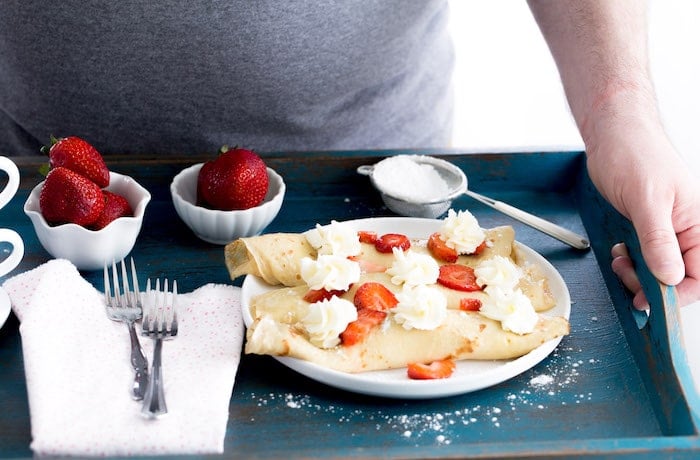 And make sure you save it for yourself too because these strawberry mascarpone crepes are a keeper and should be in your recipe box. Perfect for breakfast, brunch or breakfast for dinner days. We enjoyed it last weekend for a late brunch after swim lessons and we were all hungry.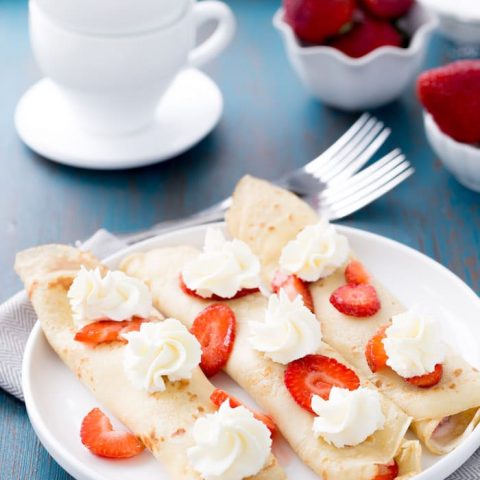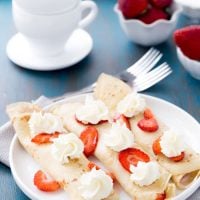 Yield: 6-8 crepes
Strawberry Mascarpone Crepes
Ingredients
For the Crepes:
1/2 cup water
1/2 cup milk
1 cup all-purpose flour
2 teaspoons granulated sugar
1 teaspoon pure vanilla extract
2 large eggs
2 tablespoons butter, melted
For the Filling: 
1 cup strawberries, hulled and sliced
2 teaspoons granulated sugar
1 tablespoon lemon juice
1/2 cup mascarpone cheese, softened at room temperature
2 tablespoons heavy cream
Instructions
For Crepes:
In a blender, combine the water, milk, flour, sugar and vanilla extract. Blend to combine. Add the eggs and blend well until smooth. Pour the batter into a large measuring cup and cover with a plastic wrap and chill for at least an hour or overnight.
When ready to serve, combine the strawberries, granulated sugar and lemon juice in a medium bowl. Let sit and macerate for at least 30 minutes.
Using a nonstick skillet or crepe skillet set over medium heat, lightly coat the skillet with melted butter (I use a brush to do this). When warm, pour 1/4 cup of the batter onto the skillet and evenly spread. Cook each side until done, about 1-2 minutes. Transfer to a plate and repeat until all the batter is gone.
In another small bowl, whip the mascarpone cheese with the heavy cream until smooth.
To serve, spread some of the mascarpone cheese on one of the crepes. Add some strawberries and roll up. Repeat for all the crepes. Top with remaining mascarpone and strawberries. Serve immediately!
Notes
NOTES:
If you don't have mascarpone cheese, you can use cream cheese
Use your favorite berries or stone fruits (peaches, nectarines etc.)