White Chocolate Rose Cake for Mother's Day
This white chocolate rose cake is perfect for Mother's Day and will say "I love you Mom" more than a bouquet of flowers.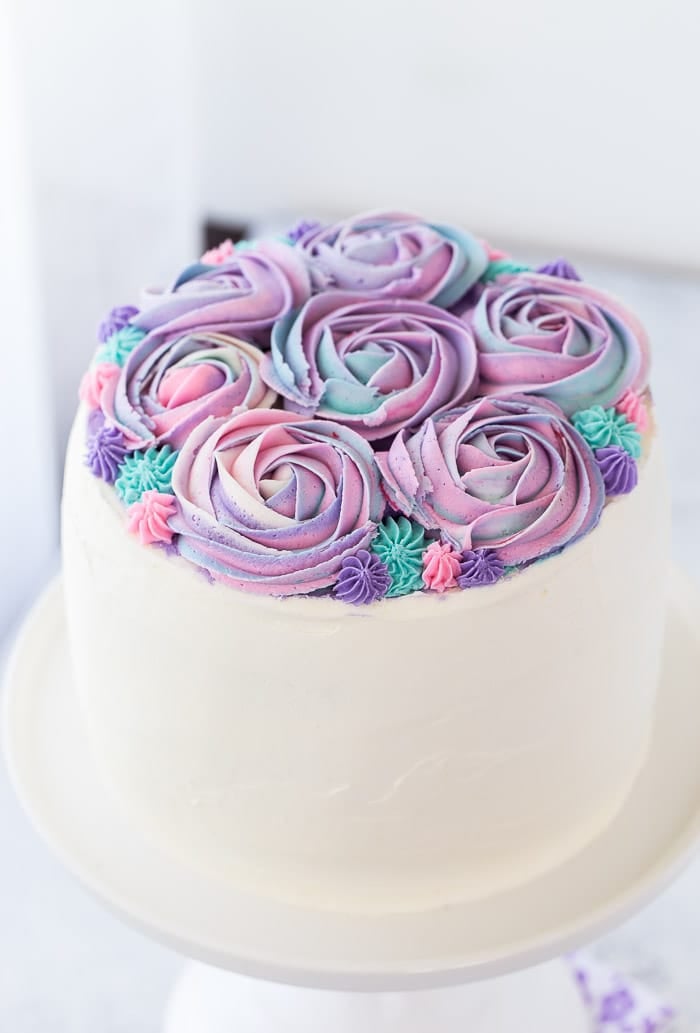 Don't say what you thinking. THIS IS NOT A UNICORN CAKE. I refuse to be involved with said trend. But I will admit that the colors here ended up being similar.  I can defend it though.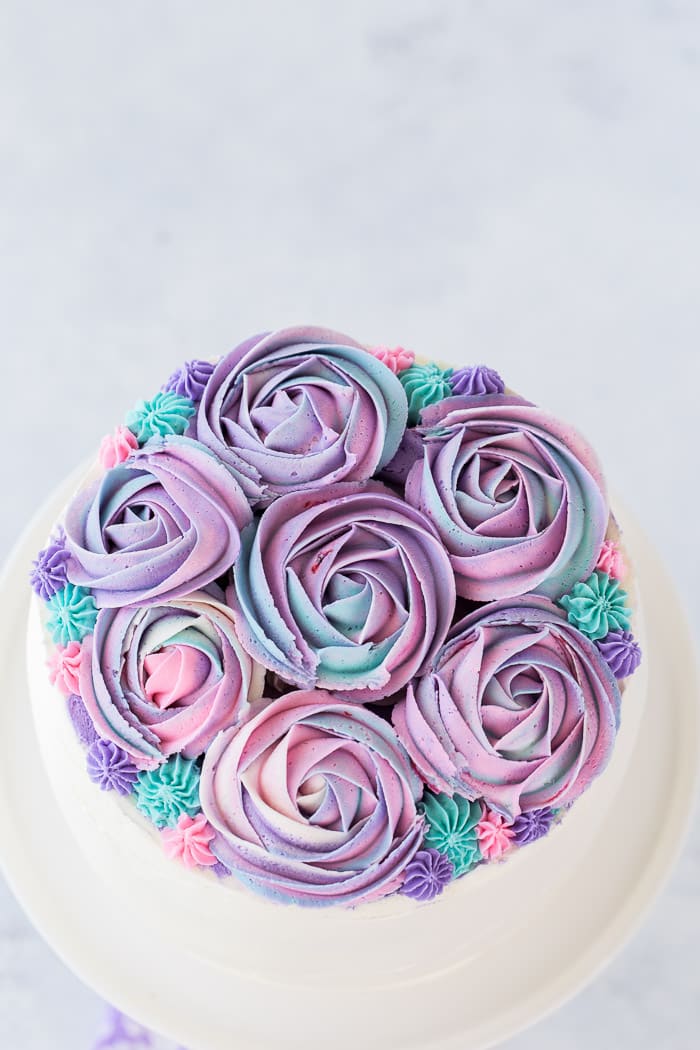 I started this white chocolate rose cake with the vision of making a rose cake design, similar to this strawberry rainbow cake but with the roses only on top of the cake. My colors happened to be teal, pink and purple for the roses. I started decorating it at 11pm (never a good thing!) and I made too many mistakes to be able to photograph the cake so I scraped it all off.
However, as I was throwing the frosting away I realized they blended well together. SO I proceeded with a simpler design and viola, I had a rose cake that looks like a unicorn cake.
But who cares right? We all just want a pretty cake for Mom's special day and this cake fits the bill. With an incredibly moist vanilla bean cake with hints of floral rose water, this cake is wrapped in whipped white chocolate frosting for the perfect delicate Mother's Day cake.
I used a buttermilk cake recipe I love for the base and enriched it with vanilla bean paste for a great vanilla flavor as well as hints of rosewater. It's just the touch you need to complete this cake.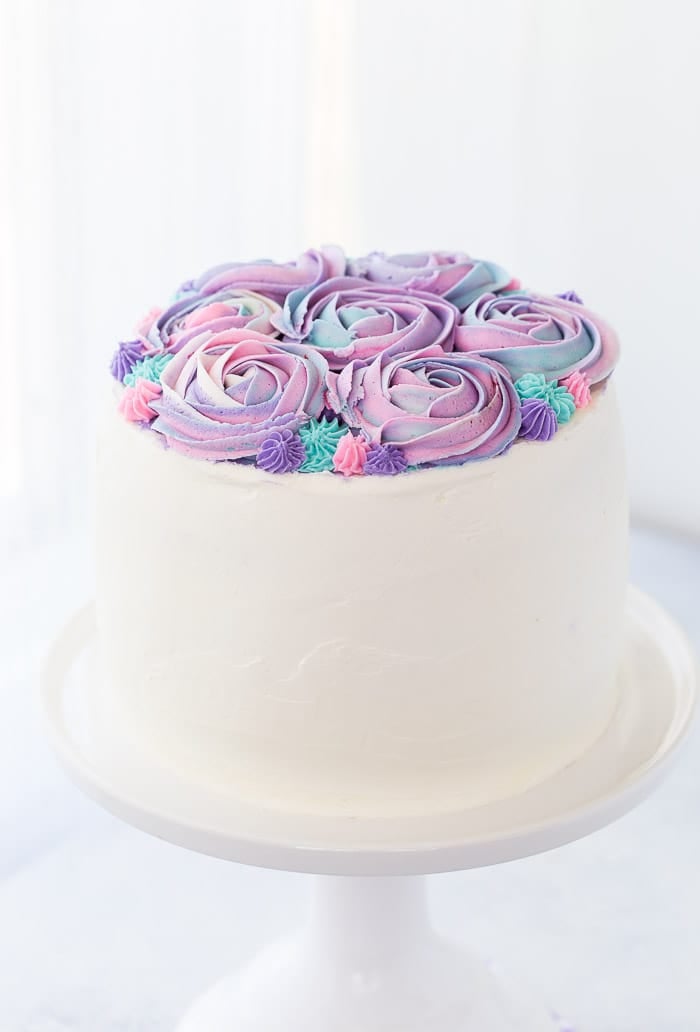 For the final coating, the rose cake is combined with white chocolate because it's a flavor combination I love and know works. These white chocolate rose cupcakes from a few years ago are still a favorite and I always wanted to come back to it. So I frosted this cake with my classic whipped buttercream infused with melted white chocolate. It's a sweet creamy frosting that you will be eating by the spoonful.
This cake is perfect for showers, birthdays and of course the upcoming Mother's Day! And with the simple yet stunning decor, you can customize the colors to fit your event!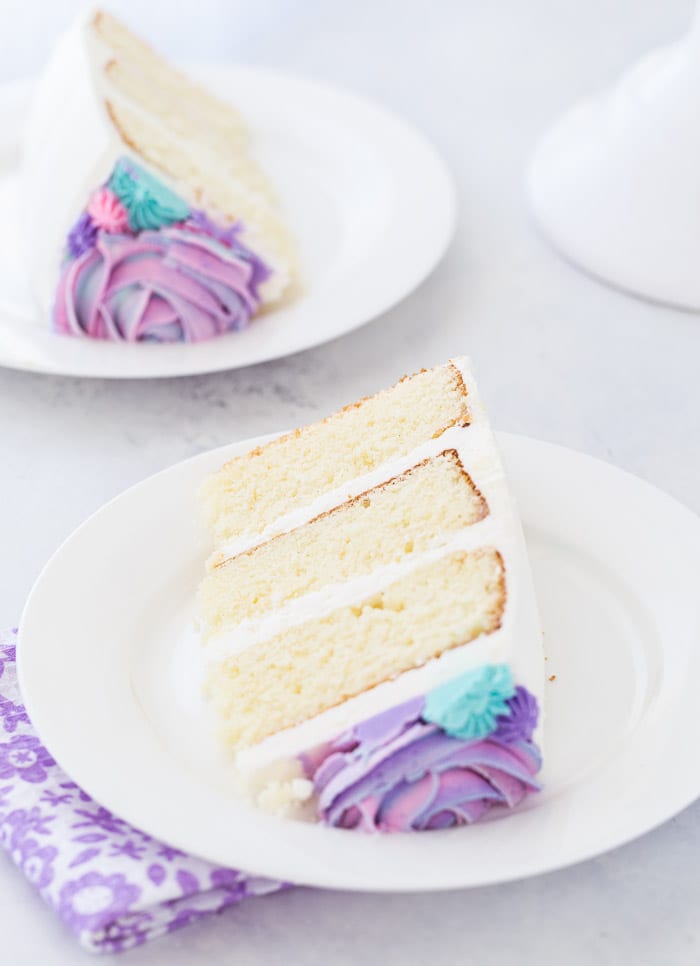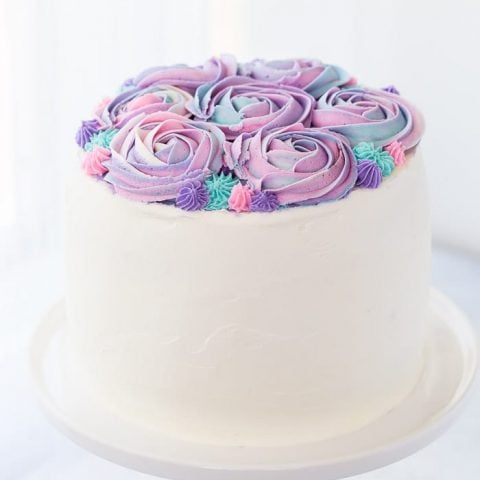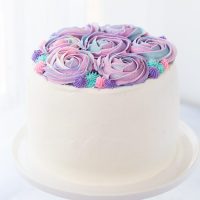 Yield: 1 3-layer 8-inch cake
White Chocolate Rose Cake
Total Time
2 hours
7 minutes
Ingredients
FOR CAKE:
3 cups cake flour, sifted
2 cups granulated sugar
4 teaspoons baking powder
¾ teaspoon kosher salt
1 cup (2 sticks) unsalted butter, cold and cut into pieces
1 cup buttermilk, at room temperature
2 teaspoons vanilla bean paste or pure vanilla extract
1/4 teaspoon rosewater
5 large eggs, at room temperature
FOR FROSTING:
2 cups (4 sticks) unsalted butter
1 pound powdered sugar
½ teaspoon salt
¼ cup melted white chocolate
2-3 tablespoons heavy cream
2 teaspoons pure vanilla extract
Gel food coloring (teal, purple and violet)
Instructions
FOR THE CAKE:
Preheat oven to 350 degrees F. Butter 3 8-inch cake pans, line with parchment circles and butter the parchment.
Whisk the cake flour, sugar, baking powder and salt in the bowl of an electric mixer fitted with the paddle attachment (Or a medium bowl if using a hand mixer). Stir together on low speed for 30 seconds.
Whisk together half of the buttermilk, vanilla bean paste and rosewater in a measuring cup. In another measuring cup, combine the rest of the buttermilk with the eggs.
Add the butter one piece at a time and blend on low speed for about 3 minutes. Then increase speed to medium and gradually add the buttermilk + vanilla mixture. Mix for 5 minutes scraping the bowl as need. Reduce the speed to low.
Add the egg mixture in 3 separate batches mixing on low speed after each addition until combined. Beat until well combined, 2 minutes.
Divide the batter into the prepared pans and bake in the center of the oven for 20-22 minutes or until a cake tester comes out clean when inserted in center of the cake.
Let cake layers cool in pans for at least 10 minutes. Loosen cakes and turn out onto wire racks. Let cool completely.
FOR THE FROSTING:
In the bowl of a stand mixer, beat the butter on medium-high speed for 6 minutes until light and fluffy. Add the rest of the ingredients and mix on low speed for 1 minute or until combined. Increase speed to medium-high and beat the frosting for 5 minutes until fluffy and light.
Divide the frosting, reserving 1 to 2 cups, into mixing bowls and add one to two drops of the gel color of your choice.
ASSEMBLY:
Place your first cake layer on a cake plate or decorating the table.
Top with ¾ cup of reserved frosting and spread evenly. Top with the next layer and repeat the process with your next cake layer. Finally, frost the top and sides of your cake with a thin coat of frosting. Place cake in the refrigerator and let chill for 20 minutes. Finish frosting your cake with the white frosting.
Meanwhile, color your frosting with your desired colors. I used violet, teal and pink gel colorings for this cake and divided the frosting into three. In a large bowl, gently swirl together your three colored frosting. You do NOT want to mix, just gently swirl so you have all three colors showing.
Using Wilton tip 1M fitted to your decorating bag, pipe rosettes on top of your cake until you cover the tip.