Strawberry Rainbow Cake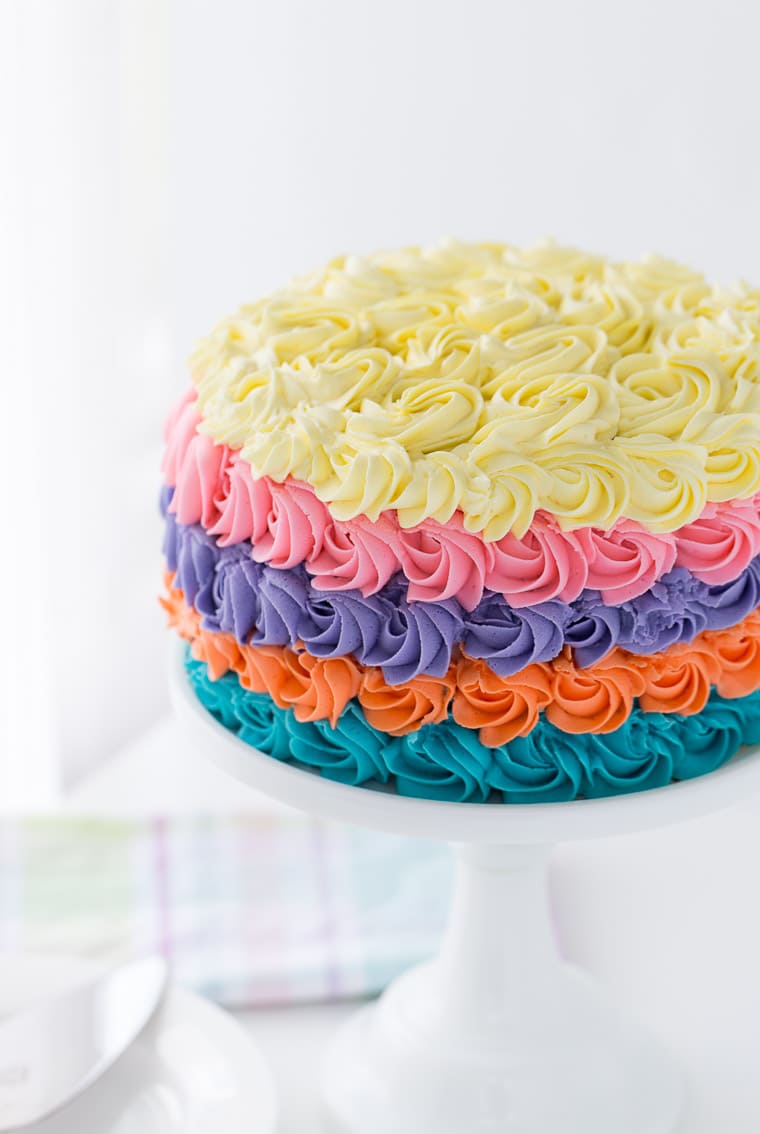 Hi guys! How was your long weekend? I hope relaxing and you are refreshed to start a new season. I have a fun strawberry rainbow cake for you today. Before we jump into the Fall season of apples, pumpkin and caramel, I wanted to share this colorful rainbow birthday cake with you. It's perfect for a girl's birthday or a baby shower if you have any coming up.
It all came about last month when my girlfriend's daughter asked for a birthday cake from Aunt Z. For the record, I live for these requests!! Especially when she lives across the country and I only get to see her once a year for an early birthday celebration. Extra special cake 🙂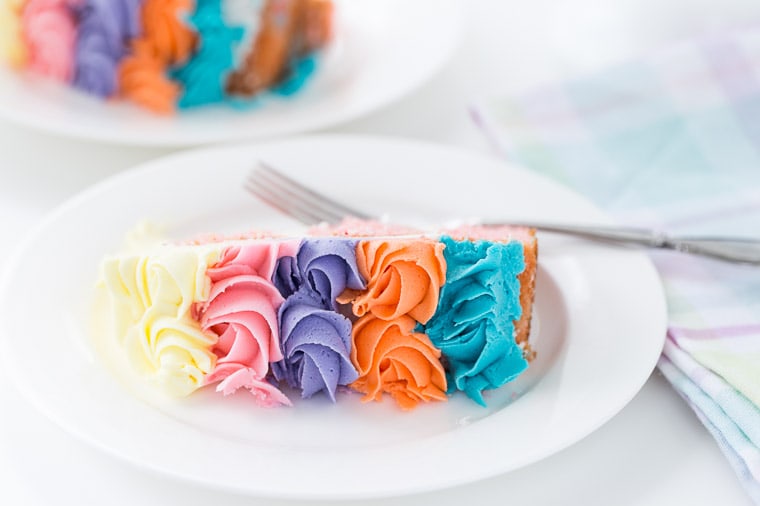 The lady in question is 4 years old today and this year she is into My Little Pony. Last year it was Princess Sophia and that was what her cake was based off but this year she caught me off guard because I had no idea what this pony business was. She was also veery specific. She wanted a strawberry cake. And of course, you can't argue with that.
I found out later that My Little Pony is a show about unicorns and horses that are colorful and all about rainbows. Gosh, to be a girl or have a girl!
This strawberry rainbow cake combines everything she loves and asked for.  A fluffy strawberry cake based off this strawberry cookie cake I shared a few weeks ago and a very bright and colorful rainbow looking exterior. This cake was an inspiration on the rainbow colors.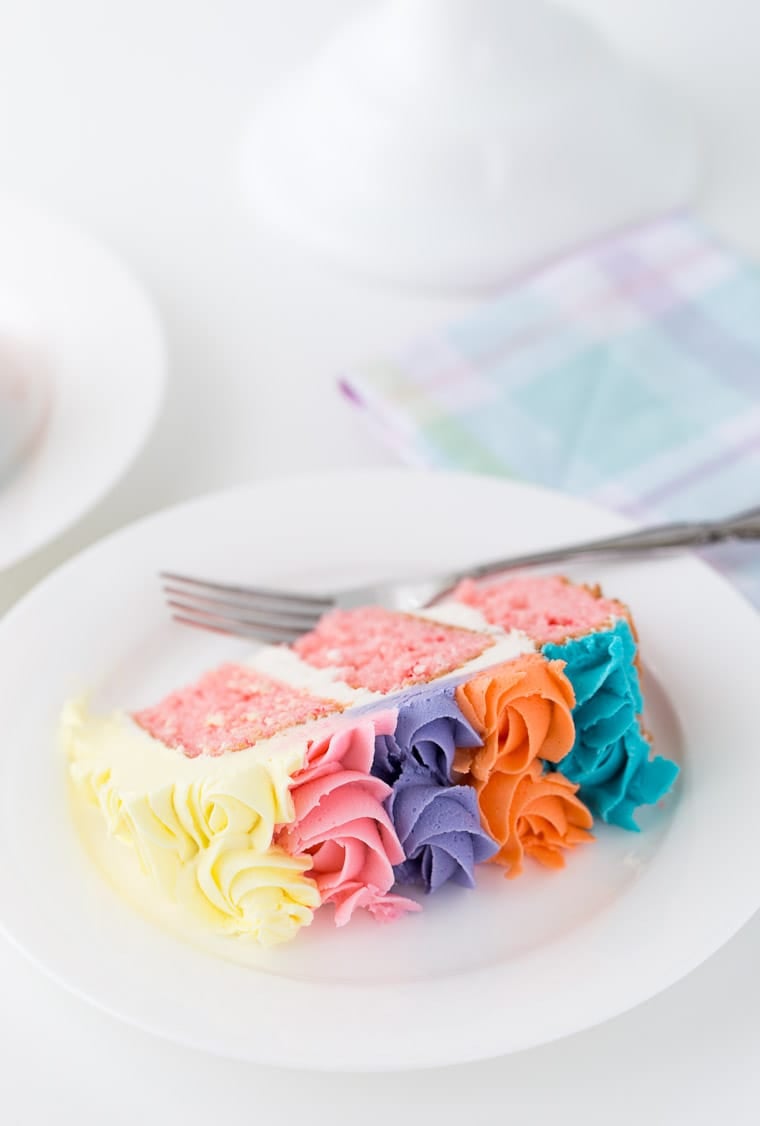 The swirls are extremely easy to make and it is made using my favorite Wilton tip 1M. This same tip gives you gorgeous swirls on cupcakes too. In case you want a visual on how-to do the swirls, my friend Amanda has a great tutorial on how to make these. Head over there before attempting the swirls if this is your first time.
The key to getting the perfect decorating here is the frosting. I love using my whipped buttercream frosting for decorating cakes with tips.  The recipe below is my go-to and it's whipped very well to make it light and fluffy. If you are making this cake, please use this recipe for the frosting. It colors really great  and will make your life easier in obtaining stiff rosettes.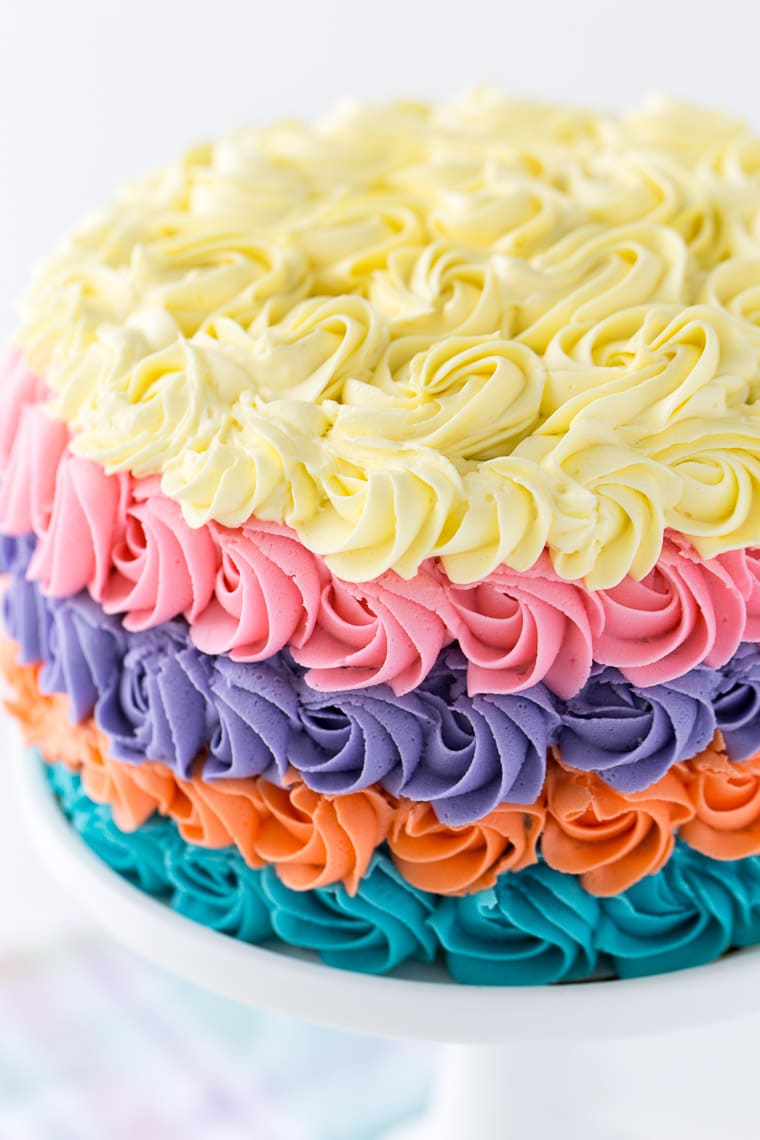 This cake is fun to decorate and the design can be used with any colors that fit your party or event! Let me know if you try it as I would love to see your renditions.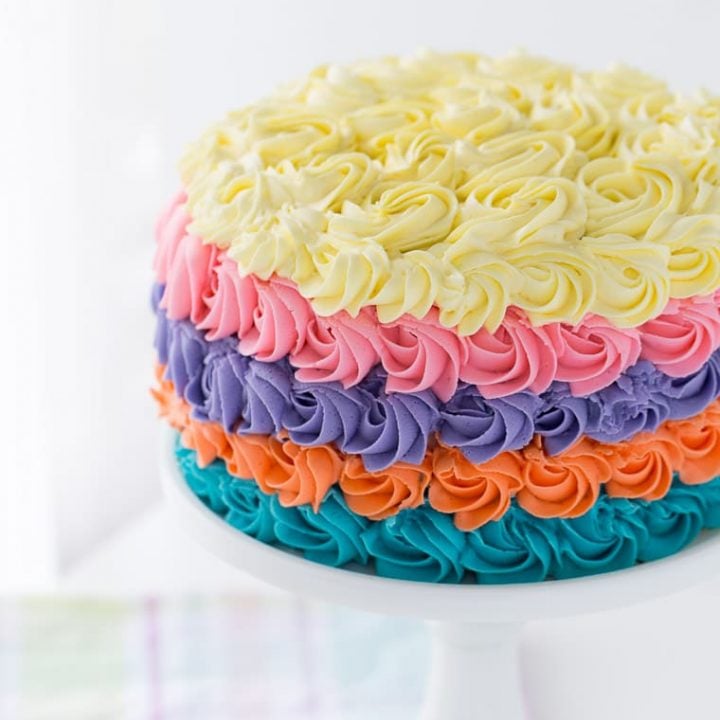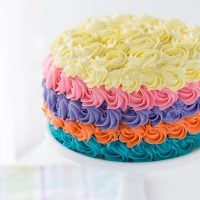 Strawberry Rainbow Cake
Ingredients
For the cake:
For the frosting:
2 cups (4 sticks) unsalted butter
1 pound powdered sugar
1/2 teaspoon salt
1/4 cup heavy cream
2 teaspoons vanilla extract
Gel Food coloring (in the colors you want)
Instructions
For the Cake:
Bake your favorite strawberry cake as directed. You can use a box mix too if you like
For the frosting:
In the bowl of a stand mixer, beat the butter on medium high speed for 6 minutes until light and fluffy. Add in the rest of the ingredients and mix on low speed for 1 minute or until combined. Increase speed to medium-high and beat the frosting for 5 minutes until fluffy and light.
Divide the frosting, reserving 1 to 2 cups, into mixing bowls and add one to two drops of the gel color of your choice.
Use the frosting at apart to fill your cake and crumb coat. Using Wilton tip 1M or tip 21, start with your darkest color and pipe rosettes around your cake in one row. Repeat the process, using lighter colored frosting, until the cake is covered in rosettes.
*Affiliate link included above.