White Chocolate Rose Cupcakes
I bring you some white chocolate rose cupcakes today my friends. Are you familiar with rose water? It's OK if you are not, I wasn't aware of its existence until a couple of months ago when I stumbled onto these
cupcakes
and couldn't wait to experiment. I bought the extract a while ago and have been shying away from using it after I took a strong whiff that put me off.
As with most things, except chocolate, less is more with this flavor. Thanks to an inspiring
Mother's Day week
by
Joy the Baker
, I was excited to try my rose water. I started with a simple vanilla yellow cake, infused with rose water, and topped with a white chocolate swiss meringue buttercream with a dash of rose water as well!
The rose water gives these cupcakes more of a scent, than a flavor. A wonderful floral smell that just makes you very happy as you bite into the cake (well, it made me happy at least!). Oh did I mention there are white chocolate chunks in the cupcake? Yummm!
I used these floral cupcakes on Sunday to celebrate some of the wonderful mothers in my life. A small treat to show them how much I appreciate and love them!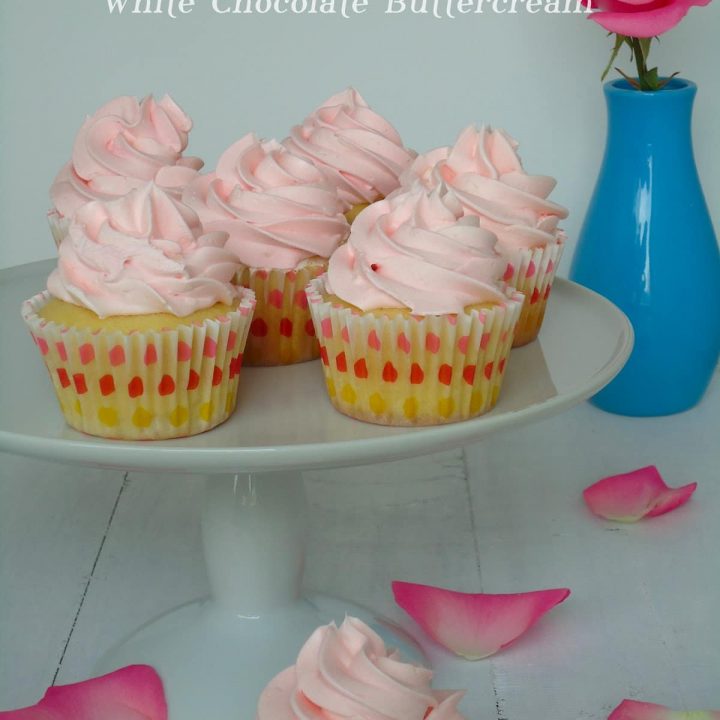 Yield: ~24 cupcakes
White Chocolate Rose Cupcakes
White chocolate rose cupcakes that are delicate and perfect for Mother's Day. Sweet, moist and filled with white chocolate chips are topped with a silky smooth rose buttercream.
Prep Time 45 minutes
Cook Time 15 minutes
Total Time 1 hour
Ingredients
For the Cupcakes:
2 cups cake flour, sifted
1 teaspoon baking powder
1 teaspoon baking soda
½ teaspoon salt
½ cup (1 stick) unsalted butter, room temperature
1 cup granulated sugar
2 large eggs, room temperature
1 teaspoon pure vanilla extract
1/2 teaspoon rose water
1 cup buttermilk, room temperature
¼ cup white chocolate chunks, finely chopped
For the white chocolate Swiss Meringue buttercream:
5 egg whites, room temperature
1 cup granulated sugar
1 ½ cup (3 sticks) unsalted butter, cubed and at room temperature
4 ounces white chocolate, chopped, melted, and cooled
1 teaspoon pure vanilla extract
A dash of rose water (optional, and to taste)
Instructions
For the Cake:
Preheat oven to 350 degree F. Line two muffin tins with cupcake liners.
Sift together the flour, baking powder, baking soda, and salt in a medium bowl.
In the bowl of an electric stand mixer fitted with a paddle attachment, cream the butter, and sugar on medium speed until light and fluffy, about 3-4 minutes.
Add the eggs one at a time, beating well to combine and scraping down the bowl as needed. Add in the vanilla extract and rose water.
Reduce speed to low, add a third of the dry ingredients and half of the buttermilk and beat until just combined. Add another third of the flour mixture and the rest of the buttermilk and beat again until combined. Add the rest of the flour mixture and beat until combined. Fold in the white chocolate by hand with a rubber spatula.
Divide batter into cupcake liners and bake until golden brown or until a tester comes out clean, about 12-15 minutes.
Cool in pan for 2-3 minutes before moving to a cooling rack to cool completely.
For White Chocolate Swiss Meringue Buttercream:
Whisk together sugar and egg whites in a heatproof mixing bowl set over (not in) a pan of simmering water. Whisk until warm and sugar is dissolved (mixture should feel completely smooth when rubbed between your fingers), 2 to 3 minutes. Remove from heat.
With an electric mixer on medium speed, whisk egg white mixture for 5 minutes. Increase speed to medium-high, and whisk until stiff, glossy peaks form and meringue has cooled (test by the feeling bottom of the bowl), about 6 minutes.
Reduce speed to medium. Add butter, one piece at a time, beating well after each addition. Keep beating until the buttercream comes together. It takes a few minutes but keep beating with the electric mixer. Beat in vanilla extract and rose water. Mix in the white chocolate into the buttercream and mix for about a minute to combine.
Use immediately to frost cupcakes or store in an airtight container in fridge for up to a week.
Notes
You can use American buttercream if you prefer.
Recommended Products
As an Amazon Associate and member of other affiliate programs, I earn from qualifying purchases.
Hope you have a great rest of the week! Go bake some floral spring cupcakes 🙂
MAKING THIS RECIPE? Share it with us on Instagram using #aclassictwist so we can see what you are baking up in your kitchen!