Classic Strawberry Rhubarb Pie
A classic strawberry rhubarb pie with an oatmeal crumb topping. Just waiting to adorn your picnic table or basket!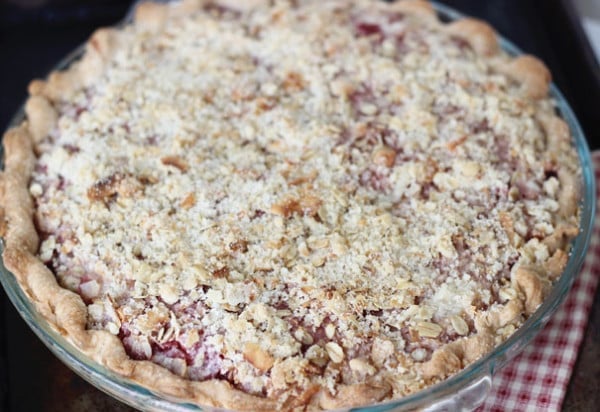 Oh sweet rhubarb, how I've longed for you. For months and weeks, I've searched aisles, stands and grocery stores for your red stalks. The interwebs said you are the best thing of the summer. The best friend of strawberries. The tart and juicy companion of pies. Well, I am so glad to meet you. And even more so that you did not disappoint.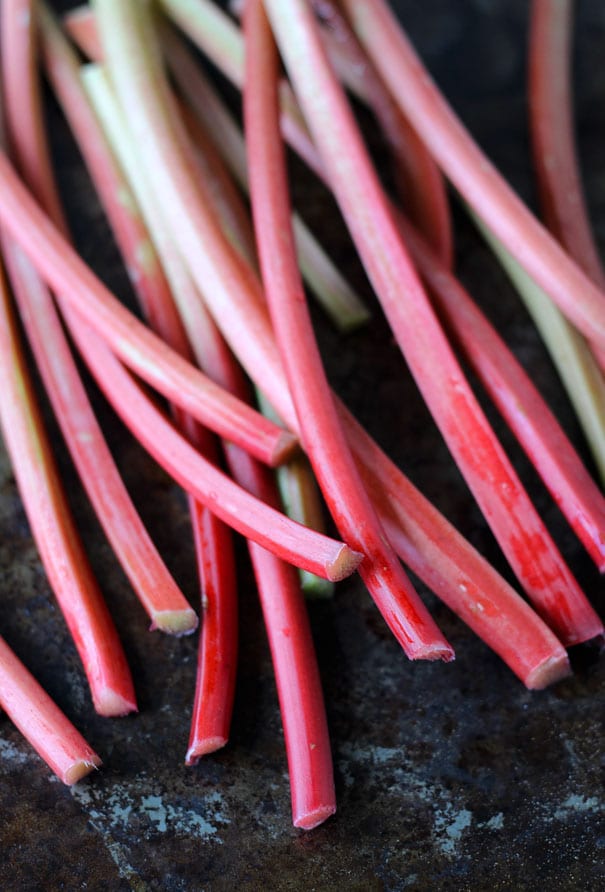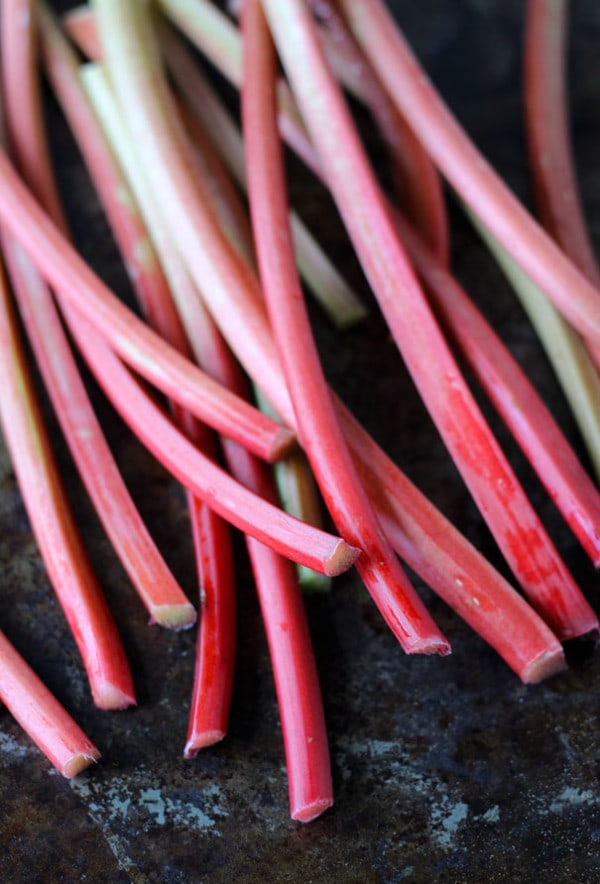 But seriously friends, it's been a while since I've been looking to try rhubarb. So many great recipes on Pinterest but I could just not get my hands on these pretty red stalks. Thankfully, a recent trip to the farmer's market was fruitful and I scored big!! Grabbed a few bunches immediately and couldn't wait to get home. I knew this classic strawberry rhubarb pie was the first thing I had to bake because well everyone says strawberry + rhubarb = amazing! And Joy the Baker knows her pies so I went straight to her archives for this.
I have an amazing strawberry pie recipe too!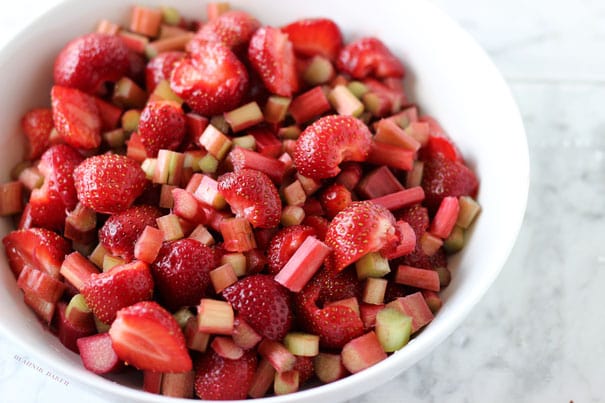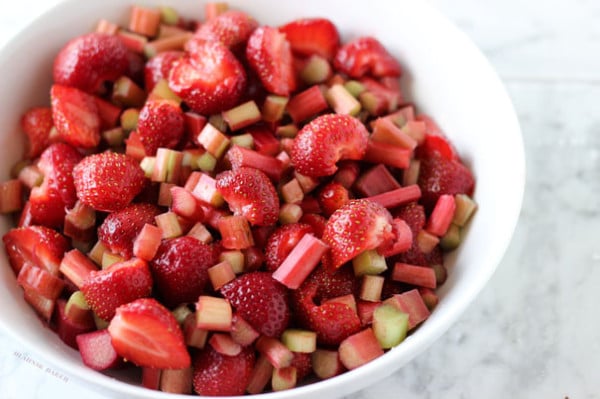 Look how beautiful it looks? I'm in love with the red stalks! They are tart and break down to a juicy level when cooked. Just perfect. And indeed, they are a match made in heaven with sweet strawberries. OK enough of my ode to rhubarb, let's talk pie!
This classic strawberry rhubarb pie starts with a flaky buttery buttermilk crust because we can't have it any other way. It's then filled with some juicy strawberry and rhubarb concoction complete with fresh lemon juice and a hint of cinnamon for the kicks. Insanely delicious combo. Finally the pie is topped off with an oatmeal crumb topping with coconut flakes. You know I love me some coconut so the subtle hints in the crumb topping here is perfect!! Look at that??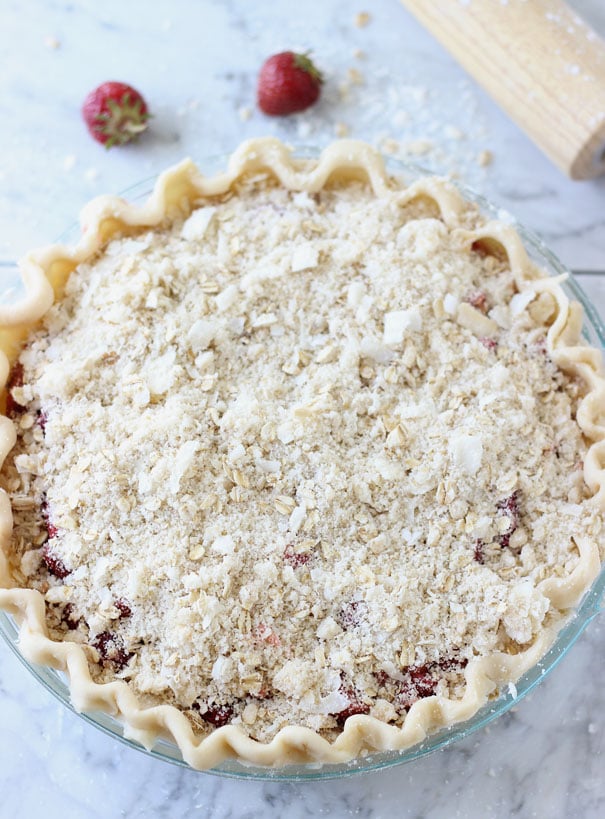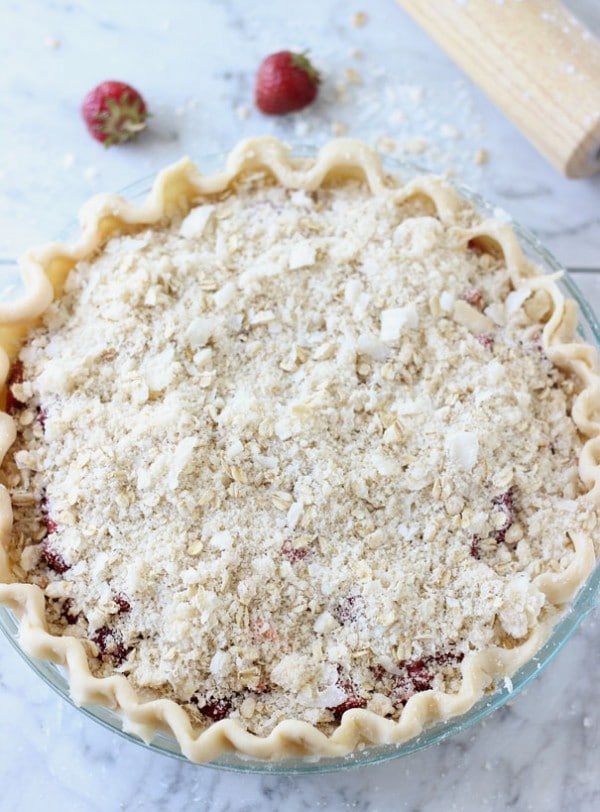 This pie, and rhubarb I should say, is everything a summer pie should be; sweet, slightly tart and plenty juicy!! Just be sure you wait for it to cool down before you dig in (it's hard, trust me!).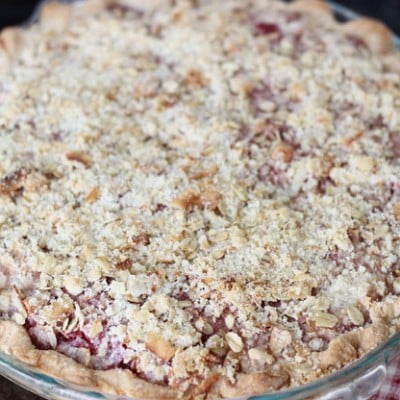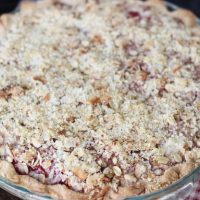 Yield: 1 9-inch pie
Classic Strawberry Rhubarb Pie
A classic strawberry rhubarb pie with an oatmeal crumb topping. Just waiting to adorn your picnic table or basket!
Ingredients
For the Crust:
1¼ cups all-purpose flour
1 tablespoon sugar
½ teaspoon salt
½ cup (1 stick) unsalted butter, cold and cut into cubes
¼ cup plus 1 to 2 tablespoon cold buttermilk
For the Filling:
3 cups sliced rhubarb, cut in ½ inch chunks (about 1 pound)
1 pound strawberries, sliced
⅓ cup light brown sugar
½ cup granulated sugar
¼ cup cornstarch
¼ teaspoon salt
¼ teaspoon cinnamon
2 tablespoons fresh lemon juice
For the Topping:
¾ cup all-purpose flour
¾ cup old-fashioned oats
⅔ cup granulated sugar
pinch of salt
6 tablespoons cold unsalted butter, cut in cubes
½ cup unsweetened coconut flakes
Instructions
In a food processor, pulse the flour, shortening, 2 tablespoons butter and salt. Add in the rest of butter and pulse until the mixture looks like coarse meal, 2-3 pulses. Sprinkle about ¼ cup buttermilk over mixture and pulse until dough comes together in clumps. Add more buttermilk (1 teaspoon at a time), if needed. Remove dough from processor and knead into a disk on a lightly floured surface. Wrap in plastic wrap and chill for at least an hour. The dough can be made up to 3 days ahead. Keep chilled. Let stand at room temperature 15-30 minutes before rolling out.
Roll out dough on a well floured surface and fit into a 9-inch round pie dish. Press the dough into the bottom and up the sides. Using sharp shears, trim the overhanging dough, leaving about 2-inches. Fold overhanging dough under itself and crimp the edges. Wrap loosely with plastic and chill for at least 30 minutes and until filling is ready.
In a large bowl, toss all the filling ingredients together. Make sure all the fruit is coated in sugar and cornstarch. Set aside while preparing topping.
In a medium bowl, combine the flour, oats, sugar and salt. Using your hands, mix in the butter into the mixture until well incorporated. Mix in the coconut flakes.
To assemble the pie: Preheat oven to 400 degrees F. Toss a ½ cup of the topping mixture into the filling (fruit mixture). Pour filling into the pie crust. Top with the crumb topping mixture. Generously. Place the pie dish on a baking sheet and place in oven on the middle rack.
Bake for 20 minutes. Then reduce heat to 350 degrees F and bake for another 35 to 45 minutes or until the pie is bubbling and juices running and golden brown.
Remove from oven and let cool completely, about 2 hours. Juices will thicken by then. Serve warm with a scoop of ice cream.