Blackberry Lime Cupcakes
A tart fluffy vanilla lime cupcake is topped with sweet, creamy blackberry buttercream making these blackberry lime cupcakes a summer favorite!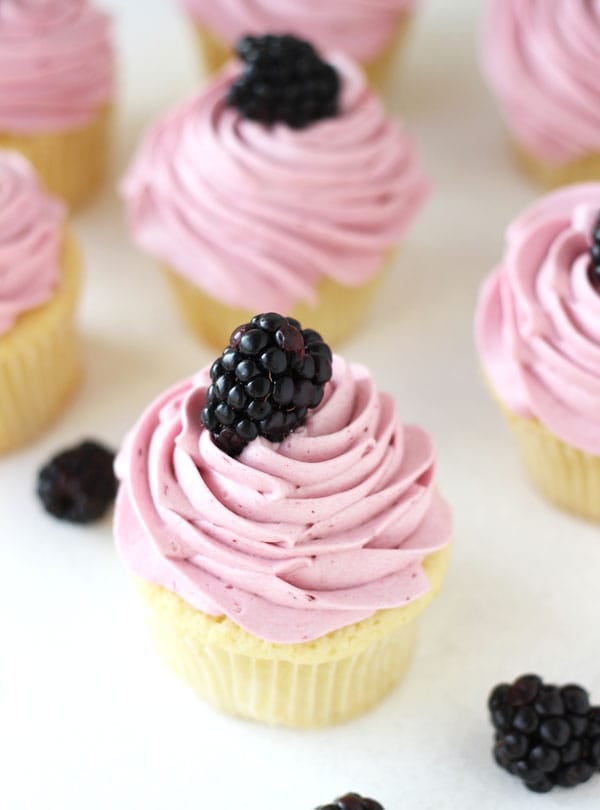 I have a fun post for you guys today!! First there are these blackberry lime cupcakes. Delicious. Tart. Pretty much summer in a cupcake. Second, I'm doing a fun Q&A Blog Hop with my contributor friends over at Or So She Says! The talented Mariel of OSSS thought it would be a great idea to get to know us better since we all come from diverse backgrounds. Amazing idea!! And you get to learn a few new things about yours truly in the process 🙂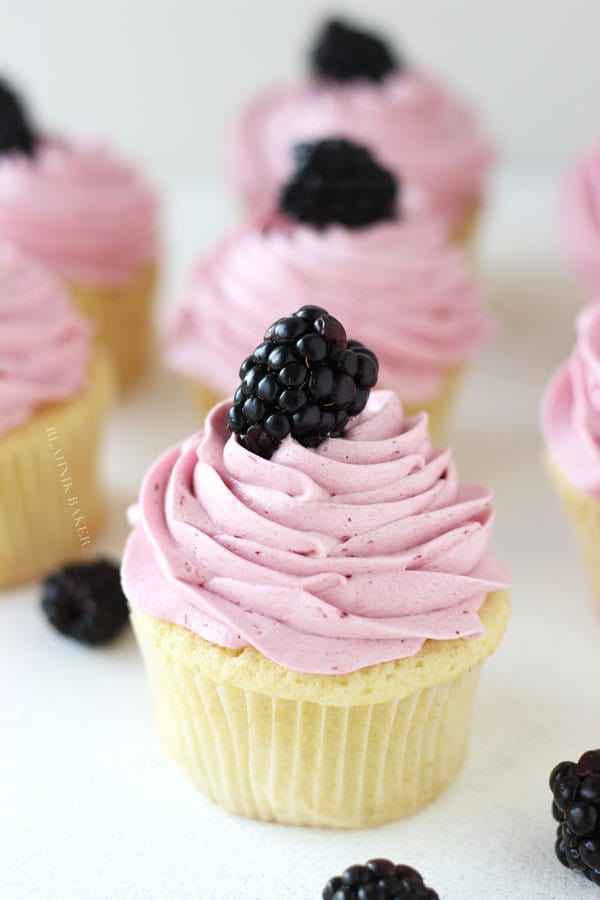 But first let's talk about these cupcakes in case you were here only for them (I don't blame you!!). These cupcakes are my new favorites 🙂 Blackberries are so unappreciated if you ask me because people think they are tart but I am a HUGE fan. Love them! We have a fluffy vanilla lime cupcake (my favorite vanilla cupcake recipe is used as a base) topped with a whipped sweet blackberry lime frosting. They are the perfect sweet and tart combination.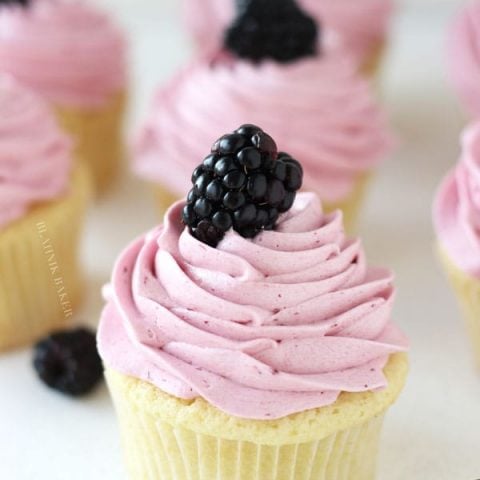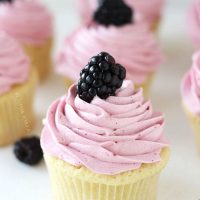 Yield: 12 cupcakes
Blackberry Lime Cupcakes
A tart fluffy vanilla lime cupcake is topped with sweet, creamy blackberry buttercream making these blackberry lime cupcakes a summer favorite!
Ingredients
Cupcakes:
2½ cups all-purpose flour
¾ teaspoon salt
1½ teaspoon baking powder
¼ teaspoon baking soda
1 cup (2 sticks) unsalted butter, room temperature
2 cups granulated sugar
zest and juice of 1 lime
3 eggs, room temperature
2 teaspoon pure vanilla extract
1 cup buttermilk, room temperature
Blackberry Lime Frosting:
3 ½ sticks unsalted butter, softened
3-4 cups sifted confectioners' sugar
3 tablespoons milk
2 teaspoons vanilla extract
Pinch of salt
2-3 tablespoons blackberry compote (see below)
For Blackerry Compote
1 cup fresh blackberries
2 tablespoons sugar
Zest and juice of ½ a lime
Instructions
Preheat oven to 350 degrees F. Line two muffin pans with cupcake liners or silicone baking cups.
In a medium bowl sift together flour, salt, baking powder and baking soda.
In the bowl of an electric mixer, cream butter and sugar until pale and fluffy, about 5 minutes on medium speed. Add the lime zest and mix for an additional minute. Add eggs one at a time, beating until combined after each addition. Beat in vanilla extract and lime juice.
Reduce mixer speed to low and slowly add about half of the flour mixture. Add half of the milk, then the rest of the flour and the rest of the milk. Beat until just combined. Scrap down the side of the bowl as needed.
Pour batter into prepared pans. Fill liners about ? full. Bake cupcakes until lightly golden or a toothpick inserted into the center comes out clean, about 12-14 minutes.
Remove cupcakes from pan and let cool completely on wire rack before frosting.
For the Blackberry Frosting:
Make compote first: Combine all the ingredients for compote plus ½ cup water in a small saucepan set over high heat. Bring to a boil and reduce heat to medium. Cook, stirring occasionally, until berries are soft and thicken about 15 minutes. Remove from heat. Pass through a fine sieve if desired. Let cool to room temperature before using. (Chill in fridge if you are in a hurry!)
Whip butter for 8 minutes on medium speed using the paddle attachment of an electric mixer. The butter will become pale and creamy
Add the rest of the ingredients, except blackberry compote and mix on low speed for 1 minute. Then increase speed to medium and mix for 6 minutes until the frosting is very light, creamy and fluffy. Add blackberry compote and whip for additional minute or two to combine.
Frost cooled cupcakes.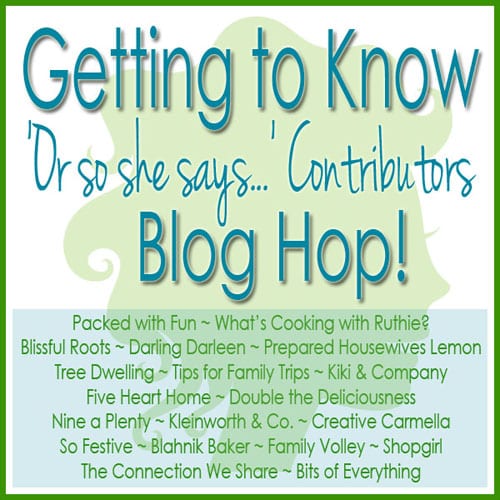 I started contributing over at OSSS once a month at the beginning of the year and it has been an amazing experience. What an amazing group of women and blogs. You need to check out their blogs below.
Let's get on with the blog hop questions shall we?
What inspired you to start your blog (or shop?)
I wanted to learn how to bake basic things like cookies, cakes and cupcakes and stop buying them out. So I started the blog to chronicle my baking mishaps, catalog my favorite recipes and possibly meet new baking enthusiasts. (It all worked out thankfully!!)
What's your favorite and least favorite thing about blogging?
My favorite thing about blogging is creating new recipes and meeting so many people via our combined love for the food. Least favorite = writing. I was not gifted in the creative writing or writing area in general. I struggle with it daily and makes me dislike blogging from time to time.
Tell me with only 20 words, 20 things you love.
Life, God, family, Shoes, chicken wings, shoes, photography, girlfriends, parks, travel, movies, macarons, science, tea, husband, purses, hand lotion, cake stands, Mall of America, Indian food, Starbucks, did I say shoes?
What is the one recipe you are most often asked to share?  Please share it with us!
Favorite Vanilla Cupcake Recipe – the perfect moist, fluffy and crumbly vanilla cupcake with a whipped vanilla buttercream. A solid base for many creations.
5 favorite beauty products, right now… what are they?
Aie aie this is hard. I don't really use beauty products and I know I should. I am getting to that age. But I use this
facial cleanser-toner and moisture set daily. Wait does hair count? I use Carol's daughter shampoo and conditioner, hair butter and oil regularly. Yay! That was 5, I'm a lady 🙂
What's your personal mantra(s)?  Something you tell yourself on a regular basis?
Hmmm, I tell people all the time that life can suck sometimes, so suck it up! (I seriously need to be more cuddling). To myself, I'm always reminding myself to make an effort to live a happier, community-oriented life.
What movie made you laugh more than any other?
Nothing stands out in particular but recently I loved The Heat with Melissa McCarthy and Sandra Bullock.
If you could recommend one family vacation, what would it be?
We haven't been on many family vacations but I would love to take a trip to Italy with the hubby. Lots of history, good food and romantic place.
What goals are you currently working on?
Work: I am working on graduating from grad school in the next year. Blog: I want to blog less but focus more on quality. Focus on recipe creation and improving my photography, as that's one of my favorite parts of blogging. Life: Spend more time with the hubby, family and friends. Be more present with the people I am spending time with. UNPLUG!! Like right now, the boy and one of my girlfriends are playing cards in front of me but I am on the computer 'blogging' 🙁
Please share links to 3 blog posts (or items from your shop) that are special to you (or favorites of yours), and explain why.
Hmmmm hard one, there are so many recipes on the blog I love.
This Cherry Vanilla Champagne Cake is one of my favorites because it was made for the blog's first anniversary! After a year of learning so much and meeting some amazing peeps, this cake was a celebration of the community of Blahnik Baker.
One of my favorite cakes to make this year was this minion cake for my niece's birthday. It was so much fun and turned out great!
Creating original recipes that actually turn out good is hard and creating ones that actually turn out great? Rare!! Which is why I love this Pina Colada Cheesecake. For all the right reasons 🙂
Thank you for sticking around for the Q&A blog hop! If you have time, I would love for you to answer one or two of these questions as well in the comments below so I can get to know you a little better!