Red Velvet Roll Cake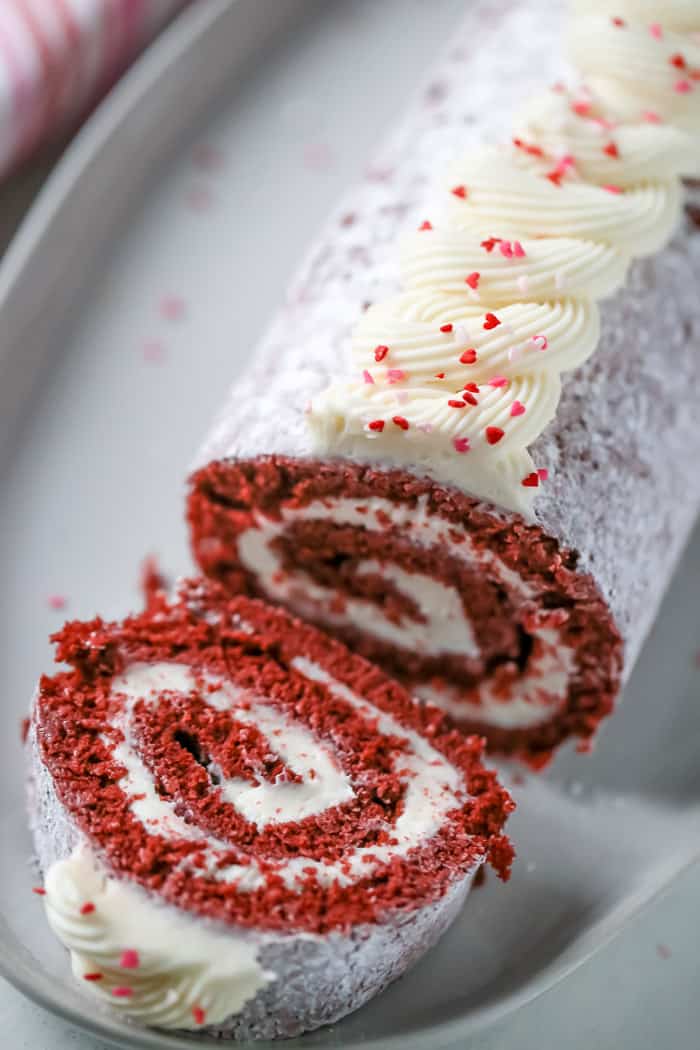 Happy February! Can you believe we are already in February? Valentine's Day is just around the corner and if you have been around here a long time you know my baking adventures started in February. It all started with a heart-shaped red velvet cake and every year I make a version. This year, this red velvet roll cake would be our dessert for Valentine's Day.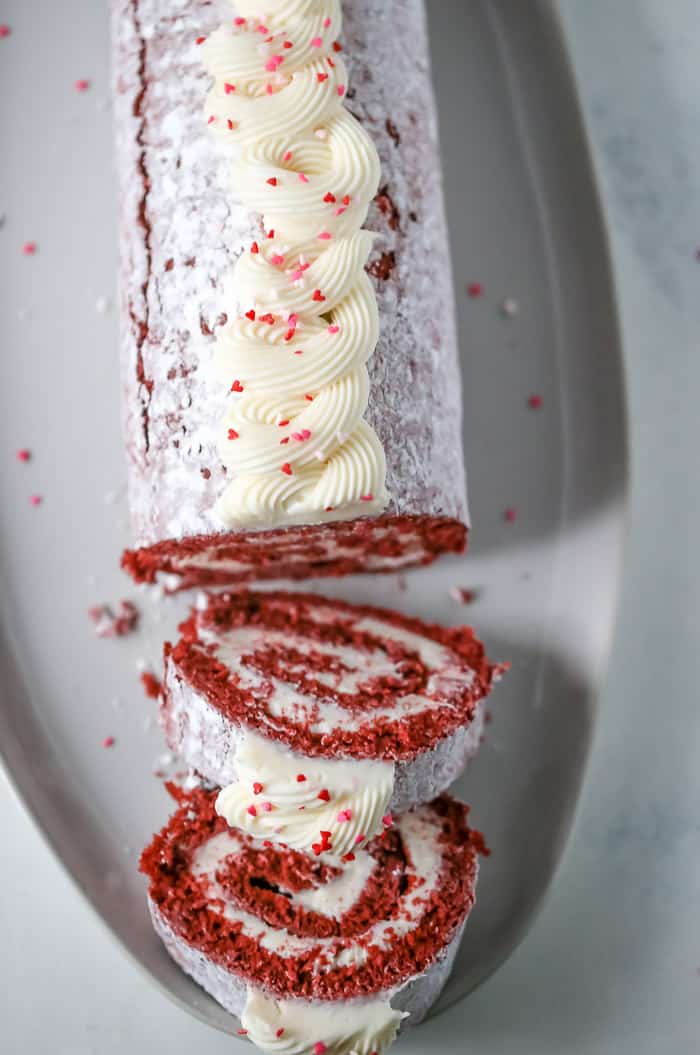 I've been meaning to make a red velvet roll cake for years but one thing or another prevented me. I love baking roll cakes simply because they are gorgeous. Is that wrong? I love this strawberry roll cake from two years ago and this summer blackberry lemon roll cake. Gorgeous right? You can see why a red velvet roll cake was on my to-do list. The vibrant color of this classic cake rolled with tangy cream cheese is a stunner.
I didn't tinker too much with my red velvet cake recipe but I did adapt it to have the airy, light cake that rolls easily. The cake itself is your classic buttermilk, tangy and tender red velvet with hints of cocoa powder. As always, I have to have my red velvet with cream cheese frosting. Am I right? Well, if you agree, then you will love this red velvet roll cake. It is everything that red velvet cake should be.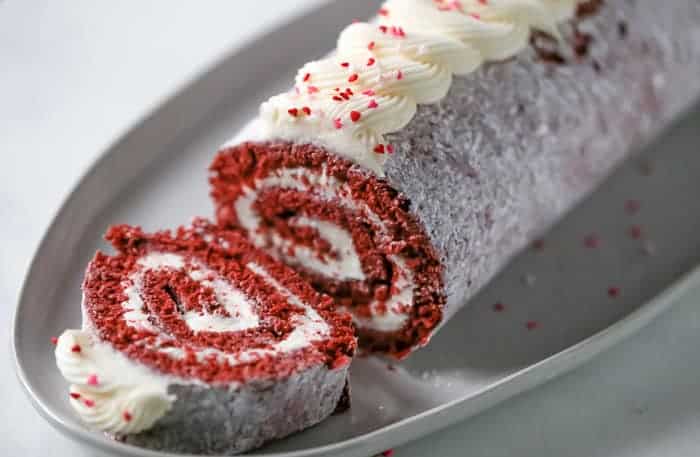 For Valentine's day, do some piping on the top of the roll cake to take it beyond just confectioner's sugar dusting. The piped cream cheese and colored sprinkles go a long way in making this a perfect cake for that special someone.
Talking about Valentine's Day, what are your plans this year? We always stay in, even before kids, as the crowds don't do it for me. Neither do the overpriced dinners. Now with two little kids, we love staying in and include them. A sweet family dinner with a pretty dessert early in the evening is our routine. Once the kids are down for the night, we do a movie night. That for me is the perfect way to spend the evening.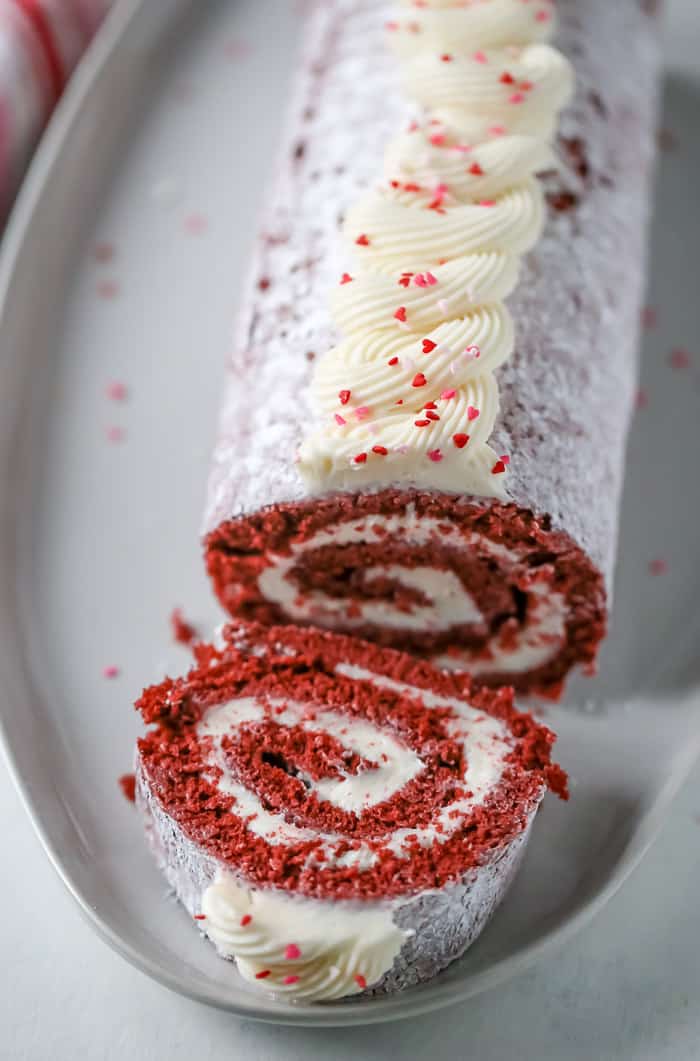 What's your tradition?
Check out my Valentine's Day archive for more ideas!!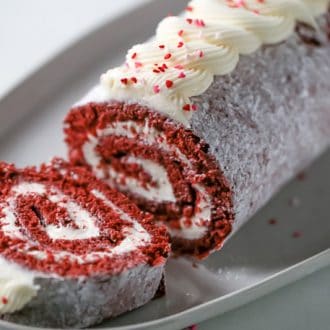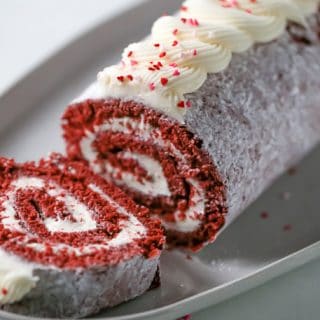 Yield: 1 roll cake
Red Velvet Roll Cake
An easy red velvet roll cake that is tender, sweet and perfect for any occasion.
Ingredients
1 cup all-purpose flour
3 tablespoons cocoa powder
1 teaspoon baking powder
½ teaspoon salt
4 large eggs, room temperature
½ cup granulated sugar
¼ cup light brown sugar
2 tablespoons vegetable oil
2 tablespoons buttermilk
1 teaspoon white vinegar
1 tablespoon liquid red food coloring or 1 teaspoon gel coloring
2 teaspoons pure vanilla extract
1 cup confectioner's sugar
Cream Cheese Frosting
8 ounces cream cheese, softened at room temperature
½ cup (1 stick) unsalted butter, softened at room temperature
2 cups confectioners' sugar
1 teaspoon vanilla extract
Instructions
Preheat oven to 350 degrees F. Spray a 15 x 10-inch jelly-roll pan with baking spray. Line with parchment and spray parchment again.
In a small bowl, sift together the flour, cocoa powder, baking
powder and salt.
In a medium bowl or the bowl of your stand mixer fitted with
the whisk attachment, beat the eggs on high speed until thick, pale and ribbonlike, about 5 minutes. Add in the sugars,
oil, buttermilk, vinegar, food coloring, and vanilla extract. Beat until just combined. Do not over mix and deflate all that wonderful air you just beat into the eggs.
Sift the flour mixture over the batter (yes another sifting!) and beat on low until just combined.
Transfer the batter immediately to the prepared pan and spread evenly. You do not want to overwork the batter and deflate the air you just whipped into it.
Bake cake until a toothpick inserted into the middle comes
out clean, about 15-17 minutes.
While the cake is baking, dust a clean dish towel with the
confectioners' sugar.
When the cake is done, immediately loosen the sides of the cake
from the pan and turn over onto the prepared towel. Peel off the parchment paper.
Starting with one short end, roll up the cake and towel
together and place it seam side down on a cooling rack. Let the cake cool completely, about two hours. You can stick it in the fridge to make it go faster.
In a large mixing bowl, beat the cream cheese, butter, and
vanilla until smooth. Add the powdered sugar. Mix on low speed for a minute and then increase to medium-high speed to beat until well combined.
Gently unroll the cooled cake and spread with the cream
cheese filling, leaving a 1/2 -inch border. If you stuck the cake in the fridge to cool, place the cake at room temperature for at least 20 minutes before unrolling and spreading filling.
Re-roll the cake without towel. Refrigerate for at least 30 minutes before serving.
Top with more cream cheese frosting and fresh strawberries.